This page contains archived information and may not display perfectly
Just one point separated Magda Andersson from an FIA European Rallycross title
Sweden's Magda Andersson had the best rallycross season of her career and just missed out on the FIA European Rallycross Championship for TouringCar at the final round in Germany last weekend by a single point. Next season, she is planning to graduate to Supercar.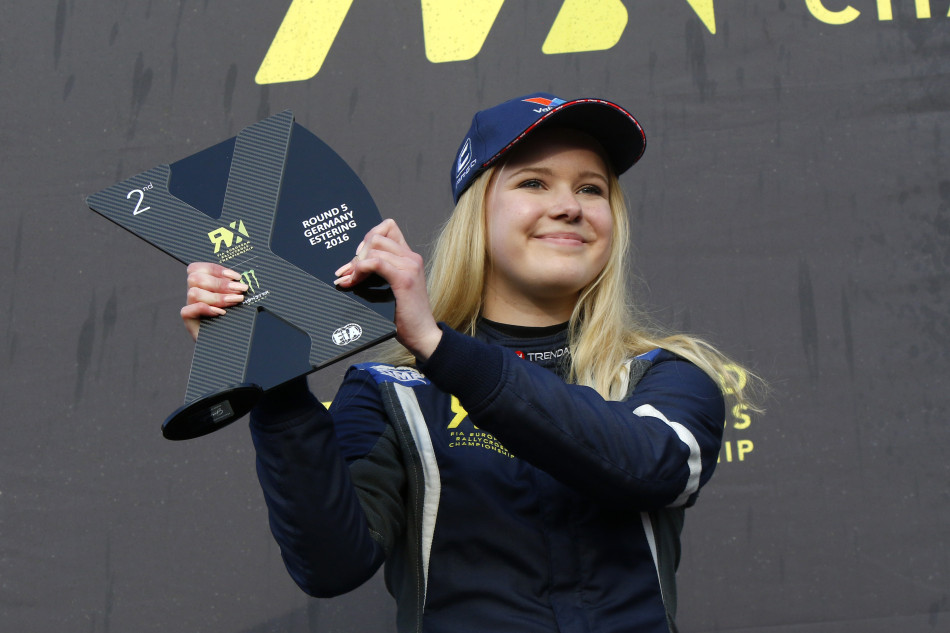 "The TouringCar is sold and the goal is definitely to drive in Supercar next season. That would be a dream come true," said 18-year-old Andersson. "I feel that the results we have achieved in the last two years show that I am ready for the challenge, so we will see what the future brings. I'm still young and I'm constantly developing as a driver. I feel that this year has made me more comfortable with my speed and because of that I was able to make more advanced decisions during the races. My first corner move in the final at Estering was one example of this, and a move that I was very proud of."
Andersson says her highlights of the season were in Belgium and Sweden. "Belgium was my first rallycross win ever and Holjes is definitely also a great event, the home crowd are always so enthusiastic and supportive," she said. "Hell was also special because we had a lot of sponsors there, even though I retired with broken suspension when leading the semi-final by six seconds."
Andersson, who has received support from across the World RX paddock this year, enjoyed her season-long fight with eventual champion Ben-Philip Gundersen for the TouringCar title. 
"I enjoyed the battle with Ben-Philip very much. Our teams have a good relationship and I always felt very comfortable competing against Ben-Philip on track because he is a fair competitor who never made any unwise or unfair moves. I think what Mattias Ekstrom said in his winner's press conference in Germany about the value of winning is very applicable here; I clapped my hands for Ben-Philip because he was a worthy winner. Of course it was bitter-sweet because I was just a single point away from being champion. We never got one single point for free this season, they were all results of very hard work and I think we deserved to win the championship as well, but that's rallycross and a fascination of the sport."