Junior FIA Girls on Track – Rising Stars reach pivotal stage at the FDA Karting Scouting Camp in Italy
The final four 11-13 year old FIA Girls on Track – Rising Stars Junior drivers are set to embark on the decisive phase of their programme this week (November 25-30) when they attend the Ferrari Driver Academy Karting Scouting Camp.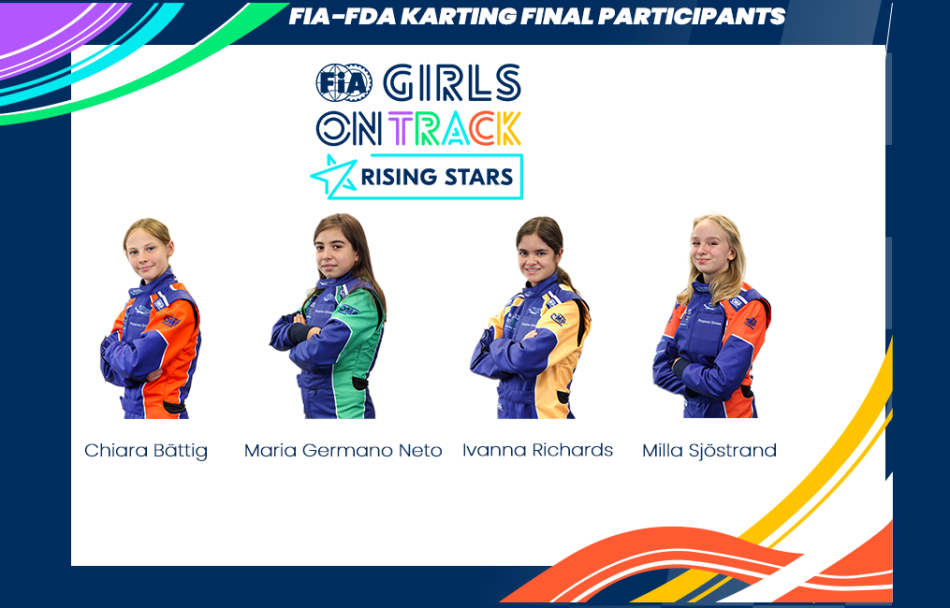 Initially based at the famed Maranello headquarters, the young drivers will be put through their paces during the first two days of off-track assessments. After the camp debrief, a range of mental evaluations will then be followed by media activities, to underline the importance of communications from an early age. Further workshops designed to test reaction speed, memory and levels of concentration precede a tour of the Tony Kart factory, where the drivers will also get their seat fittings.
The drivers will then travel to the Autodromo di Franciacorta race track, where they will spend two more days under the watchful eyes of the FDA experts. In addition to the test sessions on the circuit, the drivers will receive invaluable feedback during the debriefs, enabling them to demonstrate their capacity to learn and improve session by session.
At the end of the intense training and assessment process, one of the stand-out Juniors driver could be selected to participate in an international karting season with the financial support of the Ferrari Driver Academy.
The Junior drivers attending the FDA Karting Scouting Camp, are:
| | | |
| --- | --- | --- |
| Chiara Bättig | 11 | Switzerland |
| Maria Germano Neto | 11 | Portugal |
| Ivanna Richards | 13 | Mexico |
| Milla Sjöstrand | 13 | Sweden |
Michèle Mouton, President of the FIA Women in Motorsport Commission, said: "This year I am delighted that we and Ferrari have been able to provide this opportunity to our youngest racers," said. "Girls on Track – Rising Stars is about finding and nurturing talent and to be able to help these young drivers at such an early age further develop their skills in karting, the real grassroots level of the sport, is key to their future progression."
Marco Matassa, Head of Ferrari Driver Academy, said: "Karting is the preferred starting point for the youngest kids up to the age when they begin to think about becoming racing drivers. That's why the Ferrari Driver Academy immediately forged a link with Tony Kart as its expert partner. This category of motorsport plays a key role in developing the ability of the youngest children and that's why we welcome the FIA Women in Motorsport Commission's idea of opening a Junior section of its Girls on Track-Rising Stars programme. We will host a camp for the four finalists, which will give them a chance to show what they can do and then we can see if one of them deserves support from the FDA in realising their dream of becoming a racing driver." 
Imagery of the four FIA Girls on Track – Rising Stars Junior drivers can be downloaded here