This page contains archived information and may not display perfectly
Halo breaks cover in Barcelona
F1 winter testing saw the on-track F1 debut of the proposed 'Halo' cockpit head protection device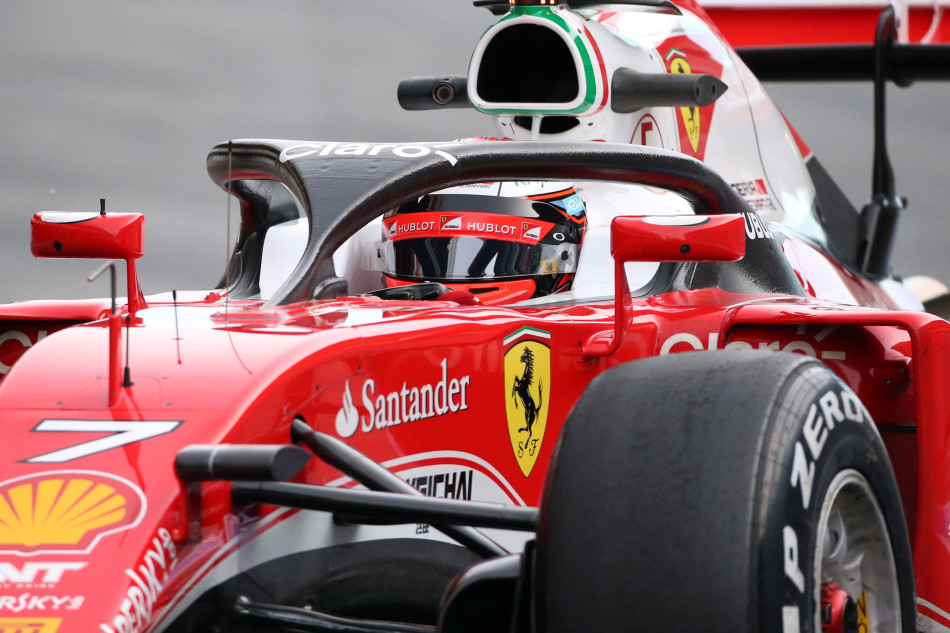 While a variety of cockpit head protection designs have been trialled across Formula cars in recent years, Thursday morning in Barcelona saw Ferrari trial the device known as the Halo on Kimi Raikkonen's car.
The Finn completed a couple of installation laps with the Halo attached to his car, before returning to the pits to have the device removed before his testing session continued as normal.
Raikkonen's initial response to the Halo was promising, with the 2007 World Champion saying his view was unaffected. "[The] first impression on the visibility test is positive," he said. "The structure does not hamper [visibility]."
The FIA and the Global Institute for Motor Sport Safety have been working on driver head protection solutions for years, although the search for a suitable system intensified after the summer of 2009, when Henry Surtees lost his life to a loose tyre in a Formula Two race at Brands Hatch, a week before Felipe Massa was hospitalised by flying debris during qualifying at the Hungarian Grand Prix.
Various options for further protecting drivers' heads have been proposed and trialled over the past decade, from closed cockpits to an assortment of devices aimed at deflecting objects without affecting extrication or visibility. It has been a complex process, and one that is still underway.
A number of potential cockpit protection options are still being researched, however the latest F1 Commission meeting recognised that the Halo, originally developed by Mercedes, is the preferred option for introduction as soon as the 2017 FIA Formula One World Championship season.
"The good news is that the three structures we tested performed as expected or better than expected," FIA Safety Direct Laurent Mekies told AUTO. "On top of that we have received great guidance from Charlie [Whiting] from the beginning of the project, and a lot of support from the teams who provided us with all their calculations and design power, which has made this step forward possible. 
"We are pushing very hard to integrate it as early as possible," Mekies continued. "I'm sure it will trigger a few connected research topics, to assess visibility, extrication and some of the other aspects, so I'm expecting some validation testing to be done in the course of the next six months. But we're all trying to make that cut.
"The real deadline is the teams' timing to modify their cars accordingly and our capability to assess all the connected issues," Mekies concluded. "Design is done very much in advance in F1, therefore if we want to make 2017 it needs to be decided in the next few months. Nobody wants to rush these things but we are all trying to go as fast as possible."