Georgian drivers make FIA Rally Star history
Five Georgian drivers have made history by becoming the first to progress from FIA Rally Star national selection to the European Continental Final of the global talent detection and development scheme.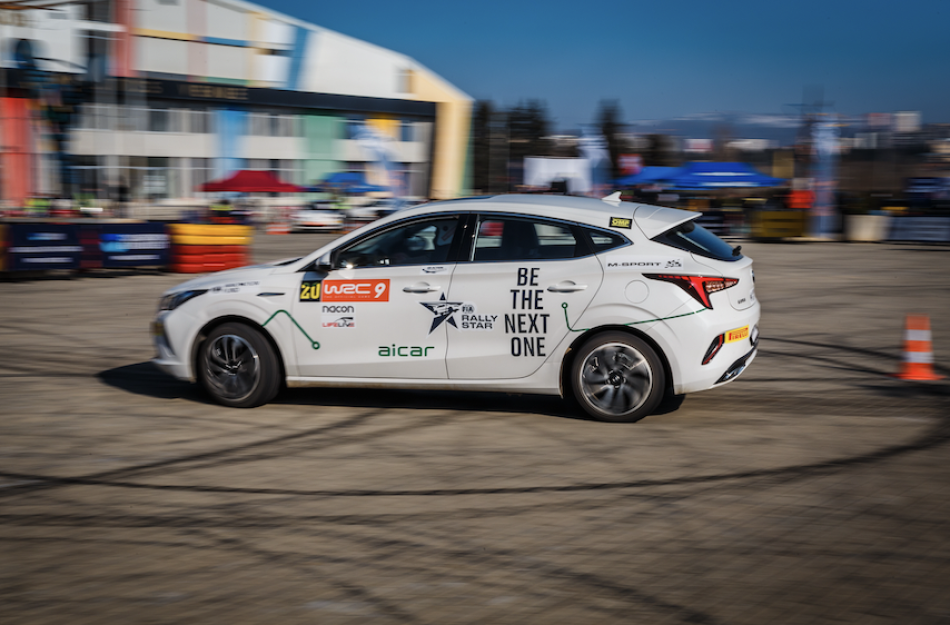 Close to 350 drivers aged between 17 and 26 took part in three regional slalom events with 68 selected to participate in the national final in Tbilisi on Sunday March 14. From that event, female competitor Salome Mchedlishvili was selected, along with four successful male drivers: Otar Esartia, Nika Biliseishvili, Nikoloz Bekauri, and Alexsandre Shakulashvili.
Those five will proceed to the next level, where they will compete against the most promising young European drivers at the Continental Final later this year.
The five Georgians will race XC LifeLive TN5 Cross Cars as they battle for one of seven coveted places on the 2022 Training Season.
Aside from the winners' delight at being confirmed at the next level of the FIA's ground-breaking Rally Star scheme, there was pride from the Georgian Automobile Sport Federation at being the first to put their drivers forward for the European Continental Final.
President of the Georgian ASN Mevlud Meladze said: "I can definitely say, it is an honour that, among 146 ASNs, Georgia is the first country from where FIA Rally Star journey has begun.
"For youths aged 17-26, this is an unprecedented worldwide event, where amateur drivers have a huge opportunity to show themselves, compete with equal conditions, ride identical cars and reveal their driving skills.
"I am more than happy that our team has organised all events on that level, especially during the [coronavirus] pandemic period. Also, I want to thank the FIA for this opportunity."
FIA Category Manager Jérôme Roussel added: "We are really moving now – to see the first five drivers coming from Georgia to the European Continental Final is very exciting for us. I would like to extend my congratulations to Salome, Otar, Nika, Nikoloz and Alexsandre and I look forward to welcoming them to the next level. Commiserations to the drivers who didn't make it and hats off to the entire team at the Georgian ASN for running such an efficient national selection."
Georgia's local heroes shared their feelings after this incredible event.
Salome Mchedlishvili, female selected driver:
"I cannot believe this is happening to me! I am the first Georgian girl who will join the European Continental Final. Even if I was one of the winners in [the regional selection event in] Tbilisi, I was a bit nervous about the final, with an incredible level of competition. During the final laps, I was more and more anxious, but when the organisers announced my name, the feeling was unbelievable. I could not be prouder to represent my country in Europe and I want to send a message to all the girls around the world to commit in motor sport."
Otar Esartia, first selected driver: 
"I'd like to thank the Georgian Automobile Sport Federation and FIA Rally Star team members for giving us this incredible opportunity. Motor sport and cars are not just a hobby for me. I simply love them. Honestly, I can't even describe what this selection means to me. In Tbilisi, I finished amongst the leaders and had the chance to go into the final stage. Because of my impatience, I made a mistake and could not make it to the top twenty. But according to the rules, I used my second chance and went to [a second regional selection event in] Kutaisi and ended up as the winner there. At the end of the final, I was confident and motivated to win my ticket to the next round. I finished first amongst 60 truly competitive drivers. This means a lot to me and I can't wait until we meet again in Europe on the next stage."
Nika Biliseishvili, second selected driver:
"I am so happy that I could finish second! It's great. My friends and family were attending the final stage and making them proud was also a real joy. I love cars since I started walking, but this was my very first competition – I had no experience at all. This is why I was a bit nervous I guess, but when I got behind the wheel, I forgot everything and just wanted to win. OK, I came second in Kutaisi – my hometown – and also in Tbilisi for the final. I hope that will be enough of finishing second! I will do my best to win the European Continental Final."
Nikoloz Beqauri, third selected driver:
"It was such a great experience for me. Since my childhood, I wanted to be involved in this sport, but it was very complicated at the time. As soon as I heard about this project, it was like a dream for me: I had a real chance to try to make it happen. I immediately sent my application and crossed my fingers. The way was not easy and the competition was tough. On the last stage, the difference between the best thirteen times was extremely tiny. All the finalists were giving their best to get their ticket, but I was lucky to win one of those for the European Continental Final."
Alexsander Shakulashvili, fourth selected driver:
"It was not an easy job to get that selection; the level of competition was high and the organisers did a fantastic event. Everyone was very committed to try and get their ticket to Europe. The pressure kept on increasing as long as we were reaching another level. Despite some mistakes, being of the winners makes me feel incredible. I am excited for the next competition and I can't wait to take part in European Continental Final."
Find more info on the FIA Rally Star website.