FRECA - Saucy takes double win at Zandvoort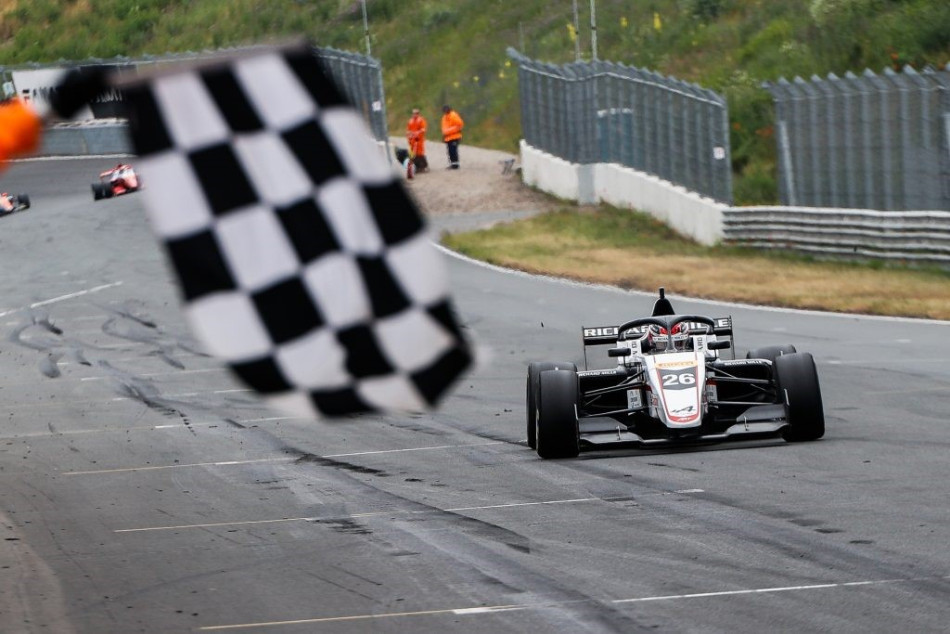 Race 1
At the beginning of Race 1 at the F1 Zandvoort Circuit, Grégoire Saucy has a good start, but so have Hadrien David (R-ace GP) and Gabriele Minì (ART Grand Prix). The French driver manages for a moment to overtake the Italian, who fights back for his position immediately. Ralf Aron (Prema Powerteam) also has a good start and gains the fourth position from Mari Boya (Van Amersfoort Racing). Behind the Spanish driver are Franco Colapinto (MP Motorpsort), Isack Hadjar (R-ace GP), Mikhael Belov (G4 Racing), Dino Beganovic (Prema Powerteam), who loses 3 positions, and Alex Quinn (Arden Motorsport). At the back of the grid, a great start by David Vidales (Prema Powerteam), gets him to gain 5 positions.
Overtaking is not easy on the Dutch circuit, but battles between Isack Hadjar, Mikhael Belov and Dino Beganovic are extremely exciting. Soon Beganovic makes a great move on Belov and gains the 8th position. After that he attacks Hadjar but the Ferrari Driver Academy Driver does not manage to overtake the Red Bull Junior Team driver, while Colapinto is stuck behind Boya.
In the meantime, Saucy has gained more than 2 seconds on Minì, who is more than a second ahead of David.
24 minutes to the end of the race Tommy Smith (JD motorsport) goes off track, but no safety car is needed. Again, great battles between Beganovic and Hadjar and between Alex Quin (Arden Motorsport) and Belov take place.
In the following laps unfortunately Pietro Delli Guanti (Monolite Racing) is forced to stop due to a mechanical failure.
8 minutes to the end of the race, Patrik Pasma (KIC Motorsport) goes off track after a banking and the safety car comes in. At the restart Saucy gets it perfect, while Mari Boya conitinues to struggle is overtaken by Franco Colapinto and Isack Hadjar.
A great battle also takes place between William Alatalo (Arden Motorsport) and David Vidales (Prema Powerteam), but positions finally remain unchanged. In the last lap of the race Colapinto tries to overtake Aron multiple times with no success.
Great job by Zane maloney (R-ace GP) gaining 6 positions from the start, but ending up only 15th.
Race 2
In the warm-up lap, Mikhael Belov (G4 Racing) unfortunately has technical problems and cannot start the race. From pole position Grégoire Saucy (ART Grand Prix) starts well, and with him, his teammate Gabriele Minì, who though remains a bit stuck behind the Swiss in the first corner and gives Franco Colapinto (MP Motorsport) the opportunity to overtake him and gain second place.
Behind William Alatalo (Arden Motorsport) soon attacks and overtakes Francesco Pizzi (Van Amersfoort Racing), who falls back in the fifth position. His battle all along the race to defend himself from Kas Havenkort (MP Motorsport) and Paul Aron (Prema Powerteam) is a very exciting one.
At the back of the field, David Vidales (Prema Powerteam) makes a great move on Andrea Rosso (FA Racing), who has had big difficulties this weekend after braking his chassis and having to replace it. The Spanish driver will finally make a great race recovering 9 positions from 25th to 16th. Great job also by his teammate Dino Beganovic, gaining 11 positions, from the 30th to the 11th.
Great battles mid-race between Eduardo Barrichello (JD Motorsport) and Emidio Pesce (DR Formula), the first finally overtaking the Italian.
In the front positions Saucy gains distance from Colapinto, while Minì, after being really fast in the first laps, loses performance of the tires and has to accept to finish third.
In the final laps, the Argentinian driver of MP Motorsport actually manages to catch up on Saucy, who is fighting degradation on his tires, but manages to finish the race first and obtain, once more, the perfect weekend, with two pole positions and two wins.
Colapinto is second, Minì third, Alatalo fourth, Pizzi fifth, his best result this year, Havenkort sixth, protecting his position from many attacks of the Estonian driver of Prema, who actually towards the end of the race manages to almost overtake the Dutch driver. Havenkort, at his home event, does not accept to lose his position and in the battle Aron, being on the outside along a banking, goes off track, and has to reposition behind the MP Motorsport driver, being finally seventh.
Eighth is Zane Maloney (R-ace GP), as we wasn't able to confirm the good pace of the collective tests, ninth is Mari Boya (Van Amersfoort Racing) and the tenth is Oliver Goethe (MP Motorsport).
The next and sixth round of the Formula Regional European Championship by Alpine will be held in Spa-Francorchamps on the weekend of the 24 and 25 July.