FOSTERING BUSINESS DIVERSIFICATION AND INNOVATION IN MOBILITY CLUBS
Monday's Mobility session gave real-world examples from the FIA Mobility Worldwide programme of how Clubs can analyse, rationalise and diversify to build better for the future.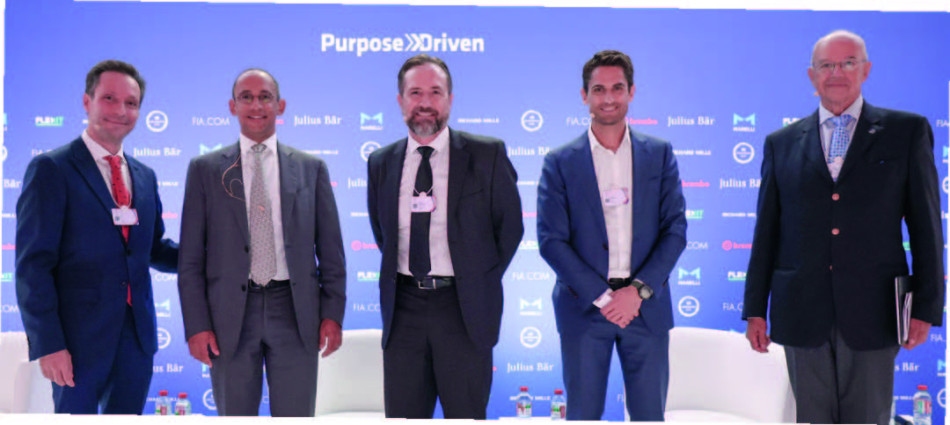 The session focused on how Clubs can identify business diversification opportunities to bolster Club relevance and income streams as well as further develop a culture of innovation.
Moderated by ESADE Business School Deputy Dean for Programmes Luis Vives, the meeting began with EY-Parthenon Partner Irvin Faneyte presenting a four-quadrant framework for securing and growing business. "Growth starts with what you are and what you have and most Mobility Clubs have a tremendous amount of assets. However, some Clubs have a fairly narrow base of operations. If you do, you have probably been hard hit by the pandemic. "The next thing is to broaden your portfolio of services. The trick to doing that is to consider which of these activities would fit your Club. The third thing is future-proofing your business by doing things differently, and finally, we talk about building the Club of the future, asking what are the things that really matter? What do we excel at and what can we compete at?"
Looking at the first area of examining traditional ways of working, Jamaica Automobile Association (JAA) Managing Director Wendell Smith said: "Roadside assistance has been commoditised by insurance companies in recent years. The pandemic has crippled our business activities and left us without capital. We had a perfect storm of COVID-19, competition and diminishing capital and that drove us to examine every area of business activity and to ask why we are in this business." With the core elements of his Club's business analysed, Smith then asked: "Are there golden rules on selecting services to add? How do you avoid ending up in a Ramsay's Kitchen Nightmares scenario where you have everything on the menu but nothing tastes good?"
Looking at the broadening of services, Automóvil Club del Uruguay (ACU) Institutional Relations and Mobility Manager Rosina Rubio pointed to the ACU's decision to become more deeply involved in the insurance sector. She said the Club had noted an increasingly harmful erosion of its position in the roadside assistance sphere by insurers and reacted by expanding its insurance provision. The Club, which had been involved in insurance for many years, deepened its collaboration with insurers and broadened its portfolio with an improved offering.
Automobile Association of South Africa (AASA) CEO Willem Groenewald responded by saying that in the case of his Club, the process of making the business resilient was followed by diversification and expansion through the adoption of the FIA's Vision 2030 strategy.
"What we have done is to expand into service centres and I can tell you that there are now 50 of these. We create real-time retail outlets where you can have a conversation with your customers." He pointed to initiatives to broaden servicing to include assistance packages and also to create data collection points whereby members could be encouraged to install OBD devices that would tell them when their car requires servicing. "We would have your VIN number, we have your parts ready and we would contact you in advance with the cost of the service."
He added: "We are living in the fourth industrial revolution and COVID-19 has accelerated that. The customer dictates how businesses are run. The world has become agile and the best platform or service is the benchmark. The answers lie in data science. It is dangerous to sit in boardrooms telling the customers what they need. The answer lies in knowledge."
Turning to the quadrant dedicated to future-proofing business through new and disruptive ways of working, Rosina Rubio said: "In our path to become a whole mobility provider, we knew developing insurance was the main area [of diversification] but we also thought we had to reinvent our traditional service. We moved from an assistance position to one of prevention. We analysed our cornerstones and capability and invested in tools, but mostly in training. We launched a maintenance service and members can schedule maintenance and only pay for the parts and get a 20% discount. They can save a lot of money by doing service and maintenance with us. The promise is to give our members more value for their membership."
Willem Groenewald added: "We have to start by incubating a platform to foster innovation. You have to analyse every aspect of your business. You have to ask the tough questions as to whether your business is optimal. You need to take a hard look at system engineering to see if the business is still relevant. You have to live in a world of continuous improvement and every day ask: 'are we better than yesterday?'"
Returning to the theme of innovation, Wendell Smith spoke about the JAA's fuel purchasing app as a development that would help secure the future of the Club. "COVID-19 resulted in a significant reduction in spending on fuel in the public and private sectors. However, the spending of ordinary people, the general public, increased. We therefore extended a fuel management solution to customers, using an app to buy fuel in a truly contactless way. We now aim to make it the most popular way to buy fuel on the island. This activity would not have been possible without the support of the FIA."
The discussion also featured a talk with Gerard Martret, Co-founder and CEO at Shotl, and Founding Partner at Drivania and Camina Lab, businesses that variously offer a mobility platform enabling on-demand bus services, private transportation through a global network of chauffeurs and transport-focused data analysis.
Asked by FIA Deputy President for Automobile Mobility and Tourism Thierry Willemarck why Clubs should get involved with small companies like Shotl, Martret said: "I represent the timid voice of hundreds of start-ups that aren't unicorns. Ninety-nine percent are small start-ups targeting specific problems and we need you, we need to cooperate with large organisations and that is how we grow.
"It gives us a good name to be related to brands. The way we are doing that is that we license technology and we white label it. We are owners of the IP but we share the data. And the data is the oil. It is the most valuable asset. We are not trying to defend our corporate identity but to relate our brand to bigger brands."
The discussion concluded with each panellist being asked for their key idea to ensure success for Clubs. Rosina Rubio said that COVID-19 had shown the ACU that there was an urgent need to reassess its business proposition and to implement a new business model. "Just ask simple questions," she said. "Is this the right way to do things? How do we deliver more value? Will this make us stronger?" Willem Groenewald said:"Become comfortable with being uncomfortable and have a relentless hunger for continuous improvement." Wendell Smith added: "What has changed in our approach is the rigorous questioning of our business activities. We have taken our strategic planning sessions to a whole new level. This has become a way of life." And Thierry Willemarck said: "We have to concentrate on the fourth quadrant – the future of Clubs. Often with new technology the requirement of capital will be huge and the size of our businesses will not always be able to compete. So looking at what we can do in collaboration with others to get the capital we need is important." Finally, Irvin Faneyte concluded by saying: "Don't fear to innovate but don't innovate out of fear."