FIA presents a Report demonstrating motor sport's contribution to health, safety, environment
Please find the Report here.
Twenty-six case studies across many industries and racing series show peerless range of innovation.
FIA-President Jean Todt said: "With this Report, we hope to inspire engineers, technicians and visionaries all around the world to push the technical boundaries and never accept the status quo."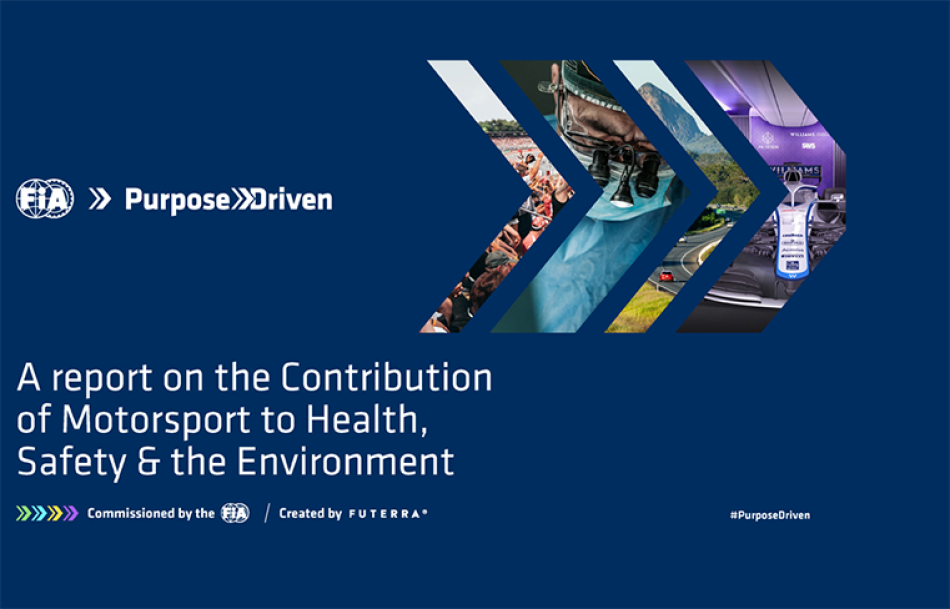 Motor sport is not only a show, it is also a powerful laboratory for the future. All its technological advances, particularly in terms of health, safety and environment, benefit the general public. This year, marked by the Covid-19 pandemic, Formula 1 was thus the first international sport competition to restart thanks to a strict health protocol set up by the FIA together with the promotors of the championships, following the World Health Organisation (WHO) as well as the International Federation of Red Cross and Red Crescent Societies (IFRC) recommendations.
As commissioned by the FIA, the world's governing body of motorsport, and following thorough analysis of nearly one hundred projects, innovation consultancy Futerra published a comprehensive Report of twenty-six motorsport innovations with a positive impact on health, safety and the environment.
This first-of-its-kind publication is part of the FIA's new initiative "Purpose Driven", which has been launched in 2020 and which brings together and amplifies the societal contribution motorsport and mobility make to our world. Presenting itself as an umbrella above four clearly defined pillars, Health & Safety, Environment, Diversity & Inclusion, Societal Development, Purpose Driven represents many activities and projects that the FIA and its member clubs realise every year.
The twenty-six case studies of the Report are organised into six broad themes. Firstly, motor sports' contribution to better healthcare, beginning with the recent response to the Covid-19 pandemic, where the industry came together to help support global healthcare needs.  Secondly, examples of technology and knowledge transfer that have positively affected society at large; spanning electric bikes and airline seats. Thirdly, improved road safety; ranging from motorcycle helmets to safety simulations to the work of the FIA Foundation.
While the fourth section examines motor sport's contribution to the rapidly expanding electric mobility sector, the fifth category is about hyper efficiency including transforming tyre technology, perfecting internal combustion, and the science of moving further while using less.
Finally, it looks ahead, tracing the trajectory of game-changing new fuels and revolutionary manufacturing techniques; and examining the powerful platform of influence motor racing has in winning hearts and minds, something that has been put into stark effect this year.
To develop the Report, Futerra worked with the FIA to identify a longlist of potential cases through a mixture of extensive desk research, a workshop with a group of stakeholders, and a series of expert interviews with motor sport executives across many racing series. To verify each case, a minimum of two independent sources were used as evidence, with a particular focus on using identified sources outside the motor sport world to remove any form of bias or conflicted interests.
FIA President Jean Todt said : "The development of this Report has given us the opportunity to deep dive into the significant contribution motor sport has made to improving the lives of others. From improvements to safety that have migrated from the track to the road to major steps forward in reducing the environmental impacts of our activities and creating a greener planet, the motor racing community created much greater value than generally known. With this Report, we hope to inspire engineers, technicians and visionaries all around the world to push the technical boundaries and never accept the status quo. We must now look forward and continue to build on these achievements under the FIA's new PurposeDriven umbrella."
Futerra Chief Strategy Officer Matt Sexton said: "'The pursuit of speed and glory demands radical innovation. For over 100 years, motor sport has relentlessly pushed the boundaries of what was considered technically feasible and never accepted 'driving as usual'. With the social and environmental challenges we face, that spirit of innovation can transform motor sport from a symbol of unsustainability, into a driving force for change. Futerra has partnered with the FIA because we believe in solutions and the 26 stories in this Report intrigued and inspired us. From catalysing new fuel technologies to inspiring behaviour change amongst millions, motor sport can and should imagine a future of speed, glory and sustainability.'
About Futerra
Futerra is the change agency, joining the magic of creative and the logic of strategy to make sustainability happen. Since 2001, we have pursued the mission of 'making sustainable development so desirable it becomes normal'. That mission fills our team, and our work with purpose, pride and passion. Today, we're a fiercely independent and global company: majority owned and led by women, and a founding B-Corp. Our team are based in London, Stockholm, New York and Mexico City and serve clients including Google, IKEA, Danone, WWF, Sierra Club and the United Nations.