FIA Karting - Two Americans, Egozi and Ugochukwu at the forefront of the World Championship
FIA Karting World Championship - Ok & Junior - Qualifying Heats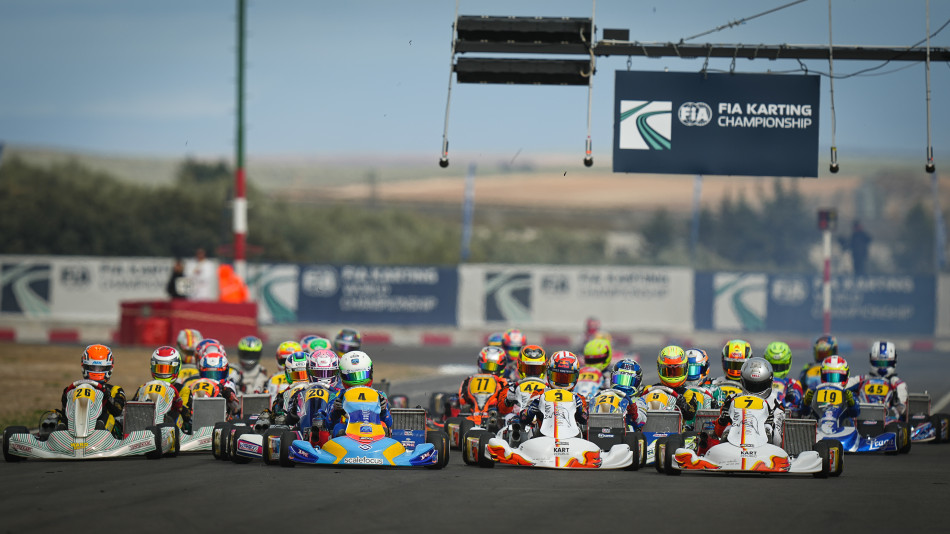 The Qualifying Heats of the FIA Karting World Championship - OK & Junior were of course very competitive on Saturday 30th October in Campillos. They were also very open as it is very rare to see so many different winners, seven in each category. James Egozi (USA) was the star of the OK-Junior class with a clear round of four wins. In OK, another American, Ugo Ugochukwu, is currently leading.
The Spanish circuit of Campillos undoubtedly favours overtaking with its numerous curves and the width of the track which allows varied trajectories. Daring is often rewarded. The asphalt was still slippery after rain in the night and rain tyres had to be used until the end of the morning, adding an extra element of uncertainty if any were needed. The rest of the day was dry, although often cloudy, and the wind gradually strengthened. The weather forecast for Sunday does not rule out rain. Five heats remain in the morning before the decisive Finals.
Egozi dominates the Junior heats
The American James Egozi, sixth in Practice, managed to win the four heats in which he participated. His main rival, Britain's Freddie Slater, was forced to retire due to a braking problem and despite his three victories, he crashed down to 15th position. Danish poleman David Walther kept pace with the leader while Latvian Tomass Stolcermanis was third ahead of Norwegian Marcus Saeter and Jamaican Alex Powell. Behind Dmitry Matveev (RAF), Keanu Al Azhari (DEU) and Kean Nakamura Berta (JPN) were back in the lead. Further back, Maxim Rehm moved up nearly 20 places towards the top 10, while Anatoly Khavalkin (RAF) moved up 25 positions ahead of his team mate Enzo Deligny (FRA).
Ugochukwu leads for the moment in OK
In OK, Group A has already finished its course, the provisional intermediate ranking is less easy to read as not all the drivers have completed the same number of heats on Saturday evening.
However the two victories and the second place for the American Ugo Ugochukwu give him the advantage at the end of the day. Relatively unaffected by the rain, which he does not enjoy, the Brazilian poleman Gabriel Gomez performed very well, as did the Swede Oscar Pedersen, both of whom were equal with one win, one second and one third place. Finland's Tuukka Taponen made a good comeback from 16th place in the top five, together with young Norwegian Martinius Stenshorne. Arvid Lindblad (GBR) was getting closer to Rafael Camara (BRA), two protagonists capable of shining in the Final. Behind Markus Kajak (EST), Nikola Tsolov (BGR), with one win, remains a competitor to follow.
The above information is based on the results published at the time of writing. The rankings of some races are not yet final.
The Campillos competition can be followed on the official FIA Karting Championship app for mobile devices and on the website www.fiakarting.com. Live-streaming will be active for Sunday's races from 10:40am.
Provisional schedule for the Campillos event
Sunday 31st October
09:00 - 10:40: Warm-up
10:45 - 12:20: Qualifying Heats
14:00 - 15:40: Finals