FIA CERTIFIED GRAN TURISMO CHAMPIONSHIPS
In its third season, the FIA certified Gran Turismo Championships launched in February with a spectacular World Tour event in Sydney.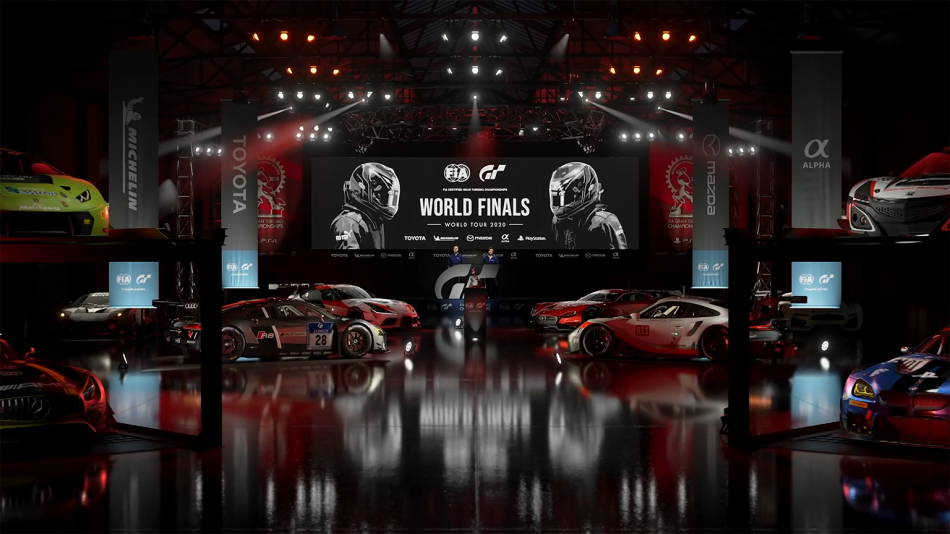 The pandemic meant no more physical events, but the Online Season saw 30 rounds of racing for both the Manufacturer Series and Nations Cup. A series of three Online Regional Finals followed in November for the Americas, Asia-Oceania, and EMEA (Europe, Middle East, and Africa). Each Regional Final comprised 16 players - the top 12 racers from the Online Series plus four additional players who earned their places by way of an Extra Stage time trial. Competition was fierce, as ever, with places in the World Finals up for grabs as well as the title of Regional Champion.
The World Finals took place over three days in December with all the competitors participating from home but linked to a stunning virtual studio by video. This global celebration of digital motor sport saw 36 competitors from 14 different countries battle it out in teams of three for the Manufacturer Series and 16 competitors from 10 different countries racing for Nations Cup glory.
This unprecedented event was a major technological feat and saw Takuma Miyazono of Japan crowned 2020 FIA GT Championships Nations Cup Champion. Team Subaru won the Manufacturer Series with Takuma Miyazono, Mikail Hizal of Germany and American Daniel Solis taking the driving duties.
Nations Cup – Final Classification
T. Miyazono                                                                                      45 pts
V. Gallo                                                                                             42 pts
R. Kokubun                                                                                       29 pts
C.-N. Latkovski                                                                                  26 pts
J. Serrano                                                                                          25 pts
T. Yamanaka                                                                                     24 pts
A. Brooks                                                                                          24 pts
G. Mangano                                                                                      19 pts
L. Bonelli                                                                                           18 pts
C. Lopez                                                                                            18 pts
…
Manufacturer Series – Final Classification
Subaru (M. Hizal – T. Miyazono – D. Solis)                                       41 pts
BMW (N. Rubilar – R. Haywood – C. Lopez)                                     36 pts
Mercedes-Benz (B. Beauvois – C.-N. Latkovski – L. Bonelli)            31 pts
Honda (I. Fraga – S. Sugimori – V. Gallo)                                         22 pts
Porsche (A. Inostroza – T. Bayless – M. Simmons)                          21 pts
Ford (A. Tapai – A. Wilk – T. Kato)                                                    17 pts
Citroën (K. Mizuno – A. Regalado – A. Brooks)                                16 pts
Toyota (T. Yamanaka – A. Carrazza – S. Bishop)                              16 pts
Mazda (R. Kokubun – J. Wong – F. Portilla)                                     11 pts
Lamborghini (T. Scibilia – M. Troncoso – D. Holland)                      11 pts
…