Felipe Caldéron, 'Sustaining a passion for movement'
As President of the FIA's Environment and Sustainability Commission, former Mexican President Felipe Calderón has a range of issues to contend with. Drawing on past experience, however, he believes a sustainable future for both mobility and motor sport is not simply a goal, but an achievable goal. In an exclusive interview conducted during the recent FIA Mobility Conference in Montevideo, he explained how his goal is achievable, not just in therory but in practical terms.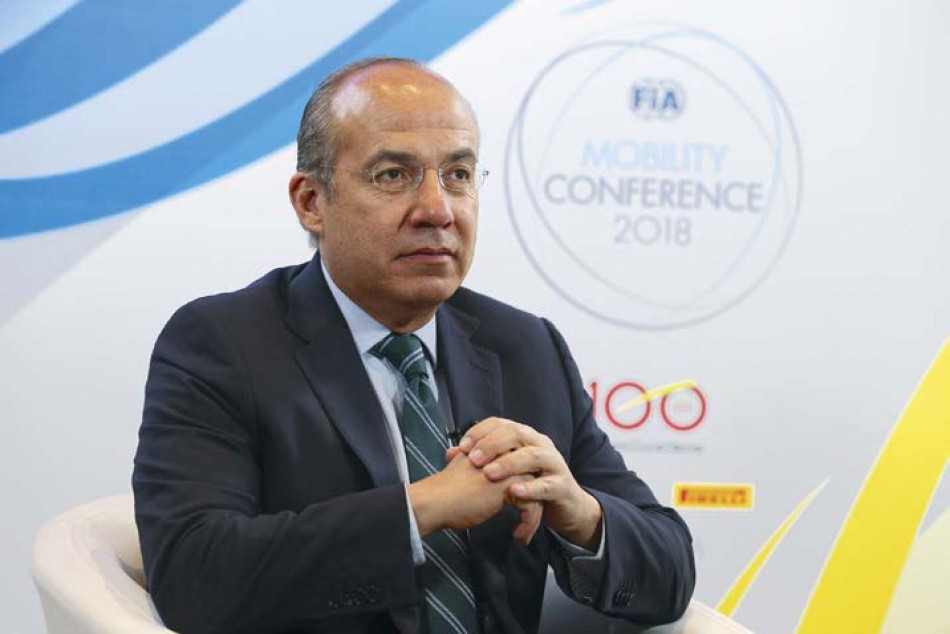 You took up the Presidency of the Environment and Sustainability Commission last December. Why is the area of sustainability of particular interest to you? 
As a child, my father had an incredible advocacy for the environment, the planet, for creation, but being President I realised how important it is for human life. Mexico is one of the most important countries in terms of bio-diversity, but it is also one of the countries that will be most aected by the consequences of climate change and I can see the poorest suffering the most. So I became quite involved in all these issues. I realised how vital it is for humanity, one of the most important global challenges we are facing today, so for a lot of reasons I am committed to environmental issues.
Most large international sporting federations have a commission dedicated to dealing with sustainability. Now that such a mechanism is in place at the FIA, how can the federation capitalise on the expertise of this new commission to encourage FIA members to address sustainability in a more structured manner?
The contribution of the FIA to sustainability has already had a positive impact. Programmes such as 'From Track to Road' for instance – in which the experience gained through technical research in the motor racing world has been transferred to road car development programmes – have been quite important to improve car and energy efficiency, and also new technologies that allow transport and mobility as a whole to be better, to provide better conditions for people. Following on from this, the commission wants to help FIA members by bringing together all that experience, all that vision, in order to provide useful resources for them and to drive forward projects that contribute to the future of sustainable transport, through research, consultation and the FIA's ability to lobby for change at policy-making level. Also it is to provide the FIA with the recognition it deserves among new generations for whom environmental issues are so important.
You have mentioned that in your former role as President of Mexico you recognised the likelihood that your country would be a'ected by environmental concerns. In that role, did you see how rapid urban development – particularly in places such as Mexico City – compromised environmental concerns?
I love Mexico City but unfortunately it is a clear example of what we must avoid in terms of urban development. It is a sprawling city with more than ££ million inhabitants and its citizens suffer a lot. Many people need to travel three or four hours a day just to get to their place of work and that has a significant impact on family life, not to mention the problems associated with air pollution and health issues, such as respiratory disease.
So my experience is that we need to design public policies in order to deter sprawling models of urban development. Cities must be compact, in the sense that we need to provide incentives for density, urban growth must be vertical rather than horizontal, cities must be connected and by extension integrated. People should be able to get to one place from another in a simplified way, through integrated transportation systems – in comfort and safely.
Coming back to the Mexican example: in Mexico City there are a number of local authorities across the metropolitan area that for decades were not co-ordinated, at state level or at federal level. So the lesson I learned from Mexico City and from other Latin American megalopolises was simple: cities must be compact, connected and co-ordinated.
In that regard can urban expansion and infrastructure growth be complimentary to sustainability targets?
There must be a set of combined public policies but among them, yes, large-scale transportation systems which improve the quality of life of citizens, that reduce air pollution and increase productivity can exist. One size doesn't fit all, but the point is that, depending on the size of the city and its existing infrastructure, the size of the streets and so on, different systems are applicable. For instance, the rapid bus transit system has demonstrated in several cities that it is among the most cost-effective modes of transportation. However, in a city such as Mexico City, where huge numbers of people need to be mobile, it might not be sufficient. However, there are many different experiences that could provide good case studies for governors and policy makers in order to improve quality of life.
How you see FIA member organisations playing a role in lobbying those government organisations to make these changes happen?
FIA member clubs have incredible experience and knowledge. In particular, for newly-installed authorities in a city, for new mayors or recently-elected oicials, that depth of knowledge is hugely valuable. They need the advice and experience of FIA members. Also, I feel that in the development of common regulations the experience of FIA clubs is really valuable. The ability to leverage that kind of cross-border knowledge is exceptional.
Motoring clubs mainly represent the needs of their individual members, so how can FIA member clubs represent consumer interest while similarly bringing about regulatory change that may impact on their members' freedom to drive?
It's complicated and a real challenge for the commission, but we need to put ourselves in the shoes of members and their customers to help bring about changes that improve the commonwealth and improve global conditions, but which also reflect the concerns and interests of members and their customers. It is dfficult, but it is possible. Of course, we would all like to drive our own car anytime, anywhere, but I think we have to accept that is not possible anymore because streets are a scarce resource, so we need to learn the best way to avoid traffic congestion, to improve the quality of traffic to benefit all. I believe that technology together with public policy and experience can provide a lot in order to take the best decision in favour of the customers.
One of the initiatives the FIA has implemented around this topic is its Smart Cities programme. How do you see this being developed in the future?
Smart Cities is an excellent programme. The key aspect is the FIA is providing a window into alternatives, provoking a kind of demonstrative effect, either for authorities or public opinion, in order to learn how to do things in a better way. The best way for city governors and planners to learn what is happening around the globe is to see examples, and the FIA is presenting them with an incredible opportunity to understand what is happening in the world, what cities are trying to do and what is the best experience to apply.
What do you see as the major trends occurring at the moment and how important is it for us to focus on developing new technologies to solve the problems we currently have? 
There is obviously a trend towards electrification and there are different scenarios around the point at which electric vehicles become the dominant vehicle type in the world – it could be two, three or four decades but it seems it will happen. One trend I see is automation of production, which could have a major impact on jobs and the manufacturing sector, including in the automotive industry. Also there is the obvious growth in autonomous mobility and I sincerely hope this could improve the quality of human life. Autonomous mobility could help a lot in the reduction of traffic congestion, reducing waste and refining people's mobility, making it more efficient. The most important thing with trends such as this is that we need to leave enough room for true innovation. Innovation cannot be conducted or directed. It is an expression of freedom and creativity, especially in young people. The Smart Cities start-up programme provides for that, I think.
The Smart Cities programme is run in conjunction with FIA Formula E races and demonstrates the crossover between cutting-edge motor sport and technological innovations in transport. Motor sport is also facing issues of environmental concern. How can the FIA's sporting clubs and sporting organisations safeguard against increased regulation around those environmental concerns?
I think regulatory change is inevitable. For example, three million premature deaths a year are occurring as a result of air pollution – an incredible figure – and we have no idea what will be the consequences in respiratory diseases. The reality is that there will be a regulatory change and the regulation is happening already. The way for us to deal with that is to promote to our clubs and members an understanding of what is happening, and also provide them with strategies to face those issues. It is important that FIA members get some expertise to be able to deal with potential regulation change and to allow them to engage in an informed dialogue with the authorities in order to avoid common mistakes in over-regulation. And that's important, because we need to lead change. It is better to understand change and then lead it, to see the trends of the future and where the potential risks are for FIA members, and then work together with the authorities to implement the best regulations possible.
The FIA has an Environmental Accreditation scheme for sporting organisations. Is there any reason a similar scheme should not be rolled out to mobility organisations?
The accreditation programme provides several benefits, one of which is the environmental benefit itself – reducing emissions at one event, across a championship and by reducing waste. It also creates an incredible reputational benefit for the event and the FIA. This is hugely important as around the world people are more conscious than ever about environmental issues and we need to avoid negative perceptions of motor sport, which do exist in some countries. And yes, I believe it is possible to translate that positive effect in other areas of the FIA. However, I would say that we need to be conscious that every single club has different circumstances, problems, regulations and customers, so we have to be careful about how we proceed. We need to customise accreditation processes to other areas but now it is important to improve the accreditation programme. To put in place the three-star categories we have, and then I believe that we can move gradually and carefully to other areas, always considering the opinion and suggestions of FIA members.
FIA President Jean Todt has often described motor sport as a laboratory for technical innovation. Do you still think that motor sport can play a defining role in developing urban mobility?
Definitely. I feel that a significant amount of the innovation happening in the car industry has origins in motor sport. Formula E is a powerful demonstration of the potential of electric vehicles – it is a reality, it is happening and the cars are fast, they are beautiful and they are clean. Programmes like Track to Road show that motor sport can provide technology and innovation from the racing arena to the cars people drive every day.
Finally, is the future of motor sport electric or will the petrol engine continue to attract fans in the future?
I hope that both will be the future, I'm one of those that misses the noise of F1 cars but at the same time I love the performance of Formula E's electric cars. Clearly there is an incredible evolution in motor sport –
you can see the eiciency of the cars on the race track, fuel efficiency, the speed, the aerodynamics and so on, and electric vehicles will be part of the future of automotive everywhere. But it's a sophisticated market, so I think there will be room for both. Also we have to think about autonomous vehicles. We don't know the future – is there any space for them in races? Personally, I believe the human factor is inescapable.
It is impossible to have a race, a real race without a person inside making decisions, but opinion may change. Maybe beyond my generation we will see other means of transportation. However, at the moment I feel that traditional forms of motor sport will continue for a long time, but it will be alongside new technologies such as electric racing. The series is improving all the time, in terms of the capacity of the batteries, the way the driver will not need to change cars mid-race… We are living in a time of such innovation in the world of motor sport. It is truly fascinating.