F3 - Post Race 2 Quotes
F3 - 2019 Race of Barcleona - Post Race 2 Quotes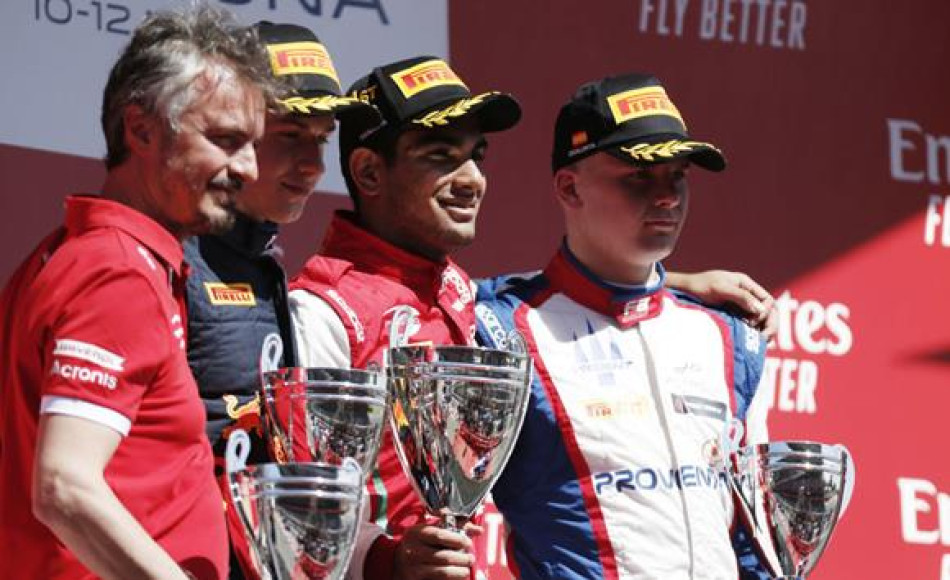 Thoughts from Daruvala, Vips and Kari
FIA Formula 3: Jehan congratulations, a first win of the season for you. How was it today? It all happened at the start and then was it hard for you to stay ahead or not?
Jehan Daruvala: First of all from yesterday I had a really bad start. I didn't really move when the lights went out and I lost like five positions from the second row. For today, the whole of last night we were just trying to analyse the best way to get off the line. We found a good procedure I think that worked for me today, and I got off the line pretty well. Then there was a couple of safety cars. The first one from my side wasn't great but Niko did a really good job. He got a really good exit from the last corner and there was pressure going into Turn 1. But then my main goal was to get out of the DRS range, and that worked. At the end I didn't really know Juri was so quick, so my engineer told me that there was pressure on Niko, so I could relax a bit, but yeah, another couple of laps I think it would have been a tougher race for me.
FIA Formula 3: Obviously this is a great weekend for PREMA, a double win. We knew looking at the preseason testing that you guys were going to be a force to reckon with, were you expecting that sort of result after Round 1?
Jehan: To be honest I think I would say yes. I think the guys are very professional, they know what they're doing. My job as a driver is basically to just to drive as fast as I can because I'm pretty sure every time I go out there I have a good enough car to be up there.
FIA Formula 3: Looking ahead, the next round will be at Le Castellet in June, what are you going to do in the meantime to prepare for Round 2 and maintain this momentum?
Jehan: I'm going to go first back to India next week, enjoy a couple of weeks off but obviously keep training, and then I'll come back a week or so, 10 days before the race to prepare for Le Castellet. We've already done some testing there, so we have good data going into the second round.
FIA Formula 3: So we can expect a bit more of what we've already seen again?
Jehan: Hopefully yes.
---
FIA Formula 3: Jüri, P2 for you today. An awesome end of the race for you too, you had really good pace. How was it from the car?
Jüri Vips: I got a bit of a bad start and then to be honest I think the first half of the race I was struggling, well not struggling, but I think I didn't have any advantage over the others. I think maybe if anything then the PREMA's were a little bit faster. In the end the balance sort of lap by lap started to come to me. That's when I started to be a bit faster after the last safety car restart. I'm a bit disappointed because of the start, I fell back to I think sixth, I think if I could have stayed where I was then I could won the race with the pace I had. Yeah, mixed feelings let's say because the end of the race was really strong and I'm really happy with the potential of the car, it's just a shame that we couldn't win today.
 
FIA Formula 3: But ending the first round with a podium is something positive to take on to Round 2?
Jüri: Yeah, but it doesn't really mean anything to me honestly. It's a reverse grid podium so it means less. I'm here to win and I'm here to win the feature races. I think we had the potential to do it this weekend, it's just that I got blocked in Qualifying so we couldn't extract everything out of the car on the last lap where everyone was improving. I started the first race 11th instead of third of fourth which was our realistic pace which was a shame and kind of ruined the weekend. In the end I'm not that disappointed because I think I recovered from the bad luck in Qualifying and still, it doesn't look that bad in the Championship. The leaders aren't so far ahead. Mixed feelings but generally hoping for a better weekend in Paul Ricard.
 
---
FIA Formula 3: Niko, P3 for you, I know that you're disappointed with that result today.
Niko Kari: Yes I am, of course. The start wasn't great, but of course we made an improvement from yesterday's start. We had a bit of an issue with the clutch at the start yesterday, but today we made it a little better. I was still aggressive. I could manage the tyres very well, just in the end I think set up-wise we were a bit off compared to the other top cars. We didn't have the pace today but luckily I managed to hold on to at least a podium position which is really important and I think we made a good recovery from Qualifying itself, because I had a bit of traffic there, which wasn't ideal. For sure, if we'd have had a better car for today I think we would have been even higher.
 
FIA Formula 3: It seems that Trident was not exactly where it was expecting to be this weekend. What can we expect from you in Le Castellet?
Niko: I think for sure we can expect tougher racing. We'll analyse a lot of data and go through the things and see what we can improve on the car and hopefully go ahead from there.