This page contains archived information and may not display perfectly
F2 - Post-Sprint Race Press Conference 
F2 - Race of Bahrain -  Post-Sprint Race Press Conference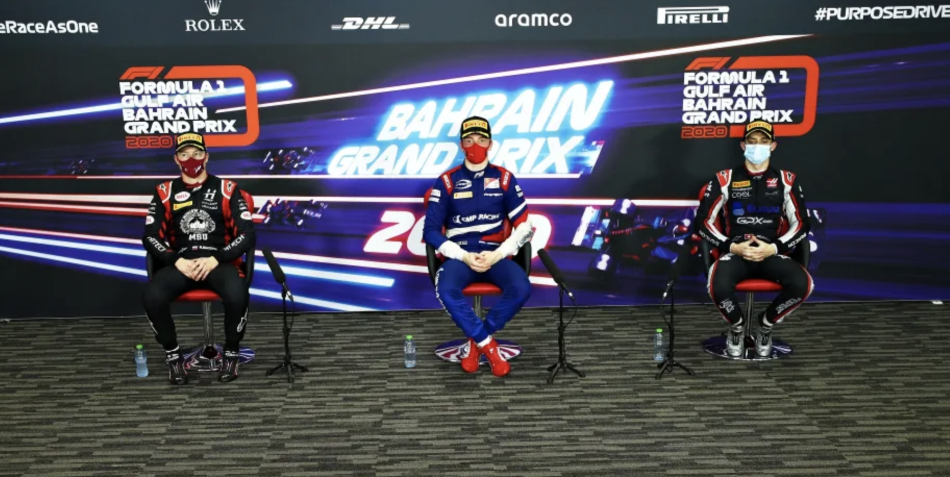 THOUGHTS FROM SHWARTZMAN, MAZEPIN AND DELÉTRAZ
FIA Formula 2: Hello and welcome to the press conference with the top three finishers in today's FIA Formula 2 Sprint Race here in Bahrain. We are joined by race winner Robert Shwartzman for PREMA Racing, in second place is Nikita Mazepin for Hitech Grand Prix, and third is Louis Delétraz for Charouz Racing System. Robert, congratulations. Your first race win since the Sprint Race at Spa I believe. Just how good does it feel to be back?
Robert Shwartzman: Well it obviously feels really good. It took a while. Unfortunately, we had some unfortunate races before, and to be honest also at the beginning of this weekend we were struggling quite a lot. I wasn't really entirely sure that I could manage to get a win this weekend, but I'm very happy with how the team worked. We actually managed to improve the car significantly, and that's what actually helped us today in the race. It feels really good. I'm very happy.
FIA Formula 2: You showed impressive tyre management today in that heat, and your lead was cut away a couple times with the Safety Car and Virtual Safety Car. Were you worried that was going to cost you the win?
Robert: Yeah there were a few moments at the beginning when I didn't really expect the Safety Car to be that quick. It just came out, and straight away back in and it was a late message that it was going away. So, it was a bit strange that it was very quick. The tyres got really cold really quickly as well, so it was really easy to lose the car. I managed to control it just on the limit and I saw the guys behind also struggled, so that helped me to have some gap. For the next two or three laps I wasn't entirely sure whether I should push really hard to get a gap or should I be more cautious and manage the tyres. In the end I just tried not to make any mistakes, just to be as clean as possible. For a few laps, they were staying in the same rhythm, staying behind me, and then I slowly started to pull away. I just tried to focus on my driving, to not make any mistakes, and to finish the race.
FIA Formula 2: Well done, a very good drive today. Nikita, an impressive for another podium for you as well. How was the race from your perspective?
Nikita Mazepin: It was a bit of worry at the beginning of the race. We've had continuous issues with my clutch. Yesterday the clutch wasn't doing what we expected it to do, so we had a very big jump followed by a lot of wheelspin unfortunately. Overnight we changed the clutch and I almost didn't get away on the Formation Lap. I knew that something wasn't right there, so for me the goal at the start was to just get away, which I happily managed to do. I think we had a very good pace in the car. However, by our calculations we were aware that the tyres were just enough to get through the race. That means that if we used a little bit more at the beginning, you'll obviously not have them as much as the others towards the end of the race. That is basically what happened. I had a lot of fights at the beginning of the race going forward, but with eight laps to go Robert did a very good job of saving them because he was in comfortable position. I didn't have anything left in the tank, so the closest I got was 1.4s and I had to drive on eggshells towards the end of the race. However, F2 is about both race weekends, and we've completed two decent results and that's what we have to do.
FIA Formula 2: You mentioned some of the fights you had there. There was a particularly aggressive one with Mick Schumacher where you came very close to contact a few times. What was that like from your perspective?
Nikita: It's part of the job as a racing driver that you need to be able to fight when somebody is putting on a big fight. I have to say that I've gone through the pack yesterday and today, and he's on a bit of a different level of defending versus other people. I had to up my game, and I believe that where I finished sort of shows that I can take it. However, it was definitely close a few times! Going down to Turn 1, the speed is about 310 kilometres an hour. So, it's close.
FIA Formula 2: Well done today, great drive. Louis, the one stop strategy worked. Just talk us through it.
Louis Delétraz: Yeah, it was pretty crazy! If you told me that would happen yesterday, I would sign straight away. We had quite a poor weekend. Quali we got blocked. Race 1 was a disaster. So, starting 16th today we had to try something. We were the only ones trying the mediums in the beginning. The point was to have a good start, make a few good first laps, gain a lot of positions... Unfortunately I had a good start but after one lap they were gone. They really didn't handle the heat well, so we thought it would not work. Luckily, the Safety Car came out. We boxed under VSC delta and I could not catch the pack back. I was like 15 seconds back to the last car, but we still gained some seconds. Then the pace was just amazing. Deg was low. I think we handled the hard tyres well and could come back. I wish there was a few more laps in the race, and I could have got closer to both of them. But well done to the team for thinking about it last night, because we were really unsure and they did a good job on choosing the strategy. Also, my teammate was doing really well until the problems, so I feel very sorry for him because he's done a good job today.
FIA Formula 2: As you mentioned, your teammate had a problem and that gave you one position, but all the others you took out there on track. How far ahead were you looking? Did you know? Did you have a target in mind of how far up the field you could get?
Louis: After five laps I think I still had a pitstop to do and I was P18. So it looked pretty bad. But then I was just taking them one by one. My engineer kept telling me on the radio who was the next one, what's the pace. I just had to manage my tyres, and when I got to P8 I thought, 'okay, now it's going to get harder to pass as my tyres are getting old,' but everyone dropped. Then I was fifth, fourth, then suddenly third and coming closer to second. For sure, it was intense. It was great racing. It feels good when you're in that position and you're actually chasing someone, not being chased.
FIA Formula 2: Thank you very much. Robert, just returning to you. One more round to go here - next weekend on a different circuit. What are you looking to achieve at the final races of your rookie season?
Robert: The main thing is the experience and the understanding of how exactly this car works, and what you have to so, so that in the future it will help to prevent some mistakes and issues. The track is going to be very interesting because it's very short and it's like a NASCAR track. It's like an oval. There will be a lot of overtaking, and everybody is going to be very close to each other. It's going to be very interesting races. I just hope that I can do a much better Qualifying, and to get some really good results just to finish the Championship on a good spot.