This page contains archived information and may not display perfectly
F2 - Post-Sprint Race Press Conference 
F2 - 2019 Race of Hungary - Post Sprint Race Press Conference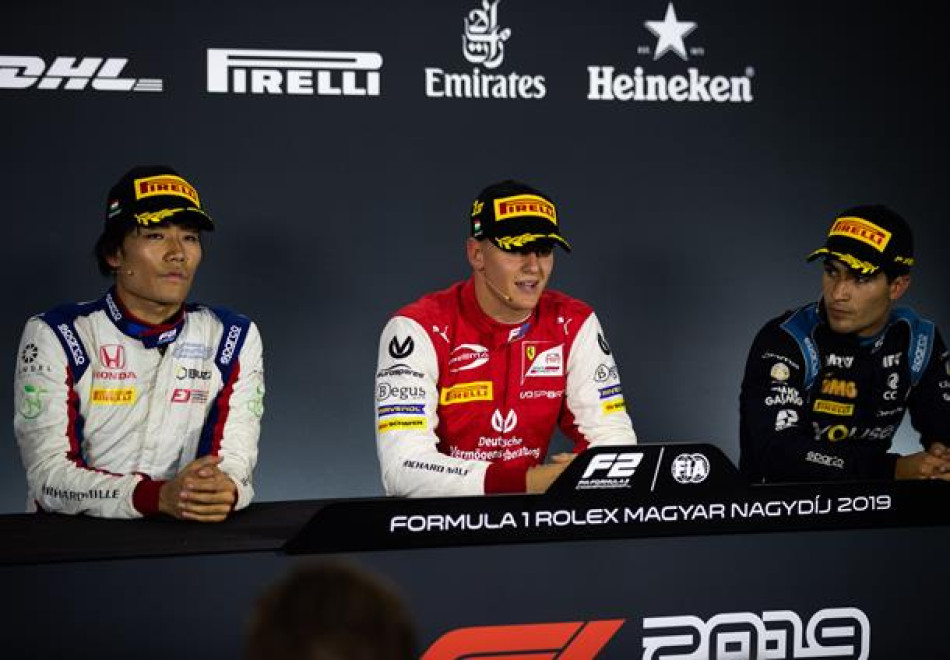 Thoughts from Schumacher, Matsushita and Sette Câmara
FIA Formula 2: Hello and welcome to the press conference with the top three finishers in today's FIA Formula 2 Sprint Race here in Hungary. We are joined by race winner Mick Schumacher for PREMA Racing, in second place is Nobuharu Matsushita for Carlin, and in third place is Sergio Sette Câmara for DAMS. Mick, your first victory at FIA Formula 2 level, just tell us how does it feel?
Mick Schumacher: Great! [Laughs] I think that's a pretty summed up view of it. I'm just happy to finally be over the period of bad luck and it's good to, obviously, score a decent amount of points.
FIA Formula 2: It didn't look like an easy race out there today. You had a lot of pressure throughout. Just what was it like within the car?
Mick: As you say it was not easy. I was always trying to keep him [Matsushita] a bit behind, especially in the last sector. Going into Turn 1 is the easiest, and let's say most probable, overtaking opportunity for Nobu, so I tried to have a good exit out of the last corner every time which worked pretty well. He then got quite a bit closer into Turn 1 when he had the DRS, but in general I was trying to take care of my tyres, especially when these two were fighting. I tried to push to get away and stay out of the DRS but then also tried to look after the tyres so that if Nobu came back, which was a matter of time, I still had some tyres left. They were pretty on the edge to be honest in the last laps.
FIA Formula 2: Well done today. Nobu, moving on to you. It looked like the start of the race was crucial. Just talk us through that run to Turn 1.
Nobuharu Matsushita: First of all congratulations to Mick. He had a fantastic drive and didn't make any mistakes as a rookie which is great. Of course, I was aiming to overtake him in Turn 1 but he had a good start as well. Mine was slightly better but I couldn't overtake. After that I was managing my tyres and then, I don't know, ten laps before the end I started to push. But as Mick said about Sector 3, he drove very well and didn't make any mistakes so there was no chance.
FIA Formula 2: We saw a few times where you dropped back and then closed in quickly. Were you just trying to put pressure on to make a mistake or were you trying to line up an overtake somewhere?
Nobuharu: In the beginning I tried to get the fastest lap, and I did it, so I'm happy about that. After that I think he was pushing and saving his tyres also, so it was just a sequence.
FIA Formula 2: Well congratulations today. Sergio moving on to you. Starting yesterday's race in 12th place and finishing the weekend with a podium, you must be happy with that recovery?
Sergio Sette Câmara: Yeah it is a good recovery. It's not what I want out of a weekend, especially Hungary. It's one of the tracks where I feel most at home and confident. In the end you have to balance it out. At a track that I know I don't typically get results on I already have the points in the back to compensate for that round. Hungary is a round that I'm comfortable with so I expected to score a bit above average, but I can't complain. After such a bad qualifying, coming out with a podium and 20 points is a good recovery. In that context it's a good weekend.
FIA Formula 2: We saw the scrap with Nobu at one point when you made the move down into Turn 1. Was that the one chance you had to try and take second there, and could you not hold on to the front two after that?
Sergio: It appeared to be my only chance. I saw already yesterday that Nobu had really good pace because he spent the whole race behind Luca Ghiotto if I'm not mistaken, and still at the end of the race we had very similar pace. I managed to overtake him but it was just race circumstances. I didn't overtake him just because of more pace. I thought if we spent the whole race battling and we had the same life then it means he has some potential. Today we were more or less all in the same conditions and it seems that actually he had a lot of pace towards the end. I tried to save a little bit more because I knew it would make a difference towards the end of the race. I expected some degradation but it didn't seem to be enough. The lap I overtook him it felt like it took five laps out of my tyres. After that I never recovered and I just nursed it. It was more about not losing third place than about actually trying to fight for a better position.
FIA Formula 2: Well done today. Mick, just returning to you. You mentioned bad luck earlier and the run of results you've had. This is the perfect result to go into the summer break with. Are you hoping this will kick-start the rest of your season?
Mick: Yeah. Obviously the next race we're going to is Spa, so it's a very good track for myself where I feel very comfortable. Hopefully that result today will give me kind of a boost going into the summer break, and also going into the next race. I'm really looking forward to that.