This page contains archived information and may not display perfectly
F2 - Post-Sprint Race 2 press conference
F2 - Yas Marina Event - Round 8 - Post-Sprint Race 2 press conference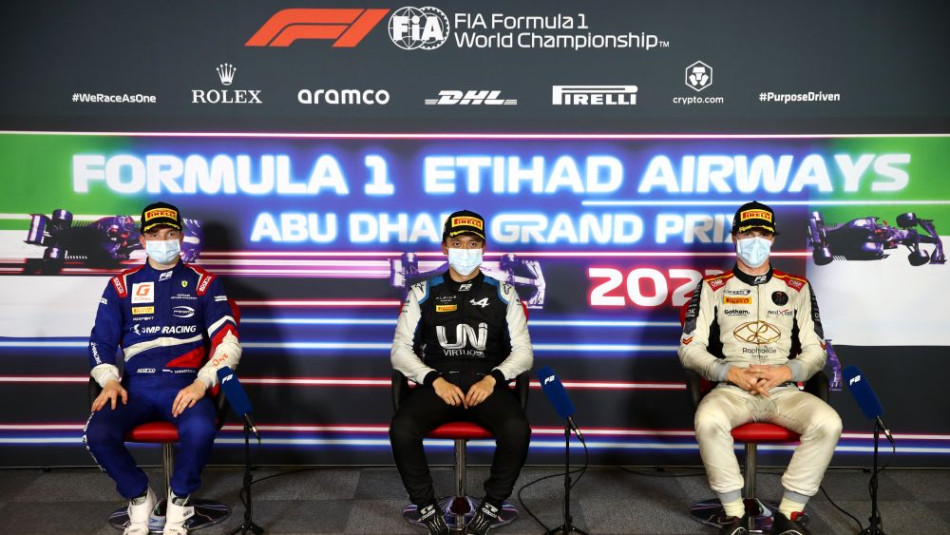 Thoughts from Zhou, Shwartzman and Boschung
FIA Formula 2: Many congratulations to the top three finishers of Sprint Race 2 of the FIA Formula 2 Championship here at the Yas Marina Circuit. In third place Ralph Boschung for Campos Racing, in second place Robert Shwartzman for PREMA Racing, and taking his fourth win of the season, our winner, Guanyu Zhou for UNI-Virtuosi. Guanyu, that's a fantastic race by you today, well done. It's been a while since your last win at Silverstone, how good does it feel to be back on the top step of the podium?
Guanyu Zhou: I think it's a huge relief in myself that finally, I got another win in the final round. I said I wanted to enjoy this weekend, and today I did enjoy it quite a lot. Looking at the pace, Sprint Race 1 was a struggle with the new layout to overtake people in the DRS train. Then when you're forward at the front it's a lot easier. I was super happy, more because we had pace matching, or better, than the PREMAs and that wasn't the case in Race 1 when they seemed to be a good step ahead of the others. So, I'm just really happy with the improvement, and also it's some good points for the Championship and means being able to fight a bit more open in tomorrow's race.
FIA Formula 2: Do you think the cooler conditions suited the car well?
Zhou: It depends. I think the cooler conditions are good for us, but in general, I think it's more down to the changes you explore in Race 1 and take all those considerations into Race 2 to improve yourself, and also to improve the car package. I think that's what we did quite well, and I was really confident. I just felt very sorry for Marcus because I saw that the problem was coming because I saw his lights flashing the whole race, and I thought maybe somehow, he might have a problem so it's a bit unfortunate that I couldn't fight him on track.
FIA Formula 2: Guanyu you say your car was much better than in Race 1. Do you think you had the pace to challenge Marcus if he kept going?
Zhou: I do think that because obviously, once I cleared off Ralph, I was able to catch him up. Maybe one or two laps I would have got into the DRS zone, but the Safety Car was really difficult in the last sector coming to the start-finish line and the restart. Nevertheless, I think we did have the pace to be fighting for the victory. It would be nice to fight it on track, but otherwise, I was happy with what we'd done before Marcus' problem also I think we managed pretty well the pace and the gap behind.
FIA Formula 2: Guanyu, one race to go. The Feature Race tomorrow, you're going to be starting from the sharp end of the grid. What are you hoping?
Zhou: I'm hoping for the race win, that's always the target but it's going to be a long race tomorrow. The Feature Race is always a bit messy, especially seeing as it's the last race of the year for everyone. There will be people who still need to grab some points and there will be people who have nothing to lose so anything can happen. So I will focus, try to get a good start and stay with the guys around me and see what we make up on track.
FIA Formula 2: Good luck with that and well done this evening Guanyu. Robert coming to you, huge progress in that race to go from P7 to P2, just sum it all up for us.
Robert Shwartzman: It's been a very nice race, it was a lot of fun. The start was good, I managed to gain two places, but it was tricky. I saw some cars on the inside and it was very very tight. I managed to leave enough space, so they didn't touch me and I had a decent exit. So out of Turn 1, I was P5, then, in the beginning, there was some fighting going on. We had some interesting battles with Dan, I managed to get past him, but I had to fight the whole lap, then I was in P4 behind Ralph. Then the target was to come as quick as possible to Ralph and try to get him. But the Safety Car came out, there was one Safety Car, we restarted, and everything was really cold. Then basically the second Safety Car was coming out again and it's quite challenging, this race in particular everything got cold quite quickly, the tyres, the brakes, so we had to warm them up a lot behind the Safety Car. It was very tricky. Then when we restarted the race, unfortunately for Marcus, I saw the lights and I was wondering what was going on because either he accidentally pressed the rain button, or something was actually wrong. After a few laps, he stopped so he must have had an issue. Then there was the VSC and the VSC restart, I tried to play it well, I knew it was going to be on the long straight, so I tried to stop a bit more, then use the tow of Ralph to get him into Turn 6 and it went pretty well. I managed to get in front of him, but then there was Zhou in front but at that point I was struggling a bit with the front right. There is a lot of graining in this track so definitely with the colder conditions the balance was not as good as this morning. We struggled a bit with the front today, but I am very confident for the Feature Race because today's first race was very, very competitive.
FIA Formula 2: Well done Robert, can we just get a quick word from you on the Championship situation? You gave it your best shot this morning.
Shwartzman: I gave it my best shot. Unfortunately, I lost two points to Oscar, I didn't really want to take a risk. At the end, it's two points. Hopefully, they're not going to cause me any problems. I feel like tomorrow's going to be an interesting race because for sure Zhou's going to push a lot, but me too. I'm going to give it the maximum I can and hopefully secure P2 in the Championship. I wanted to also say well done to Oscar for the season, because he did a really great job, very impressive to be honest. I didn't really expect him to be so consistent and so quick so huge respect to him. It's been a very nice year and tomorrow is going to be my last race, as with Zhou's so we're going to enjoy it and have some fun.
FIA Formula 2: Good luck with that Robert, Ralph coming to you. Your second podium in as many weeks. The car has really come alive recently, hasn't it?
Ralph Boschung: For sure this podium is more deserved than the one in Jeddah. Coming into this weekend we knew we struggled a little bit with race pace in general and we worked really hard since Jeddah, where we struggled quite a lot. I'm so proud of the guys because they made such a great step, and they made such a great car for me to drive. I can't thank them enough.
FIA Formula 2: The car is good but how much confidence are you taking behind the wheel from this recent run of results.
Boschung: Well of course, more and more. I always try to stay realistic, but when you look at the Qualifying performance from the last five or six rounds it's been really strong. In Quali, I'm usually quite confident to be within the first six but then in the races it was a bit low in the beginning, but now race by race it's getting a bit better. It's the last one tomorrow so we'll see if the confidence will rise a bit more.
FIA Formula 2: Final one from me Ralph. Can you talk Robert's pass on you after the VSC from your point of view, you could see him coming, I guess?
Boschung: Well actually I had a good run on the car in front, but then I was still negative on the delta, so I had to press the brakes and I saw Robert having a really good run. I didn't really defend too aggressively, because it seemed like his pace was super quick and I tried to be a little bit safe with the position I was at. He made the move and I tried to follow him as closely as I could.
FIA Formula 2: Well done Ralph!