This page contains archived information and may not display perfectly
F2 - Post-Sprint Race 2 press conference
F2 - Jeddah Event - Round 7 - Post-Sprint Race 2 press conference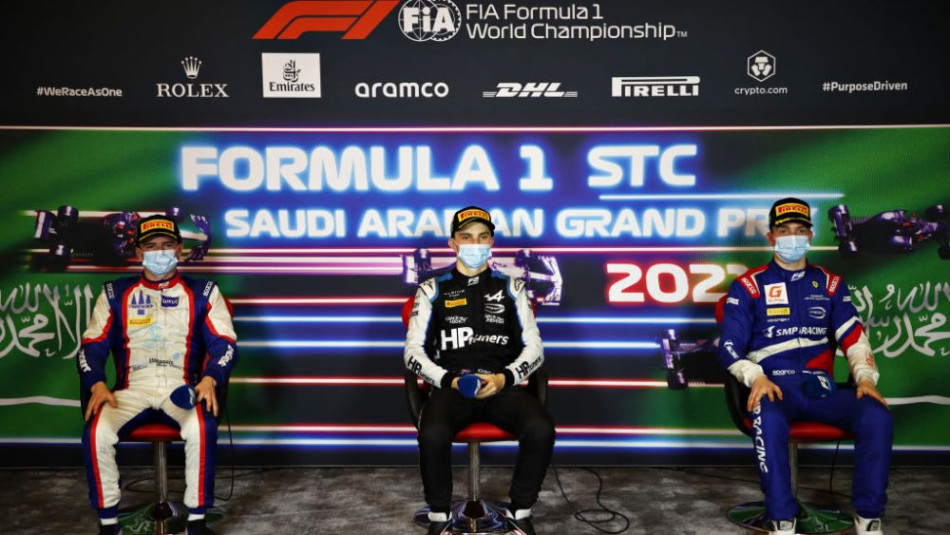 Thoughts from Piastri, Viscaal and Shwartzman
FIA Formula 2: Many congratulations to the top three finishers of Sprint Race 2 here at the Jeddah Corniche Circuit, in third place, Robert Shwartzman for PREMA Racing, in second place Bent Viscaal for Trident and taking his fourth win of the season, our winner, Oscar Piastri, also for PREMA. Well done Oscar, that was a great victory and it was certainly a dramatic one too. Just how tricky was it to navigate your way through all the drama?
Oscar Piastri: It was pretty action-packed once again. I was basically just waiting for DRS to get past Jehan, but then he picked up the pace when DRS was active, so that made life a bit more difficult. He had a massive lock-up into Turn 1 so I knew after that his tyre was going to be pretty wrecked. I knew he had a five-second penalty, and I also knew Christian had one behind, but I kind of knew there was the possibility of getting the fastest lap so I kind of wanted to go for that and I also just wanted to win on the track, because who doesn't want to win on track. I probably didn't need to make that move, Jehan moved a little bit under braking which caught me a little bit by surprise, but after that, the pace was really strong and we navigated all the Safety Cars and all the other drama.
FIA Formula 2: You got a bird's eye view of Jehan's lock-up and then running wide into Turn 1. Did you expect him to get a five-second penalty?
Piastri: Did he get the five-second penalty for that? I didn't want to raise it, because I didn't want to waste my time and because I thought I could get past him anyway. But I think without that it would have been much closer for an overtake. I think his brakes were really cold because it seemed like we broke at the same spot, but he just went straight and then locked the tyre straight away, which seems to me like cold brakes. I wasn't sure if he'd get a penalty for that or not. I was just going to treat it like he didn't have a penalty because at end of the day I wasn't actually in front of him before we hit the brakes. Either way, I wanted to try and get past him on track.
FIA Formula 2: Now Oscar, you can win it all tomorrow, you can clinch the Championship. Are you allowing yourself to think about that?
Piastri: Well the best way to do that is to win the race tomorrow, so I'll focus on doing that and see what happens in terms of the Championship. I think in Sprint Race 1 I probably thought about it a bit too much and didn't really maximise my opportunities, and then in Race 2, I got my elbows out a bit more. I'll see how the race tomorrow goes first, but if we clinch the Championship, we clinch the Champion. The best way to try and do that is to win the race, so that's what I'll try and do.
FIA Formula 2: Best of luck with that and well done this evening as well. Bent coming to you, well done to you as well. Your second podium of the season, how good was it to be stood on that giant podium here in Saudi?
Bent Viscaal: It was interesting! Of course, the first time without Champagne so that was a bit unusual, but I really enjoyed it. The whole race was really eventful and it's my new favourite track so that's a good thing.
FIA Formula 2: I was going to ask you a little bit more about the track. It's the first time we've seen you at the press conference this weekend. How challenging has it been, firstly from a driving point of view, and also to dial the car in as well?
Viscaal: I think that's the more difficult point, you've got to have a very strong front end, but it shouldn't be too nervous because the car needs to give you a lot of confidence and we really made a big step in that from Race 1 to Race 2. Apart from that, with the track you really need to be on it in pretty much every corner otherwise it's over. You definitely feel alive if you do a good lap over here.
FIA Formula 2: And what about the race itself for you Bent? It was fraught, you had Robert very close behind you in those closing stages. Talk us through the main incidents for you?
Viscaal: I lost count, to be honest! It started off at the start, of course, I wanted to make the jump on Jehan. I feel like he squeezed me into the wall quite a bit on the exit, so I lost a bit of position there. After then of course I overtook Lundgaard into Turn 22 which was very nice. Then he got back to me, overtook me around the inside of Turn 2 so I knew it was going to be a five-second penalty. After that, I don't think there was one boring lap in it. So I really enjoyed it.
FIA Formula 2: In conclusion, it is possible to overtake around this track clearly?
Viscaal: Definitely! I think it's one of the easiest tracks so far this year, to be honest. It's a challenge, but it rewards you if you do it well.
FIA Formula 2: Well, well done Bent. Robert coming to you, sixth on the grid to third strikes me as very good progress. You must be happy?
Robert Shwartzman: Yeah the result was good, the pace was really really good. I did a decent start, but there was not much I could have done from that place because there was a lot of cars and nowhere to go. Then at the beginning, I was behind Dan, I saw him, couldn't really pick up the pace as well. So I said, well ok, I'll have a go. So I did a try, we had some fair fights, and I managed to get in front of him. After that, we had some Safety Cars and you know some restarts. I tried to maximize my restarts as much as possible but without taking many risks. Then I was behind Bent and I tried my best to get through, but it's not the easiest one to get through, especially when every lap he had DRS. So it was quite challenging, I was pushing quite a lot. He was defending really well, and unfortunately, I didn't get in front. I didn't really take many risks, I knew the points were really important because there is a Championship at play. But P3, a good result, good pace and I'm pretty happy with today.
FIA Formula 2: You mention the Championship, you're now up to second. What is your goal for the last four races of the season?
Shwartzman: The goal is to get as many points as possible, obviously Oscar is very consistent so it's very difficult to catch him up, but anyway I want to secure at least a P2 in the Championship. So that's my focus now, to deliver every race as best as possible. I feel like we have a really strong pace so I just want to put it on the race track and show it because I feel like the car is good. Tomorrow it's another race, hopefully, we'll do a really nice race, get some good points and we go off to Abu Dhabi.
FIA Formula 2: Well how much confidence do you get from your pace this evening looking ahead to the Feature Race tomorrow where you're going to be on the front row alongside your teammate?
Shwartzman: Well I think we have both really good pace. I feel like my pace is good enough to win. So tomorrow I will do my best to just fairly fight with Oscar. Hopefully, I will manage to get in front, but even if I do not I will do my best to be quick and deliver good points and a good result. That's the main target.
FIA Formula 2: Good luck with that. Thank you, Robert!