This page contains archived information and may not display perfectly
F2 - Post Qualifying Press Conference
F2 - Race of Silverstone - Post-Qualifying Press Conference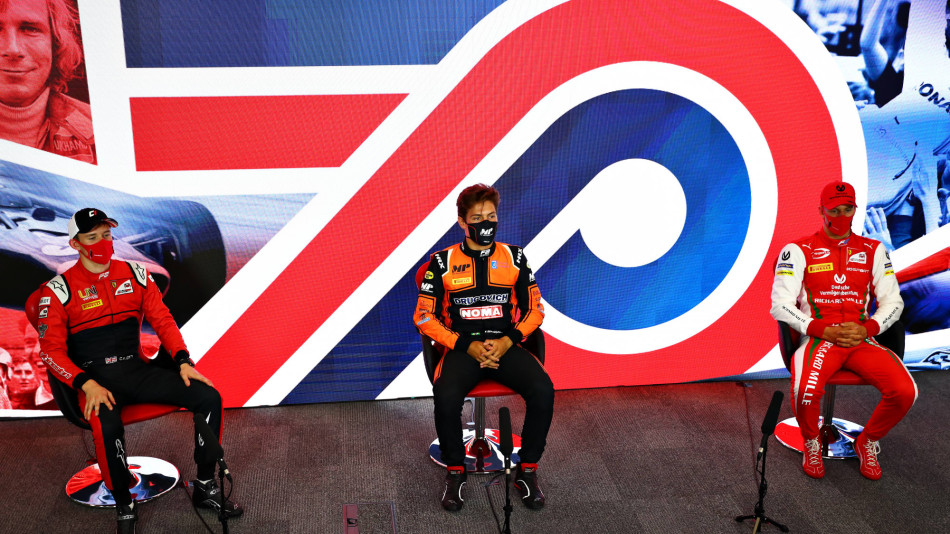 THOUGHTS FROM DRUGOVICH, ILOTT, AND SCHUMACHER
FIA Formula 2: Hello and welcome to the press conference with the top three qualifiers for tomorrow's FIA Formula 2 Feature Race here at Silverstone. We are joined by polesitter Felipe Drugovich for MP Motorsport, in second place is Callum Ilott for UNI-Virtuosi, and third is Mick Schumacher for PREMA Racing. Felipe, your first Formula 2 pole position, just, simply, how does that feel?
Felipe Drugovich: It certainly felt amazing! It was an amazing lap for me, and the car was pretty much perfect. We made big improvements for the second stint in quali, and I think everything felt amazing. First lap - boom. That was the lap. I'm really thankful to the team. We worked really hard from the last three weeks to realise what we had to improve for this weekend, and I think we've gone in the right direction.
FIA Formula 2: You qualified very well in the first race in Austria as well. You were in second place then but seemed to struggle a little bit after that. Do you know why that was, and what caused the turnaround today?
Felipe: I don't think we really lost performance after that, we just haven't been very lucky, or I haven't put my laps together, but the car was maybe a little bit difficult which didn't help. I think we made some improvements, and I, for sure, improved my driving. I knew what I had to do to put everything together for today. The car was amazing, as we analysed everything from the first weekends. It all came together today, so I'm really happy.
FIA Formula 2: Congratulations, well done today. Callum, moving on to you. It was just over one tenth of a second, which is not a huge amount around Silverstone. Are you happy with that or frustrated with your session?
Callum Ilott: It's not bad at all. I can't complain about the pace I had. It's just a little bit... I came over the line and thought it was a good lap, and then... P2. Okay. I'll take it, but we've got to see what we're missing. I think we struggled on the first run, and track positioning was difficult for everyone. It was a bit messy. The car itself, I don't think we got the balance completely right, so we made some big changes in the middle, and got it reasonably right. I think we did a good job to, not salvage, but to get a good position out of this. It's the fourth time I've been here for quali, so I have to say it's going quite well and it's going quite consistently at this rate.
FIA Formula 2: I was going to say, you've been in the top three at every one of these Qualifying press conferences. It hasn't always gone quite so well in the race. Do you feel like you've made progress in the slightly bigger gap between races this time around?
Callum: I hope so. We've tried to work on it a lot. I think in Budapest, obviously the strategy was not the best at all, but we highlighted where we might have lacked a little bit in the car. Hopefully we've righted our wrongs on that. I think that might be second or third time I've said that, so fingers crossed this time, but I think we should be on for a good race. On the harder compounds the car felt good in practice and quali. It's on the edge, but it's good. I think we should be alright.
FIA Formula 2: Thank you. Mick, moving on to you. You were in the top three in both races in Hungary, but this is the first time you've qualified in the top three. Are you happy with that result?
Mick Schumacher: Yeah, considering how the qualifying went, I think we did a good job to put it here where we are now. Obviously, P3 is a good position to start a race from. You can still be close to the guys in front, and if you get a good start, obviously into Turn 1 and Turn 3, you have the better position. From there you can work out what you want to do. In general, I'm very happy. The car was mega. The team did a really good job to get everything ready in time. We made some changes from Free Practice. I'm very happy, in general, with how the car went out on track.
FIA Formula 2: We saw, early in that session, a few incidents on track. Can you just talk us through the incident with Roy (Nissany) towards the end of the final sector?
Mick: Unfortunately, we went a bit out of sequence in the first run, which then basically left me to do my push laps while everybody else was doing their cool down. Getting into the final sector, it's quite difficult to see what is happening behind you, with the mirrors and the rear wing. He probably just thought I was trying to get a better position on track, but in fact I was pushing. It happens. Obviously, it's a bit difficult sometimes to find the right position to do the lap. Nevertheless, we did a good job in the second run so I'm happy with that.
FIA Formula 2: Well done today, and good luck in tomorrow's race. Felipe, just returning to you. I think fifth is your best result so far in a Feature Race this season. In your rookie season, do you feel like you've built up some experience that will help you tomorrow?
Felipe: For sure, of course. We've built up a lot of experience. In the other Feature races I don't think we really maximised our performance or our potential. As we've seen, we've been a lot faster and a lot quicker in the Sprint races, but in the end, it's been the same car on the same track. Our potential is pretty good. We just need to maximise strategy and everything, but at the end it's still a rookie year for me. Everything is still new. Of course, it's easier in quali to put a lap together than to keep the tyres and all the other stuff. It's normal to struggle a little bit in F2 in the first year. I'm really happy with it so far, and hopefully tomorrow we can put everything together.