This page contains archived information and may not display perfectly
F2 - Post-Feature Race Press Conference 
F2 - 2019 Race of Abu Dhabi - Post Feature Race Press Conference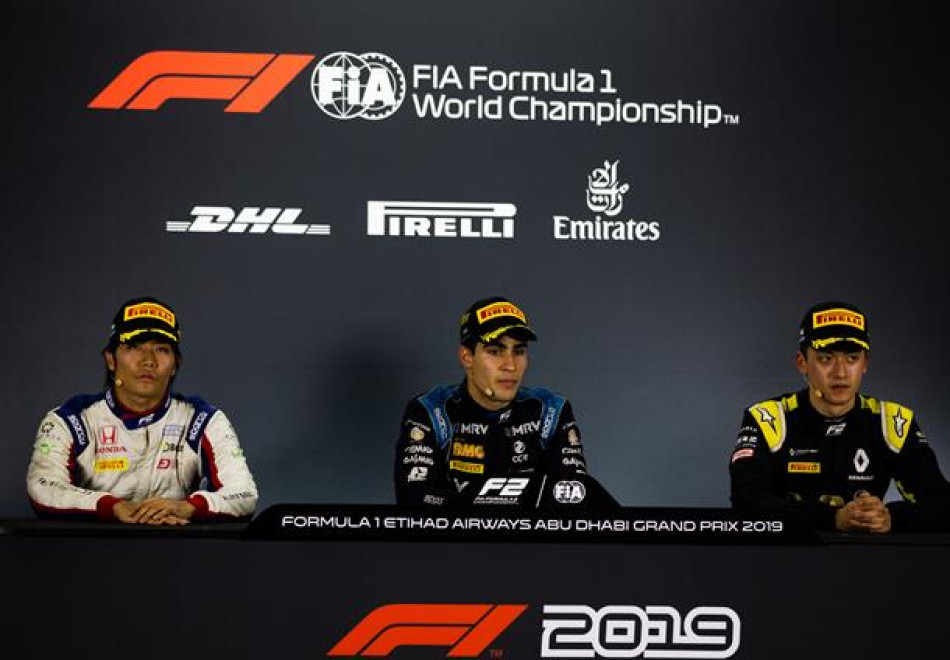 Thoughts from Sette Câmara, Matsushita, and Zhou
FIA Formula 2: Welcome to the press conference with the top three finishers in today's FIA Formula 2 Feature Race here at Yas Marina. We are joined by race winner Sérgio Sette Câmara for DAMS, in second place is Nobuharu Matsushita for Carlin and third is Guanyu Zhou for UNI-Virtuosi Racing. Sérgio, your first Feature Race victory at this level, and from pole position too. You didn't make it easy for yourself. Just talk us through the start of that race.
Sérgio Sette Câmara: It was an exciting race for sure. When you lose the lead it's like you never took pole, and especially off the line like I did. It was difficult. In Abu Dhabi I think all the teams get the feeling it's going to be a rear degradation race, but I think maybe with the change to this car the race has migrated to a front-deg race. At least in all the experiences I've had. It was extremely difficult because at some point you had the rear grip but you couldn't use it because the car just doesn't turn. It was a race where you had to recover your tyres and it was difficult to know exactly where the pace was at, but in the end we worked well as a team. DAMS and my engineer were letting me know the pace, I was taking clever decisions, it was a good pit stop and apparently a good car as well. In the end it worked.
FIA Formula 2: There was a lot riding on this race for you. You said yesterday that you wanted to secure a top four championship finish to get a Super Licence - you've done that now. DAMS has won the Teams' Championship as well. Did you know all this before the end of the race? Was it on your mind at all? Did you have to deal with that pressure?
Sérgio: Yeah it's a lot for sure. This is the race of the season that I've carried the most pressure going into. I've been told by many different people: "You have to have the Super Licence", "Even if you're not going to F1 you need to have it"... It's always good and at some point you have to reach targets that people set for you. It's expectations. It's like that for everything in life but it reached that point [laughs] and it means that Abu Dhabi was a race where I had a bit more stress than an average F2 race. It's just nice that everything finally fit together. I couldn't be happier.
FIA Formula 2: Congratulations today. Nobu, moving on to you. From fourth on the grid to finish second and on the alternate strategy compared to Sérgio, but there was a lot of action for you in that first stint. Just talk us through those first few laps from your point of view.
Nobuharu Matsushita: I think my start and my laps at the beginning were quite clear and easy. I didn't push really hard to save my tyres. After that it was quite difficult to control and to feel which set of tyres was going to be the most difficult - front or rear. I was calculating about the life in them and everything. Actually, I was thinking "Oh I'm leading the race", then when I came out of the pit I was P2 or P3. Sérgio was a bit too far and I couldn't see him. I think DAMS today really dominated the pace. We are a bit behind so in the race tomorrow I'd like to catch them. Still, P2 is a really good result for us and for me as well. I'm really happy about that.
FIA Formula 2: You obviously had the tyre advantage against Louis [Delétraz] when he came out of the pits, but he made it difficult for you with a bit of a scrap. Did that end any hopes of trying to close the gap to Sérgio?
Nobuharu: When I went out of the pits I couldn't see Sérgio. I didn't know who was leading the race. Then I saw a car overtook me just after the pit exit and then I overtook him straight away. I saw Louis was maybe five seconds ahead of me so I wanted to catch him. I finally did and I'm happy that I did.
FIA Formula 2: Congratulations, well done today. Zhou moving on to you. You had plenty of action as well, especially in that first stint. Closing in on Nobu in the end of that stint. Talk us through managing that section of the race.
Guanyu Zhou: The race was pretty fun from my point of view. The start was really good. I moved up and then going into Turn 8 I didn't really defend the position enough and I lost a bit on the AstroTurf at the exit. That put me back and so afterwards I just tried to do my own thing. I had a similar gap, or similar pace, to Nobu and I think it was just like he said. It was really difficult to try and keep the rears in good shape while at the same time trying to get the car to turn into corners. It was a pretty long stint with the prime set and in the last few laps before I pitted I got behind Nobu. In the slipstream behind him though I got way too much understeer and I couldn't do anything. We decided to do the opposite of whatever he did when pitting, but I think we lost a bit because of that. After that I came out of the pits and I didn't know which position I was, but with two laps to go I was told I was P5 or something and I had to make the move and stick it. I tried to get a podium position and I was happy I made the move as straightforward as it was. I got Louis [Delétraz] on the last lap and it was pretty nice to be back on the podium.
FIA Formula 2: As you said about the pit stop, you did the opposite to Nobu and that meant running one lap longer. Do you think that cost you the chance of beating him, or did that actually help with the podium fight?
Zhou: I think the option tyres could have lasted one more lap, but it was going to be touch and go. With Nobu I think maybe we could have pitted together, and maybe if we were faster we could have overtaken him in the pits. But in the race we were thinking about other things as well, just trying to be different to our competitors. Overall, I'm happy with what we decided and the position that we finished.
FIA Formula 2: Well done today. Sérgio, just returning to you. In the battle for second place in the Drivers' Championship, you were talking it down yesterday, but if my maths are right you are six points behind Nicholas [Latifi] and two clear of Luca [Ghiotto]. Is it all to play for? Is it "gloves off" now that you've got the Super Licence confirmed?
Sérgio: It's never really that easy because when you're starting eighth it's always a bit messy. There are always cars all over the place in the first few corners. You can't be too risky. It always ends up bad if you try to do 50/50 moves. We all know the Sprint Race is just one long line of cars and everyone has the DRS on the next car ahead, so it's tricky to have an advantage. We'll have to look into it and see what we can do to have contrast tomorrow and try to have a special race. You mentioned Nicholas and Luca, but I guess they're start further forward than me tomorrow. I'll have to work hard if I want to keep Luca behind me, and it will be challenging if I am hopeful of passing Nicholas. Like I said yesterday, I'll just try and do the best race possible. There's also the fastest lap thing, so there's different things going on. Let's see.