This page contains archived information and may not display perfectly
F1 - P.Gasly "At the moment, I don't know how many races I'm going to do in F1 so there is nothing confirmed"
Transcript of the part two of the Thursday Press Conference organised by the FIA for the 2017 Malaysian Grand Prix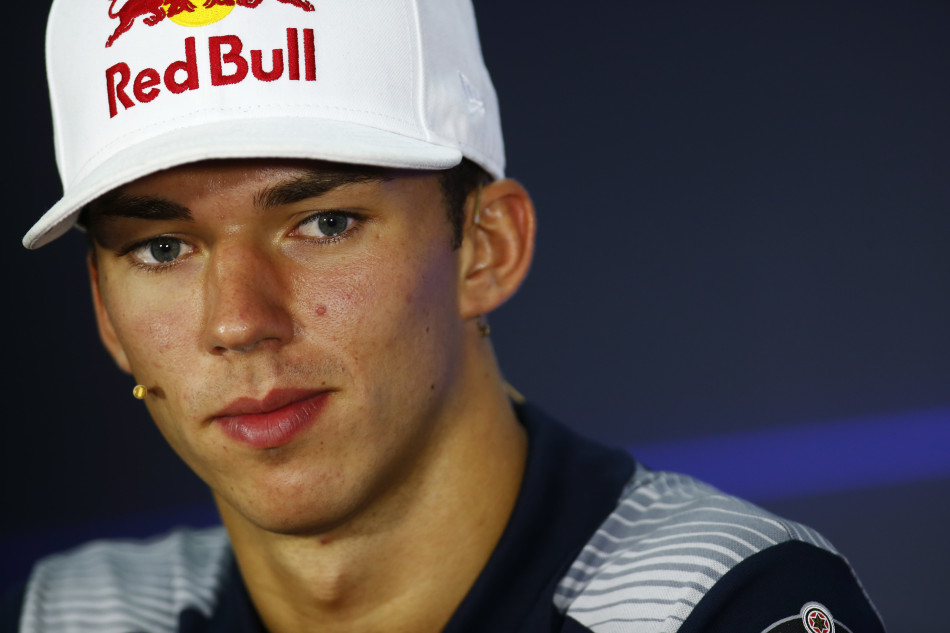 FEDERATION INTERNATIONALE DE L' AUTOMOBILE
2017 FIA Formula One World Championship
Malaysian Grand Prix
Thursday Press Conference Transcript
28.09.2017
PART TWO: DRIVERS - Pierre GASLY (Toro Rosso), Carlos SAINZ (Toro Rosso), Marcus ERICSSON (Sauber)
Q: Pierre, the moment has finally come, you make your Formula One debut. You've had to be patient – how does it feel?
Pierre GASLY: It feels amazing, honestly. Starting my first Formula One race this weekend is just a dream coming true for me. I worked really hard these past few years to make it happen and had to be patient but yeah, it's worth it and I'm just so excited and really looking forward to this weekend.
Q: So is it your expectation, understanding that this is a prelude to racing a full season next year in 2018 – and what are the plans around trying to finish off and win the Super Formula series this year?
PG: It's a really good question. At the moment I don't know exactly what's going to happen in the next couple of weeks, so I'm just focussing, fully focussing on the weekend, trying to do my best, learn as quickly as possible. It's a great opportunity for me to start next to Carlos who is on top of his game at the moment. So really good benchmark for me and I'll try to learn as quickly as possible, focus on the weekend and then we'll see what's going to happen in the next few weeks a bit later.
Q: Marcus, coming to you, you've obviously got very strong connections at Sauber but how does that square with all the initiatives going on around the junior Ferrari drivers? Where does it all leave you?
Marcus ERICSSON: Yeah, nothing is done at the moment for me, so yeah, I need to keep pushing and do good, the last couple of races now to show that I deserve to be in F1 next year – so it's important for me now, even though we are struggling a bit as a team to keep up with the other guys, it's still very important races for me. So, yeah, big push needed.
Q: The strategy of using the year-old Ferrari engines is clearly beginning to hurt now: everyone else is making real progress. What are you working on at the moment in terms of finding performance.
ME: Yeah, like you say, with the old power unit it's always going to be difficult towards the second half of the season. And now we're really see in the last couple of races that we've been lacking quite a lot compared to the competition, so it's tough – but we need to still, as a team, keep pushing and keep motivated and do the best we can to maximise the performance, and we can see crazy races, like in Singapore, it was an opportunity with a lot of things happening with the rain there – so it's these types of circumstances that can play into our hands. Here in Malaysia as well, the weather can really play a big part. We need to be there to maximise and try to take the opportunities. I thing that's the important thing to keep the motivation high and keep pushing as a team.
Q: Carlos, obviously a career-best finish in Singapore on the weekend that your new deal with Renault was confirmed. What part did that good news play in the race outcome, do you think?
Carlos SAINZ: Yeah, it was a great weekend all around, first with the news on Friday, then with Q3 on Saturday, fourth place on Sunday, probably one of my best weekends in Formula One, for sure. It didn't really affect me, to be honest. I did everything that I've done this year. It just happened to be my best result in Formula One which is – on the other hand – quite nice to do it on that exciting weekend, no? Very proud of it. We did celebrate a bit on Sunday but at the same time, from one day onwards I was watching videos of previous years in Malaysia and I turned the page pretty quickly.
Q: You're only seven points, I think it is now, behind Williams in the battle for fifth in the Constructors championship so with the recent form of both teams and the tracks coming up, do you think it's possible to finish ahead of them?
CS: I think we have our chances but we will need to work hard, very hard to achieve it. We will need to be doing things really right on Sundays. We know that our pace at the moment is not the fastest of the midfield but we also know that on Sundays we have our little chances to score extra points and we need to make sure that whenever there's a chance – like in Singapore – to score good points we do it because that's what makes the difference in the midfield, when you have a race where you can score a lot of points. So hopefully, together with Pierre, we can achieve that target, also keeping an eye on Renault, McLaren behind us in the championship who are definitely starting to come on very strong towards the end of the season.
QUESTIONS FROM THE FLOOR
Q: (Frederic Ferret – L'Equipe) Carlos, you've known Pierre for a long time, what are your thoughts on him as a teammate and what kind of advice can you give him?
CS: Well, first of all congratulate him because I remember back to my first Formula One race in 2015, it was a very special day, very special weekend. I think he deserves his chance in Formula One. He has done everything right to be here and I'm also sure Red Bull wouldn't put anyone into our car that isn't capable of being on the pace straight away and scoring points and helping the team, no? So extremely happy for him. I've raced him in World Series, I know how fast he is, I know the big talent he is so very happy for him.
Q: (Manuel Franco – Diario AS) Carlos, for the second time, you will not be in free practice one for the Grand Prix. What is your opinion about this? Is it a problem for you?
CS: Let's say that I'm not happiest man, knowing that I will, for the second consecutive time, miss free practice one. Obviously at Singapore it turned out to be good because we still managed to get into Q3 and P4 but in a tougher weekend like Malaysia when I expect to have more to do in FP1, FP2, FP3 but hopefully like in Singapore we can do our best and come back strong like we did there.
Q: (Dieter Rencken – Racing Lines) Pierre, Esteban Ocon told us the delightful story about how you got into motor sport by testing his go-kart for the very first time. If you could expand on that and also how you felt when you saw him get into Formula One? Have you ever felt that you were going to lose out, because it took you a bit longer to get here eventually?
PG: It's a pretty long story with Esteban and I think we got to know each other since we were six years old. We are living more or less in the same place and we kind of grew up together in karting. I was happy for him when he got his opportunity in F1. It was first with the Gravity programme and afterwards with Mercedes and then he had the opportunity during his DTM season to go with Manor. It's great for him but we were in different programmes; I was with Red Bull and I had to wait a bit longer for my opportunity but I never really compared my little career so far with his one. That's about it.
Q: (Jerome Pugmire – Associated Press) Pierre, possibly next season there could be four French drivers on the grid. How great is this for you and for French racing: you could be up against Leclerc and Grosjean; how good would that be?
PG: It would be amazing for French people, you know, also with the French GP coming back on the calendar. I think that's a great opportunity for us as French drivers. It would be amazing to be all together, racing in Formula One. I remember 2005, I think, in karting, I raced together with Esteban and Charles in minikart. To imagine that we might be racing all together again in Formula One is something special. I think it's good to have many French drivers, especially in 2018 with the French GP.
Q: (Livio Oricchio – GloboEsporte.com) Pierre, how do you handle this situation? You have two Grands Prix. You must probably do something to show at least the potential to be in Formula One. You're very young, it's not so simple to handle this situation, at least emotionally. Technically it may be easier.
PG: At the moment, I don't know how many races I'm going to do in F1 so there is nothing confirmed. The team told me to focus on this weekend and try to do my best. I've been competitive in lower series, I've won the EuroCup in two litres, finished second behind Carlos in 3.5, I won the GP2 and they sent me to Japan this year and I'm fighting for the championship with one race to go. The pace will come. I think Formula One is brand new for me, it's my first GP but there is no real target. Of course I'm here to learn as quickly as possible and to perform and perform with the team but at the moment, I think I need to take each session at a time, learn as quickly as possible next to Carlos and then we will see where we are. For me, I'm really excited about it, I've been dreaming about this weekend so many times and it's finally happening so I'm just excited, I'm also a big competitor so of course I want to do well but then I also need to be objective, coming in with six races to go. For me, there will be many things to learn and I'm just going to try to do my best to learn as quickly as possible.
Q: (Daniel Hicks - AFP) Pierre, when did you find out that you would be racing this weekend, because we only found out this week; and how difficult is it to prepare when you have such short notice that you're going to be racing?
PG: Of course I knew there were things going on with Red Bull but I didn't know exactly what and then I travelled from Japan on Monday, I was racing last weekend in Super Formula in Sugo and then I travelled from Tokyo to Malaysia on Monday and then when I got here I received a text saying that I might be driving this weekend. I got really excited about it. Of course, tried to sleep Monday night, even though it was a bit difficult with all the excitement and then Tuesday morning I had the confirmation that it was confirmed and official and I was going to drive; amazing moment and great news.
Q: (Dieter Rencken – Racing Lines) Carlos, you're effectively on loan to Renault next year, so you don't belong to Renault, you actually still belong to Red Bull. Where will your loyalties lie; will you be driving a hundred percent for Renault or will you have your eye more on the following season with Red Bull for example?
CS: No, not at all. I think I will be obviously in my head a Renault driver and I will give everything I can to that team, to that manufacturer and in the future we will see but it's not something I will think about during my 2018 season because my full focus needs to be in 2018 with Renault, no, although at the moment my focus is with Malaysia, Toro Rosso.
Q: (Ysef Harding – Xiro Xone News) Pierre, you're living the dream now, you're here and you're doing this on the last Malaysian Grand Prix. What are your thoughts and feelings on that?
PG: For me, as you say, I'm living the dream at the moment. It's pretty hectic since Tuesday. Everything's going on and I'm just really excited about this last race. For me, I'm sure I will remember this weekend for the rest of my life. When you have such a dream coming true, to do it on the last Malaysian GP… I don't know if we're going to come back one day, probably on this track but for sure it's a moment that I will remember for the rest of my life.
Q: (Ysef Harding – Xiro Xone News) And to Carlos and Marcus, what are your thoughts on this final Malaysian Grand Prix this weekend?
ME: It's a bit sad seeing Malaysia go. I think it's a track that has a good mix of everything and also there have been some really good races here in the past in Formula One so yeah, in that way it's a bit sad seeing it go.
CS: From my side, I rate the Malaysian Grand Prix very highly. It's probably one of the best track layouts we get to race on over the whole year with the fast corners, high grip tarmac like last year. On top of that, it is the most physically demanding track, or one of the most physically demanding, which makes it also quite special and quite a challenge for us so to miss it, yes, we will definitely miss it. Never say never, it can always come back hopefully.
Q: (Jerome Pugmire – Associated Press) Carlos and Pierre, obviously you've got the drive, Pierre that Daniil Kvyat is being kind of nerfed aside. Do you feel sorry for him at all, or isn't there any room for this kind of feeling in Formula One?
CS: Let's say that in the middle of a season when you are so focused on your driving in 2017 you cannot really be affected by what's going on in the other side of the garage. I've switched teammates in Formula One a few times now and I remain focused on my own job, trying not to think what goes on the other side, also because with Red Bull it just works like that. You need to be ready for that. I haven't had the chance to speak with Daniil yet because I've been focused on this weekend but I'm sure I will.
PG: For me, I didn't have the chance to talk with him yet but of course unfortunately that's how it works in this sport and being in my position, before I came to F1, I was waiting for this chance and then I had to take the seat of someone else. Of course I feel sorry for him, I think he's a really good driver, talented and unfortunately it's happening and I'm going to take his seat but I'm pretty sure we will see him back on the grid at some point maybe. We will see what's going to happen in the near future.