F1 - 2023 HUNGARIAN GRAND PRIX - THURSDAY PRESS CONFERENCE TRANSCRIPT
DRIVER GROUP 1 – Daniel RICCIARDO (AlphaTauri), Pierre GASLY (Alpine), Oscar PIASTRI (McLaren), Carlos SAINZ (Ferrari), Max VERSTAPPEN (Red Bull) 
Q: Daniel, it's good to see you. How does it feel to be back? 
Daniel RICCIARDO: Thanks, it's good to be back. It feels… I don't know. It doesn't feel that foreign, like it feels familiar. I guess it hasn't been that long. It's good. Very good. A lot of people are happy so that's good as well. 
Q: Has your return to Formula 1 come sooner than you expected? 
DR: Yeah, for sure. But I think getting back into the Red Bull family this year, it brings back a lot of old feelings and things that I was used to growing up and being part of that team or the Junior Team when I was younger. I think one thing, it was always like be prepared, you never know what's going to happen. Let's say, I didn't expect to maybe be in the car in Budapest, for example, but you never know. Surprised, but maybe not that surprised. 
Q: Struck up your old friendship with Helmut Marko as well… 
DR: Yeah. It's been good. I've enjoyed this year in general, just going to the races and as I say, being back in the Red Bull family, I think it's been a lot of fun. It also personally gave me some time away, which I felt was definitely needed, and I probably expected the year off. Obviously I haven't got the whole year but I've actually felt like I've had enough time. It fuelled me, energised me and I'm definitely ready to go again. 
Q: What is the coolest thing you've done while sitting out the first six months? 
DR: Oh, it was just like little luxuries, like having a bit more time to just not be on a plane every few days. But also, it's funny how used to that kind of cadence you get, so as much as it was nice to maybe spend a bit more time at home or do some things with friends – I went to a buddy's bachelor party, which I don't think I've ever done. So that was cool. It was in a little place called Vegas as well. These are things you don't… 
Pierre GASLY: We want to see the pictures. 
DR: I'll show you later. But anyway, that was just some fun things but it's just more having a little bit more, I guess, free time. But that being said, I feel like I got my fix. And we're back and I'm happy to be back.
Q: Now we're told that you got up to speed very quickly, last week, driving the Red Bull at the Pirelli test. What are your expectations with AlphaTauri?
DR: Well, the car I drove a week ago was a pleasure, for sure, and that was something, for me, that was just so nice to get back into a car again. And it was the last box I kind of needed to tick to just make sure that this is what I truly want. I quickly got into that flow, so that was good. I obviously know that this weekend and now for the rest of the season it's a different car and for sure, with some different challenges but I'm just going to get out there, not think too much about it, drive, and then go from there and just take some steps forward after that. 
Q: What are you doing about the physio situation in the team because your old guy Michael Italiano is now working with Yuki. So what happens? Are you sharing Michael or have you got a new guy coming?
DR: So I'm lone wolf. Lone wolf, is that what you call it? I've got Pyry [Salmela] helping me out. You might know him as Piru, Piry, I don't know, but I got the right pronunciation. So Pyry is going to just help out on race weekends just to kind of make the flow of the weekend go a little smoother. But yeah, like a lot of things, in this time off… I always said if I come back to the sport, I want to do things a little differently. I also wanted to find that self-motivation and make sure that… I wanted it to come from me, you know what I mean? The training, all of it, the mindset, I wanted to get back into the sport, because it's truly coming from me and what my heart desires. So I've been doing it myself this year and I've got the answers I wanted. 
Q: Oscar, can we come to you now? It is the first time since 2013 that we've had two Aussies on the grid. Can we get your reaction to the news that he's back?
Oscar PIASTRI: Yeah, very happy for him to be back. I remember watching when it was two Aussies last time around. So it's very, very cool. We're from a long way away and it's pretty rare to have two of us at the same time. So from a country with such a small population relative to Europe. It's very, very cool to have two of us on the big stage. 
DR: I was asking how old he was when he was watching 10 years ago. So he was 12.
OP: Yeah, I was 12. 
DR: It's crazy.
Q: Now, Oscar, you come here on the back of a very strong result at Silverstone. You finished fourth, so close to a P3 finish as well. Do you look back on that race with a sense of satisfaction or frustration?
OP: Mostly satisfaction. Compared to where we had been at points during the season, to be disappointed with fourth place seemed a little bit harsh but without that Safety Car, there's always a question of what could have been, but I was just super happy to be back towards the front and for the whole team to be genuinely there on merit was very refreshing and a nice reward for our hard work, I think. Now we've got to try and maintain that and try and fight towards the front again. So yeah, I was thinking there might be a trophy coming my way for quite a lot of that race but hopefully I've got some more chances.
Q: Now, you've put in some strong performances this year already. With this upgraded McLaren, are you the most comfortable you've been in Formula 1?
OP: Yes and no. I think the car is obviously a fair bit quicker than what we had at the start of the season. I think it still has quite similar strengths and weaknesses that we've started to address but still need some more work. So the car doesn't feel massively different. It's not like it's a completely different animal to drive now. So we'll have our strong tracks. I think Silverstone with all the high-speed corners suited us quite nicely. Here is obviously a much lower-speed circuit so we'll see how we go. I think we will try and be optimistic, that we can stay more towards the front but whether we'll be fighting for a podium again, I'm not quite sure.
Q: Max coming to you now. Can we just get a word on your former teammate being back and of course, replacing your fellow countrymen, Nyck de Vries?
Max VERSTAPPEN: Yeah, I spoke already quite a bit with Daniel last week. I could see he was very excited, also after driving our car. So yeah, of course, it's great to have Daniel back on the grid and within the family. Of course, on the other side, I'm also good friends with Nyck, so it's also sad to see him go but unfortunately that's also how this world works. I don't think there are any hard feelings between the drivers, that's just how it goes. But yeah, you have to move on. There are a lot of other opportunities out there. It's not only Formula 1 in this world of racing. So I'm sure everyone will land back on their feet like normal and yeah, you move on. And now the opportunity is here with Daniel again. He had his little reset, I think including Vegas, so I think he's ready to go again.
Q: And Max, let's talk records now; the record for 12 consecutive wins has stood for 35 years. Who or what can stop you guys from achieving that this weekend?
MV: I don't know. I'm honestly not really thinking about that. I'm just here to have a good weekend. Of course, I will try to win. I'm not going into this weekend thinking we can win 12 races in a row. So yeah. If we win, that means of course we break that record, but it's more important that we win.
Q: And what about the upgrades you're running this weekend? 
MV: They look good. 
Q: What does the sim… 
MV: No, no. Normally it makes the car a bit faster, but it also looks nice.
Q: What does the sim tell you? Where do you think it's going to improve?
MV: In the corners… Mainly.
Q: Should these guys be worried? I mean, it's not like you've been slow so far this year.
MV: Everyone of course always tries to improve the car, right? So that's also what we are trying to do.
Q: Carlos, it's a bit of a golden age for Spanish sport at the minute. First, Jon Rahm wins the Masters a few months back then Carlos Alcaraz wins Wimbledon last weekend. Are you feeling the pressure? 
MV: Of winning Wimbledon? 
Carlos SAINZ: Winning Wimbledon? For sure not! No, just proud, I guess proud for my country. We seem to have this relatively small population for a country like Spain, but we still seem to produce some good athletes out there, since Rafa, Fernando, the basketball team is always good, the football team is always good. We seem to be doing well in sports and now with golf, tennis also, again with Alcaraz. It's a good time to be Spanish and to follow sports because you have a lot of fun on the TV watching every Sunday, someone wins or someone is doing well or there is someone to support and be excited about and yeah, just proud of my country and the athletes we produce.
Q: Now, Carlos, let's talk about performance. Silverstone was a bit disappointing for Ferrari after two strong races preceding that. Do you understand the issues at Silverstone and what are your expectations for Hungary?
CS: Yeah, I do. And if you remember, before Silverstone, I was the first one to say, wait for Silverstone because I had the feeling that going back to a proper high-speed track, windy track, I felt like we had done some good steps forward, but still especially in this tight battle for second behind Red Bull and Max the teams are very, very tight and it's very close between Mercedes, us, Aston Martin, now McLaren, see if Alpine joins or not, but it's really, really tight. So one weekend you're going to be a tenth in front and another weekend you're going to be a tenth behind and it's a swing of two tenths, that it could change just the outcome of the whole weekend and you could look like 'oh, now we're back in P2, P3, P4' and then the next weekend you're P7 and P8 and the result change is massive, but the relative performance that you've gained or lost is actually not that much. It's just that the track suits you better or McLaren better or Aston better or Mercedes better. It's important not to overreact and just know that so far, there's going to be good weekends, some not so good weekends. 
Q: And the Hungaroring? 
CS: Hopefully a bit better. I think we are all a bit hopeful that Hungaroring should suit us a bit more. But again, it will depend. Unfortunately, with our car, it depends a lot on the track temperature. It depends a lot on the wind situation. We know we have certain weaknesses that make us vulnerable and make us sensitive to these kinds of things but if conditions are good for our car, I think we should be relatively strong around here.
Q: Pierre, thank you for waiting. Can we kick things off just by getting your thoughts on the driver changes that have happened at your former team, AlphaTauri?
Pierre GASLY: Yeah, we talked with Daniel a bit earlier last week and also with Nyck, obviously. I know them both. I think they're two fantastic drivers. It's great to see Daniel back on the grid and seeing what's up for grabs with him. And obviously kind of sad to see Nyck going because I've known him for the past, probably 15 years. I just know he's a great guy and his chance probably didn't achieve as much as he would have liked, but I just want to wish him the best and as Max said, there'll be plenty of opportunities out there for him.
Q: Any advice you'd give him when it comes to working with Franz?
PG: He's old enough and he knows Franz well enough to know what to do with him, but no, I just think it's great. He started there, he's back there now, he still has plenty of years ahead of him and always enjoyed some battles with him on the race track. So it's going to be the case. 
Q: What about performance at Alpine? Silverstone was ultimately disappointing with neither you nor your teammate finishing the race. Are you expecting better things here in Hungary?
PG: Yeah, the final result looked really bad for us, it was two DNFs I think. Ultimately, we were fighting with Fernando for the majority of the race and the performance wasn't as bad as the final result. We know we've got to improve performance. We know we've got to find more speed. We are not fighting for the position that we would like at the minute, but it's not like we are miles behind so we've just got to keep our heads down and bring more upgrades on the car and do the talking on track.
PRESS CONFERENCE 
Q: (David Croft – Sky Sports F1) Welcome back, Daniel. I think this is the happiest press conference we've had for some time. I don't know if that's got anything to do with your return or not, but it's good to see you back, although you are going back to your ex? And they say sometimes you shouldn't go back to your ex, because it's fraught with potential problems. Is this fraught with potential problems?
MV: You have experience with that? No? OK.
Q: (David Croft – Sky Sports F1) No, no, absolutely no experience. I've just read about it on the internet. Quite happy with my current fiancée, thank you very much. Are there any pitfalls with going back to your ex at this time? And if not, give me three good reasons why it's the right time for you to go back to Faenza?
DR: It's all good. It's all positive. That's two, what's another one? Lots of optimism. Well, look, the team has… So. I was there last week, the facility has changed a lot in the last 10 years since I was there. So it felt like a, let's say, a new team or a fresh environment. But also, 10 years is a long time. That team has changed. I've changed, you know. There's a nice kind of nostalgia going back. But I feel like we both evolved. And I'm starting this next phase, next chapter, with a very kind of fresh, I don't know, page. Also for me, I needed to after, let's say, stepping aside from the sport for a little bit, I think I kind of changed my perspective on things. So, I'm just coming into this without any… 'Oh, what's it going to be like? Oh, it's going to be a struggle here. it's going to be frustrating'. I'm just happy to have this opportunity. I think just getting an opportunity again inside the Red Bull family is something I'm really appreciative of. So that's really where my head's at. Just try and enjoy it. I'm sure we'll have some work to do. But I'm not going to solve every problem this weekend. So it's really just about me getting back into the race weekend and the flow. And, you know, last week of course it was a very good car I drove but it filled me with some confidence. So try to take a little bit of that into this but also not to expect the world. Just day by day.
Q: (Jake Boxall-Legge – Autosport) A question for Pierre. Yeah, recently President Macron said that he would support the return of the French Grand Prix. So I just wanted to get your reaction on that. And secondly, you know, a Nice street race is one of the races that have been proposed. Was that the sort of thing you prefer? Or would you prefer one of the existing circuits in France? 
PG: Honestly, I'll take anything you know, I think the chance to be racing in your own country in front of your own crowd, it's a very unique and special feeling, which I've had the chance to experience versus other French drivers who raced some years ago. It would be something incredible. Obviously, Le Castellet is an option, Magny Cours, and then obviously Nice, they're talking about a street track there. I haven't seen yet what's the proposed plan there but definitely it's something important and it's good to have the support from President Macron and I really hope they can find an agreement with Formula 1 to get it back on the calendar and for Alpine it would be huge. You have two French drivers, with Esteban, so that would mean a lot, yeah.
Q: (Christian Nimmervoll – Motorsport-Total.com) Daniel, Helmut Marko, said earlier this year when you started that you were not fast enough in the sim. What specifically did you need to do to close the gap to Max and Checo in terms of driving? And second question: do you have any bets going on with Helmut? 
DR: Firstly, no bets. 
MV: He likes his bets, but he actually goes quite far, Helmut. There's always quite a bit of money involved.
DR: Yeah. OK. Really? Alright. Let's see how the first few races go and then I might start making some bets. The sim. There was, I think, a lot of… You know, when I first drove the sim, I could see it now that a bit of time had passed. And, you know, obviously, I haven't been in a race seat for a few months. I could kind of see myself last year, as an example, that was, yeah, lacking. And I knew it at the time, but you know, you see things a bit more clearly, probably, with hindsight as well. So, yeah, I was just kind of lacking a little bit of that confidence and that just kind of going out there and just driving, in simple terms. You just get probably other thoughts that creep into your mind. And I think, also going back into Red Bull, you know, it was exciting for me, but I was also, for sure, a little bit nervously excited. So yeah, probably just that comfort or confidence, you know, those first few runs on the sim. It took a little bit to probably just shake a few things out and try to just find my old self again. I think what helped a lot was working with Simon, so Simon Rennie, my engineer at Red Bull back when I was racing there. He's been running the sim. So I think that as well, kind of getting a bit of familiarity, working with him, kind of quickly got my confidence back. And obviously you look at the data and try to learn from Max and Checo who are very familiar with that car. But yeah, I think the really nice thing was that once I shook off the cobwebs, although the car is different to five years ago or so, it still felt, for me, like a Red Bull Car. I felt like everything that I used to really like about the car was still existing in like the DNA and then I think that as well filled me with some confidence that I could start to drive the way that I like or the way I want. So the trajectory then was good. And as I said, the last tick of the box was driving the real car to make sure that I could do it on track. And the test went well and we're in a good place.
Q: (Adrian Rodriguez Huber - Agencia EFE) A question for Carlos. First of all, all my love for you and your family. I want to know if this could be the weekend where you can celebrate your first podium, and that would be, I believe, more special for you?
Carlos SAINZ: Yeah, personally, it would be obviously a very special way to dedicate a podium or a victory to my grandfather that died last week. But yeah, it will all depend on how the car is, how we can put a good weekend together here. Hungary, I love it. I always like driving here. I love the vibe. I love the track. It always has a good flow. And hopefully it's also good for my car and I can have that good weekend. I mean, it's top of my wish list right now, for sure.
Q: (Luke Smith – The Athletic) Max a question for you, please. Daniel said that returning to Red Bull would be a dream scenario for him. Christian said he thinks that it's a pitch towards a 2025 seat. Would you be open to a reunion with Daniel? You guys clearly get on. Would you like to be team-mates again one day?
MV: Yeah, I mean, I never actually wanted him to leave. But no, I mean, all of these things. We know that we get on very well. And yeah, I mean, if Daniel of course does well where he is now, then of course you have the opportunity to go back up, right? So it's all open to be honest.
Q: (Josh Suttill – The Race) Max, great for Daniel to be back but for Nyck, do you feel like he deserved more of a chance to show what you can do. As Yuki said, until the summer break would have been a bit better to give him a bit more of a chance. What do you think?
MV: Well it's a tough one. But you know, if the decision was anyway, of course, already made, then I don't think it really matters a lot when it happens. But I mean, I think it's just circumstances. I think we all know that Nyck, you know, he's an incredible driver. He's shown that in every single category. And, you know, when the car's a little bit difficult… And I think anyway, you know, this new generation of cars, when you're a rookie, doesn't matter of course, what age you are or whatever, they are quite difficult I think to get on top of. Plus that the car probably is not the most competitive, it all made it a bit harder. And then I think you just sometimes need these one or two moments where you shine. You know where you maybe get a point or two points and yeah, these kinds of moments they didn't happen. And yeah, then the team wanted to change something. That's also a part of Formula 1, it's sometimes just the wrong time or the wrong moment when you're there and it doesn't work out for you. But again, people, sometimes they seem to [think] if it doesn't work out in F1 everything is lost, but it's not. I mean, there's so many great categories out there where you can have a great career and probably even more fun than some places in Formula 1 even. So I know that he has a lot of opportunities. I mean, I spoke to him last week, we saw each other. And, yeah, he will definitely find his feet again with a great team somewhere and a great championship. So I don't think it actually is the end of the world because like I said, in endurance as well, there's so many great races that you can be part of.
Q: (Carlos Miguel – Diario Marca) Carlos, a question about your future. We read in an interview of Fréd Vasseur that it's time to stay focused only on this year, not in the future. There is some time, you say, OK, last minute, because you say in past interviews that maybe this winter you want to know your future with Ferrari? 
CS: No, I personally agree with Fréd. I think in Ferrari right now there's much bigger priorities than sorting out the future of its drivers. Also, personally, with so many races consecutively, it's not like you can stop for a minute and really think about your future and what you want to do and what do you see in the next two or three years happening for you. I think with so many back-to-backs, so many races, it's difficult. I'm not going to lie, there's the three-week break in August that I will start maybe thinking a bit what I would be happy with or, or whatever. And then the winter break, that I think is what I said in that interview a while ago, that it will be time to start figuring out where I will be racing in '25. But going back to Fréd, I fully agree, because in Ferrari there's much bigger priorities, much bigger, more important things that we need to sort out in the short term. And that is my priority: to be competitive with Ferrari, not only this year, but also next year that I still have a contract in place and get next year's car right and get it better than where we are now.
Q: (Niharika Ghorpade – Sportskeeda) Daniel, Christian mentioned a few weeks ago that there were a lot of bad habits that needed to be undone from your stint away from Red Bull. Could you shed more light on that? And also, when it comes to the AlphaTauri car, looking at Nyck's difficulties with the car, are you worried that it might not be the easiest run ahead?
DR: Firstly, I'm not worried. I know there will be challenges, for sure. I know that it's probably going to be a car that we're going to have to work at, probably every weekend. I mean, everyone's working on it, but probably a little bit more at the moment with where it's at. But look, I don't see the, let's say, pessimistic point of view or being worried about this or that, or if the car doesn't suit me, it's just, for me, like an opportunity now. I think the time off was really, really beneficial for me. And I'm in a place now where I'm just hungry and ready to go. And that's really it. That's where I'm looking at. Yeah, so, pretty pumped.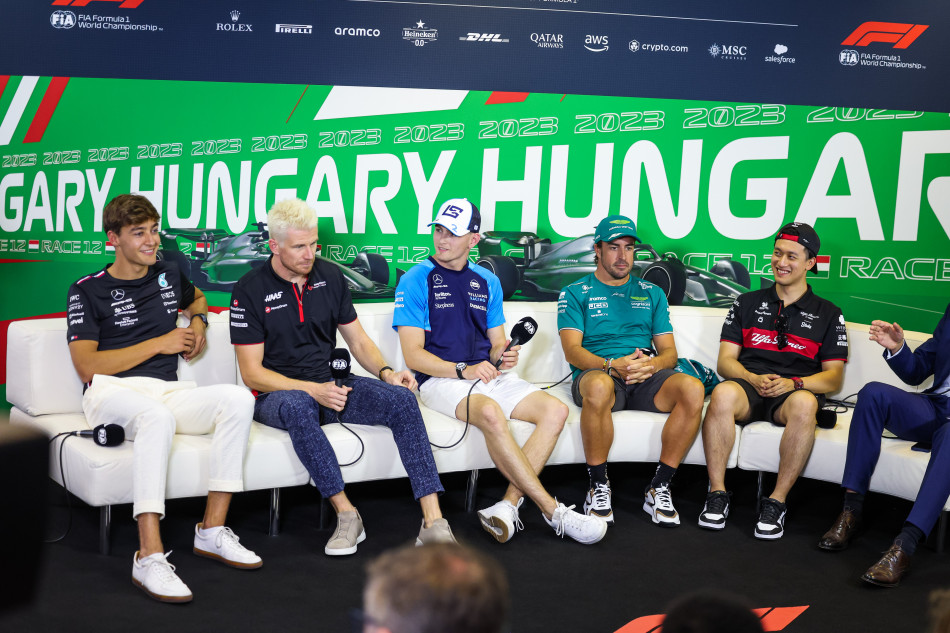 DRIVER GROUP 2 – Zhou GUANYU (Alfa Romeo), Nico HÜLKENBERG (Haas), Fernando ALONSO (Aston Martin), George RUSSELL (Mercedes), Logan SARGEANT (Williams)
Q: Zhou, let's start with you, you're closest. What have you been up to since we last saw you? And I'm thinking specifically of Wimbledon.
Zhou GUANYU: Yeah, exactly. Obviously, I got invited to watch. There was a choice between the women's final and the men's. So I watched the men's on Sunday before heading over this weekend. So that was really fun. Actually, you know, it was my first ever time. I don't really play tennis myself, but actually, it was the first match I watched and it was quite impressive to be honest. Just how silent it is before every serve. You know, that's quite impressive to see, where in Formula 1 you have, like, massive DJ music before on the starting grid – a bit different. But yeah, it was really enjoyable actually, and both players put on an incredible show on that day.
Q: Fernando, were you tempted to come over to Wimbledon and watch that final?
Fernando ALONSO: No. It was enough, one week in Silverstone already.
Q: Now, Zhou, let's talk about the performance of your car. The last couple of races have been hard for you and Alfa Romeo. What have been the issues?
Zhou GUANYU: Well, Silverstone, to be honest, I think in terms of the preparation and throughout the weekend, we didn't do exactly the perfect job. Especially, obviously from my side, there was an issue before FP3, where we made a massive change during the night with the set-up before heading over for Qualifying. So I have no, let's say, practice into it. And then Quali was damp, it was OK, and then the last lap was the only dry lap I got, so I didn't really maximise everything, which sacrificed quite a bit the weekend. But yeah, it's clear like, as a team, we made maybe a more visible step forward compared to the upgrade we bought into Silverstone. So it's been not an easy one so far, and clearly lacking a little bit of pace compared to where we want it to be.
Q: Do you think that pace will translate here at the Hungaroring?
ZG: I think, you know, we shouldn't be as far back as we were in Silverstone, because Silverstone is a track… Obviously, you have high speed, but also you have a lot of long straights and a lot of corners are flat now, you know, Copse, all these corners, almost flat. So I think here we'll be a little bit stronger. And obviously, we have no upgrade for this weekend, but we just need to figure out, you know, get a bit more on top of what we have actually got before the summer break. 
Q: The team were overtaken by Williams at Silverstone. Is there a little bit of pressure building inside?
ZG: Yeah, of course. You know, we're aiming obviously to…. At the beginning of the year we aim a little bit higher, to at least maintain trying to be P6, if not higher up, we clearly don't achieve that. But on the other hand, we were very close together with Williams, and also Haas, for the whole season and unfortunately got overtaken for that last weekend, so not ideal. The pressure is high, but I think the main focus is really to get more out of the package, you know, to be quicker in terms of developing more upgrades coming through the second half of the season. And it's clear, you know, if we have the performance of the car, and we can develop or deliver what Alex or both Williams was doing the whole weekend, they was extremely quick, top three all sessions.
Q: Alright, best of luck this weekend. Fernando, let's come to you now. Twenty years since that first win. How vividly do you remember 2003?
FA: I do remember. It was obviously a magical moment of my life and my career as well. It changed a little bit everything after that. And yeah, it was a Qualifying that we had to put the fuel for the race, for the first stint. So we thought on Saturday night that we were very light on fuel and maybe, you know, the race would unfold differently. And maybe top five was possible or a podium, I think, was the realistic target. We ended up winning the race. And it was a little bit of a surprise and we were very happy.
Q: You say change something. What did it change?
FA: I think it changed a little bit, especially off track, many things in my life, and in Spain as well. No more privacy in my life since 20 years.
Q: And the hashtags started then – #2, #3 and #33 now.
FA: Yeah, I mean, the first win is probably a big thing and it happened to all the drivers. And as I said, for me, it was a big change. Now into this weekend we do have, you know, some hopes into this weekend after some struggles in Austria and Silverstone, so hopefully a better one.
Q: Well, tell us a little bit more about that. Why are you more confident coming into Hungaroring?
FA: I think because the layout of the track and the characteristics are a little bit more similar to the circuits that we did perform well at so far this year, and I think high-speed corners, long straights are not maybe the strength of our package. And I think Austria and Silverstone were a clear example of those. So yeah, hopefully here, we can come back to a stronger performance, even though our main competitors, they improved their packages, and they will be very strong as well here. So it's going to be difficult, but hopefully good fun.
Q: And can we get your thoughts on the alternative tyre allocation that we're running for the first time this weekend at the Hungaroring? Do you like being told what tyres to run in each segment of qualifying?
FA: Yeah, why not? I think it will not change too many things. As you said, we have to use a certain type of tyre in each of the Qualifyings, but it's the same for everybody. So it should not be a thing that should change too many things. And we save couple of sets, I think, for Pirelli. Instead of 13, we have 11 per driver. So two sets for 20 drivers, obviously, there are a lot of sets that maybe Formula 1 can save. So there is a reason behind that, you know, we should support and least try. And let's see after this weekend if there are any tweaks that maybe are needed for the future.
Q: Fernando, thank you. Best of luck to you. Logan, let's come to you now. Best result of the season so far at Silverstone with that P11. Do you feel that you made a step forward there?
Logan SARGEANT: Yeah, I think I'm making steps in the right direction, but I'm still not where I want to be. There's plenty of work to still be done. But I see the progress. I see it's moving in the right direction and that's what matters. But yeah, I'm still striving to be better. And I think this weekend in particular isn't going to be, you know, perfect for what we have in our car, but we'll make the most of it. And, yeah, hopefully I'll optimise on what we were just speaking about with a different qualifying format.
Q: And what about the upgraded Williams? The performance was so strong at Silverstone, what can you hope for here?
LS: I think, you know, for sure, Budapest isn't a track that's going to be great for us. So we have to manage expectations coming off the back of two decent weekends for the team. But yeah, I think there's always opportunity. You never know until you put the car on the ground. So we'll stay optimistic and see what we can do.
Q: Alright. Best of luck to you. Thank you very much. Nico, let's come to you. Can you explain the new look? First of all, was it a bet?
Nico HÜLKENBERG: Fascinating what a bit of dyed hair can do. No, not a bet. It's just a bit of… You know, that Barbie movie came out and I thought a bit of extra PR for me would be pretty handy this time of the season. Actually, no, I wasn't aware about it. I didn't really play with Barbie and Ken when I was a child. So I just ran into this one and bad timing I guess.
Q: Before we talk about Haas, can we just get your thoughts on the return of your former team-mate, Daniel Ricardo this weekend? What did you make of that?
NH: Yeah, I mean, a lot more smiles, a lot more teeth. You know, you can see there. It's going to be interesting to see. I think there's actually quite a strong race car [there and it] will be interesting to see what Danny can do with it. Obviously, he's had now a good like eight or nine months out, a bit of a reset and, you know, to be out of the hot seat for a while I think is quite nice. I speak from experience. So he's probably quite fresh and reset and ready to go. So I'm going to be exciting to see what he can do.
Q: Now the Hungaroring is often referred to as Monaco without the walls. Given that your car wasn't particularly competitive at Monaco…
NH:… Where are you going?
Q: …how confident can you be coming into this one?
NH: Yeah, as confident as we can be. I mean, it's been a bit tough lately, bit of a dry spell also in terms of points scoring – apart from obviously Austria in the Sprint race. Here, it's very hot, it's very demanding on tyres so you know, it's going to be definitely a tough weekend for us. We have a few little upgrades to the car, on the floor. So hopefully, they can push us along a little bit but I expect the very, tight field again, so every session matters, every lap matters. I think Quali, for us, with the new rules of how we have to run the tyres, with the Hard in Q1, is probably not favourable for us. So, extra challenge there, but we'll just take it on.
Q: Final one for me, there's quite a lot of speculation about your future. Gene Haas is going to be here this weekend. Are you hoping to sit down with him and maybe get a deal done before the summer break?
NH: I'll sit down with him regardless. Maybe there is no deal to be done? Maybe deal is in place? Who knows? I'm pretty happy and relaxed. I think it works both ways at the moment, and I'm enjoying myself. I think the team is also in a good place. So, there's no reason not to think why that relationship shouldn't continue like this.
Q: George, we're back at the scene of your first ever pole position in Formula 1. That happened 12 months ago. What chances of a repeat this weekend?
George RUSSELL: Yeah, I'll be pushing for it, for sure. I'm looking forward to seeing what the weekend is going to hold. It's been an interesting few races, with our performance in Austria, then really quite strong in Silverstone. We're still battling forward, still really focused to keep on progressing. We're in a good position, but we need to try and stay ahead of our competitors.
Q: Have you been surprised by the fluctuations in form that you've been going through?
GR:I think that's the same for all the teams up and down the grid. You see Aston, at the start of the year, were really, really strong. They've maybe taken a small step backwards. Same with Ferrari at certain races. And I'm sure even Red Bull to a small degree. At some races, they were 30 seconds ahead, last week, they were three seconds ahead, albeit with the safety car, but they weren't running away with things. So, we are closing that gap. It seems like the whole field is slightly more compact, which makes it exciting. And the small details make a big difference. As I said, we're focused, we've got P2 in the Constructors' Championship in our sights, and what we're aiming for, but we're still pushing for more, and try and get some race wins along the way.
QUESTIONS FROM THE FLOOR
Q: (Zac – Sky F1 Juniors) This is a question for all the drivers. This weekend at the Hungarian Grand Prix, we're hosting our first ever F1 Junior Show and kids are going to be taking over the broadcast. What do you think about this in the potential future, that kids will be taking over the broadcast?
GR: I think it's very exciting and Crofty's got something to be worried about. So no, I think is great, what were you guys doing, Formula 1 bringing the kid show to the sport, and I know with my niece and nephew who follow the sport a lot, for them to have the chance to see it in a slightly younger format, it's going to be exciting. So, looking forward to seeing what you guys are up to.
NH: Yeah, same. Are you a good negotiator? You got a good deal on this? Because, you know, he loves F1, but he doesn't do it for free, so… ?
Q: Fernando, your thoughts?
FA: Same.
Q: (Ruby – Sky F1 Juniors) This question is for George and Alonso. Max is always on the podium. Are you jealous about his car? And did you ever think about ganging up on Max?
GR:  Should we? Should we gang up on him somehow?
FA: We are jealous. For sure.
GR: Yep, we are jealous. Yeah, for sure. For sure we were jealous. But we all get our opportunity to stand on that podium. He's getting the opportunity a few more times than we are, but things have a way of working themselves out. So, I'm sure, hopefully the tables will turn in the near future.
FA: Yeah. Don't want to add anything.
Q: (Géza Suránya – Heves Megyei Hírlap) Question to George. You're biography was released earlier this month. What were your first thoughts when you heard about it? Have read it or have you seen it?
GR: I'm not aware of this at all! That's a triple no. Are you aware of this?  I have no idea. I'm intrigued now and I will check it out. Is it on Amazon? All right. I'll Google it.
Q: (Dániel  Majer – Rally Café) Question to all the drivers – except Fernando. Fernando was speaking about his first race win here in Hungary, 20 years ago. You were all in your mid-teens except Logan, who was only 12. Were you watching Formula 1 back then? And do you remember anything about that particular race or in general about the time Fernando started to make his name in Formula 1?
GR: I was still sucking on dummies, I think. [To Logan] 2003. Were you alive?
LS: 2003? I was alive. I wouldn't have watched that.
GR: OK, Zhou?
ZG: I was alive.
GR: I've seen the replays. I've seen the infamous wave around the last corner. Was that this one?
FA: yep.
Q: Hülk, it was only seven years before you made your Formula 1 debut. You must remember that?
NH: Yeah. I was 16, so I must have seen it but the memories are a bit blurry. Yeah, I don't know.
Q: (Bence Boa – Racingline.hu) Question to all the drivers. You may have heard that Nicholas Latifi will start learning at university this year. If you won't be able to race from tomorrow on, what would you do?
ZG: I guess the answer is going to be fashion designer. I always think that maybe in the future to have our own brand. Doesn't matter how popular is it. Just something that I can do on time off or not racing. Obviously, it's great to see what Nicholas is doing, taking away a little bit from the racing, doing what he loves, because I think he can have all the opportunity to do other stuff besides motorsport. 
Q: Not tempted by University?
ZG: Unfortunately, I wasn't a big fan of… obviously education is important, but I wasn't a favourite of that. Maybe other people will go back that.
Q: Fernando, what would you do?
FA: No idea. Work as the assistant of Zhou, probably. Journalist!
Q: Do you think you'd be good? Can you write?
FA: I guess so. Yeah. Are you good?
Q: No, I won't be the judge of that. No, don't say! Logan?
LS: Honestly, I've never thought of it. I don't really want to think about it! So I'm not sure.
NH: Probably, accountant, lawyers, something steady solid income and that has a long future.
Q: What would you do George?
GR: Oh, what Fernando said: journalist in Formula 1. Stay with you guys. No idea, no idea.
Q: Fernando just said: 'seems the easiest'. David's right: 'couldn't handle the hours'.
Q: (Barna Zsoldos – Nemzeti Sport) Question to Fernando. Is there a special bond between you and Hungary? Because of that famous win 20 years ago? Is there a special bond between you and maybe the fans? You know, you celebrated your birthday many times here. So maybe, are you a bit more fond of Hungary than the other countries?
FA: Sure, 100 per cent. Always, you remember your first win and you know every time I come here… it's like Brazil, when I won the Championships there, you still have a special relationship with that race and that city and Budapest is one of my favourite cities and grands prix, and apart from that first win, we had good races here: in 2006, I remember, starting at the back; 2009, pole, Yeah, has always a special track with special races.
Q: You say you've had special races here, but does it surprise you that you've only won once?
FA: Yeah. Well, we had a couple of issues, especially the wheel nut in 2006 when we were leading the race, and yeah, and some other… 2007 a penalty with Lewis in the pit-lane, that I was on pole and I started tenth.  that I was on Paul and I started 10th. That championship we lost in Brazil for one point. So, that was incredible. So yeah, you know, I've been always enjoying here. Some ups and downs in terms of results and incredible only one win, but always enjoying.
Q: (Jake Boxall-Legge – Autosport) Question for Logan and George please. Alex Albon has been doing some pretty tremendous bits in the Williams this season. So Logan, first of all, in your rookie season, how much have you been able to learn from him and absorb and George how gratifying is it to see your old mate doing so well in the Williams and picking up from where you left off at the team? Thank you.
LS: I mean, from my side he's been driving amazing and for me being a rookie, it's been really good to be able to learn from that. And yeah, he's really set the benchmark. He gets everything out of the car every weekend and that's what I'm trying to get to. So, perfect person for me to try and reach and yeah, it's also good for the team and it's good to see.
Q: What's the biggest thing you've learned from Alex?
LS: He's just fast everywhere, that's for sure. I feel like just you can really see the experience, you can see that he's gone through ups and downs in Formula 1 and he really knows how to get the most out of the car, get the most out of the team and how to put himself in the best position coming Sunday.
GR: Yeah, really happy to see…  Alex is a very talented driver and just happy to see in the right environment what he's capable of doing. And equally for Williams, they're a team who work really hard. They had a few years of difficulties and now also with James there, I think they're definitely on the right tracks to try and push themselves to the front of the midfield. So I couldn't be happier for James, Alex and Williams as a whole.
Q: (Niharika Ghorpade – Sportskeeda) A question to Fernando. How realistic are the chances for a second place in the Championship? The margin's narrow but you also have a long calendar to go. Is it something that can be achieved before summer break, or do you think it's going to be a long run?
FA: It's going to be a tight battle until the end. So yeah, let's see what is the final position. We also forget that behind us there are some strong competitors and very fast teams and drivers. Ferrari and McLaren now, so we're still P3 in the Championship and we aim to finish P2 but with the feet in the ground, and knowing that it's going to be a tight battle until the end.
Q: (Pedro Fermín Flores – TheGodFlores) Two short questions for Fernando. First one, talking about biographies. I booked yours one year ago in Amazon. It never arrives. Can we talk later about the return of the money or something like this?  And the second one is, you told five minutes ago or ten minutes ago that, since your first victory there is no privacy for you. You will change all you have achieved these years for your privacy?
FA: For the book, yes, I know that it was out there for a couple of months, but it was you know, again, not my book, or not under my permission. So yeah, probably a similar thing to George, if he doesn't know anything from that book yet. And on the privacy thing, it is a tough question. I don't know. Obviously, we try to live our dream which is racing in the fastest cars in the world and in Formula 1 and we, from a very young age in go-karts, we dream to be here, and seated here. But obviously you never put in the balance some of the sacrifices that you have to make and some of the changes in your life and your family's life that will happen eventually if you get to Formula 1. So, I guess I will not change anything, because still your own choice and you try to succeed and to follow your dreams, but probably things are a little bit more difficult than what you see on TV on Sundays, you know? There are 20, 30 years, 40 years of your life that will change forever.
Q: (Adrian Rodriguez Huber – Agence EFE) I have a question for Fernando. 20 years ago, some of us who are in this room, which was quite different, it was a table, and we were all really impressed by something that, in Spain no-one had probably imagined before, especially in Asturias. You said before, you lost your privacy from that day on, but we know Fernando's life has changed, but from Alonso, the driver, which thing are still the same than 20 years ago, which things have changed since then?
FA: Probably the same thing is that when you close the visor on Sunday, still the same motivation and the same joy of racing. So that formation lap, that race start, everything. The adrenaline of driving these cars and compete against the best drivers and teams in the world and try to succeed, this is exactly the same as 20 years ago. I do have more experience of tracks, so the way you prepare the race with your engineers, the strategies, the knowledge on the tyres, and how to prepare the race, it is different now. The level of stress is different now as well. Knowing what you will come probably in the race, all the different scenarios that may come in the race, there are not too many surprises, let's say, in my head or in my race. So yeah, that's a little bit different. But the good thing is that the DNA of competition is still the same. And that's the most fun part of our job.
Q: (Carlos Miguel – Marca) Question for Fernando, after the analysis of Silverstone, had the new construction of the tyres some influence in your car? Bad influence?
FA: We don't know. Obviously it is still one factor that we still need to analyse a little bit more in detail in the next few races. I'm not a fan of changing the rules in the middle of a championship. In sport, you know, you change the balls in the middle of the tennis tournament or something like that, and it's what  happens when we change tyres here, we change the rules in the middle of a Formula One World Championship. But you know, at the end of the day, is the same for everybody again, so we just need to understand the tyre the best we can, and hopefully extract the maximum. If there is any change. As I said, we're still not 100 per cent sure. We need couple of races to confirm anything. So far, they look very similar but we need to wait and see.
Q: (Don Kennedy – HB Today / New Zealand Herald) Question for Fernando – sorry  Fernando, you're getting all the questions. 20 years since your first win, you said you wouldn't change anything. But in that time, would you include the teams that you've decided to drive for? And would you change your decision to leave F1 for two years?
FA: I would not change anything. I don't regret anything. No one has a crystal ball to know what is the performance of the teams in the following year. When I left Renault, which was the first decision, I joined McLaren, and that season, we fought for the World Championships. So, in terms of how competitive we were, it was a good thing and a good move. Then I joined Ferrari, I don't think any of the drivers will reject an offer from Ferrari and join that team. And we fought for three Championships of the five years that I was there. Then I joined McLaren-Honda, which was a project that we all thought that it could be interesting and powerful. It didn't work – OK, that thing can happen in this sport. And then I stopped Formula 1 because I had too many things in my head and too many challenges that I wanted to try. And it was a wonderful time in my career to try the endurance racing and that car, and Indy, with quite good success as well. So happy for that. And then I came back to Formula One with what I always considered my family in Alpine, in Renault. And now the last decision which for everyone's opinion was the worst one, to go for Aston Martin. It was the best one, arguably of my career. So that just shows the difficulty of choosing teams, and lack of knowledge that everyone has at home.
ENDS