F1 - 2023 BRITISH GRAND PRIX - POST-QUALIFYING PRESS CONFERENCE TRANSCRIPT
DRIVERS
1 – Max VERSTAPPEN (Red Bull Racing) 
2 – Lando NORRIS (McLaren) 
3 – Oscar PIASTRI (McLaren)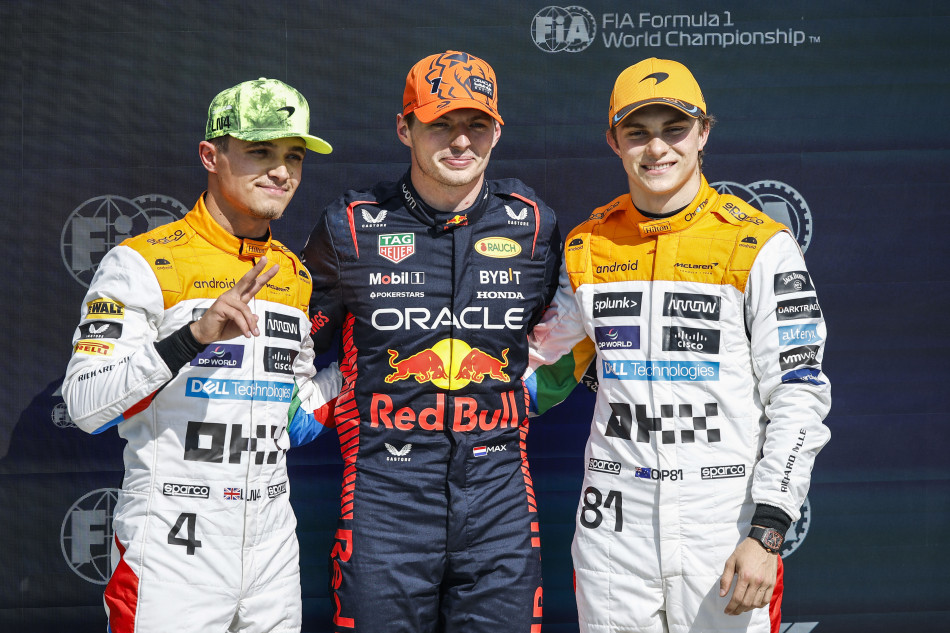 PARC FERMÉ INTERVIEWS
(Conducted by Jenson Button) 
Q: Max Verstappen, congratulations, another pole position.
Max VERSTAPPEN: Thank you. It's been quite a crazy qualifying. It's been quite hectic and also quite slippery in some places. But yeah, we did our laps, and then Q3, I was quite surprised to see them two there, it's great for McLaren to be here as well, and from our side, very happy, of course to be on pole.
Q: I mean, if you look at the just look at the numbers and the position that you finished in qualifying, everyone will say 'well, that was expected' but this whole session, Q1, Q2, Q3, it looked so close between everyone. It was really mixed out there. How difficult was it?
MV: Yeah, especially Q1, Q2, there were still a few damp spots and you had to be a little bit careful. Of course, you push close to the limit, but knowing that we have a quick car, you don't need to go to the 100 per cent limit. And then in Q3, when we just go for it, I think that's where we eked out the gap a little bit. But still, it was not a very big gap today – but for us, great day and looking forward to tomorrow already.
Oscar PIASTRI: Very, very, very happy. I mean, what a qualifying session –almost out in Q1 and then the car was a rocket ship in Q2 and Q3, I feel like I put a pretty good lap together. Massive result for the team as well. You know, to consistently have both of us up here is a mega result. Now we're just got to try and stay there for tomorrow.
Q: But where did this come from? I mean, we looked at the times yesterday, you guys were outside the top 10, and today, boom! on it every run in qualifying.
OP: I think yesterday, we had a bit of a rough day. I think we were a bit quicker than what we looked, just struggling to get the car in the right window. And I think we did a better job of that today. I think this conditions as well, we do really well in them all the time. Barcelona was a similar story; Monaco; Canada as well. So, we've had a fair few moments like that but yeah, to pull that off in Q3 like that was a mega result and obviously both of us have now got the new bits on our car and they're working very well. So, can't thank the team enough for continuing to push from where we were at the start of the season to where we are now. It's a massive step in the right direction.
Q: Congratulations. It's only Saturday but it must feel so special to get that here in front of the home crowd at the British Grand Prix at Silverstone.
Lando NORRIS. Cheers everyone, thank you. I was close! I was P1 in Q1, P1 in Q2, I think and close – two-tenths – to P1 in Q3. So, pretty insane. My last lap was a good lap. I could here Zak on the radio on the in-lap, which is the best thing ever. I'm grateful. For us to the second and third was pretty amazing for the whole team.
Q: Isn't if funny that you're second and you were still thinking: 'Almost got P1'.
LN: It's always Max, he always ruins everything for everyone! No, I'm very happy. Big thanks to the whole crowd here. It's been a very special day for us. So, I look forward to tomorrow.
Q: This is a big deal for you guys. The last race was obviously good in Austria. Before that, it's been a tricky year from what you've had in your first few years in F1 – this has probably been the most difficult– but today, this changes it all.
LN: It makes up for everything, you know? All the hard work that we've been putting in, especially here. With the new livery for the home race, for the team, for myself. We couldn't have had a better result today – apart from Max again, he ruins everything – but yeah, the rest was pretty amazing. So big thanks to everyone.
PRESS CONFERENCE
Q: Well done Max, it was an incredibly exciting and unpredictable session. How difficult was it to navigate and to come out on top?
MV: Yeah, I think mainly in Q1. I arrived to Turn 15 the first time, I just went straight off. So, it was very weird because Turn 15 and 16, they were a bit damp and it was very difficult to see where exactly: you could only really feel it. So that took a bit of time to really get on top of. I think in general I was just trying to get the laps in. Of course, we knew that we had a quick car, so you don't risk it all the way to get through, but still, that final lap. Of course I had my little incident in the pits, where I destroyed my front wing.
LN: Oh yeah?
MV: Yeah, had a bit of understeer out of the box. Too much rear grip, so yeah, had to new front wing but that meant of course that I was in the back to start that final run, and that was quite exciting, I think, that out-lap, with passing a few cars here and there, to get the lap in but luckily it was all good enough. But that shows that it can also very quickly fall the other way and you're out. Q2 was just building up, track was getting better and better. So, following the track evolution, and then in Q3, basically the same thing. I think the lap itself was alright, just probably in some places I got caught out a little bit with suddenly, like, an increase in understeer and stuff. But I guess, with the conditions we had, it was anyway going to be quite tricky to have, let's say, a perfect lap out there.
Q: You say the track ramped up through Q1 and Q2. At what point could you trust the grip levels?
MV: In general, like in most places, you could. Just the last sector, 16, 17 was still not like FP3 or whatever, FP2 – but it was good enough. There was definitely a bit more of a dry line coming lap after lap.
Q: How much are you looking forward to lining-up alongside Lando Norris tomorrow?
MV: It's great to see both of them up here. Yeah, great result for their team. And also, where they started off in the year, to see them here it's quite impressive as well. So yeah, very happy for them and hopefully of course they can also have a very strong race tomorrow.
Q: Thank you Max. Lando, coming to you now. For a few moments you had the Silverstone crowd on its feet when you held pole position. Did you think at any point that you could beat Max?
Lando NORRIS: I mean, I was watching… There are a lot of TV screens around the circuit so I was trying to watch every single one possible and I was surprised how long I was up the top for but it just kind of depended on when Max was going to cross the line so… I guess I'm a little bit surprised. I wasn't expecting for us to be here or for myself to be here anyway. I think we're very happy with the result. But it was more if Max made a mistake rather than if we were quicker than him. He's doing a very good job. The team are doing a very good job from his side. I put a good lap in. No mistakes. It was a much cleaner run than my Q3, run 1. But it was a good Quali, you know. I think P1 in Q1. I think P1 in Q2 and almost P1 in Q3 but not quite. But I'm so happy with that.
Q: You say you're surprised to be here. What were your expectations coming in to qualifying? 
LN: I don't think expectations were low. And I guess in Qualifyings like this, when it's wet/dry, it's always very difficult to anticipate what's going to happen in the whole thing. Some quicker cars were knocked out earlier on, so I think that opened up some opportunities for us to be sitting here. But my Friday just wasn't that great. FP3 was obviously a bit tricky with the conditions, so I didn't have the most confidence all weekend but I managed to pull it out when it matters so I'm happy with it.
Q: You were quick in Qualifying in Barcelona, yet you struggled in the race there. Are you more confident about your race pace here at Silverstone? 
LN: We don't talk about Barcelona anymore, OK! I think if we look to Austria, Austria is a very different circuit to this. But in Austria we performed extremely well in Qualifying and we managed to back it up a reasonable amount in the race. So I want to be hopeful. I'm not normally hopeful going into a Sunday, because of how this year has been and how things normally go or certain tracks come Sunday. But yeah, I've got some reasons to believe and some hope after our pace today, and how we were on Friday and some [of our] times, then we can have a good race tomorrow. Probably not enough to race this guy, but enough to put up a fight for, hopefully, a top five.
Q: Alright, very well done to you. Oscar, your first British Grand Prix, and you're in the top three on the grid. Just how special is this moment for you?
Oscar PIASTRI: Yeah, it's a very special moment, to be in the top three. It's been a couple of years since I've been to one of these press conferences, so it's nice to be back. But no, it's been a great day. Even this weekend, I think, you know, we thought we could get into the top 10 at least, but yeah, when the conditions were looking like they were, it's generally been pretty solid for us previously. So you know, I think we went in quietly confident that we could pull off something pretty special. And we've managed to do it. So yeah, very nice to be back. And yeah, happy with the lap I did. There wasn't too much left out there. So I'm happy to be in the top three.
Q: You're a rookie, you're inexperienced, just how difficult was it to navigate a session like that?
OP: It's always tricky. I think we've had about four of those sessions this year. So I think we're all getting good practice with it. But, you know, those conditions, I think most drivers really enjoy them. They're always tricky to get right. You need to find where the grip is on the track. Like Max was saying, sometimes you couldn't see where the grip was, you just had to kind of pray that you were on a dry bit of track. But I really enjoy those conditions. And so does our car it seems. So, yeah, I think we did a good job managing on the team side, I think when it comes to Qualifying, nine times out of 10 we do a very good job with that. So, full credit to the team for the calls today and also for the car as well. Clearly it was working well today.
Q: And what are your goals for the Grand Prix tomorrow?
OP: I mean, firstly, stay in the points, that would be good. I think we'll have to see what our race pace is like, you know. Lando showed last week that we can hang on in the races now to a much better extent. So hopefully we can try and do the same tomorrow. Of course, staying in the top three will be tricky with quite a few quick cars behind us. But definitely a solid points score can be on the cards. 
QUESTIONS FROM THE FLOOR 
Q: (Keith Collantine – Racefans.net) Max, we saw a moment between you and Lewis in Austria and we seemed to see another one that wasn't commented much on the TV feeds. Going down the Wellington Straight you seemed to draw alongside him and then draw back a bit and then draw back past him again. What was going on in that moment? How did you come across him? And what happened?
MV: No, it was just on the out lap. I had very cold tyres, because most of the people in front of me had new tyres but I stayed on my used set. So yeah, I just tried to get by. But of course he was trying to warm the tyres. So it took a bit of time to find a bit of space to go through.
Q: (Jake Boxall-Legge – Autosport) For Lando and Oscar please. Obviously quite a big turnaround compared to what you guys had at the start of the season. Do you think this is a fair reflection of where you're now out with the upgrades? Or is it a little bit circumstantial, given the conditions? And secondly, just in terms of how it feels for you guys, what is the main difference behind the wheel? 
LN: I think it's definitely clear that we made some improvements. I think that's very, very evident. But I don't want to look forward to the bad races, there's going to be a couple, because there's definitely tracks that we know we're going to struggle more at. I think these have been tracks where our strengths have really come through. High speed, we've made the car probably a little bit more efficient at times. But high speed is one of our strengths and we have quite a bit of that here. We've also improved the car, so the overall balance or not the actual balance, but the overall speed and performance has just taken a decent step forward. But yeah, I guess if I was going to be negative, there are definitely going to be some tracks that we are going to struggle more at. Our weaknesses are still the same and quite weak. So I think we really need to try and tackle them if we want to be able to be here more consistently. But the last few tracks have been relatively high speeds, fast flowing tracks, which are good for us. But we've taken a step forward. I do have to say big thanks to the team because it's been a long beginning of the season, but days like this and like we had in Austria it really feels like you pay them all back for the hard work and the things they've been doing back in the factory. So yeah, we'll keep pushing and will try to stay here often.
OP: Yeah, I think very similar comments. The car's clearly a good step forward. I think with that in mind, we saw in Barcelona in similar conditions with the old spec car that we could also challenge for the front. So, I think, again, I don't want to be negative, but I feel like there's a little bit in that, but I think generally we are more consistently further up the front now. As Lando said, the car doesn't feel too much different, and I think we still have some weaknesses we want to address. But overall, it's faster. And if I was to choose a car that feels great, or a car that goes fast, I would choose one that goes fast and worry about the handling later. So yeah, the team has done a very good job bringing all the new bits this weekend and last weekend. So yeah, excited for the future and hopefully we can have a few more days like this.
Q: (Silja Rulle – Bild) Two little questions to Max on your little incident. First one is Do you remember when was the last time something like this happened to you, kissing the wall? And second: even though it was just a little tiny little mistake without big consequences can this shake your confidence in any way?
MV: To hit the wall in the pit lane? I think I'm scared to drive out of my box now! No, it has nothing to do with confidence. My engineer asked me what happened. I said I understeered. It happens. The last time that I hit a wall proper was here a couple of years ago, so these things happen. A parking incident? I mean, I've crashed once before in the pit lane, but not in F1.
Q: (Connor Andrews – Talksport) Lando, we spoke to Max on Thursday and he said you're probably his best friend in Formula 1. Just wondering your reaction to that and if you're willing to put that friendship to the test tomorrow in Turn 1?
LN: I wouldn't say it was the opposite way around (sic). I think something that we're… I'll agree with that. Let me start with that. I think me and Max are very good friends. I guess we've kind of grown up, not exactly together, we've never really raced against each other until Formula 1, but we've grown up in a similar generation, similar times and I think we've always got along. I think certain mentalities are similar in terms of we're here because we love it, we want to enjoy every minute that we're here in the paddock and driving cars that we love to drive. But as soon as you put the helmet on, you forget about everything else and I think we have the correct amount of respect away from the track, where you can get along and be mates, whatever it is. It's not like we see each other every day or text each other every day but we get along and sometimes bump into each other, go for dinners or go for a crepe whatever it is. But at the same time, when you put the helmet on, there's nothing more than, I'm sure, that he wants to do than just beat everyone and make everyone look silly and it's the same the opposite way around. But you don't do anything differently, most likely, when you get in the car because we get along off track. I think we have the mentality of, you're driving you forget about everything and off the track, you've got a good amount of respect for each other. So you can keep those two quite separate. But I'm sure if Max seems to be aggressive or do things that don't look friendly, then he'll do them, and I'm sure when my time comes – probably not going to be tomorrow – but when our time comes that we're racing for things and we're racing for wins or championships then sure it will get put to the test a little bit more.
Q: (Kate Fairman – Sports Illustrated) Max, I couldn't help but notice that you've got a bandage on your hand. Is that standard practice or is there a story there?
MV: Yeah, it looks a bit interesting, right? But yeah, it's just a hand injury. Yeah, that's why I said it looks quite interesting, right? But yeah, I injured my finger – it's not making it better - injured my finger and my hand at the same time but it's fine when I'm driving it's OK.
Q: (Edd Straw – The Race) Lando, you referenced there are still some weaknesses in the car but how much improvement has there been in some of those long-standing limitations? Do you at least see a little bit of progress in that area even if it's going to take some time to play that through with car development to get it really where you want it?
LN: It's like 70/30, 70% not fixed, 30% fixed just by making the car quicker, adding load and having a better performance. I think 70% at the minute… if we just had more load, more of it will be covered but it's not the whole solution. I think days like today prove that we're not miles away on certain things. It's just some characteristics and handling that I would still say we've had as an inherent issue over the last five years, that we definitely still struggle with. There's still very good things that we've been able to carry through such as high-speed performance. I think since I joined in 2019, we've always been good at certain tracks like this and Austria and things. So there's plenty of things to work on and I think if we really can tackle those bigger problems, which are more fundamental and not just by adding load, then I'm confident we can have a much more competitive car from race one to race in 2024 next year, or '23 this year. So plenty of good things but yeah, there are still some issues that we know of and are trying to tackle but it's complicated, takes time, but everyone's working extremely hard and if we can make progress, like we made over the last few races with those certain things over the next five, six months and into '24, then I'm confident we can be a lot more competitive and fighting for some podiums and wins at some point.
Q: (Matt Coch – Speedcafe.com) Oscar, you've spoken about how much this result means for the team and so on. But what does it mean to you and your confidence, given your journey to get to this point?
OP: Yeah, it's a massive confidence boost, but I think regardless of the end result I feel like I did a good lap. I've made a few mistakes in Q3 through the year so it's nice to have a solid lap on the board and to have it for P3 as well as is even better. So, yeah, gaining more and more confidence every time I get out on track and more experienced, obviously. But yeah, it's just nice to be fighting for much higher positions now. There's only two more spots left for today but I'll try to keep pushing. There's things I still need to work on and I think over one lap the pace this year has generally been pretty solid when I haven't made any mistakes. The races, I still need to figure a few things out which will come with time. So that's a big focus, but I'm very happy at the moment to be up here in P3.
Ends