F1 - 2023 BELGIAN GRAND PRIX - THURSDAY PRESS CONFERENCE TRANSCRIPT
DRIVER GROUP 1 – Valtteri BOTTAS (Alfa Romeo), Esteban OCON (Alpine), Kevin MAGNUSSEN (Haas), Lewis HAMILTON (Mercedes), Sergio PÉREZ (Red Bull)
Q: Now, Esteban, you're closest, let's start with you. How are you physically after breaking your seat in that Turn 1 crash last weekend?
Esteban OCON: Recovering, thank you. It's obviously been quite a short period between the incident and going back on track quite soon but I will be okay to race this weekend which is the most important and, yeah, ready to race.
Q: And when we look at the last couple of races for Alpine, if you guys haven't had bad luck, you've have no luck at all. What is your message to the team? What is the mood in the camp after two such frustrating races - two DNFs?
EO: I don't think we can call it on luck for two instances. I think obviously we are not where we want to be exactly. We know what we have to do. We know where we have to progress and we are obviously bringing some new parts to the car this weekend. Hopefully, that's going to bring us closer to the top ten, to be able to score. But yes, it's going to be important for us to have a good one before the summer break so we can all go on the holidays with a clear mind.
Q: What are you expecting from the new floor in particular this weekend?
EO: Feet on the ground at the moment, seeing what it's going to bring. Obviously it's going to be the important…  understanding it as well. It's going to be tricky with this format this weekend, especially how very few tyres we have on the wets or in general for the weekend. So yeah, just want to see if it brings us closer to the points so we are going to be able to score again. That's what we want to be achieving.
Q: Kevin, since you were last in the FIA press conference you've become a Dad for the second time.  How is little Agnes? And how are you feeling? Are you knackered? Are you coming to the races for a break?
Kevin MAGNUSSEN: No, not at all. It's just been super good. And everything's been fine. So I'm fresh as always and ready to go again.
Q: What about the on-track performance? I felt you seemed a little disheartened in Hungary last weekend, is that fair?
KM: Well, I don't know. I think it's frustration. It's of course building when you see other teams developing and making big gains and we haven't seemed to make that big step yet. But I still have all the faith in the team that we can turn it around eventually.  It's not going to be immediate but I think we're doing the groundwork to be able to bring that step later on in the year. It's of course frustrating when you don't have it and we want to be up there scoring points and doing well and at the moment it's a bit hard.
Q: Is the car better in race conditions than it was earlier in the year?  Is the tyre wear, the tyre deg, better?
KM: I think we have made some progress. It's just that overall our performances have dropped compared to our main competitors. But Qualifying versus Race, I think that that has improved. Unfortunately, some of the cars that we used to be racing in the beginning of the year have just become much faster overall and that's why we don't see that gain so much. But yeah, as I said, we're working super hard. The whole team is really working hard and I think there's still reason to be optimistic for the remaining of the year.
Q: Driver silly season, Kevin.  Gene Haas, your boss, is here this weekend. Are you hoping to sit down with him and nail out a new contract for 2024?
KM: We'll see when it happens and how that pans out. I think at the moment there's not any news to bring and eventually we'll come around to it. I don't really know what's going on. I feel like the team is pretty happy but you never know with these things and I'll take it one day at a time.
Q: Lewis, such contrasting fortunes in Hungary last weekend, it felt.  Brilliant Saturday, a slightly more difficult race. Where does that leave you and Mercedes coming into Spa this weekend? What can we expect from you?
Lewis HAMILTON: I think it leaves us optimistic. I think it was amazing to have that experience on Saturday. It shows that there's potential in the car and everyone's working incredibly hard to bring performance. And I think our race pace was very good, we just have to work on what was… we've understood what the issue was at the beginning and we've got some upgrades here this weekend. The weather's going to be interesting.
Q: You mentioned performance there. How much are you still firefighting with the W14? And how much are you actually working on performance?
LH: Well, as a driver you're constantly battling the inconsistencies with balance but we are flat out trying to improve. Just as Kevin says, we're working a lot to analyse where we are and what we can do to try and make those big steps that some of the others potentially have, like McLaren and Red Bull often make so hopeful and I have all the faith in the world that we will eventually get there too.
Q: And Lewis, we're just over the halfway point in the season, can you just give us a brief summary of how you think it's gone for you and Mercedes so far?
LH: I think it's been decent. We didn't start where we wanted to be at the beginning of the year,  but we just made a lot of progress. It's been a huge amount of progress over the season so far, and hoping that there'll be a lot more in the second phase.
Q: What were your expectations coming into this year?
LH: To be fighting for a World Championship. That's always the expectation… No, it was just to be in a much better position than we were last year and I think that wasn't the case. With all the amazing work that goes on through winter, we kind of started further behind and so it's been a big, steep, uphill climb. But really proud of the team. We're fighting for second in the Constructors' Championship which is definitely something we didn't expect after what we felt at the first test and that's really down to the great teamwork that's happening in the background.
Q: And the goals for the second half of the season?
LH: My full focus is on to try and secure second for the team. I think for everyone back in the factory it means a huge amount for them and whilst we can't currently catch the Red Bulls, I think  that puts us in a good position for next year.
Q: Can you win a race?
LH: At the moment, I'm not quite sure we can currently compete with them on race pace. I think there were times in the last race Max was around eight tenths faster than everyone on a single lap. But never say never.
Q: Checo, a great race by you on Sunday in Hungary. Do you feel you made the one-lap progress on Saturday that you wanted to last weekend?
Sergio PEREZ: Yeah, it certainly feels like we were a lot stronger in the qualifying. But obviously, it was a different Qualifying and we were caught out, I think, going onto the soft and the margins were extremely close. So just being on the wrong tenth of it meant that I started P9 rather than being inside the top four, top five. So I think in that regard, it was positive.
Q: You said on Sunday night that it's all about consistency for you now.  Has the sprint come at a good time for you or would you rather have more than just the one practice session at the start of the weekend?
SP: We've done a lot of races and practices, it's the same for everyone. So it doesn't change anything. But we've seen it before. The margins in Qualifying are very small so if you don't already get Q1 right, it could be very easily (be) out. We saw it last weekend, I think, with George, he was out in Q1 and Lewis was on pole. So it can just happen to anyone out there.
Q: Do you think the margins in qualifying, if it's dry – unlikely -– but if it's dry, do you think the margins in qualifying will be very small here?
SP: I think so. I think with the new tyre, it's extremely close with everyone. And yeah, I see no reason why this should be any different.
Q: And Checo, can you just sum up the first half of the season as well please? How do you feel it's gone?
SP: I think for the team it has been a great first half of the year. It will be great to keep it the same for that second half of the year. On my side, I think I had four or five weekends where I didn't maximise the full result that I had on the table and that has cost me a lot of points, but I had a very strong start to the season. And I just think on the second half of the year I just want to be bring my form back and be able to score as many points as possible in the coming races.
Q: Is it just form on your side or is it the fact that the car is not where you want it now compared to where it was at the start of the year?
SP: It has changed a bit in that regard. I think when we went to Barcelona I found a bit of a different balance compared to what I wanted. But I think now we've come on top of that, we've made some good progress, we've had some good race pace in the last few races but qualifying hasn't been going on our way. So I think it's just how it is; through the year sometimes you'll have a bit of bad races, but it's important where we finish in Abu Dhabi, I think.
Q: Valtteri, what an incredible qualifying by you guys last weekend: fifth and seventh. How much was that a surprise to you?
Valtteri BOTTAS: It definitely was a positive surprise. Of course we took that result happily on Saturday, but I think it was everything kind of came together. We had the upgrade in Silverstone. We learned a bit more about it in terms of the setup and then the track just suited our car pretty well, I think. Yeah, those type of corners that Budapest offers seem to work well for us. Unfortunately, in the race we were not quite on the same pace as in the qualifying, and yeah, I was a bit unlucky at the start as well. So no points, which is of course disappointing after that kind of Saturday.
Q: Where was the car especially good in Hungary?
VB: I would say all the twisty stuff, like all the low speed corners; the long corners it seemed good. And it feels like whenever there's more straight line it's a bit more of a struggle for our car at the moment. So let's see how we go here.
Q: Well, what about here then, with that long 20-second flat-out segment from Turn 1 up to Les Combes?
VB: I would definitely myself say on paper Budapest would be stronger for us than here but also now this weekend I think the weather is going to play a big part. It's a Sprint weekend, there's going be opportunities so yeah, we still try and keep maximising everything with the new package and learning about the setup and hopefully squeezing a bit more out of it.
Q: And Valtteri, can you just sum up the season so far?  You've scored nine points as a team after 11 races. Same point last year: 51 points.
VB: Until this point of the season, we haven't met the targets we set as a team and everyone accepts it and is working as hard as ever to get back up there but it is the situation now.  We're not satisfied with it but it is motivating to see that even with small gains you can make good progress. So yeah, again, progress, improvements:  that's the key for the second half.
QUESTIONS FROM THE FLOOR
Q: (David Croft – Sky Sports F1) Good afternoon, gentlemen. It's a question for you all. I don't often talk tyres, but I often hear you saying your views don't get taken into consideration so give me your views. If the F1 Commission votes to remove tyre blankets for next season, what are your worries about going into racing without tyres that have been warmed in the blankets or what do you think could benefit the sport by doing so?
KM: I think… no blankets, I've done a test and it's okay. The tyres are what they are. When they're hot, it's okay, I guess but the warm-up phase and the out laps are going to be super tricky. I think in a race situation when you need a hurry-up on the out lap I don't think it's going to be that much fun. So unless they improve that I don't know if it's going to work
EO: I didn't test these tyres but listening to Kevin I think it also takes away some strategy games in the race because you cannot undercut people anymore. And  we've seen different categories trying it as well, on a damp track or something when you have to switch to two slicks. I just don't think it is the right thing to do with the technology we have at the moment. Obviously trusting Pirelli to do a good job with it but if you have a tyre that works at cold temperatures it will degrade massively. That is always the problem that you face with tyres.
LH: What they've said, basically. I've already spoken about this so not really much more to add to it.
SP: Just a safety concern on the drivers. I've done the tests they did last year in Monza and I think the main concern is that out lap.
VB: I think everything has been covered except from my side, yeah, that the pressure rise is still an issue because obviously you still need to start with a certain minimum pressure. But once there's such a big difference in the temperature, obviously the pressure gets very high and that means you lose grip. Yeah, more degradation and if you're following another car, then it's even more worse. So there's still work to do, obviously, but the time will show.
Q: (Alex Kalinauckas – Autosport) Lewis, we've now seen the Apple film filming at two events.  It was on again in Hungary after being introduced at Silverstone. I just wondered what's the feedback been regarding how it's been working within the F1 paddock; has it been how everybody hoped it would be? And also do you know if the Hollywood strike has affected the film at all?
LH: I think it's been amazing so far. I think everyone's felt incredibly welcome and there's a great vibe within the filming crew, with the actors and directors, everyone's just feeling a lot of love and feeling included which I think has been great. I think it's been well received. And there's just so many people that have worked so hard to make it possible, with great help of Stefano, for example. This has never happened in our sport before. It's huge. So, hats off to the sport and to those that are running, that are showing that we are progressive, we're moving forwards in a new way. And fortunately for us, we're still able to do some of the filming with the stunt crew, but I don't think for anybody it has been helpful, but I stand with the actors. I know what they're fighting for and I hope they come to a resolution soon.
Q: (Phil Duncan – PA) Lewis, just checking your OK. You sound like you're got a bit of a cold or something. Just checking you're 100%. Another one: this is to you and to the other drivers if they want to get involved, but have you got any safety concerns heading into this weekend's race? We obviously know what's happened here this year and in previous years and I just wanted to know your feelings on that please?
LH: It's not something I ever think of. I think as a driver, it's not something that you can ever really let into your mind. But I trust in what the FIA are doing. I don't think we would be here if they didn't think that we'd be safe. And I believe that… Again, I trust in them, as they've done such incredible work over the past couple of decades. I trust in them to make the right decisions moving forwards also.
VB: Similar thinking from my side. I think we rely obviously a lot on the FIA and decisions being made, whether it's about conditions and stuff but the track has been always the same. Some tracks are more dangerous than the others and especially if there's bit of weather added. But yeah, obviously visibility is a big one here if it's raining, but that's when someone else needs to control the drivers. Can they start the race or not? To make sure that nothing happens.
SP: It's just important to consider it, especially with the race conditions. Visibility can be really poor, so we are in the hands of a race director. Nothing we can do now so we will just fully trust him.
Q: (Niharika Ghorpade – SportsKeeda) A question to all five drivers. Given the weather forecast for the weekend, are you worried that if FP1 is cancelled, and that's the only practice session available, it could make the rest of the weekend very complicated. What are your thoughts on that?
EO: Yeah, I mean, a Sprint weekend is often a big challenge because we only have one session, first of all, to set up the car and get it ready for the rest of the weekend. So you can't really miss that session and make a mistake. It has happened to us in the past, in a past Sprint weekend, and we know how important it is. Obviously, if it's wet, we'll keep more tyres. And if we can't run, we'll keep more tyres for the rest of the weekend, which is not a bad thing in a way. But yeah, it will lead us to uncertainty. And obviously, we worked hard in the simulator to make sure we have a good setup and we're ready for the weekend, if that happens. So, in any case, you know, we are the most ready now we can be.
KM: Yeah, I mean, everything Esteban said and, you know, at the end of the day, it's going to be the same for everyone. If it's cancelled, it's cancelled, and we'll deal with it.
Q: (Norman Fischer – Motorsport-total.com) A question to all drivers. I know Spa is a beloved track but racing hasn't been that good in recent years and a part of that is the big DRS effect on Kemmel. We've seen Max getting from near the back to the front in, like, 15 laps. Is the DRS on a big straight like Kemmel really necessary or should we focus on shorter straights?
SP: I think last year, apart from Max, we didn't see much overtaking. I think Max had a very strong pace through the weekend. So I'll say that it's good.
VB: I think it's good. I wouldn't really change it. I think still you need a decent difference in the car pace to make a move. It's not like it's still easy to overtake.
Q: Lewis?
LH: I don't even know what the question was.
Q: DRS on the Kemmel straight? Do you think we need it? Yes, we do. OK.
Q: (Filip Cleeren – Motorsport.com) Esteban, Alpine was and still is trying to finish P4 in the championship but with the way recent races have been going and also McLaren's resurgence, do you reckon that's still realistic? And is there a consideration to maybe start focusing more on next year for the development?
EO: It's easy to say that, for you, now. But, you know, we've been working very hard. So, obviously, we are not having the best couple of races. But, you know, when we've brought, you know, some good updates to the car we were fighting, you know, near the top five, we had a couple of Qualifyings where we were very well into the top 10. I finished on the podium in Monaco. You know, we qualified top five in Barcelona and Canada I was P6. It's just recently that it hasn't gone our way. Other teams have improved more than we did. But it really shows how tight it is and how much, you know, bringing something to the next race can change things. And yeah, I mean, we've seen it with McLaren what happens. Obviously, I'm not saying that bringing an update, that that's what we are going to do, but we are keeping focusing on ourselves, trying to do the best we can and hopefully coming back in the point-scoring zone for this race.
Q: (Tom Cary – The Telegraph) Lewis, just following up on what Phil was asking about the circuit safety. And I get what you're saying about visibility in the conditions. I mean, obviously Spa is one of the most spectacular race tracks in the world, Eau Rouge is one of the most famous corners. Is there any element of the circuit itself that you feel needs modifying at all? Or do you think it's more condition dependent, and it's just up to Race Control to manage that?
LH: I mean, I love the track the way it is. I don't really know what to say. It's not my job to decide what needs to be changed or how it should be changed. That's why we have good people to be able to do that job.
Q: (Christian Nimmervoll – Motorsport-total.com) Checo, Daniel Ricciardo has recently been talking a lot about how he's probably been overthinking things in the past and now, you didn't have the best round of qualifying Since Monaco, do you think it's the case that you overthought things probably a little bit? And have you ever considered working with a psychologist or mental coach?
SP: I think certainly after Monaco I lost some confidence, because the way that my crash happened, I did lose a bit of confidence with the car. And that put me back. I have my psychology, and that's something that I work on. And other than that, I think it's just how the sport is, you know. You have good moments, bad moments, but always when you are at Red Bull, the pressure is a lot higher in that regard. You have a bad session and then you have to answer questions about your future straightaway. So it's just how it is. But luckily enough, I'm in a good place and I just have to focus on making sure that I enjoy my job and enjoy the weekend.
Q: Checo, have you had a season like this before in your career where you've experienced such highs and such lows in the same 12 months?
SP: Oh, yeah. Yeah, I've had that before. And it's just how it is, you know, we operate on such small details that sometimes if everything isn't perfect, it can mean being on the podium or being out of the points, you know. But it's obviously something that people at home don't really understand, how much detail goes into our races, and that can make the difference between having a great race or having a very poor race. But it can happen to anyone, to any driver in Formula 1.
Q: (Adam Cooper – Motorsport.com) Is Spa the right place for a Sprint race and if we're going to have, say, six a year from now on, would you guys like to have more say and in which races are chosen?
KM: I don't know. I mean, I don't really care where they are. I like the Sprint weekends. I think they offer more excitement, you know. There's more pressure in a bigger part of the weekend and I think that's good or more fun at least. Whether it should be at Spa or not, I don't know.
EO: I think on paper it looks good. To have a Sprint race in Spa is more show. There are more long straights for overtaking. It's good that we try it.
LH: Same as Kevin. They both covered it.
Q: Lewis, would you like to have more say in where the Sprint races take place? That was the second part of that.
LH: No.
Q: Checo?
SP: Same as Lewis.
VB: Same.
Q: (Luke Smith – The Athletic) Lewis, a question for you. I know you took a keen interest in W Series before it folded. F1 Academy has had its first season this year and from next year all F1 teams are getting involved with a liveried car and a driver. Could I get your thoughts on that and the commitment F1 is making to progressing female talent up the ladder?
LH: Yeah, really happy to hear of the progress being made. I think it's been great. Having Susie in there, who was a phenomenal driver, so has the perspective from a driver side, but also she's been a team owner. She's really fighting for that inclusivity. So I think it's really great the steps that were taken and really happy to hear that all of Formula 1 is on board.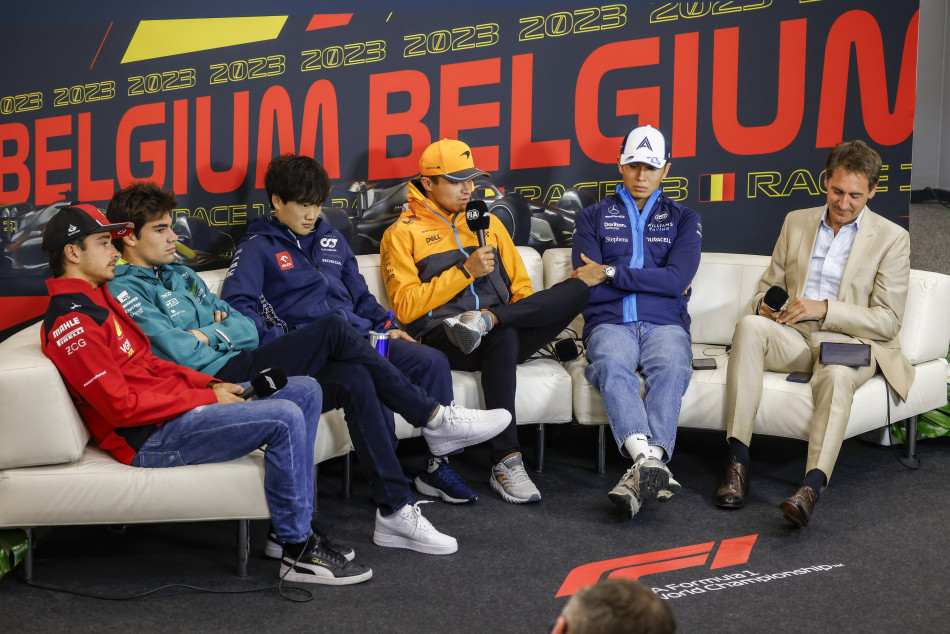 DRIVER GROUP 2 – Yuki TSUNODA (AlphaTauri), Lance STROLL (Aston Martin), Charles LECLERC (Ferrari), Lando NORRIS (McLaren), Alex ALBON (Williams)
Q: Alex, why don't we start with you. Let's talk about these last few races. You've scored points in two of the last four. How do you rate your chances here at Spa?
Alex ALBON: I think we have a good chance. I think car-wise we are in a good place. I feel like the last few races we've been able to get comfortable with the new upgrades. And, you know, Hungary was a circuit that shouldn't normally suit us and we finished P11. So, feeling positive going into this weekend. But with the rain, I think there's a little bit of a doubt over your performance, it becomes, not random, but a little bit more random. So let's see.
Q: Alex, you mentioned your performance. You've been receiving a lot of praise, both in the media and from your team principal about the job you've been doing this year. Can you just tell us how much are you enjoying racing at the moment? And do you feel that you're driving better than ever?
AA: I feel like it goes hand-in-hand. Of course, when the car gets quicker as well and you're fighting for points, people talk about it a little bit more. I think we're doing a great job, I feel, as a team.  Driving-wise as well. I'm feeling comfortable and confident in the car, which is always important. And it's just great going to every race weekend being able to fight for points, and being in that area where you feel like you go to every weekend knowing that, it just builds confidence and motivation for everyone in the in the team. So yeah, I would say we're enjoying these moments, and hopefully we can we can score some more points.
Q: And have you enjoyed the whole of the first half of this season. Just give us your thoughts on how you feel everything's gone?
AA: Yeah, honestly, I have to say it's been a really good year for us so far. Don't want say too much. But it feels like the way that we started in Bahrain and where we are right now, we've made great progress. Maybe not as much as the McLarens, but on our side, we are heading in the right direction. And as I said… I don't know where we are, I think we are seventh right now, in the Constructors', tied. If you had told me that at the start of the year, I think if you had told anyone from the team that at the start of the year, we would have bitten your arm off. So it is going well. Obviously, we just need to stay focused and keep going at it. But I'm sure, as a team, we can take the summer break off and enjoy it and come back refreshed.
Q: Alex, thank you and best of luck this weekend. Lando, coming to you. You're a man on a roll after back-to-back podiums at Silverstone and the Hungaroring. What are your expectations here?
Lando NORRIS: I want to say the same. Spa is one of my favourite circuits of the season. [We have] conditions, which generally, we perform pretty well in, so there's no reason why we shouldn't continue where we've been. Yeah, I guess it's another challenge for us in terms of circuit and layout and another opportunity for us to see where the car really stands. But the team have been doing a great job. I think we've been doing a great job with strategy and everything else we can do. So yeah, another weekend we can look forward to, to try and achieve similar things.
Q: Do you think the car will be quick here? I mean, you joked on Sunday about Turn 1 here at Spa not favouring the car, but on balance do you think you should be competitive?
LN: It's very tough to say. I mean, we'll see what the conditions are going to do first of all. Yeah, I think a couple years ago things were going very well in the wet until it all went horribly wrong. But the car is competitive, you know. We've clearly made a big, big step. Fighting cars we weren't expecting to… Being ahead of cars we weren't expecting to be ahead of and fighting for podiums, fighting for pole position. So, I'm not going to say no to the question, but it could be a trickier weekend than the last few.
Q: You say it's been a big, big step. There have been reports this week, as much as a second a lap these upgrades.
LN: No. It's a no. I don't think it is. It's a fact, it's not a second. I think that the biggest thing is a lot of other teams that were competitive and start aren't as competitive now. If you look at Aston Martin, if you look at Ferrari, they were a lot closer to the front than they are now and we just seem to have swapped positions for some reason. I don't know if they've taken a step back or Red Bull have taken a step forward or what, but, yeah, we weren't expecting at all to… We were expecting the upgrade to help us race against them and so far, at a lot of these races, we've been ahead of them. It's definitely not one second. I think some of these tracks that we've been to, we've performed well at in the past, you know. Silverstone I was already P4 last year. Budapest already last year, we were P5 or P6 or something. They're tracks we have performed well at in the past and now we've just taken another step forward. But like I said, there's some tracks that I know we're not going to be as competitive at and then it's not going to look like we made a one-second step forward. So yeah, we'll see. But the team have obviously done an extremely good job, and we're continuing to try to make another step.
Q: It might not be a second, but can you just tell us how different is the car to drive now to the one that you first drove at the start of the year?
LN: I mean, my honest answer is it's not a lot different. It's just quicker.
Q: So, in terms of balance, it doesn't feel that different?
LN: Nope. No. But it doesn't matter, we're still fighting for podiums and it's a lot quicker. So that's all I ask for, in a way. The car is still difficult to drive, it's difficult to be consistent. I think we still need to do a better job with tyre management and so on. I think that was clear from last weekend. It was one of our weaker areas. But I think we can be more than happy with the step forward that we've made. I don't think… as much as I'm always going to complain about certain things, because that's what every driver does but for us to get from where we were, struggling to get out of Q1 in the first few races, to be fighting for pole I would say it's one of the biggest turnarounds in Formula 1 for a very long time. And during the middle of middle of a season as well, so I'm very happy. There's always things to improve on and that's what we're trying to do.
Q: Thank you and best of luck to you this weekend. Yuki, it's early days but how are things going with your new team-mate?
Yuki TSUNODA: I think it's good. Learning lots of things from him already. So it's fun to do a couple of filming with him on a Thursday. Thursday became slightly more fun I think for the content, but other than that's not much difference. Yeah it's good.
Q: Is his feedback about the car different to Nyck's?
YT: I think it's similar. In the end what I'm saying and what Daniel is saying is quite similar. Obviously we just had one race and Hungary is a little bit different so it's difficult to say. But so far it's not much difference.
Q: What about the performance of the car? Do you feel you're making progress?
YT: Hungary, yes. Unfortunately, I smashed my front wing in FP1. It's my fault. But rear wing we definitely made a step. To be honest I don't know [about the] new upgrade to the front wing I've because sadly it's gone in FP1 for me. But I think other than just we made a step with the rear wing. I think performance was pretty good in terms of car in Hungary but I just couldn't put it all together from my side. We made a bit of a step, but probably not as much as still we want, and I think Hungary is more towards more slow-speed corners where still you know, mechanical grip is required, which we are quite good at, like we saw in Azerbaijan, but I think still overall package we are still missing performance, a little bit, compared to where we want to.
Q: You made a step forward with the car in Hungary but what about the season as a whole so far? Have you made the step forward that you wanted to make in 2023 in terms of what you're doing?
YT: Yeah I would say so. I was happy with the performance the first couple of races. Last three races it's been a little bit messy, myself. Yeah, still there's a couple of limitations like in the radio, where I want to focus and improve. Sometimes I rush to, kind of, overperform, you know, to be into Q3, Q2, whatever and sometimes mistakes started to happen more consistently rather than first couple of races. First couple of races, just discover how the car performance is, just see how it goes and not really rush to. We started to like, you know [inaudible] performance or like we're slightly towards the back now compared to the first few races and rushed into like score points. But, you know, that kinds of rushing makes more consistent mistakes. So I just have to reset myself and yeah, just try to focus on what I can do. But I'm still happy with my progress, what I had in this year compared to last year so yeah, it's good. And I think Daniel gives more information and more, I think, places that I have to improve, so yeah, I'm looking forward to it.
Q: Lance, let's come to you now. You're half-Belgian, so does this feel like another home Grand Prix for you?
Land STROLL: Well, I don't spend much time here, but yeah, my Mom's from Belgium, so it's always nice to come back and have a waffle.
Q: Well, let's talk about your racing car. On Sunday, team principal Mike Krack said that the grand prix had been a bit of a wake-up call for you guys. Where do you feel the performance of the car is at, at the moment?
LS: Yeah, not where we want to be. You know, we started the season very strong. You know, second, third fastest car, you know, some races, depending, you know, on the track, but the last few weekends have been more challenging for us. So, we definitely, you know, have a few things to work on to, you know, get back to where we want to be.
Q: What have been the challenges in these last few races? Where's the pace gone?
LS: Well, you know, going around the corners faster and down the straights faster, that always helps. So no, I mean, I think it's, you know, just a lot of little details, you know, and, yeah, I mean, just the usual stuff, you know, working around some of the limitations of the car, balance through the corner, and, you know, finding some more, you know, downforce and all that kind of stuff. But I think we have some ideas, so, yeah, I'm looking forward to the second half of the season.
Q: Well, before we get to the second half, we've got this grand prix at Spa. How do you fancy your chances? Do you think it'll be… well, you've just talked about the strengths and weaknesses a bit… do you think this is going to be a challenging grand prix for Aston Martin?
LS: I think it's going to be a challenging race for everyone. I mean, it's a Sprint weekend: by the looks of it, the weather is going to be, you know,  the biggest factor. One session and, you know, a wet track around here is always challenging. So yeah, I think it will be challenging but, you know, exciting at the same time, you know, great track to drive and, you know, conditions will be difficult, but it's the same for everyone. So yeah, looking forward to the weekend.
Q: Charles, thank you for waiting. So back to the scene of your first grand prix victory, does Spa always bring the best out in you?
Charles LECLERC: I'm trying to do my best every single race weekend, then of course, it's always special to come back to the place where you've won your first race. It was a very,  I mean it is, a very special memory for me. It was a very special moment at the time, even though it was done in circumstances that was difficult to obviously enjoy the moment as we had lost Anthoine the day before, but it's a special track, I think every driver really enjoys this track, and we can always expect some exciting weather and this weekend it looks like it's going to be a pretty wet the whole weekend. So hopefully we'll be competitive in those conditions.
Q: Well, do you welcome the wet weather? Do you think you will be competitive?
CL: Honestly, I think we've been quite good whenever it was full wet, or full dry. Or, at least we were maximising our package. I struggled personally a bit more in the half-wet, half-dry conditions. But we put quite a bit of work into it so I'm confident that if we find ourselves in those situations again, I'll be back at the level I want to be.
Q: We've seen fluctuating fortunes for Ferrari in the last few races. Austria was great then two difficult races for the team. How can you explain what's going on?
CL: Well, first of all teams are super close now, especially in Qualifying. You look at the Budapest Qualifying and we all we were all within seven-eight hundredths in Q3 apart from the top three but, where I was, everybody was so close. So, the smallest difference can have a big influence on your results. And, at the moment, that's where we are as a car. Then, I think as a team at the track, we need to focus on every single detail because, now more than ever, it makes a big influence on your end results – in Qualifying especially. And in Budapest, we probably left a bit of performance here and there, which had a big consequence on our weekend. Then, the big picture is that we aren't fast enough. And this, we know it, and we are putting in all the effort to be back at where we want to be as quickly as possible.
QUESTIONS FROM THE FLOOR
Q: (David Croft, Sky Sports) Lando, great to see you back on the podium, you've had a smashing time up there last couple of races. Do the other drivers fancy joining Lando in those podium celebrations that he's making his at the moment? And did you pick up the tab for the broken trophy yourself?
LN: I knew you'd bring it up. I mean, first of all, I do want to apologise for it: I obviously had no intention in ever doing such a thing. And I know how much it means to the Hungarians and part of their culture and so forth. So yeah, like, of course, I want to enjoy the time, it was never my intention to do such thing. And I did apologise to Max.  I know, I obviously made a couple of jokes about it. Which maybe I shouldn't, but I do feel bad for… if he did it to my trophy, I'd be annoyed, so I do apologise for it. And obviously the people who put the time and effort in and everything into making it, I really didn't mean for it to happen. So, I'll make sure I'm a lot more careful next time on, on celebrating. That's all I'd say.
Q: Lando, are you going to change the way you celebrate on the podium? Or how you start the champagne spraying?
LN: I wouldn't say… no, there's no reason why I should. I'll just take a little bit more care with obviously what I do. But yeah, I'll just move the trophies aside and then continue.
Q: (Ian Parkes – New York Times) Obviously all you guys will be aware that we sadly lost a driver here to this track on July 1st, Dilano van't Hoff, It's not the first death here, of course. Given what were due to experience this weekend in terms of the weather conditions, given the advances with motor racing cars now, not just at Formula 1 level, but across many junior levels. Is it now time for the Spa-Francorchamps circuit to do something in terms of making changes to make it more safer? Are you happy with the way it is going forward? And let's start with Charles and then if anybody else would like to follow on? Thank you.
CL: Yes, I think there are some changes that could make a difference. First of all, it's the walls in the straights after Eau Rouge I think could be… we should have a bit more space on the left and right where, if you lose control of the car, I think the way it is done at the moment, you are bouncing on the walls, and you have very high chances of finding yourself in the way again, and I think this is probably a change that we should consider in the future. Then to change the layout of Eau Rouge, by example, I think we find ourselves in the season in those particular conditions being fast in a  straight, that's basically everywhere. And I think that's going to be difficult to do anything else, other than that. You  can always change the layout but I don't think it's fair to say that this is what should be done. Then the two biggest problems after that is visibility. Visibility is… it's really difficult to put into words what we are seeing, apart from saying that we are seeing nothing. But we are not exaggerating, when we say we don't see anything: we really don't see anything when it's raining. And this is a really big problem for Formula 1, for motor sport in general, any single-seaters. Now, we have quite a bit of downforce, there's quite a lot of spray. And then this causes quite a lot of incidents, just because we cannot react to what there is in front. So easy to say that, much more difficult to find a solution for that. But I know that the FIA is on it, and is obviously trying to do the best on that. And then, the last thing is when can we actually… when is it safe to start a race, and this is another topic for the FIA to look closely, especially on a weekend like this, where seems we will have quite a lot of rain throughout the whole weekend, to not feel the pressure of starting a race just because we didn't have any running. We could be in that situation this weekend. But at the end, obvious to say, but safety comes first. And this needs to be the priority and people, and first of all, us drivers, we shouldn't complain if we don't have any laps because it is not safe to do so, with everything that has happened.
Q: (Alex Kalinauckas – Autosport) Lance, we're at the end of the first half of the season but if you rewind back to Bahrain, you were quite a different situation with regards to your fitness because of your injuries that had happened just before the test and race there. I just wondered, could you explain how did the recovery go in full? Was it as you and your doctors and trainers hoped? Or were there any sort-of lingering issues? Thanks.
LS: Well, I mean, driving Formula 1 cars, like, 12 days after breaking my bones was not what the doctors would have liked me to do, but did it anyways. I mean… being sarcastic… I mean, I think it was a very aggressive, you know, return but I knew we had a good car, and I wanted to get back in the car and I felt like I was ready to do it. And, you know, it sucked for the first few races. Definitely. You know, I was in a lot of pain, but I'm feeling much better now.
Q: (Silja Rulle – Bild)  Question is for Charles. If you look back at the last around 18 months with the new regulations, and look just at your team Ferrari, how big of the progress would you think you are making?
CL: I mean, if I'm looking only at myself, we did some progress, but definitely not enough when you're looking at the others. Last year, at this point, the target was to win races now. We are closer, much closer to the other teams and Red Bull is much further away now. So yeah, the progress we have done is definitely not enough. We are aware of it. But yes, with Fred, we are also speaking a lot. He shares his view of what we should do in the future, what are the plans for the future, and this gives me the confidence that we are going in the right direction. Then to tell you exactly when we'll be in that position, again, to be fighting in the front is very difficult. But I know that the plan is there and that… yeah… and I am really confident that it's going to make a difference.
Q: Charles, what are your hopes for the second half of this season?
CL: Well, I think a realistic target, first of all, should be to try and be second in the Constructors', which is going to be a challenge. McLaren now is back in the fight; Mercedes is always strong. Aston Martin a bit less recently, but I have no doubt that they will come back. So yeah, this is this is our target. We have few upgrades coming a bit later on in the second part of the season, which hopefully will make a difference and will help us achieve these targets.
Q: (Christian Nimmervoll – Motorsport-total.com) Question to Lando. Lando, is there a sense of relief about the recent results and performances, given that you're locked into a long term McLaren contract? And was there ever a point when you thought 'man, I shouldn't have done this last extension'?
LN: I guess there's always a bit of relief, just going from any difficult situation to having such a big change around. Even if we took half the step we did take, I think we still would have seen that as a positive sign. But the step was even bigger than we were expecting. So, of course, it's relief, but not just for myself, I think for the whole team. We kind of took quite a big step back over the winter to reassess everything that we're doing, and the route we're taking and that's why we were quite delayed with putting the upgrades that we've had in place and onto the car. But we took our time and we had to stay patient. Of course there are some times when I wished we had a more competitive car and I wished that we could have started the year in a smoother way, especially because last year the start of the season was also very tough. It doesn't give you a lot of hope in beginning of the year when you struggle as much as what we did. But I'm still always very happy to be with the team that I'm with, I still have a lot of faith that McLaren are able to achieve their goals and at the same time achieve my goals, which is to win races and to win Championships with them. And when you have upgrades and situations like this, then of course there's relief: These are very positive signs that we can jump ahead of Aston, jump ahead of Ferrari, fight against Mercedes and not be far off a Red Bull from one upgrade, you know? Yeah, I guess relief, but at no point did I think… there's frustrating times and just difficult times, but at no point did I think 'this is not where I want to be.'
Q: (Jo Stijn – Panorama) Question for Charles. You started with a new team principal this year, Fred, how do you think he is adapting to the Ferrari culture, and is he already able to make a significant impact on the team in your opinion?
CL: He's adapting really well. I mean, Ferrari is definitely a different beast to Alfa Romeo: many more people involved; a lot more pressure. But Fred straightaway understood what were the areas where we should work on and, yes, he definitely makes a difference in a way that he's obviously working. I mean, everybody has his own way of working. I know Fred will work really well, because we worked together in the junior categories, in Alfa Romeo, and he's slowly implementing these new mindsets, which I think is positive and will make a difference in the medium-long term. But it's also his first season within the team, so we need to give him time in order to see these changes take form on track.
Q: (Norman Fischer – Motorsport-total.com) Question to all drivers, please. I know Spa is beloved track but racing in recent years hasn't been that exciting. And the point is that overtaking may be too easy. We've seen Max last year getting from the back to the front in 15 laps. Is DRS really necessary on long straights like Kemmel or should we focus on the shorter straights?
AA: No I don't think so. I think actually, if you look at the overtaking this year, we've had less than less. I know there's… maybe other drivers don't agree but I think… I mean, if you want the exciting overtaking, the side-by-side overtaking if that's what you're talking about, we're kind of at the limit now, I think. Someone like Max overtaking is just because he qualified out-of-position – but he should never have needed to overtake those cars in the first place: he would have been up at the front anyway. So unfortunately, it's more I think about the grid getting closer and closer, if you want it in that sense. I would almost say the focus should be on making… well, the cars are closing up now, that's a great thing, and once the cars start to close-up, and more and more happens every year, then we might actually need to consider making the DRS zones even bigger, to then start to promote overtaking again – because I think it's getting quite tough now to overtake cars. I think it's getting harder and harder.
LN: I think when you're behind the Williams, they should make the DRS a lot bigger everywhere! I think it's tough. The competition is getting closer, so the closer the cars, the harder to overtake. I don't think you can use a Red Bull or Max as an example. I think that's…  you just can't. Even if they started last in every race, they're going to come through, no matter if there's the DRS or not. But I think the racing for the middle of the pack and so on is good. I think it's exciting, I would say it's going to get less and less. The more technical the cars get, generally, the worse the racing gets, even from this year to last year, the racing, I would say, is more difficult and worse than what it was just because the cars are evolving quite a bit. So yeah, two reasons why it's getting trickier. And I think the answer is yes, we need DRS. Otherwise, you're not going to want to watch the TV at all.