This page contains archived information and may not display perfectly
F1 - 2022 CANADIAN GRAND PRIX - SATURDAY PRESS CONFERENCE TRANSCRIPT
PART ONE - TEAM REPRESENTATIVES 
Franz TOST (AlphaTauri), Mike KRACK (Aston Martin), Otmar SZAFNAUER (Alpine)
Q: Franz, we'll start with you. First up, we're back in Montreal first time in three years. Give us your thoughts.
Franz TOST: It's fantastic to be back here in Montreal. For me, Montreal is always a highlight of the season because the city does a really good atmosphere; you can feel that the people love Formula 1; you can see that there are many Formula 1 fans. Of course, this is part of the history. Canada has a fantastic Formula 1 history with Gilles Villeneuve and with other Formula 1 drivers. And the track itself is very demanding. It's not an easy one. And it always provides us with an exciting race. And this will also be the case this year. I think today the qualifying will become interesting because we don't know: is it wet? Is it dry? Tomorrow it will be dry as it looks like sunshine, and therefore I'm looking forward to an interesting race weekend.
Q: And how's the car performing so far? 
FT: Up to now it looks quite competitive. And I hope that this will be also the case today in the qualifying and tomorrow in the race.
Q: Now, let's talk Yuki. He hasn't had the rub of the green recently. He was set for a top six finish in Baku just last weekend until he had the problems with the DRS. And then, of course, grid penalties here. How's he dealing with all the disappointment? 
FT: So far good. You know, in Formula 1, it's always an emotional up and down. I hope that the downs are finished now. We were unlucky with the power units because in Saudi Arabia, we had two engine failures, and therefore, now we have to change the power unit, therefore he has to start from the back of the grid. And in Baku, he was unlucky because the DRS failed. The real reason, we don't know yet 100 per cent. Could be that something damaged the flap. And therefore, the DRS didn't work anymore. But anyway, the car performance was quite good. And Yuki has improved a lot. Did a fantastic job, I must say. And I'm convinced that tomorrow in the race, if everything works well, that he can also maybe come close to the points.
Q: Pierre kick-started his season properly in Baku last weekend. How would you sum up his season so far? 
FT: Pierre has also improved a lot. I must say he's showing fantastic performance. Unfortunately, at the beginning of the season, with a lot of reliability issues, for example, in Bahrain, when the battery caught fire, then there were some other reliability issues, was not his fault, it was coming from the team. And I am really happy now that, at least in Baku, he could show how good he is. And I hope that we will provide him with a competitive car for the rest of the season because Pierre has the ability to be in front. And it's just in the hands of the team to give him a really good competitive car.
Q: What about his future with the team?
FT: He will be a driver for us, of Scuderia AlphaTauri, in 2023.
Q: Is that confirmed? 
FT: This is 100 per cent confirmed.
Q: Mike, let's come on to you. Your car seems to be getting quicker and quicker. Lando Norris even saying yesterday that he thinks you've overtaken McLaren. What was the programme yesterday? 
Mike KRACK: Yeah, it's nice to hear that from a rival like Lando. But I think we need to keep our feet on the ground. We must not forget, we had… we used one set more than others yesterday. So this, I think, eventually gave us a little bit of extra performance that we need to confirm if we really have it or not. You're right that we improved from where we started. But there's still a long way to go. 
Q: In what areas have you managed to improve this car since you introduced this new spec in Barcelona? 
MK: It's not only since Barcelona. So basically, from the beginning, there were three areas where we really focused on. One was weight; one was giving the driver feedback that they were not having, or not having enough. And the third one was obviously, aerodynamics, improving it as much as we could. And there's still a long way to go. But we tried to work our way up, continue working hard in the same areas, as we have done so far. And then we see where we end up.
Q: On the topic of feedback to the drivers, does this car suit Sebastian more than Lance?
MK: I think that will be a bit too early to say something like that. And there's also no reason why it should be like that. So, the characteristics of the car have not dramatically changed. So I don't think so, to be honest.
Q: Okay. So, as we sit here now, going into qualifying this afternoon, what are your objectives for the rest of this weekend? 
MK: I think for qualifying, we need to target to have the cars into Q3. If we manage that we'll be really happy. If it's one, I think it's also good, but if we can… I think it will be, as I said, a bit over-ambitious, and not realistic to think that we ended up where we ended up yesterday.
Q: Otmar, your car's looking competitive as well here. How does your progress on Friday here compared to last weekend in Baku? 
Otmar SZAFNAUER: Similar. We had a good Friday in Baku. We had a good Friday here as well. And a little bit of learning overnight, and we hope to improve a little bit more before we get to qualifying. But I think the weather has changed everything that we tried to do yesterday. So, let's see where the weather ends-up and how we can progress in qualifying and Free Practice Three.
Q: Do you think you can be the best of the rest here? And by that, I mean, the first team after Red Bull and Ferrari? 
OS: Well, it looks like Mercedes were pretty quick yesterday as well. And they have been, if best of the rest is after Red Bull and Ferrari, I think they've been there more than we have. But it's exactly what we're trying to do. And we'll do our best. But like I said, the conditions have changed from yesterday. So let's see what that brings.
Q: Can I ask you about Oscar Piastri now? He was back in last year's car at Silverstone this week. How did that test go? 
OS: Really well. Oscar's a bright young talent coming through, as we all know. And he's been testing last year's car. At more than just Silverstone. He's done a few others and will do some more in the future. And he's doing very well.
Q: How are talks about his future going? 
OS: Well, we're contracted with Oscar and we have some options on him. So, there's no real need to hurry that, so we'll take our time and at the right moment, within the silly season, we'll have a look around and make those types of decisions. 
Q: Do you think he'll be racing in Formula 1 next year? 
OS: Yes.
QUESTIONS FROM THE FLOOR 
Q: (Luke Smith – Autosport) Otmar, do you think Oscar will be racing in Formula 1 this year? There's been a lot of speculation about potentially getting a seat mid-way through the season. 
OS: Yeah, I've read the same. It's hard for me to predict the future on that. So, I'd like not to – but I don't have any more knowledge than you do.
Q: (Dieter Rencken – RacingNews365) Mike, in your current role and position, how involved do you actually get in decisions regarding the future tech of the car, etcetera? I mean this big upgrade that you had. Were you involved in that at all? 
MK: Yeah, I'm the team principal. I'm in charge of technical development. So I think yes, I am involved.
Q: (Jon Noble – motorsport.com) Otmar, I saw you down at Williams last night having a chat, which may have been formal or informal, but Oscar is obviously linked with a potential Williams future. Do you think he's ready for a kind of a rookie season with Alpine, fighting in the front from the off, or do you think he'd benefit from a learning experience elsewhere? 
OS: I think both are good. I can't predict what will happen next year and the informal chat at Williams was… we have a mutual friend in Michael Andretti and he happened to be down there. So, I went down and Jost knows him well from his days of living in Detroit and I just recently learned that we're neighbours when Jost was living in Detroit. I just didn't know him. So we had an American-style chat.
Q: (Ian Parkes – New York Times) Sorry Otmar, another question for you. You said that… you were asked, will Oscar be racing in F1 next season, you said yes. Is that an absolute 100 per cent guarantee that he's already signed a pre-contract with another team, or somewhere else? Can you enlighten me please? 
OS: We don't talk about the details of our contracts with the drivers. And that's something that we never do. So as much as I'd like to tell you, I don't think I can. But when I do say yes, you know, that's, that's the plan.
Q: (Dieter Rencken – RacingNews365) Mike, if you could kindly just sketch, does Andrew Green, then report yourself? And Otmar, can you rule out that Oscar will race in Formula 1 this year? 
OS: In what order! Yeah. Andrew Green used to report to me!
MK: Yes, I'm working together with Andrew Green. It's not the only two of us, we have a very strong technical team and we have analysed from the beginning, where we are, where we can do things better, what we have to do next. And we will continue along that line. It's a very good team. And I'm happy to be part of it.
OS: I've said this many times, Dieter – and you've heard me say this: if I could predict the future, I'd be in Vegas, but I wouldn't rule it out. 
Q: You're going next year!
OS: But I'd be there now!
Q: Otmar, in the context of all of this, can you just give us your thoughts on Fernando Alonso's performance this year? Do you feel he's taken a step up compared to last year? 
OS: Yeah, I wasn't at the team last year. However, we did compete against him. We're often competing in the same space. So yeah, I think he has taken a step up, he's still a formidable competitor. He does a very good job. And he gets the speed very, very quickly. These cars are new: we haven't been to Canada in a while now, and with a new car, and I'm very impressed at how quickly he… a few laps, and he's there. He's doing a great job for us.
Q: And your intention is to continue with him next year? 
OS: That's a really good question. Something I haven't thought about, that's in the future. Let's talk about that when we get closer to the break and that thing that I think you all call the silly season.
Q: (Alan Baldwin – Reuters) A question for all three, I was talking to Christian Horner yesterday about porpoising, and the FIA Technical Directive. And he said that, actually, he felt that the most pressing, immediate concern was the budget cap and raising that, with inflation set to hit 11% in England, later in the year. And he also felt that an agreement of some sort would be coming in the next couple of weeks. Could you fill me in on where you are on that? Whether you think there will be a raise in the cap and that there's agreement now? Or are you still as firm in your positions as ever? 
FT: This year is a difficult year regarding the financial situation, because the price has increased dramatically from the logistics side, as you know, also from the energy side, and also the car parts cost much more, as we expected. And Scuderia AlphaTauri is on the limit. But we must not have any accidents in the second half of the season, because otherwise it becomes, also for us, difficult. And if FIA, FOM and the teams come together to increase the cost cap a little bit, I will be of course in favour of this.
Q: Franz, Can we also get your thoughts on the Technical Directivethis weekend? 
FT: When this new regulation was created, it was clear from the very beginning onwards that these cars will not be easy to drive. Why? Because this floor, with a kind of Venturi principle makes it necessary that the cars are set-up quite stiff; that the cars are quite close to the surface and that the front and rear ride-height is quite low. At least, you will gain a lot of performance if the car's set-up as low as possible, and as hard as possible. In addition to this, you have the 18-inch tyres, therefore it is clear that there is less damping coming from the tyres, and that the cars are not any more so comfortable to drive as it was in the past. Now, the drivers complain about it. On one hand, I can understand, it's not so easy for them. On the other hand, this is a Formula 1 car. And I remember back when the wing cars were out there, there was a driver coming to me on Sunday evening and said tomorrow I have to go to the dentist because I lose my feelings because the cars are so hard to drive. And it's not nothing new. Now, there are two things. First of all, the drivers must do more training for the neck muscles and for the gluteus maximus, then this helps, for sure. Yeah. And the FIA is coming now with this new Technical Directive, which, of course, will help to find out how big are the forces. And then when they create these metrics, then maybe we can find a way to reduce the bouncing, and the forces which are coming to the drivers. How much this can be controlled, I don't know yet. We, from Scuderia AlphaTauri will support the FIA. We will give them the datas and then we will see what will be the result. But this is a Formula 1 car. This is not a Rolls Royce. And drivers should be aware of this. And if the cars are too stiff, or it's too difficult for them, maybe they should stay at home, in the living room, sit in the chair, and then they can do the races on TV or wherever. I don't know.
Mike, budget cap and the TD please?
MK: Yeah, so let's start with the budget cap. So, you will be aware that there is a lot of discussion still going on. And I think it will be also on the agenda of the next financial advisories, and also Formula 1 Commission. So, there was a lot of discussion, obviously, from all kinds of parties, all the time, I think we must reflect that the increase of cost is real. For various things, Franz said it, parts are becoming more expensive, running the factories are becoming more expensive. So, we support an increase based on indexation, but not the cap increase per se. So I think the cap is there for good reason, and we should respect it. But, my opinion is that we should also reflect the increase in cost. Then on the porpoising, if things become unsafe, or a safety concern, I think we must follow the FIA who is in charge. Safety first, before any performance concerns. So we support them 100 per cent. And as Franz said, we give the metrics and then we see that we can develop something that we get also the subject behind us and concentrate on racing.
Otmar? 
OS: As far as the cost cap goes, we've been against an increase this year. And I do realise that there have been discussions going on behind the scenes to do something that's sensible. I'm not in favour of increasing the cap. But for sure, costs have gone up in a couple of areas that have been mentioned. The freight has increased. And that's very measurable, and it's measurable for all teams. So, if we come to some compromise on the freight, I think that's sensible. And as far as the TD you know, for us, we face exactly the same constraints of running these cars as everyone else does. And we just tend to run the car at a ride height that still gets the performance that we need, but it doesn't injure or hurt the drivers or destroy the car. We run it safely. And I believe every team has that opportunity to do so. Just increase the ride height. It will be safe and you have to do nothing else. It's just some choose not to and lobby the FIA to make changes. And unfortunately, a TD came out just recently that allows some changes to the car. Adding stays, which, if you came here with a stay – we didn't know because a TD came out on Thursday, so we don't have one – it just means you can stiffen the floor, run the car even lower and gain an aerodynamic advantage. So, to be able to do that, I think that that isn't fair for the rest of us that couldn't bring a stay, for example. So, we've got to be careful that we don't change the playing field mid-season. And I just say we can run these cars safely, just raise the ride height.
Q: (Adam Cooper – Motorsport.com) A question for all three of you. Stefano is working on a 24-race calendar, I think 16 outside Europe. How achievable is that for your teams, especially in a budget cap era? Obviously, people are cutting down on personnel, it's harder to rotate and so on.
OS: Well, I must say Stefano, Formula 1, have done a good job with a calendar recently and a good job in general. It seems like wherever we go, now, there's a massive fan base, it's sold out. So if there's demand, you know, then I think we will leave it to Stefano to decide, and Formula 1, as to where we go. And we will be supportive. However, looking at how the races are spread, when we start, when we stop, triple-headers are very difficult. And so, from that perspective, I think we can do a better job. And I know that they're looking at, you know, maybe not flying cross-continent and doing races and in the same time zones over and over to make it easier on everyone. So that will be welcome.
MK: Yeah, 100% agree with Otmar. Bringing the calendar more regional is, I think, the way forward. Triple-headers are a killer for the personnel. If we can manage these two things, I think we will be okay to do 22 or 23 or 24 races.
FT: As we are racing, you know, racing is our business, so the more races we have the better it is, the more income we have, therefore, I am looking forward to the 24 races.
Q: (Ronald Vording – Motorsport.com) It's a follow up to Adam's question. Formula 1 seems to be heading back to South Africa maybe as early as next year. At the same time, some European classics like Spa Francorchamps don't have a contract for next year and could be forced into a rotation system. What are your thoughts on that? And do you think that a classic such as Spa, which is part of Formula 1's DNA, should be on the calendar every single year?
FT: I'm really very much looking forward to go to South Africa, because we miss this race over there. We miss this continent. And it's really, really important to have a race over there. And for the other races, I don't want to mention any names. No money, no game, it's totally easy. If they have the money, we go there. If they don't have the money we don't go there. 
MK: We support F1 in making a balanced calendar, I think they are well aware of where the fan base are, how much balance you need to have between new and classic, I would say. So if one or the other race is not on the calendar every year, I don't think it's a drama. We have to look for the new without going to 35 races or something like that. So, from that point of view, I think we will find a good balance. And as I said, if there is one not there for one year, something we had in the past, I think Germany rotated a couple of years ago, and it's okay, in my opinion.
OS: I think Formula 1 will find a good balance just like was said previously. Me personally, I love going to Spa because of the track. So hopefully that'll be one that can stay.
Q: (Jon Noble – Motorsport.com) Just picking up on Otmar's point about the second stay that has appeared on the Mercedes. Some teams are surprised that they were able to respond so quickly, thinking it would be nearly impossible to add a second stay a day after a TD came out. What's the realistic timeframe to make a change like that? And are you happy with the process of the FIA that all teams were informed equally about what was happening?
OS: Well, the TD came out when our chief technical officer was flying over, so it was quite late, and we aren't able to produce a stay here. And as far as the process goes, it's a technical directive. And technical directives, as we all know, aren't regulations. So it could very well be that we shouldn't be running this in qualifying, in the race. And if teams have brought those stays, I would imagine they could be, perhaps, looked at after and then protested. So it's against the regulation as it stands today. But we definitely don't have one. And unfortunately, if you do have an extra stay, you can run the car lower, lower and stiffer, and gain some advantage.
Q: And Otmar, what's the realistic timeframe to produce one of these? 
OS: By the next race, we'd be able to do so. But you know, we've chosen to stiffen the floor in that area, at the expense of weight. And as we all discuss, there's some cars that are still overweight. And that's a trade-off decision you make between adding weight to the car so you can stiffen the floor. If, if you're just given a stay then you don't have to add the weight and do the same job. So anyway, yeah, we couldn't do it in a day is the answer. 
Q: Thank you. Mike, please. 
MK: Yeah, I think the timing of the TD was not really ideal, because you have all the team travelling, everything is on site. And then, yes, you can react, but you need to be really sure what you're doing or you need to know upfront what this will do. So, I think in such a situation you have to take a conservative approach, and then look for it for the following race. But as I said, the timing really could have been better.
Q: Franz, please? 
FT: The timing was absolutely not good, because most of the people were travelling and just to send out a Technical Directive a few days before the race is for sure not the best. And to the reaction time, you know, especially the floor of a Formula 1 car is a very sensitive part. It's not just to put any parts on it without investigations. Me, from Scuderia AlphaTauri, have to find out what we do, in which direction we will react to the technical directive, regarding the stiffening of the floor or whatever. And this takes some time. And we will for sure not do it here. And then we will see what we can arrange for Silverstone.
Q: (Luke Smith – Autosport) Otmar, you mentioned Michael Andretti. Obviously Alpine is working quite closely on his plans for F1. But it does seem to be quite a lukewarm reaction from the rest of the paddock about him possibly joining the grid. Are you surprised by the opposition that some other teams have shown and what kind of benefits you think Andretti joining the F1 field would have?
OS: No, I'm not surprised. I mean, there's pros and cons in having an 11th theme. But I think, you know, Andretti is a big name in motor sport. Absolutely a big name in American motor sport, too. And we're having more races in the US now and I think a team like Andretti could, perhaps, make the entire pie the revenue pie bigger, such that we all benefit.
Q: (Dieter Rencken – Racing News 365) To all three of you, much has been made about the timing of the TD. But if we look at it, it was actually introduced under the auspices of safety. Is it really a safety-related issue given that it's really a set-up issue.
FT: I don't know whether it's a safety issue. If it will be a safety issue, then something should have happened in the last races, which was not the case. Therefore, I don't see it now. As a safety risk. I see this as a sign that some drivers complained about the cars and that they had some problems with their necks or with their muscles. And therefore for me, it's not a safety issue. And the rest then, we will see.
MK: I think the FIA has concerns about driving for a longer time in such conditions and then leading to an issue with the health of the driver, leading then to a safety issue, because you might lose concentration or consciousness. I think this is also how it was formulated. And for me, when it comes to safety, we have to trust the FIA and follow what they are instructing. 
OS: Well, like Franz said, we've been running these cars for a while and we can all run the cars in an unsafe manner, but we choose not to. So, there's an easy solution, it's just to raise the ride height a bit, don't run it as stiff, and then the drivers don't face some of the ailments. And that's exactly what we do. We try to find a good balance between having the driver comfort but still gaining the performance. And I think all teams can do that.
Q: (Scott Mitchell – The Race) It's a question to Franz, please. Just going back to what was said right at the very beginning about Pierre driving for the team. Again, for 2023, could you just explain what the process was for talking to Pierre, because he was suggesting in Baku that obviously in light of Red Bull re-signing Sergio Pérez, he needed to speak to Red Bull to decide what was the best move for him for next year. So did you have to do much to convince him to carry on for 2023? 
FT: He has a valid contract. There's nothing more to say.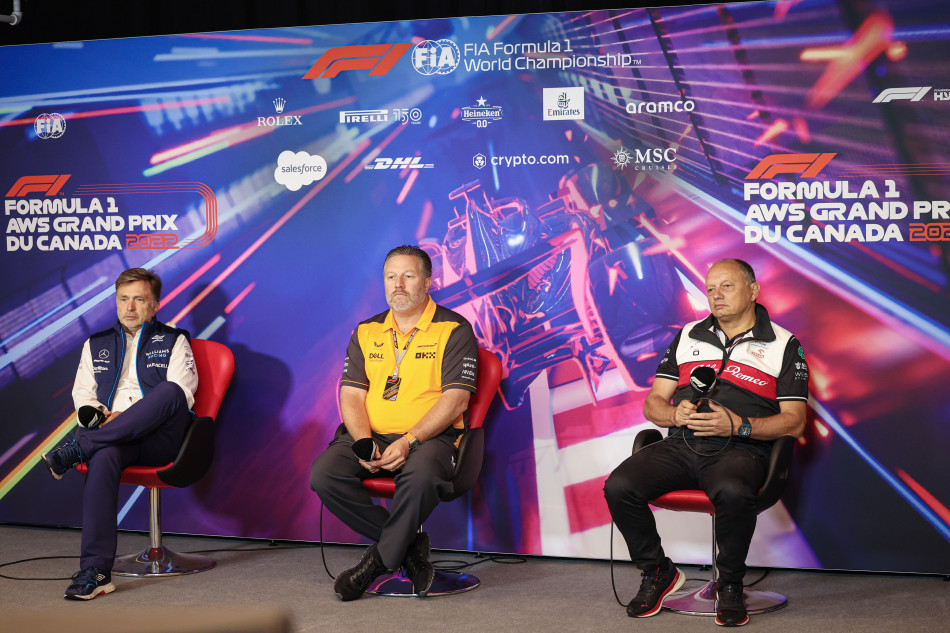 PART TWO - TEAM REPRESENTATIVES
Jost CAPITO (Williams), Zak BROWN (McLaren), Frédéric VASSEUR (Alfa Romeo)
Q: Welcome back to part two of our press conference here in Canada. Fred, we'll start with you. First up, back in Montreal, just give us your thoughts?
Frédéric VASSEUR: Yeah, it was three years ago the last time that we came to Montreal and I think everybody enjoys the race in Montreal and the atmosphere in the city. Even if the weather is not the perfect one this season, but okay, I think that it's a great event on the season and everybody is more than happy to be back here.
Q: Let's talk about performance. It's been a frustrating run of races for you guys. What have been the issues?
FV: It's the issues with an 's' at the end. We had too many issues so far and if we want to score points, well, first we have to finish the race and it was not OK at the last couple of events. We had even too many issues on Friday that we are then letting on the run plan and we are struggling to put everything together Saturday, Sunday. But I think on the other hand, I think it's better to be in this situation and to have the performance than the opposite. We will be on top of the reliability issues soon, I'm really convinced, and we will be back into the good positions. 
Q: You came into Monaco and Baku very confident in your performance yet it didn't happen… 
FV: It was more you than myself that made the predictions!
Q: Were you disappointed with the raw performance of the car at both of those races?
FV: You have to separate the performance of the car and the drivers and the results. I think that in Baku, for example, Zhou had a very strong pace, he was fighting with Vettel before the DNF and I think the performance was there. But then you don't score points. If you don't have the reliability you can't score points.
Q: Tell us a little bit more about Zhou's race in Baku? He was, as you say, very quick, out-qualifying Valtteri. Do you feel that that was a bit of a breakthrough event for him?
FV: I don't know. I was a bit scared with the sequence with Monaco, Baku, Montreal, because it's for you the three most difficult tracks for a rookie on the first part of the season. But in Baku he did very well. He was a bit unlucky in quali because he didn't do a proper lap with the yellow flag. But at the end, the performance was there into the race. He always did a very good management of the car. And tyre management. And so, I'm really convinced that as soon as we will be back on the track that he knows pretty well that he will be even more performant, but I'm more than happy with the job done so far.
Q: And Valtteri mentioned yesterday that he's seen next year's wind tunnel model already. Just how much of the factory is already focused on next year?
FV: He was not supposed to say something like this! He will be in my office on Monday! It's a work in progress.
Q: All right, Fréd, thank you. Best of luck. We'll hear more from you later. Zak, if we could come to you now. Before we talk Montreal, I believe you made a site visit to Las Vegas this past week. What did you find there? How much excitement is there for the race?
Zak BROWN: Yeah, I was there earlier this week. I think it's going to be an awesome venue. Great to see Liberty investing in the sport. And yeah, I spent some time, I understand now the track layout, where the pit and paddock will be, which is an area in which Liberty invested and I think it's going to be a huge event. It's going to look spectacular and I'm looking forward to it. 
Q: And now can we get your thoughts on Montreal, being back here?
ZB: Love the Montreal race, always have. It's probably one of my favourites on the calendar. Always produces great racing. We've won here in the past. And yeah, it's great to be back, especially these venues that it's the first time we've been back, since COVID, in a couple years. So it's a sell-out, which doesn't surprise me, and I think we'll have a sunny day tomorrow. Not so sure about qualifying but that'll make it fun.
Q: Well, let's talk about performance. What can we expect from your cars here this weekend, particularly now that Aston Martin appear to have joined that part of the grid?
ZB: It's tough. You know, every weekend is a battle and the field is getting closer, which is what you'd expect as people start to get more familiar with the new cars. So we want to just continue to push forward. Getting both cars into Q3 is always the first goal and then bringing both cars home in the points is the second goal. And the third goal is to be as close to the front as possible. But, you know, it's one step at a time.
Q: What about Daniel's performance? He seemed the happier of your two drivers after yesterday. Was Baku a bit of a breakthrough for him?
ZB: Yeah, Daniel had a good day yesterday and Baku was strong. And you know, we need to produce a faster race car. I think last year in Monza, when we had a strong race car, we could see what Daniel and Lando could do with it. So I think we need to focus on giving our drivers better race cars. And I think Daniel's highly motivated. He has all of our support. And you know, we're having fun and we have a great relationship with him. And hopefully he'll have a good weekend this weekend.
Q: Now, Zak, there's been a bit of speculation recently about Daniel's future with the team, some of that driven by your comments to Sky, in which you said it hadn't met expectations. Why did you make those comments public?
ZB: I was asked a question and I just gave an honest answer. I think Daniel has said the same thing. We're here to try and get towards the front. We've had some awesome weekends, like Monza, and then some disappointing weekends and I don't think, again, coming back to our car, I don't think we're yet giving our drivers a car that's capable of being at the front on a regular basis. So we need to do that. And you know, we've got a great relationship and I just gave an honest answer to a question about how things are going and things could be going better, but we're going to work hard and make sure that they do in the future.
Q: Jost, coming to you. First of all, performance this weekend. How are things going down at Williams?
Jost CAPITO: Yeah, I think we had a pretty good FP1. FP2 wasn't as good as FP1. We did some set-up changes that went in the wrong direction, so we learned from that. So let's see where we can benefit and how we can benefit from that for today.
Q: Have you got to the point where you're now maximising the package you have at every Grand Prix, and of course, the update package coming for Silverstone. What are you expecting from that?
JC: We will see what we expect from Silverstone, from the upgrade package. I think we're working hard to get it done for Silverstone. And, you know, we see the results from CFD, wind tunnel, and the simulator. But we have to see how it proves on track. So, if we can replicate what we see in theory, then we should make a step forward.
Q: Driver silly season. Let's discuss that a little bit. When are you going to start thinking about your 2023 line-up?
JC: I think we're thinking for a while about that. But on the other hand, we are focused on this year. We have the driver line-up for this year and I think it's not just us thinking about it. I think every team thinks about it. And let's see what the dynamics are. So a couple of contracts run out at the end of the year for various drivers. So I think everybody is looking for what would be the ideal driver line-up for his own team. So we do that as well.
Q: And will both of your current drivers see out this season?
JC: Yeah, we don't have any other plans so… Both have a contract for the season and that's our plan is to fulfil that.
Q: OK, let's… 
JC: You didn't ask me about Melbourne… about Montreal.
Q: Please give us your thoughts on Montreal. I don't want you to feel left out!
JC: I had the chance to prepare for a nice answer, while my two colleagues were talking!
Q: Jost, please give us your thoughts about Montreal!
JC: First I love Montreal, and my memories are a bit longer. Last time I was at the Grand Prix was 2000 and that time my two drivers were for sure still wearing nappies.
QUESTIONS FROM THE FLOOR
Q: (Alan Baldwin – Reuters) Jost, Otmar was saying earlier that he expects Oscar Piastri to be in Formula 1 next season. You obviously did a deal with Red Bull for Alex and showing that your engine provider is no obstacle to doing a deal with another team's driver. Is a similar deal to what you did with Alex possible with Oscar?
JC: We didn't do a deal with Red Bull on Alex, we did a deal with Alex on Alex. So I think Oscar for sure is ready to go into Formula 1 and I think he's one of the list for sure. 
Q: (Dieter Rencken – Racing News 365) To all three, please: there was a TD that was issued late on Thursday afternoon, Canadian time and therefore almost evening in Europe. Two parts of that question was introduced almost on the grounds of safety. Is this a safety matter given that it's a set-up and were some of you surprised that one or other team was able to arrive here prepared almost to the letter for that TD and were able to run extra stays yesterday?
FV: Yeah, as you said, Dieter, that it was a late call on the TD and we can discuss about if it makes sense to introduce a TD for safety when all the teams are able to stop the bouncing. Mainly it's because they don't want to do it that we have still the bouncing due to the relation with performance but I'm not sure that to introduce a new TD that it's the right way to do it, honestly, that we will have again new things, to manage, to police, to control and to complicate again the regulations. I think that some cars are quick with the bouncing, like the Ferrari, and some teams that were able to fix it, like Red Bull, but it's up to the team to decide where they want to go.
Q: And Fréd, the second part of that question: were you surprised that one team was ready to go with a second stay?
FV: Into the winter sessions, I think that we all tested stays in Bahrain, I think at T02, when they introduced the stays and probably they had something into the pocket, but it's not easy to travel with the stays into the pocket.
Q: Zak? 
ZB: Yeah, you know, we have committees and groups that review and get together the teams to discuss things, so I think, yeah, Thursday was a bit late in the day to be able to respond at the weekend. Any teams that maybe have a crystal ball and yeah, we just need to make sure that we follow the right process and procedure, look at all the data, look at what all the options are to come to the right conclusions.
Q: And Jost? 
JC: Yes. Yeah, I think there's nothing more to add.
Q: Were you surprised that one team was ready to go?
JC: Of course you are surprised. I think there has to be more data and more looked into detail. In general, I believe that the porpoising is not defined by regulations, because then all teams would have that. So within the regulations, you can stop it and I think that is the challenge that teams have.
Q: (Luke Smith – Autosport) Jost, Otmar mentioned earlier that Michael Andretti was down at Williams chatting yesterday. Could you clarify what Williams's position is on Andretti and their interest in coming to Formula 1? Do you think it would be beneficial for the grid or are the concerns about destabilising the current ten teams field?
JC: I think at the moment we don't have enough information. Andretti is discussing with FOM and with the FIA but we don't have the information what they would bring and how they would intend to come in. And as long as we don't have that information, we have to assume that FIA and FOM are doing the right things. And for sure, at a certain point we'll get this information. 
Q: (Jon Noble – motorsport.com) To all three of you: just going on back to the porpoising TD, some teams' interpretation of the allowance for a second stay is that it needed a technical regulation change, it can't just come from a TD. What's your belief on that? Do you think that running a second stay here would be in breach of the regulations?
JC: I don't know, it's difficult to say. I think that it is taken away is the right decision because you can't implement that in two days. 
ZB: Yeah. It's really one for Andreas and James Key, our technical team, to whether they feel that's an appropriate measure or not.
FV: But we received a correspondence from the FIA yesterday evening to postpone the application of the TD at least to the next one. It means that all the points of the TD have to be postponed if it's the question. 
Q: (Matt Coch – SportsCafe) Zak, can you just characterise your relationship with Daniel, lately, given the comments you made on the Sky not so long ago that Tom mentioned and has that relationship changed in recent times?
ZB: No, not at all. We have a great, great relationship. We had dinner a couple of weeks ago in London, we have good laughs together and enjoy racing together so the relationship with Daniel's never been better.
Q: (Ronald Vording – Motorsport.com) To all three of you. Formula 1 seems to be heading back to South Africa, maybe as soon as next year, but at the same time, some European classics like Spa Francorchamps, they don't have a contract for next year, could be forced into a rotation system. What are your thoughts on that? And do you think that the classic Spa, which is part of Formula 1's DNA, should be on the calendar every single year? 
ZB: Yeah, I think we have the luxury problem of having more countries that want to have Grands Prix than we can put on our calendar so that's a good problem to have. Ultimately, I think we all have a tremendous amount of trust in Stefano to put together the most optimum calendar for fans, for teams, for sustainability as far as logistics, economics and all this goes into play when putting together a calendar. I do think there'll probably be a point where we need to look at rotational races because if we have the demand, and there are great tracks and great countries, then I think we should try and embrace them. But that will be beyond what is physically possible to compete in. And then we've got some great new venues that have come on: Vegas, Miami and… I think we all love the historical circuits so hopefully there's a place for us to accommodate everyone in an adaptable, flexible calendar in the future.
JC: We haven't seen the draft for the calendar for next year. As Zak said, there are a lot of countries who want a race and a lot of new exciting races. But on the other side, like a circuit like Spa is traditional, the drivers love it and… the teams don't love it that much because of the weather, but I think it has a place in the calendar and to see how in the future you get the right balance between new tracks and the traditional tracks. But we have trust in Stefano there as well, because he's long enough in Formula 1 to know the value of the traditional races as well and we are confident that he presents a really balanced calendar.
FV: I think that for the championship and the FIA, the F1 is a world championship and I think it would make absolutely sense to have a race in Africa and Kyalami would be, I think, a great event. Now we don't have to see it as a competition between Spa and Kyalami, it's not the case at all that but as Zak said before, that it's a good feeling also for the championship to have this kind of competition that I remember a couple of years ago, we are not in this shape and that we have to appreciate the job done by the FOM and the FIA.
Q: (Adam Cooper – Motorsport.com) Another calendar question for all three of you: Stefano's working on 24 races with 16 outside Europe. How much of a challenge is that going to be for your guys? Are you worried that race team people are going to come to you in the winter and say 'I want to work in the factory next year'? And especially at a time with the budget cap you can't take on extra people and rotate.
FV: Yeah, but it's not a big difference between 24 and 23 or 22. And probably we will have also less than the next year and it won't be the first year of the car. It will be also a lesser challenge. And at the end of the day, we don't have also to stop to see the dark side of everything that we are doing, a job that half of the world would like to do. I'm in love with my business. I don't care about 24 or 23 races, and I'm more than pleased to be in Montreal today, even if last week I was in Baku.
ZB: Yeah, I think Stefano is looking to optimise the calendar so as Fred said, the difference between 23 and 24 races isn't significant. Obviously the wellbeing of our racing team, both travelling and back at the factory because they're doing long hours even though they may not be travelling, is always of the highest importance. But I think with a little bit of calendar optimisation, and a little bit of regionalising the calendar I think can counter the increase in races.
JC: Yeah, I agree with both. And still we have to see that it's still a privilege to work in Formula 1, and it will be if it's 23 or 24 races. 
Q: (Will Wood – Racefans) Fred, there was an interview that Stefano Domenicali did with L'Equipe talking about the concept of possibly holding the French Grand Prix at a street circuit in Nice. How would you feel about that? The French Grand Prix is obviously very important, and possibly would you rather see the French Grand Prix held at one of the many grade one circuits that are in France?
FV: I'm not aware of the project, I know that Monsieur Estrosi, the mayor of Nice, is a big, big fan of motor sport, and he's trying to find the best solution to keep the Grand Prix in his own region. But it would be perhaps strange to have two street circuits, one in Nice and one in Monaco, probably that we could do a big one, just with one event, but no, for sure they are pushing like hell to keep the French Grand Prix in the South of France. 
Q: (Alan Baldwin – Reuters) Zak and Jost: there's been a lot of talk about the budget cap and what it should be set at with inflation and rising costs of energy and freight and everything. You both have British-based teams and inflation is set to rise to about 11% later in the year. But Formula 1 also deals in dollars and sponsor contracts and revenues are paid in dollars. I just wondered if you could say how much the one is balancing out the other because the dollar is strengthening against the pound even if inflation is taking away some of that value.
ZB: Yeah, our revenues (are) across pretty much three different currencies: while we'll get paid in dollars from Formula 1, a lot of our sponsor contracts are pounds, in Euros predominantly. So yeah, I think with what's going on with the inflation, the shipping, the energy costs, there's a lot of discussion around what needs to be adjusted, what was unforeseen given the situation and the global economy is in at the moment. I think what we need to do is come up with a quick resolution and not continue to kick the can down the field, which sometimes is strategic by some teams in the industry to be able to address it. You know, at the end of the day, I think the budget cap has been an excellent thing for Formula 1 so we need to maintain that while recognising some unforeseen circumstances in the world around a few of those areas. 
JC: Yeah, we are still in discussions with all the teams and FOM and FIA how to handle that but I think it's not just some teams to look at this strategically I think it's everyone.
Q: (Dieter Rencken – Racing News 365) To all three please: about 10 years ago double-headers were a rarity. Then they became increasingly common. Then we had a triple-header; we were told that was a one-off. From now until the end of the season there are no more standalone races and in addition to that we've got more triple-headers than ever before. If the calendar goes to 24 could we actually have quadruple-headers at some stage? 
FV: I think this season is a little bit different because we have the World Cup of football at the end and we are finishing a bit earlier than usual. But to have two races in a row, back-to-back, one weekend off, back-to-back one weekend off, I think it's a good system. And the teams are fitting with this, but for sure if you finish the season (at the) beginning of December, as we did in the past. instead of the middle of November it will also be much easier to avoid the triple-headers.
Q: Zak, if you do regionalise the races as you suggested, four races in a row? 
ZB: I'd be surprised if we did four races in a row. That being said I think it also depends what part of the world you're in with all the teams being based in the UK or Europe, if you have consecutive races where you can actually go home in between versus if you're out in Asia or something along those lines. So I think that's something Stefano has told us he's definitely trying to maximise the calendar and I think that will help a lot.
JC: Yeah, I think it's the same. We're not talking about triple-headers or whatever you want to call it. And I think a double-header and a triple-header has to be seen, as Zak mentioned, where they are, if they are very close, it's a completely different situation as if they are in completely different time zones. So if they're in different time zones, it's very hard for the team. If it's the same time zone, and the distance is not that bad, not that big, then it's quite achievable.
Q: (Daniel Mora Jimenez – Motorlat.com) Zak, what do you think Daniel is lacking in order to get the results you want? Is it maybe confidence in the car, feedback, or what would that be? 
ZB: Daniel's shown, like he did in Monza last year, that when we give him a car that suits his driving style and his pace, he's going to go out and lead laps and win a race. And I think we need to have a car that's a little bit more performance and user friendly and he'll get the job done. 
Q: (Daniel Bastien – FM103.3) A question to all: you were speaking earlier of a flexible calendar in the future, possibly built around the core of historical races? Would you put Montreal and the Villeneuve circuit around that short list of core races?
JC: I think it's difficult to answer. I think we all and the teams love to come to Montreal. So I think we would be all sad if Montreal wouldn't be on the calendar. And I think it's… Canada also deserves to have a race as does Germany as well, and we don't have one for a couple of years now.
ZB: Yeah, I think the Canadian Grand Prix and specifically here in Montreal, it's an awesome event. The fans are awesome, the town does a great job of embracing it. You land here and you know the Formula 1 Grand Prix is going on. So I definitely consider it to be a core race on the calendar.
FV: Yeah, it's a great event but I don't want to say that some tracks would disappear, was not a great event also but at least in Montreal we have the big parties in the city and these days this is probably the exception.
Q: (John Noble – Motorsport.com) Zak, what's your general outlook on the F1 sponsorship picture for the next few years because on the one hand, we got F1 that's never been more popular and sponsors seem to be knocking on the door and rushing to get in. But we've got a financial crisis, recession potentially on the way, stock markets crashing. Where do you see it going over the next few years?
ZB: Yeah, I've never seen Formula 1 stronger, commercially. We have another announcement next week with a company everyone will have heard of before. To bring on companies like Google and Cisco and then you see Formula 1 bringing on the Salesforce and the Workdays of the world, I think the Formula 1 economy has never been stronger. Of course with everything, as you mentioned, that is going on around the world, of course that's a concern because that means everyone will tighten their belts some but the industry leaders, which is what Formula 1 tends to attract, they also know to sometimes double down, if you'd like, when things get tough. It's an opportunity for them to get more market share in their respective businesses. So it's very strong, anticipated being very strong, but also can't be naive to what's going on around the world and know that that will present some challenges.
Ends