This page contains archived information and may not display perfectly
F1 - 2022 ABU DHABI GRAND PRIX - SATURDAY PRESS CONFERENCE TRANSCRIPT
PART ONE - TEAM REPRESENTATIVES
Laurent ROSSI (Alpine), Mike KRACK (Aston Martin), Christian HORNER (Red Bull Racing)
Q: Mike, Sebastian Vettel, his last race weekend in Formula 1. What's the atmosphere like in the garage?
Mike KRACK: As you can expect, there's a lot of people around trying to get their last moment with Sebastian. It's actually quite difficult to keep the distraction away, trying to focus on our last race because there is still something we could do in the Championship. So, it's a fine balance, like trying to keep everybody on it and allow them all to celebrate their moment with Sebastian. I try to keep it away until the chequered flag and then we can party. 
Q: You've only worked with him this year, of course, but what's been the highlight for you?
MK: I think there were many. There were many highlights but I think the highlights are maybe not what you expect – great moments – it's the moments you are going through difficult times and getting yourself out. Like when you have good conversations about what to do with the car, what he needs. These are more highlights for us than seeing it then happen on the track when he gets better results out of it. 
Q: What about car performance for this weekend. What can we expect from Aston Martin here?
MK: Well, the car has not changed big time. So, I think we are in the position where we are. We need to be realistic. It will be very tough to have a chance against the Alfa Romeos because I think since their latest update, they are a bit faster than us but we will try. Reliability is one thing; strategy is another one and we will not give up until the flag drops. 
Q: Last race of the year. Can we just get your thoughts on the season as a whole?
MK: Well, all in all, I think, disappointing, because we didn't have the start that we wanted. And then to work yourself out of where we started., it's very, very hard in the cost cap environment and with the intensity of the racing. So, at the end of the day, I think it's damage limitation, how you could call it. But obviously finishing sixth and seventh was not what we aim for when we started the year. 
Q: But do you feel you've got a good platform for 2023 now? 
MK: Yes, yes. But the feeling doesn't really matter there. You have to deliver it. And we will see in March only.
Q: Well, we're going to see a little bit of 2023 next week when Fernando Alonso tests the car. But what are your first experiences of Fernando and what's the programme for him next week? 
MK: Well, obviously, first of all, getting him comfortable and familiar with the team with the car and get his impressions. I mean, the car is not exactly the same, because we run the different tyre generation, so we need to be careful not to draw wrong conclusions. But yeah, it will be more about getting up to speed with each other, get to know each other, get him comfortable in the car in the first place. And then go through a small programme to have any influence on the new race car.
Q: Christian, let's start with Sebastian Vettel. His last race. What's your abiding memory of working with him?
Christian HORNER: Well he's just a consummate professional. He came to us as a young kid with a brace and a funny haircut. And he just grew in that time as a Red Bull Junior. He's just got such an endearing personality, he'd turn up with chocolates for the receptionist and the secretaries and he just endeared himself to everybody, had the ability to mimic and impersonate so many different accents from cockney slang to Nigel Mansell. his Jean Todt was legendary. So, just a brilliant, brilliant character. And an even more brilliant driver. I mean, what we achieved together, the four consecutive World Championships, the way that he went into the final race here, in 2010, and in Brazil, 2012, phenomenal, phenomenal memories. Obviously, the last couple of years have been more challenging for him, but it shouldn't diminish from anything that he's done and achieved as one of the greatest drivers ever in Formula 1. And just beyond that, just a great guy. So many memories away from the track with him. He used to spend quite a bit of time, he'd come and stay at the house. I live in the countryside on a bit of a farm and they were lambing, the lambs were being born in a shed and he wanted to get involved and see, and I just remember the local farmer turning up with Sebastian helping to pull a couple of lambs out. And he didn't have a clue who he was, who this guy is, a four time World Champion, in a sheep shed. Or, I remember, he took a couple of donkeys – we've got a couple of miniature donkeys – he talked for a walk, and he's walking through the village and somebody nearly drove off the road thinking 'is that Sebastian Vettel with the donkey from Shrek?' So, just a lovely, lovely guy, and I think we'll all miss him in Formula 1.
Q: Which was his best season for you?
CH: Well, he just got better and better. I mean, '10, it went down to the wire; '11, he was truly dominant; '12 he never gave up and came right; he won four critical races in '12. He'd won one race before we left Europe that year. And then delivered incredibly after we left Europe in '12. And then '13, he was just on a different level. And those nine consecutive victories were insane, and the level of intensity that he had to deliver that was outstanding.
Q: Let's bring it on to the here and now. The car performance looks better here than it was in Brazil. Is that the reality? 
CH: Yeah. We didn't get the car right in Brazil. I think just the one session, I think, hurt us. We didn't adapt the car to its optimum and I think that compromised us for the entire weekend, both in the Sprint and in the Grand Prix itself. So, I think, with the benefit of hindsight, obviously we would have changed quite a bit on the car in Brazil, we're here in Abu Dhabi, we had a decent day yesterday, a good morning. I have to say Liam Lawson did a strong job as a rookie in the morning, bit responsibility on his shoulders in Max's car – but both Max and Checo, they found a decent balance in the evening session and hopefully that will carry over to today, and most importantly, tomorrow evening. 
Q: Christian, a lot has been said and written about Max refusing to give up P6  for Checo in the closing stages of the São Paulo Grand Prix. Can you explain the root cause of the problem there? 
CH: Well, I think the root cause of the problem was, we had never envisaged being in a situation, being in the final few laps, being in sixth and seventh place in that grand prix. And I think it was something that, as we hadn't envisaged it, we hadn't discussed it, before the race, and I think, that was a mistake on our part, that we should have thought through, or tried to think through every single scenario. And so, I think that that was a mistake as a team that we didn't discuss it and come up with a very clear plan. Obviously, it was unfortunate, what happened but it was quickly discussed, openly and transparently. And both drivers were very clear, open and honest with each other and from that, as a team, we move on and the dynamic between the drivers is absolutely fine. The objective this weekend is very clear, what we want to achieve as a team, something that we've never done previously. To achieve a one-two in the Drivers' Championship would cap-off an unbelievable year for us but I think, we made some mistakes in Brazil, we've learned from that and, as I say, we move on. We've done some amazing things. These two drivers have performed incredibly well together. They're the reason that we are in the position that we are. Max's season has been on another planet this year. So, we're not going to let the events of a couple of laps in Brazil dictate the year for us, and we come fighting into this race to do the best we can as a team, to get the best result we can.
Q: Helmut Marko mentioned on television yesterday that Daniel Ricardo is to rejoin the team next year as third driver. Is the deal done and what role will he perform? 
CH: Well, we haven't signed anything yet but Helmut in his enthusiasm has obviously announced it! So I guess that means that Daniel will be joining us – unless, of course, he chooses not to sign it. Daniel is a big character, it's been disappointing to see his performance this year. I think he would have wanted a lot more out of the season, but he's still one of the biggest names, one of the biggest characters in Formula 1. He obviously has a history as being a Red Bull Junior, and just with the demands that are on the race drivers these days, just from a marketing perspective alone, we're very active as a team, we do many, many show runs and events and to have a driver of Daniel's profile and history with the team, within the group is only an asset for us. So, it means that he keeps in touch with Formula 1 and we'll obviously be using him on the simulator as well, he'll be attending, potentially some events, of course, if he does sign a contract, but I'm sure that will all become clear in the event of him signing a contract.
Q: Laurent, thank you for waiting. We'll come to you now. On the evidence of yesterday, the pace of the car looks promising here. What's the feeling inside the team? 
Laurent ROSSI: Similar. I think we are where we should be, which is like usually seven- eight, hoping for the big guys to make a mistake. But it's been like that throughout the entire, I would say, half-season now. So finally, if we put a very clean race together, we should finish more or less in this area, which is the hope. 
Q: And if you do of course, you will see seal P4 in the Constructors' Championship. How important is that for you? 
LR: I mean, it's always better to finish P4 than P5, no doubt. At the beginning of the season, the goal was to put a new structure in place, which we did, that structure was supposed to deliver innovations, upgrades throughout the entire season, to be more competitive, which we did, which culminate, ultimately in a better position, which we are very close to be doing. So it is important, not just financially but also for the momentum. We said we would try and progress every year to catch up as much as we can with the top teams. It's important not to miss the first step. Hopefully, we're going to get there.
Q: And when you look back at the year as a whole, what pleases you the most? What aspects of what you've achieved? 
LR: It's a capacity of Enstone and Viry to deliver upgrades throughout the season and stay competitive. We started the season in bad shape. I mean, we arrived in Barcelona, in shambles, I could say, and then the idea was to develop as late as we can, because it was a brand new car. And then from there, to try and make our way up the grid. Nobody was seeing us anywhere above eighth position, I remember back then. And McLaren had a very fast car, so I'm quite pleased that we managed to catch up and then hopefully overtake them to get where we are now.
Q: Now, it hasn't always been smooth between your drivers. Only last weekend in Brazil it got a bit messy in the Sprint. How did you deal with that situation? 
LR: Well, I told the drivers, as long as they behave as adults, I'll treat them as adults so they can race until the team is worse off, which happened last weekend. So, I reminded them of our contract, and I reminded them of the fact that I have plenty of drivers that are longing to race in their place. And it would be a shame to finish the year with two other drivers, even if it costs me a lot. They took their responsibility and they did a brilliant job. So, it happens to everyone, I guess, this is what makes those drivers incredible champions. They have this killer instinct and sometimes it goes a bit too far. So, that's my role as well, to bring them back into a better space.
Q: Just to clarify. So, after what happened in the Sprint, did you impose team orders on Sunday? 
LR: Oh, no. We told them that, if we have to, they'll have to follow the orders – but there were no team orders. We had two different strategies, we could not predict which one could yield the better outcome because it depends on the race conditions. But based on the pace, and the circumstances, we told them that, if we have to, we will impose swaps or things like that and they would have to comply – which they did. Which is perfect. 
Q: Final one from me. First time we've had the opportunity in this forum to ask you about Pierre Gasly who, of course, tests for you next week. What is he going to bring to your team? 
LR: Well, hopefully he's going to bring what we need, which is to continue developing the car, because at the moment, we are still pretty much in the midfield and we need to take the car a notch up. And for that, you need drivers that are not only capable only to go fast and score points with the potential the car gives us but also to take it to the next level. And that means that you need to, as of Friday morning, to be able to give feedback to the team and take the whole team in the right direction so the car improves. So that's what Pierre, we hope, is going to bring. I mean, he was the technical leader in many ways, I guess at AlphaTauri. We want him to continue doing that, grow the team, grow himself with us and take us to a new level.
QUESTIONS FROM THE FLOOR
Q: (Adam Cooper – Motorsport.com) For all three of you. Carlos has called for penalties for drivers who cause red ,or even yellow flags, in qualifying. If you remember he crashed into Checo in Monaco, I understand it was discussed in the Commission yesterday. What are your thoughts on it? Is it practical? Could it be policed? 
MK: I do not have a black and white opinion on this. I think we need to really look case-by-case, going to sporting advisory and maybe have a look at the last 10 years where we had situations, because it's quite quick to pre-condemn someone, when it's was not good. So yeah, I think it would be easy to say yeah, it has to be like that but I think it will be a tough call to do it.
CH: I think that the rationale in the Commission meeting yesterday was it goes back to the sporting directors and their forum to discuss the various scenarios, and then it'll come back to the Commission to be debated again. So, there's no clear output from the Commission yesterday.
LR: I was not in the commission yesterday, I arrived only the last night. But what I could say even personally is that they penalise themselves anyways. So, I would imagine that you could perhaps extend the session by an extra lap or two, to allow for the others to finish their hot lap for instance, and the driver himself would not continue without any penalty. I don't know, it could be an idea as well. But ,as Mike said, we need to have an extensive review. We shouldn't be too quick at condemning a driver, or a team.
Q: (Dieter Rencken – RacingNews365)   And engine question to all three of you, however, it's in two parts, so Christian and Laurent, the original entry closing date for PU supplies was the 15th of October, at which stage only one team had entered I believe, it was subsequently extended to 15 November, I believe your two teams have now entered. Could you comment on that, please? Whether you have, and also the reason for the delay. And then Mike at the beginning of the year, you'd spoken about Aston Martin possibly becoming a PU supplier? Is that completely dead now? 
LR: Well, yeah, we had some points we wanted to discuss on the legal side, to make sure that we fully covered as much as possible, which we did. We just kept on discussing those points as far as we could. And at some point, when we reach a level in discussions where we think we're all in a good position, we sign – or we're going to sign. I think it's imminent.
CH: The deadlines were extended but there's an awful lot of discussion about governance and tidying up some of the technical regs and obviously financial regs as well. So, as a newcomer for 2026, Red Bull Powertrains has entered. And yeah, it's an exciting moment for the group, for the company, a new challenge to take on, and a lot to do between now and 2026.
MK: Yeah, so it's a bit of a different question for us, but yeah, we have evaluated really, all the resources needed, our situation for the years to come, and we decided that we are very, very happy with our current supply of power units with our partner, and then decided not to follow up.
Q: (Alex Kalinauckas – Autosport) Question to Mike please. Sebastian said here on Thursday that racing in the pack with a team the last two years, while not what he and you guys wanted, was teaching him new things – things he could still improve on. I just wondered even after all this time as his career winds up, did Aston see that too, that he was still making new improvements? Thanks. 
MK: I would have preferred, he could run in free air at the front. To be honest, he didn't ever really make these kinds of comments in our debriefs. We know that it is much more difficult to run in the pack. We have seen in Texas, how it is if you don't, because we had the quick cars pass us fast and then we were a bit by ourselves and life becomes so much easier if you run in your own little league. So probably ,this is also what led him to make these comments, because he had the direct comparison. But yeah, as I said, I would prefer to be in that situation.
Q: (Abishek Takle – Midday) A question to Christian. Sorry, to go back to Brazil for a bit. But Max was saying that what prompted his refusal to hand the place back was something that happened earlier in the year? Can you clarify what he might have been referring to? And also, why did it take until after Brazil for the issue to be resolved? Thank you.
CH: Well, look, it was discussed in private between the drivers and the team. And as I say, it was clear between the two drivers and it's very clear what our objectives are coming into this race. You know, Checo has a chance of finishing second in this world championship. That's our objective. It's going to be very tight with Ferrari. They've had a quick car all year and it's going to be whoever finishes ahead. So as a team, we're going to be doing everything that we possibly can to achieve that.
Q: (Tom Cary – The Daily Telegraph) Just following on from that one Christian. There's been a lot of speculation that it may have been something to do with Checo's qualifying in Monaco. Regardless of whether it was or not, can you confirm whether the team internally looked at that? And if not, whether you've looked at it since and what your views are on that crash? 
CH: Well, any crash, as my colleagues here will tell you, particularly in a cost cap environment is disastrous. It's expensive, it's costly and particularly at a street circuit. So from a team's perspective, it's way, way from an ideal. So you know, there was a lot of frustration following that. It could have obviously damaged the gearbox as well in an incident like that, and of course, then incurred a lot of damage, of course with Carlos Sainz. Now, thankfully, this year, that's probably been the biggest accident that we've had from a cost basis, which has a one-on-one effect on your performance to develop. Because you have to pick whether you're going to make spare parts or development parts. Now, thankfully, the drivers have done a great job, thereafter, of managing not to hit things. And so we actually have probably the least amount of crash damage in the year compared to any other team. But, yeah, look, a lot has been said, about Brazil. I think there are things that that we as a team obviously could have done better. We hadn't, as I said, envisaged being in that position. And, you know, we shouldn't have obviously taken it for granted and I think, you know, there are always lessons you're going to learn in this sport, and it's a matter of how you how you apply them.
Q: (Scott Mitchell-Malm – The Race) A question to Christian. Max and Checo are under contract beyond next season. You said it was if Daniel joined, so if Daniel does join the roster, if you see evidence that he can be the driver that you had in the past, does he become an option longer-term for Red Bull as a race driver?
CH: No. Daniel's contract is very specific for a specific reason. We have a contract with Checo for the next two years. What the partnership of Max and Checo has produced has been phenomenal for us. And you know, the five 1-2 finishes so far this year, the Constructors' Championship that we hadn't won for eight (sic) years, is a phenomenal achievement and obviously the combination of both drivers, the points contributions of the two drivers, they do have a good relationship. They've raced well for the team and we've got no reason to see that being any different tomorrow or for the duration of their contractual commitment to the team thereafter. And for Checo, obviously, we made that commitment for two years earlier in the year. And he made a good step this year. His performances… I think he felt more comfortable in the team at the beginning of the year after that first year, joining during a COVID period. And hopefully, he can round off what's been a very strong year for him with that runner-up position in the championship this year, which is something as I said, we've never achieved before. So, you know, between the two of them, I mean, Max's season has been truly, truly outstanding. I mean, 14 Grand Prix victories, plus Checo's too, I mean 16 grand prix victories is more than we've ever achieved in our history and something that we're very proud of.
Q: (Claire Cottingham – Racefans.net) A question for all three, if possible. Formula 1 yesterday announced an F1 Academy to get younger women into the sport and hopefully into Formula 1. I just wondered if you thought that was the right way of going, still having women slightly segregated at the beginning? And if you would be interested as teams to maybe get involved in it?
LR: Well, I guess any initiative is good. We have a, I wouldn't say a different or opposite, but just an alternate path, where we want to bring women in a more mixed environment. But it's always good. I mean, it's better to have that Academy than nothing, for sure.
CH: I think it's a good thing for Formula 1 to be getting involved in. And it's just great to see more and more women coming into the sport and at all levels, as a driver, a designer, we see more women up and down the paddock now, in technical functions, operational roles. And I think it's all about inclusiveness. And I think it's great. I think that you know, there's such interest from youngsters as well. And with such a young female content that are following Formula 1 now, that's only going to see more and more people, girls wanting to get involved at the grassroots level of karting, so there's a bigger pool of drivers coming through, that there's more engineers, that Formula 1 is exciting and open to embracing inclusion and diversity.
MK: I can only agree on what Christian and Laurent said. Clearly, any initiative is a good one to promote female drivers, but also female engineers and mechanics into our sport. So we're very supportive of that. Now, the path chosen, I cannot really judge if this is now the right one or not, to come back to your question, but we welcome the initiative, clearly.
Q: (Ben Hunt – The Sun) Christian, incredibly boring question, but are reserve drivers included in the cost cap. And does this create another headache for you?
CH: Well, I'm pleased to report that they're not, and nor is what they eat, included in the cap. So hopefully that should be alright.
Q: (Panagiotis Seitanidis – Car Magazine Greece) A question for Mr Krack and Mr Horner, who used to be a racing driver in the early days. Do you feel that Sebastian has got what it takes in order to be a manager in the distant future?
MK: I don't know if he wants to do that. But I think he has the personality and all the skills – human and also, I think the ones that are needed to do that. So I think he could be a good one, yeah.
CH: Yeah. I mean, he's a great people person. He's understands the value of people and the contribution that they make to success. And I think he's turned into somewhat of a driver counsellor in the last couple of years as well. So it really depends what he wishes to apply himself to. He's one of those guys that's annoyingly good at anything he chooses to do. So I'm sure if he chose that path he would be very good at it.
Q: (Ronald Vording – Motorsport.com) A question to Christian, basically to reflect on the year a bit more. In Japan, Max said that his 2021 World title was of course, more special, more emotional, but this one is way better. First of all, do you agree and if so, in which aspect is it better, both from a team point of view, but especially for Max as an individual? 
CH: We look, I mean, 2021 was, was an epic year and I think it'll go down in history, when we reflect on it in years to come as one of the all-time great seasons of Formula 1. And I think that Max, having been through that and triumphed at the end of that… And one forgets that he's still so young, you know, 24 years of age, doing that last year coming into this year, I think he just made another step. And I think the maturity that he's driven with, I think that he's just taken it to another level this year. And you look at the grands prix that he's won from, from earlier in the year. You know, the double-header in Imola was spectacular. His race in Miami with Charles in those early races, the racing that was wheel-to-wheel was stunning. And then he's just kept going, like a metronome, he's kept delivering. And the more pressure there was, the more he delivered. Some incredible victories. Hungary springs to mind, where he had to take a penalty and drive through the field. Spa, was totally dominant. The pressure of Zandvoort. So the list just goes on and on. And I think he has been truly outstanding this year. It's been an incredible season for him. It's been an incredible season for the team. And obviously, to win that in Japan, with four races to go, was quite some achievement. Despite the confusion at the time, whether he had actually won it or not, the thing that we're most grateful for is that, thanks to the anomaly with the points and the fact that he was awarded full points, which we didn't think when he crossed the line, Dietrich Mateschitz got to see him retain that championship as the last race that he watched. So that was very much the upside of doing it in Japan and being able to get it done early. And very, very special for him for the team and I think he's been truly outstanding this year.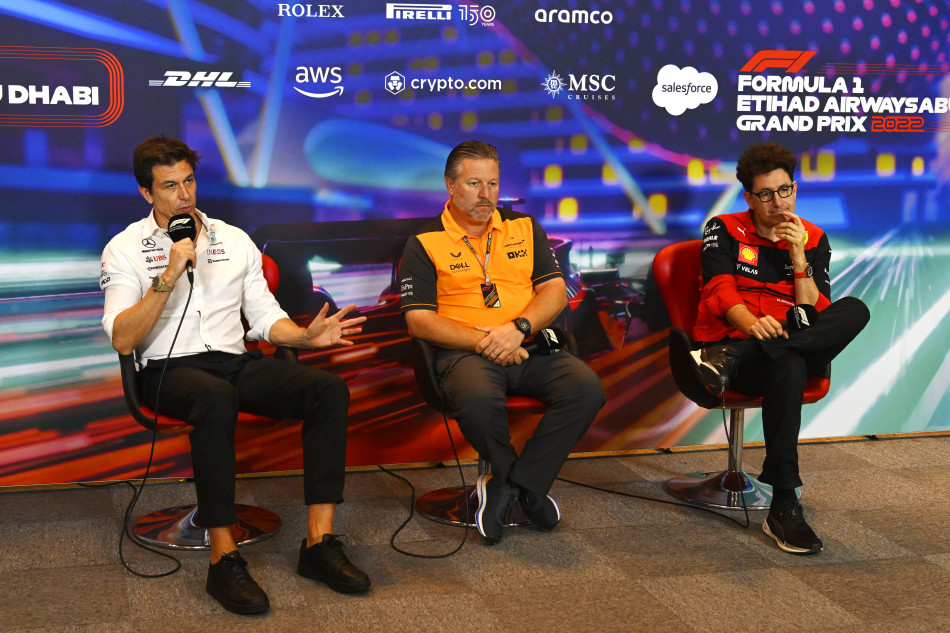 PART TWO - TEAM REPRESENTATIVES
Toto WOLFF (Mercedes), Mattia BINOTTO (Ferrari), Zak BROWN (McLaren)
Q: Toto, I feel we should definitely start with you. Of all the races to miss last weekend! How did you watch the Brazilian Grand Prix and were you tempted to jump on a plane, when you saw the grid for Sunday?
Toto WOLFF: I went through some interesting emotions, because I had to go to the Middle East because of a meeting and the team was great. I had this full intercom being built up, like being on the pit wall. I had all the channels that I could speak to, even the drivers, by pushing the button. And in a way, I tried to step back a little bit. And then when the race was finished, Susie said to me, 'I bet you regret not being there'. And it was actually quite the opposite. I felt so proud of the team, and I'm taking so much spotlight in the media all the time and credit and not being there meant that it was on the team. It was Shov, who is our trackside chief engineer, and Bradley and James Vowles, and I was so proud that it was about the team and the people that represent it and not always about me. So all the feelings that I didn't expect.
Q: Of the 115 wins you've had with Mercedes, where does last weekend's rate, given all the issues you've had this year? 
TW: You know I forget so quickly about previous wins, because I try to… I don't know if this is a mechanism that is actually bad, because it's difficult for me to enjoy, because I'm looking forward. But this one… This one was important, because it validated our development direction. And this is good for confidence and for the engineers to see that it's going where we want it to go. But then on the other side, you know, ticking that box, I wouldn't have wanted everyone to say 'well, in retrospect, Mercedes didn't win a race in 2022'. We did that, we were on pole in the Sprint race. Yeah, so I didn't think that it was important, but now that it's done, I think that's positive for us.
Q: How competitive is the W13 now? Have you caught up and what kind of a platform do you now have for 2023?
TW: I think we are back in the mix. That was important. If you ask me the pecking order today, I would still say that Red Bull, overall, as a package is the most competitive. I think Ferrari has a tremendously quick car on a lap and on several of the weekends was also the quickest package. We have been able to perform well on the tracks that were in the sweet spot of our DNA of the car and that was mostly high downforce – Mexico and Brazil. We're not very competitive when it's fast, straight line, we have a little bit of a draggy car, and that did make us benefit. So the pecking order is still third, I think I can say that, but we are very close and on our day, at the right racetrack, we can win and that is most important.
Q: Is this the right racetrack? How do you rate your chances of catching and even maybe passing Ferrari for P2?
TW: So, we have this internal table of doom, which kind of forecasts whether we are good at a track or not, in terms of our simulations and Mexico was, we thought, the best track in the season and we were performing well. Brazil was right there, like with Austin, but it came in better than we thought. And Abu Dhabi in the table of doom is pretty much in the middle. It's not Spa and Monza. So in a way, if we correlate with the table of doom it means we understand where we are going. If we outperform the table of doom, I'm obviously happy, but also questioning if we are getting it right with our forecast. So the truth is, I don't know where we're lacking straight line speed, particularly against the Red Bulls, when it turns on the engine. But I would never say that we are not in the mix. But let's see. Rationally, probably not right there.
Q: Thank you Toto and best of luck this weekend. So Zak, do you have a table of doom at McLaren? How do you rate your chances this weekend in Abu Dhabi?
Zak BROWN: It's going to be a pretty tall order. Nineteen points out and we need our best results of the year with the competition not getting any points, so I think we're pretty realistic as to where we sit, but we're going to do what we do every weekend, which every grand prix team does, which is give it all you got and see where you finish up.
Q: Now, this is Daniel Ricciardo's last race for the team. What is the feeling like inside McLaren?
ZB: I mean, Daniel has been great to work with. He's a great character. He's great for Formula 1. He gave us our first win in almost a decade. It's obviously unfortunate that it hasn't worked out to continue longer. We hope he's in the paddock next year. It certainly sounds like he's going to be. Hopefully we'll see him in a Formula 1 car because I think he's great for the sport. And so we're going to wish him the best. But right now we've got two more days of giving it all we've got to hopefully go out with a strong finish. 
Q: Well Zak, Helmut Marko pretty much confirmed yesterday that Daniel will rejoin Red Bull next year as their third driver. What's your reaction to that?
ZB: I think it's good to have Daniel in Formula 1, regardless of what team it is. So I think it's a positive and most importantly, I hope we see him in a Formula 1 car.
Q: Now, you're the only team outside the top three to have taken a podium this year, just how do you view McLaren's 2022?
ZB: Lots of learning. Lots of ups and downs. Not as competitive as we were last year, but I think we're a better racing team this year. We're operationally more sound. Our pit stops are better. We've got our investments that are nearing completion. So I think we've learned a lot. New regulations, and excited for next year and to see Oscar in the car on Tuesday. And you know, I think come Monday, we'll start thinking about 2023.
Q: You mentioned the new regulations. Do you think they've been a success? Just to repeat what I said earlier, you're the only team to have scored a top three.
ZB: Yeah, it certainly seems like the racing has been better. I think everyone was concerned that cars were going to look the same. They certainly don't. There's a lot of different concepts. So yeah, I think the new regulations always need refining, but I think we got it pretty right. And the racing has been very exciting this year. Given the dominance of Max, it doesn't feel like it's been a boring season, even if the results on paper, you would think it would be boring but I think all the races have been very exciting.
Q: You mentioned Oscar Piastri. He's of course driving next week. Can you tell us a little bit about his integration into the team over the past few weeks and perhaps give us a little info as to what his programme is going to be here in Abu Dhabi?
ZB: He is very mature for his age. I was very impressed with how he handled the summer drama, if you like. He's obviously an immense talent. He's not been racing for a year, so we need to get any of that race rustiness off him, which I'm sure we will do in short order. Very focused individual, very technical, and looking forward to seeing him and Lando on the grid next year.
Q: Final one from me. Pato O'Ward said after his run in FP1 yesterday that he's serious about pursuing a career in Formula 1. How can you help him with that? And have you seen enough from him to think that he can cut it on the Formula 1 grid?
ZB: Yeah, he's certainly fast enough. He's got tons of enthusiasm. He's been in our TPC car. Obviously, he did Free Practice 1 yesterday. He did a very good job. Yeah, he's a huge talent and definitely worthy of being a Formula 1 driver. And, you know, for the time being he's our IndyCar driver. We have him under a multi-year contract. He's winning races for us over there. So giving him opportunities within our Formula 1 team, while remaining very focused on IndyCar is our priority.
Q: Thank you. More questions for you in a minute, I'm sure. Mattia, thank you for waiting. So can we start by talking about Sebastien Vettel? It's his last race. How do you reflect on his time at Ferrari? 
Mattia BINOTTO: First, Sebastian is a great, great driver and I don't think it's myself telling it, it's really what he has achieved – fantastic, outstanding, amazing. And somehow, as Ferrari, we have been lucky to have him as part of the team and it has been six important years. He brought a lot as a driver but more than that, I think he brought a lot as a person and each single Ferrari fan still loves Sebastian. I think that's a matter of fact. And as each single fan loves Ferrari still, I think we in Ferrari, all the people in Ferrari, are still loving him and that's the way we are feeling. They have been incredible years, I think. Difficult for myself, coming to the end, somehow to announce to him that we will not renew. And that maybe has been the most difficult task I've done myself through my career. Because when you love such a person and you really enjoy working with him, it's always difficult to come to the end and take a decision somehow to announce it. So I think it has been an important moment as well for my career itself, because from that… through difficulties you become stronger. But it's the one that we will remember as the most difficult one.
Q: He says he failed at Ferrari because he didn't win the World Championship. Is that how you see it?
MB: I think he is somehow right because when he joined Ferrari, he was ambitious, his objective was to win the title with Ferrari and I think together with himself, it was our dream and our objective as well. So it has been a failure for him but it has been a failure all together as a team. He has been very closed, or at least the closest he has been was '17 and '18 so we had a few opportunities, but we didn't get it and I think somehow when your final objective is to do that and if you do not achieve it, if it's a failure. 
Q: On to the here and now, there's been speculation this week concerning your future at Ferrari. What's your reaction to everything that's been said and written?
MB: I was not expecting that question, so let me think now but obviously Ferrari is the most loved team. Seb said once that everyone is a Ferrari fan, and if they are telling you it's not the case as matter of fact they are.  And when there is such a big passion around it there is always certainly the passion but always as well a lot of criticism and rumours.  That has been true in the past.  It's the situation right now and it will be in the future so obviously when these speculations were out I had a chat with my chairman John Elkann, together we discuss openly what was the best way to move forward and we decided to release a statement. That was maybe the best way to close any speculations and clearly those are speculations, totally, with no foundations. And I think for me right now, what's the most important (is to) make sure to stay focused on the race weekend and the team not to be distracted because certainly the rumours are always there. It's about Ferrari, and as I said, more important not to be distracted by them. 
QUESTIONS FROM THE FLOOR
Q: (Matt Kew – Autosport) Toto, in Brazil, both Lewis and George made reference to a slimmer W13. Is that anything you can clarify, if there has been a lighter upgrade, apart from the clarified aero tweaks? If so, when did that come in? Where have you found the weight? 
TW: Yeah, we have been… the weight was an issue, a recurring issue this season, because obviously you're trimming it and you lose weight, but then you're adding parts in order to recover downfalls and issues that we had so we never got back to the weight. And the same as in Brazil. I think we've been pretty stable over the last few races, not what we expect, where we expect to be, but certainly some lap time that we should find for next year.
Q: (Claire Cottingham – Racefans.net) Formula 1 yesterday announced they were doing an F1 Academy to get young girls and women into motorsport, and hopefully also into Formula 1. I just wondered if you thought that was the right way of going, having women starting out on their own and then reintegrating with the men later in their career, and would it be something that you guys, maybe your teams want to get involved in?  Toto little side one for you, obviously, I know that your partner Susie is big on getting more women into motorsport; is it something that she might be interested in being part of? 
TW: Obviously I was with Susie for the end of her career in DTM and in Formula 1, and I saw the stumbling blocks that were thrown in her way. She was very competitive. At Williams, she was being put into FP1 and was very close to the main driver but still, even with the female team principles, she wasn't given the opportunity, although it would have been great for the sport, and probably great commercially also for the team. So it was pretty… a situation that we couldn't understand and then she decided well, clearly there is no more obvious situation that shows that door is closed at the moment. And she's been passionate about it, further on. She's the founder of the Dare to be Different programme that was merged with the FIA's Girls on Track and still very much involved in how can we get young girls into Formula 1, but it needs to start at grassroots. I think if you look at go karting for a 100 drivers there's three girls and we're talking about the 20 best drivers in the world. So clearly, this is where we need to start. So I think the initiative that was started by Formula 1 is very good,  an important one:  smaller cars, lots of testing, which is important and hopefully Formula 1 can identify young female go-karters and junior drivers, because there are some good ones in W also, that can participate there, can get lots of track time and then eventually the best ones move up into Formula 4 or Formula 3 and only if we strengthen the base, we can bring a girl, a woman into Formula 1, but she needs to be competitive. I think this is the most important. We can't just do it for the quota because that would… a woman in Formula 1 would set back by a long time if she's not competitive. Susie's exploring avenues, she's always been emotionally involved in bringing drivers up. We have a young girl, Luna Fluxa, who's very young, who's in go karting, she makes it to the finals in the Europeans and in the World Championships. And Susie's looking at that, and yeah, she's discussing with Stefano whether there's interesting avenue to work together, but nothing is decided she's still contemplating.
ZB: Yeah, I think anything that creates opportunity and encourages women and diversity and youth into motor racing is a good thing. We entered Extreme E this year, so McLaren racing has our first female driver in Emma Gilmour. That's one of the main reasons why we entered the championship, was to support our D&I, our gender equality, our sustainability agenda. And so I think it's great to see a lot of what Liberty is doing, investing in the sport. So a women's series we would definitely welcome and want to understand it more to see where there are opportunities for us to possibly participate.
MB: From my side as well it's certainly  a great opportunity. I think F1 more is important in the direction, try to develop young female somehow drivers to have at some stage one thing in the Formula 1 and we at Ferrari it's something which we certainly believe very important. As you know, we've got our own programme Girls on Track within our Ferrari Driver Academy, already now for three seasons. We are doing big scouting activities, we are doing camps, selections, maybe Maya [Weug] as a driver is our most let me say our first ambassador of that programme. She's racing, she's training and you can see her back at Maranello  with engineers, at the gym so it's really something on which we are pushing on. We believe that at some stage it's something that has to happen to our female drivers in Formula 1 but it will take time, because it's a long, long journey. But more important that we're creating opportunities, and I'm pretty sure through the opportunities it is going to happen.
Q: (Adam Cooper - Motorsport.com)  The President said yesterday that he would be happy to investigate the Pérez qualifying crash in Monaco, if any team asked him to. Do any of you believe that that accident should be investigated, whether it's you asking or not, but just on principle, the fact that there's obviously potentially an issue there?  And secondly, Carlos has called for penalties for drivers who score cause red flags in qualifying. Zak, I believe you've raised that in the commission yesterday. What are your thoughts on that? Is it practical? Could it be policed?
ZB: Yeah, I think what Carlos said, I think it should be red flags or yellow flags, effectively impeding a driver from completing their lap. They do that in other forms of motorsports, the penalties, you just lose your fastest lap from that session, and all the drivers tend to do one lap runs so that would penalise the driver if it was intentional or unintentional, right. Because you've messed up someone else's laps. I think that's an easy solution, it can be implemented right away. You cause a driver to have to back out, you lose your lap, you got to go again and  maybe you won't have a chance. Maybe you will or you have to use another set of tyres. I think that's the easiest way to solve it. I think on the Pérez incident, it was quite some time ago so I think we need to, as a sport, if we see something that needs to be investigated, move more swiftly. I think Monaco was a long time ago and so to be talking about Monaco in Abu Dhabi, I think that train's left the station.
MB: Yeah, what happened first in Monaco was for us very difficult to judge from outside.  I don't think we can judge and it's not down to us as well to do it. It's down to the FIA, they have the data, I'm pretty sure they looked it at the time, and we need to move forward. I think that things that are moving forward, as Zak said, maybe we may discuss what we should do in that type of situations. But I don't think there is a clear answer right now. We had the point yesterday at the F1 Commission, Zak raised it. Let's maybe start the discussion. But more important for us now, I think is really looking forward.  I don't think there is any need to review what happened in Monaco today.
TW: Yeah, I agree with Zak also that this is a good idea. I think it exists in Formula E, I'm not mistaken, that your quickest lap is deleted. So that's something that we can implement. As for the Monaco incident, we haven't got the data. Monaco is always pretty bad in GPS. And the second thing is I would… I know Sergio for a long time. Would a driver really put his car in a wall and risk his gearbox in the way it was done? You could be going all the way to the back of the grid with such an incident. For me, if you want to park your car, you do it in a different way. And as Mattia and Zak said, we've had enough PR crises in the last couple of weeks around that team and I think we don't need another one. 
Q: (Abhishek Takle – Midday) Toto, we've heard about Daniel Ricciardo going back to Red Bull as a reserve. Another driver on the market is Mick Schumacher and he's been linked with the reserve role at Mercedes. Will he be your reserve next year? And a separate one to Mattia? Have you decided on Mick's position in the FDA? 
TW: I'm really proud that that Nyck made it back into a real Formula 1 seat, even though he's changing family. He deserves to be in Formula 1 and it shows also that him winning the World Championship in Formula E for us and being our reserve was right for him and was right for us. And Stoffel the same way. So they've flown away to be with someone else and Mick is someone that has always been close to our heart because of Michael or the whole Schumacher family. Ralf was in a DTM for a long time for us, he son races Mercedes in GTs, and he's an intelligent, well-mannered young man. He's been very successful in junior formulas. We believe that we can look after him if the situation were to happen and with someone that just fits the team, but we haven't really put pen to paper, we haven't really come anywhere close to any terms. I'm seeing it that openly because I think he just fits and now we need to make it happen, if he wants to, Sabine wants to and then we see we see where that goes to. 
MB: Mick, first, is a great driver. I think he has always progressed through his career and I think he has as well progressed during the current season. If you look back how he started, where he is ending, I think he has shown that he's capable of progressing. And we as Ferrari and Ferrari Driver Academy we believe he is a great driver now. After Haas has somehow decided for a different choice for the next season we will need to sit down with Mick really, trying to decide what's the best for the future. And I think the decision is really what would be best for him. We do not have any seat to offer him right now and I think what's most important when you're so young in your career is to make sure that you get the best opportunity for you, you get it so we'll be fully open to different choices but something that obviously now we need to sit down with him and to conclude.
Q: (Dieter Rencken – Racing News 365) A two-part 2026 PU question:  Toto first of all to you. The entries closed on the 15th of October. I believe your company hadn't entered as a PU supplier. I believe it still hasn't happened yet so if you could explain the delay, please. And then Zak,  given Mohammed ben Sulayem said the other day that Porsche was still talking to some teams and given your history with Porsche, given the fact that you don't have a PU unless you're a customer or partner have you been talking to Porsche at all, please? 
TW: So there was no formal deadline.  I think there is nothing in the regulations that said it needs to be the 15th of October, it was discretionary for the FIA to decide when that is. And we have entered, that has happened. And now it's about the FIA to talk to everyone else and these discussions are progressing as far as I understand, so we are on course for 2026. 
ZB: We're very happy with Mercedes. I'm a believer that you can win a World Championship with a customer engine. I think the engine in our car is no different than the engine in Lewis's car. There's obviously benefits to being a works team with some kind of the advanced knowledge that you get. And I think the engines are absolutely the same. We have a long term contract with Mercedes, very happy with the collaboration, and aren't really spending too much time yet thinking about 2026 and beyond.
Q: (Thomas Maher – PlanetF1.com) Mattia, regarding the rumours about your future, are you able to categorically say you'll still be team boss in 2023?
MB: Obviously, it's not down to me to decide but I'm pretty relaxed. The reason why I'm relaxed is that I have always open, frank and constructive discussions with my bosses and my chairman, not only on the short term, but the medium and the long term. More than that, I think if I look back at the season, yes, we had few up and downs, we are not the best yet, the fastest car on track but I think we achieved our main objective which was to be back to be competitive in that new year of the 2022 cars. And if I look at the way we started the season, I think no one in that room, not only in that room, would ever have imagined Ferrari to be so fast at the start of the season, that is proving that the team has worked very well through difficult moments as the 2020, 2021. We remain united. I think it's a team which is not only working well but has proved to be capable. Yes, there are still a lot of things that we need to progress. Weaknesses have been shown. But I'm pretty sure that as we did in the past, we will review,  we will try to address them. The team back at the factory is fully focused on the 2023, try to improve. Furthermore, I think this season has been outstanding in terms of pole positions, so qualifying pace,  not as good in terms of race pace.  We know that we need somehow to improve furthermore the race pace because then strategy or whatever is around it, is a lot easier if you've got a strong car in the race itself. So yes, I'm relaxed. I'm more than that and I'm really focused on what we need to do and concentrated with the team.
Ends