ERC - Rallye Serras de Fafe - Pre-event press conference
2022 European Rally Championship - Rallye Serras de Fafe - Pre-event press conference transcript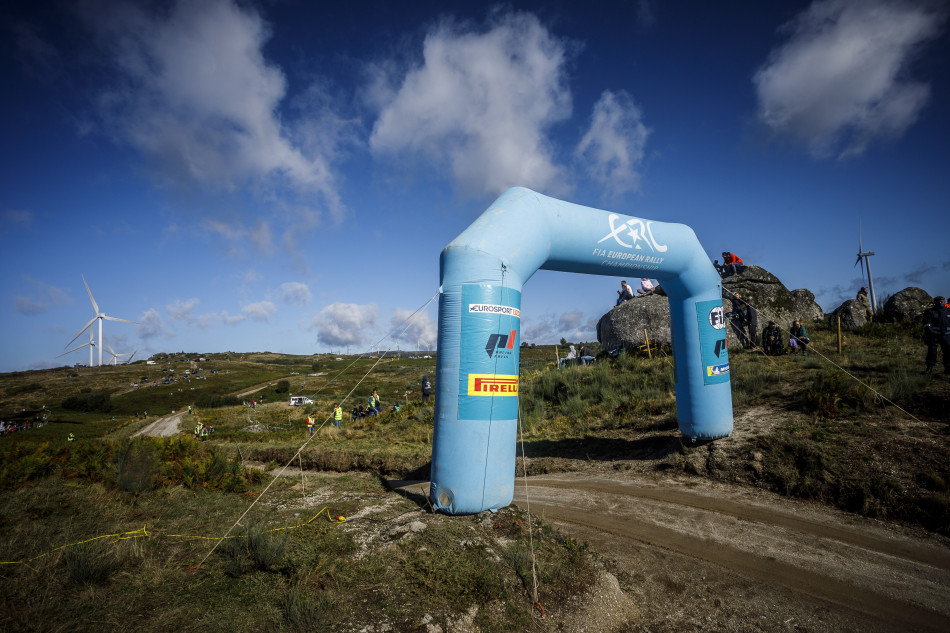 Present:
Team MRF Tyres – Efrén Llarena (ESP), Škoda Fabia
Rally2 Evo Team Hyundai Portugal – Ricardo Teodósio, Hyundai i20 N Rally2
Yacco ACCR Team Erik Cais (CZE), Ford Fiesta Rally 2
Rachele Somaschini (ITA), Citroën C3 Rally2
Paulo Soria (ARG), Renault Clio Rally4
Q:
Coming to you Efrén, runner-up in the championship last season and you start this season with Team MRF Tyres on the back of your victory in Spain last weekend. How confident are you?
EL:
For sure we are very confident. We try to be quicker and quicker. We had some rain just before to start the Qualifying Stage so we were just slowing and for sure we want to do a good rally and we will see what happens. We are happy to be here with MRF and our team, it's a good position to start.
Q:
You're running further back in the order, how difficult is that going to be with the rain we've got predicted for tomorrow?
EL:
We will see. For sure it will be a lottery. Maybe 17th position will be the best or the worst if it starts to rain it will be absolutely chaos. But if it doesn't rain for sure it will be a good position. But we don't know, for sure it will depend on the weather.
Q:
What were the stages like on the recce in terms of the mud level out there?
EL:
For sure very difficult. It was full of mud and in a street car it was difficult in some parts to be at the end of the roads. But we were slow and we tried to put everything in our pacenotes to be fast during the rally.
Q:
Turning to Ricardo, a brand new team and a brand new car for you this season with the Hyundai. How is the car and how did it feel out there today?
RT:
This is a completely new experience, the first time the official driver of a brand at 46 years old. It's a bit late for me but I'm really happy for that.
Q:
It's never too late…
RT:
Yes, once we are here it's time. We are with Team Hyundai Portugal and I'm happy to be here again. The rally will be a lottery like Efrén says, with a lot of mud on the stages. It will be very difficult for sure. The weather we don't know how it's going to be. For sure it will be raining like it was today because it was raining a lot on the Qualifying Stage but we are here to do the rally and to do the best we can tomorrow and Sunday.
Q:
In terms of pressure how are you feeling, you're the defending Portuguese champion coming into this weekend so how much pressure is on your shoulders?
RT:
Quite a lot but I try to avoid that pressure and I am going to drive my way and the best I know and I'm going to try to arrive in the end with the car complete and a good result overall.
Q:
There was a little bit of an issue earlier heading to Free Practice. Tell us what happened, why did you come back to service?
RT:
So… not experienced enough with the Hyundai yet and we pushed the wrong button on the car, the extinguisher. We wanted to make it not on and there was dust everywhere inside the car. It was like snow, there was dust everywhere so we had to come back, change the extinguisher, clean the car inside, clean us and go there again and do our best.
Q:
Turning to Erik, we've seen great pace from you in the ERC over the last couple of seasons and also in the WRC. A great run through the Qualifying Stage, what's your hope this weekend, what can you achieve up against some incredible rivals?
EC:
After the Qualifying Stage I really don't know. I was not expecting we would finish in second position. For sure we will push but for me I am here to gain the experience on the gravel and the testing for the Portuguese WRC event, that's the main goal so I want to finish the rally. But I am a racer and I want to race for the best result possible.
Q:
What will the conditions be like out there tomorrow?
EC:
It will be full of mud, this describes everything. But I like these conditions so I am really looking forward. If there is rain, fog and everything I will be happy because I like so let's see how it's out there tomorrow.
Q:
How much onboard have you been watching from previous events to get ready for this rally?
EC:
For sure it's not just about the onboards, they help a lot, but we were testing here 14 days back and that was the important for us. Then we did Rally de Lorca in Spain as a test on the gravel because I don't have so much experience with the Rally2 car on gravel so this was the main testing for this rally. Onboards can give you a lot but for sure the camera is not your eye.
Q:
Turning to Rachele, the conditions are looking difficult out there, for sure you are well prepared but how tough is it going to be?
RS:
A very big challenge for me. I'm very happy to be here but it's my very first time so I will try to do my best to improve my pace but step by step. I understand from the recce and the pre-event test that it will be very tough.
Q:
You do have a very experienced co-driver by your side in Nicola Arena, how much has he been able to help you with what you've got to face this weekend?
RS:
A lot. He will help me a lot. We have planned a different kind of pre-event test but I rolled. It happens but we were planning a lot of practice on this kind of condition which is not my best condition. Even if Cais likes it I do not. But we can't do the practice even if the team did a good job to repair the car but we couldn't do a lot of kilometres so we have to do it during the rally and Nicola will be by my side and will help me a lot.
Q:
What about the season ahead, what's your objective?
RS:
It's the first time I can reach a complete… not a complete but a longer programme in the ERC and it will help me to gain experience with these kind of conditions which are very different from Italy. Also to spread a word about cystic fibrosis and my project, Racing for a Breath. It's a good job by my team and I am so happy to be here thanks to my sponsors. For me it's a pleasure to be here and I really want to improve my pace but I have to do it step by step.
Q:
We've spoken about the mud but we start tonight on a tricky stage but on a cobble surface with gravel tyres. It's going to be wet out there so it could be interesting?
RS:
The stage tonight can be very, very difficult if it starts to rain so we have to be very careful. Tomorrow will be the real rally.
Q:
Turning to Paulo, how much are you looking forward to this weekend and how big a challene is it going to be? Are these the toughest conditions you've ever rallied in?
PS:
For sure we are looking forward a lot because this rally is very similar to WRC Rally Argentina. I was speaking with my co-driver that this is like Córdoba. The last edition in 2019 was like this with rain so it's so similar we feel like home. Anyway it will be a very rough rally.
Q:
What's your objective this weekend?
PS:
For sure to finish the rally but in a very good pace. It's a very good competition in two-wheel drive in this race so we want to try to be the fastest and finish the race.
Q:
What about the position start the rally because it could be a good position, it could be a bad position depending on when the rain hits?
PS:
Yes, we will see what we find on the road. For sure we will find maybe water, maybe rocks, maybe cars.
Q:
Let's hope not!
PS:
It was quite a lottery today and in shakedown we found badly some cars but it's like this. This rally will be very difficult again and I hope we do it in a good way.
Q:
What about your preparations for this event, what have you been doing to get ready?
PS:
This season we start very early in February in Romania on the Winter Rally Covasna. We won the two-wheel-drive class and we were third overall. A different preparation, first time on snow but good to get back the feeling after Rally Islas Canarias.
Questions from the floor:
Jared Grellet, FIAERC.com (DEU):
Erik, we've seen you in a few rallies in the WRC. What has that experience done for a young driver to go to the WRC and come back here?
EC:
For sure the race is very different. In the WRC you have more days so you are pushing on each stage but you need to be clever. Here you push a bit more because you know it's just two days and you can be a bit faster and you can get full-gas from your car. In the WRC you need to think about your car because it's destroying a lot, everything on the car and you need to finish the rally for the points and everything. So this is the main difference. But now the rally has the same organising people from the WRC I think it will be pretty much the same and I think it will be a really good event, each WRC and ERC.
Tommi Meadows, FIAERC.com (DEU):
Efrén, you're starting quite far back on the road for tomorrow. Do you think it will be quite rough for you and would you prefer to be higher up the running order?
EL:
We will see, it will be a lottery for sure. For me the best position is around five, six or seven but we are 17 so it could be a disaster but it could be good. We keep positive and cross our fingers about the weather.
Jared Grellet, FIAERC.com (DEU):
Paulo, last year you were part of the Clio Trophy by Toksport WRT. What does that do for a young driver to help build up your confidence?
PS:
For sure the last season in the Clio Trophy was helping me a lot, my first season in Europe. Again, this year we will do the Clio Trophy again and some rounds in Rally4 to prepare for 2023 when we hope to fight for the big positions in two-wheel drive. But for sure the Clio Trophy is a very good cup to get introduced into Europe and the ERC.
Padraig Foran, FIAERC.com (DEU):
To both Rachele and Paulo, are there any particular stages you are looking forward to, do you prefer the Saturday stages or the Sunday stages or is it all similar?
RS:
I prefer the stages on the Sunday, also for the story of the stages and the surface is a little bit different.
PS:
My opinion is the same. On Sunday we have really nice and flowing stages, the surface is completely different, not so much stones and you really enjoy that kind of corner and of course the jump. I hope we can achieve the jump in a good way.