Emmanuel Vinuales, 2013 European Superkart Champion
Interview of Emmanuel Vinuales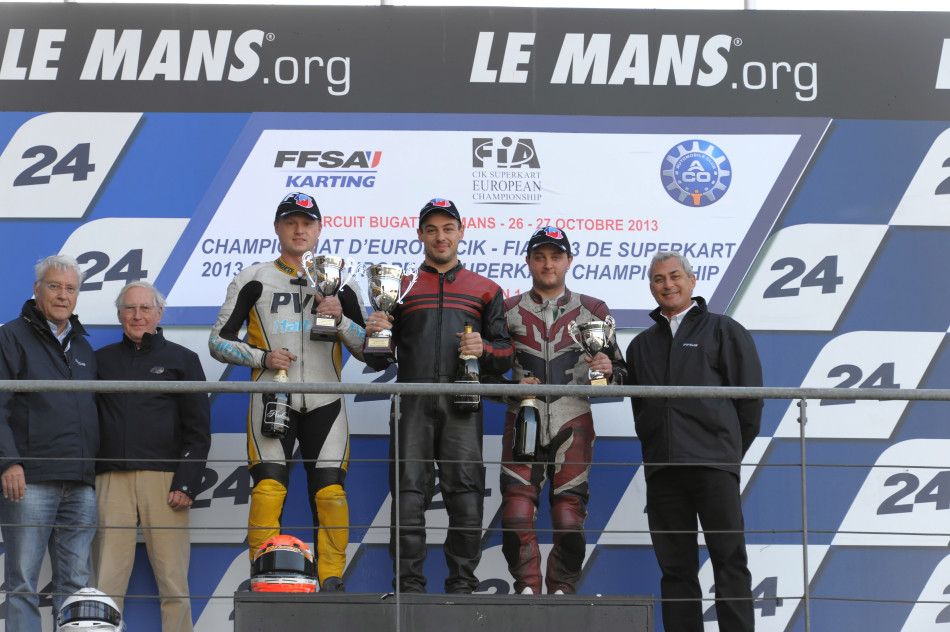 Emmanuel Vinuales; What do you feel about your second title?
Joy and also relief after all the work this season, where Europe was the priority. We confirmed our level. We were quick and successful as a team, efforts were rewarded, not only individually, but also for the whole team around me.
It seemed stressful until the Autumn, until the last podium?
In fact, since Assen, my engine hasn't been performing at it's maximum and we have invested considerable time in finding out why. We even sacrificed a championship race in France for testing, ignition, electronics box, etc. ... While we thought we had corrected it for the round at Le Mans, but the doubt persisted until qualifying ... when I was reassured by the performance of my adversaries.
What were the difficulties with this season?
The final against Gavin Bennett didn't go the same way, and beating the Briton was hard, as we were so regularly side by side. The other difficulty was based on our technical doubts after the race at Assen.
Between 2011 and your title now, have you progressed?
I think I have gained a greater maturity. Of course I have gained experience, but not only that, I am also more receptive to my chassis and this guides me to find a good set-up. As a driver, I'm more comfortable in the rain than before ... and it was a good thing, because this year we have not been short of it!
What are your hopes for the discipline?
We had some exceptional events, for example the popularity of Assen. Magny-Cours (with the GT-Tour) allowed the production of many images and the feedback was tinged with astonishment on the part of observers, as Superkart is spectacular, but it is underexposed and unknown.