This page contains archived information and may not display perfectly
EMMA GILMOUR AND LISETTE BAKKER WIN THE WOMEN'S CROSS COUNTRY SELECTION
Emma Gilmour and Lisette Bakker have conquered the desert and won a fully-funded drive in the 2016 Sealine Cross Country Rally. And, in a surprise announcement during the press conference, the President of QMMF, Nasser Al-Attiyah, declared that an additional two cars will be entered for the second-placed crew of Molly Taylor/Yasmeen Elmajed and third-placed Cristina Gutierrez Herrero/Lara Vanneste.
New Zealander Emma Gilmour and Lisette Bakker from the Netherlands have been selected as the outright winning driver and co-driver in the joint FIA Women in Motorsport and Qatar Motor and Motorcycle Federation (QMMF) cross country rally selection. The women will now team up as a crew to contest the 2016 Sealine Cross Country Rally (17-22 April), the third round of the FIA World Cup for Cross Country Rallies.
"I'm just overwhelmed, it's been an amazing week and the experience in itself of doing something in which you have no experience, and to be driving around sand dunes, has been amazing," said Emma. "Now to win and to have another go at the dunes, I just feel very privileged and lucky. I also now know I need to be fitter for the rally; having got stuck in the sand today I was very hot and sweated a lot so yes, need to be fitter, and probably if there's an opportunity to do more training, that would be great as there's nothing like experience and mileage."
Adding to her comments, navigator Lisette Bakker said: "I am really surprised, I didn't expect it at all! It will be difficult to do more training because, as we learnt here, you can't learn this from paper, you have to be in the car and you just have to go out there. I thought it would be more difficult to work with a new driver, but it was more easy than I thought and everyone got on great. This is fantastic."
The inaugural FIA Women in Motorsport-QMMF Women's Cross Country Selection was all about finding one female crew to contest the 2016 Sealine Cross Country, but the success of the project has inspired all, and in a revelation during the press conference, Nasser Al-Attiyah announced that QMMF would be funding an additional two cars on the event.
Australia's Molly Taylor and Yasmeen Elmajed, who was a wild card entry from Jordan, were therefore declared second. "I have a real mix of emotions," said Molly. "I feel like when you get nervous at the start of the first stage of a rally and I feel like I've had that level of nerves for five days straight. I'm really really excited, the whole week has been incredible and this is the icing on the cake that we can come back and do it again, it is just fantastic. This evening was a real rollercoaster, which I guess is rallying too, but Emma is a fantastic driver and I knew she was going to be my competition, so congratulations to her and I'm really happy to be able to come back."
Yasmeen, her new navigation, added: "I came into this as the least experienced of the co-drivers and I was the wildcard, but Fabrizia did a great job teaching us and with a little bit of homework and concentration it was good. After the initial disappointment, it was good in the end; everyone deserved it, everyone worked really hard but it was great they took two more cars; really very generous. Fabrizia will now be getting a lot of calls from me! I guess I need to work more on road books but Molly lives to so far away so it won't be easy – lots of Skype calls, but we'll find a way to practice. We learned from the best!"
In the third T2 cross country car, Cristina Gutierrez Herrero from Spain and Lara Vanneste from Belgium will team up, rounding off an impressive three-car line-up of Women in Motorsport/QMMF supported cars in next year's Sealine Cross Country Rally.
Cristina Gutierrez Herrero said: "The week has been amazing, I drive very fast and I learn a lot with Fabrizia and Jutta. I can't believe this, I am very proud of this selection. The additional cars were a real surprise for me and when Nasser said this, I couldn't believe it. When I was chosen, I was very happy for this; I feel very lucky and thank you so much to everyone at QMMF, President Nasser, Fabrizia and Jutta."
Her new co-driver Lara Vanneste added: "I loved it, I just discovered a whole new discipline and I loved every single minute of it. For me this week could have lasted two or three days longer just to learn even more because I wanted to absorb as much information as possible, but I'm so grateful that I can do the Sealine and if this had not been the case I think I would have done everything in my power to just get the experience in cross country. Cristina and I drove together and I just noticed she is really really good driver and I'm lucky to be with her. We just knew about one car, and I wasn't there, and there was a little disappointment, but then there are two cars dded to the programme and they said my name, I couldn't believe and am overwhelmed by joy."
The project, which was the brainchild of Michèle Mouton, Jutta Kleinschmidt and QMMF President Nasser Al-Attiyah, supports and promotes the participation of women in the discipline of cross country rallying. It received 85 applications from 39 countries and, after an initial selection, 18 drivers and co-drivers were chosen to participate in the five-day training and selection process which culminated in the announcement of the winners in Doha this evening (6 November). Under the expert guidance of Kleinschmidt, the first and to date only woman to win the Dakar Rally, and multiple rally and cross country winning co-driver Fabrizia Pons, the women underwent an intense training programme in the desert, covering all areas related to the art of cross country rallying, including driving skills, dune and sand training, navigation, mechanics and tactical awareness.
"Cross country is a very different discipline. It was a steep learning curve for all the participants but it had to be; that's how it is when you're out in the desert on your own," said Kleinschmidt. "Driving in the sand requires real aptitude, and reading and understanding the dunes is a big part of this discipline. I am so proud of this whole experience; it took a while to come together but it has been amazing. Everyone seemed to love the whole experience and learned an enormous amount. I am delighted with the outcome and can't wait to see how everyone will fare on next year's Sealine Cross Country Rally. It won't be easy, but they are determined and talented women who can put a confident foot on the first rung of the cross country ladder. Their adventure begins here and now."
Fabrizia Pons added: "It has been a fantastic experience for me. At the beginning it was quite difficult because the girls didn't have any experience of the desert, any experience of navigation, so we said okay, I don't know what will happen. But the progression they did was absolutely amazing and quick. I am really proud."
Michèle Mouton, President of the FIA Women in Motorsport Commission, added: "This has been an amazing opportunity for these young women and I know I speak for everyone when I say it would not have been possible without the support of President Nasser Al-Attiyah and QMMF. To now have three cars is just overwhelming for us, I cannot believe the generosity. This is the first global project the FIA Women in Motorsport Commission has embarked on and we have been delighted by how our ASNs embraced it; I really hope this is the start of something much more with QMMF for the future. They are all worthy winners but I must congratulate all the candidates as each and every one of them has demonstrated talent. Hopefully they will all inspire other women to get up and have a go at something different. The easy part is now over; their preparations for the event must be perfect and their approach to the rally measured and realistic. We are here to support them, but the controls are now in their hands as they embark on a new and exciting path in their motor sport careers."
Summing up, Al-Attiyah said: "It has been a pleasure and an honour for us to host this women's cross country rally selection process. The desert training will have given the candidates a great flavour for this discipline and we are delighted to be fielding three cars on our Sealine Cross Country Rally. Overall, I also hope we have encouraged more women to look at cross country and therefore that the sport as a whole is also a winner. Everyone at QMMF wishes the girls much success as they embark on this new adventure and we will be following their progress with great interest."
The drivers and co-drivers who took part in the 2015 FIA Women in Motorsport-Qatar Motor and Motorcycle Federation Women's Cross Country Selection were:
Drivers: Charlotte Berton (France), Jonna Lisa Eson Bradhe (Sweden), Emma Gilmour (New Zealand), Cristina Gutiérrez Herrero (Spain), Klaudia Podkalicka (Poland), Melanie Schulz (Germany), Yara Shalaby (Egypt), Molly Taylor (Australia), Sara Williams (Great Britain).
Co-drivers: Lisette Bakker (Netherlands), Tania Cardoso Sequeira (Portugal), Yasmeen Elmajed (Jordan), Veronica Engan (Norway), Rhianon Gelsomino (Australia), Sandra Labuscagne (South Africa), Jasmeen Singh Bhandhair (Zambia), Natalie Solbach-Schmidt (Germany), Lara Vanneste (Belgium).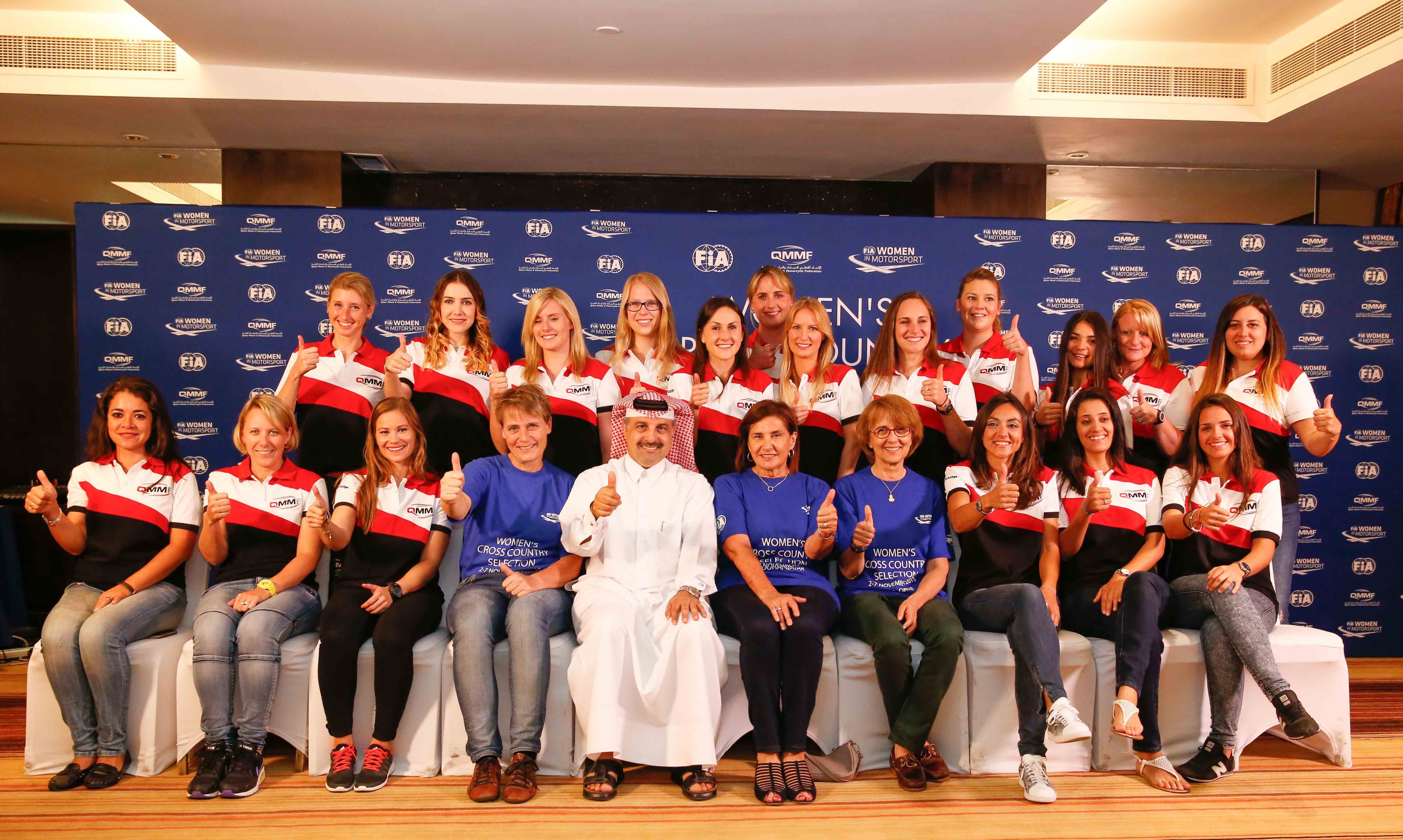 Media links:
To watch the VNR about the WIMC-QMMF Women's Cross Country Selection click here.