This page contains archived information and may not display perfectly
Electrifying Accessibility – Scrutineering at the Mexico City E-Prix
A passion for motor sport sees OMDAI Scrutineer Andres Segui Garza overcome many challenges, but there is still more work to be done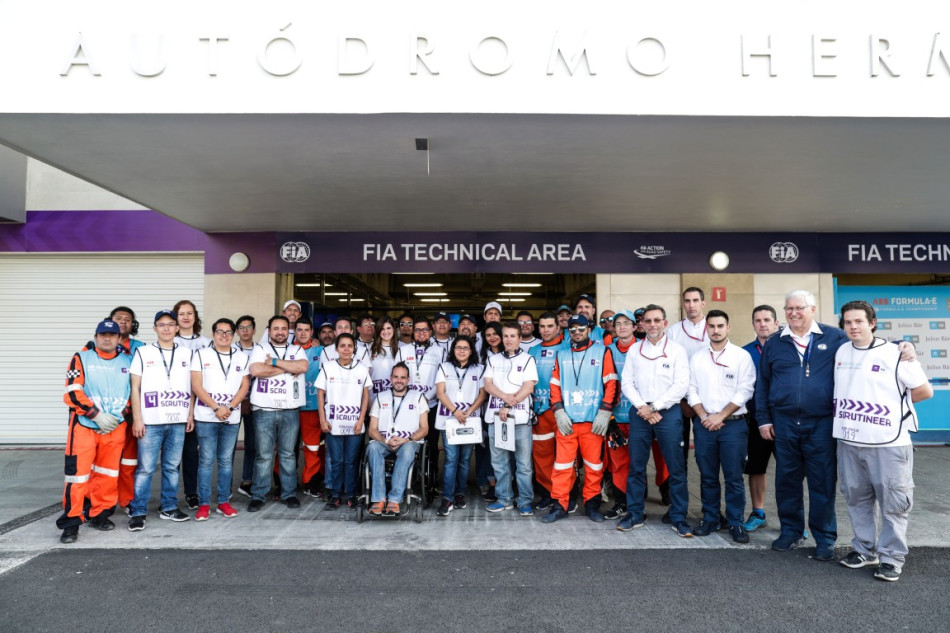 Over the past year, the creation of the FIA Disability and Accessibility Commission has meant that, for the first time, there is a dedicated governance group focused on enabling greater participation by disabled people in motor sport.
Under the presidency of Nathalie McGloin, the Commission is mapping out the regulatory structure that will require a greater level of accessibility and inclusivity at motor sport events around the world. The focus, however, is not just on the competitors, but crucially the fans and volunteers that make motor sport possible in the first place.
One inspirational example of a disabled person pursuing their motor sport passion could be found at last weekend's Mexico City E-Prix, round four of the 2018/19 ABB FIA Formula E Championship season. Andres Segui Garza was one of the senior scrutineers for the event and could be seen working in the pit lane throughout the event.
 "Here at Formula E I am a scrutineer, assisting the chief scrutineer at the track," he explained. "Most of my role is to help coordination of the whole scrutineering team, I need to supervise that they are where they need to be at the time they need to be there! I am the right hand man of the chief scrutineer."
As with any motor sport volunteer, the key ingredient is passion for racing, and Andres is no stranger to top level competition. He continued, "I have also worked in Formula 1 and the World Endurance Championship. I'm a big fan of racing, and this is a way that I can contribute."
While top-level motor sport facilities generally do offer a degree of accessibility to disabled fans and volunteers, it is clear that there is still a great deal of work to do.
Andres explained his experiences in Mexico City, adding, "This venue is quite difficult to be accessible, the ramps are not the best, but I've learned to manage. I like to think that Mexico City is very inclusive, but it's still hard for me to get around, and we have a lot of work still to do.
"For me, what will make the biggest difference is creating accessible venues. I am very lucky in that I have some facilities and options that allow me to come to the races and work, but I have a lot of friends who are in wheelchairs that would like to be here as fans, but they simply can't. I think it's just as important to increase accessibility for fans as it is for those of us who are working – the more fans there are the more people will want to come and help make these events happen!"
It is a sentiment that is supported by Commission President McGloin. "Seeing the work of people like Andres in Mexico City really sets a great example for disabled people who would like to get involved in motor sport," she said. "He raises issues which we are starting to tackle as quickly as we can – it's the goal of the Commission to allow more people like Andres to take part in the sport we all love, as well as to make competing at all levels more accessible to people with disabilities."