Cross-Country in Qatar with the QMMF
FIA.com speaks to Nasser Khalifa Al Atya and Nasser Saleh Al-Attiyah ahead of the Sealine Cross-Country Rally, the third round of the 2013 FIA World Cup for Cross-Country Rallies and round two of the FIM Cross-Country Rallies World Championship.
Next week sees Qatar play host to the second outing of the Sealine Cross Country Rally, a flagship event for the MENA region run by QMMF President Nasser Khalifa Al Atya. Taking part in the rally – behind the wheel of his Dakar Buggy – is the multi-talented Qatari sportsman Nasser Saleh Al-Attiyah.
"Last year we did a great effort to run this event for the first time and I think that we met all the expectations," Al Atya said. "This year there are some changes to make the event better: the first three legs will run more than 400 kilometres and we will not repeat any stage as we did last year. We will use new tracks and there will be more off-road sections and trickier navigation. The Rally Headquarters, Race Control and all media facilities will be situated at the bivouac, and not at the Sealine Beach Resort, so everything will be concentrated in one single location."
The Qatar Motor and Motor Cycle Federation has spent years working towards FIA World Cup status for their event, one of the body's many initiatives designed with a view to making Qatar a central point on the world motor sport map.
"The QMMF, founded in 1987, is focused on developing all types of motor sport in Qatar," Al Atya explained. "Our aim is to promote motor sport in the country, and we are organising all kind of events and championships always in accordance with the International Sporting Code and instructions and rules from the FIA and FIM.
"In 2003, 2004 and 2005, the Qatar International Baja was organised by QMMF and in November 2011 the Qatar International Baja was a candidate for the Championship of Cross Countries. We received a very positive report from the FIA, so from that moment we knew that we could organise this World Cup event. This year will be our second year hosting this event."
Increasing Qatar's profile on the global motor sport stage relies not only on support from the local government, but also on having a star driver for the locals to support. That role is filled by rally star and team owner Nasser Saleh Al-Attiyah, an eight-time FIA Middle East Rally Champion, competitor in the FIA World Rally Championship and former Champion in the FIA World Cup for Cross Country Rallies.
"The support from the Qatar government gives me a chance to try everything," Al-Attiyah said. "There is also a reason I do cross country and this is because I wanted to win Dakar. The support from Qatar is a big thing for me and puts me at the level I am at. Winning Dakar in 2011 means a lot, not only for me but it's for my country too, to put Qatar on the world map. This was the target. Without the support of Qatar, maybe I cannot win or even be in the Dakar.
"Competing in Qatar means a lot: it's home and there is a lot of support from my people here," Al-Attiyah added. "And it's very nice to win at home. I have won the Qatar International Rally 10 times and this is a really nice thing and a record for a Qatari driver."
Al-Attiyah has taken the unusual step of developing his own vehicle for cross country events, the Buggy Dakar he will be piloting in the Sealine event.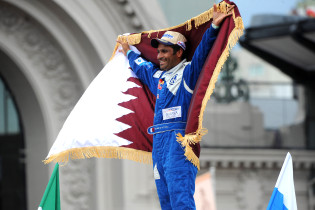 "I developed my own buggy for cross country rallying because when the Volkswagen team stopped I wanted to continue to compete in Dakar," Al-Attiyah explained. "This is why I built a new team and a new car; it was a new challenge to make a strong team for Dakar and to win again. We got the new car last August and I was happy because we did a lot of development work with Carlos Sainz. He was my Dakar team-mate in 2013 and will continue next year and the goal is for one of us to win. Carlos is a great guy and works very hard, so I am happy to have him in the team because he pushed everyone to the limit."
The cooperative skills both Al-Attiyah and Al Atya learned in their motor sport careers have translated well into event coordination and team management, with the QMMF President working with numerous international bodies to promote Qatari motor sport while also working hard on FIA campaigns in his role of President of the FIA's Cross Country Rally Commission.
"As QMMF President one of my aims is to promote FIA and FIM worldwide, working to develop a better motor sport and increasing the television coverage," Al Atya explained. "For the QMMF it is also important to draw attention to the education of the young generation with a better knowledge of safety issues in motor sport. It is highly important to give confidence to all the continents to grow together for a better vision and achieve good results providing chances to all generations.
"Within the FIA my role is to help co-ordinate and direct all the different aspects of the Commission. There are many interested parties who must be consulted and listened to; the manufacturers, private teams, drivers, organisers, promoters… The Commission is there to help develop the sport to ensure that all the participants are involved and that rule changes are made with due consideration to all and introduced in an appropriate manner to provide safe and exciting racing."
Al-Attiyah is looking forward to the day when he too will be able to apply his hard-won skills to the promotion of Qatari motor sport worldwide.
"Running my own team is difficult for me because sometimes I am worried for the other driver, and I worry about the team too," Al-Attiyah said. "But I have to clear my mind and say 'no, I am the driver, we have my people working with the team and I must be only the driver'. But I am so happy to own the team and one day when I stop driving I will carry on as the manager of the team and help develop motor sport in Qatar and young people for cross country and the WRC."