Chukanov takes championship lead and Baiz wins for Venezuela
After the first days racing in Imola the fights in both championships were shaken up after two action packed Ferrari Challenge Europe races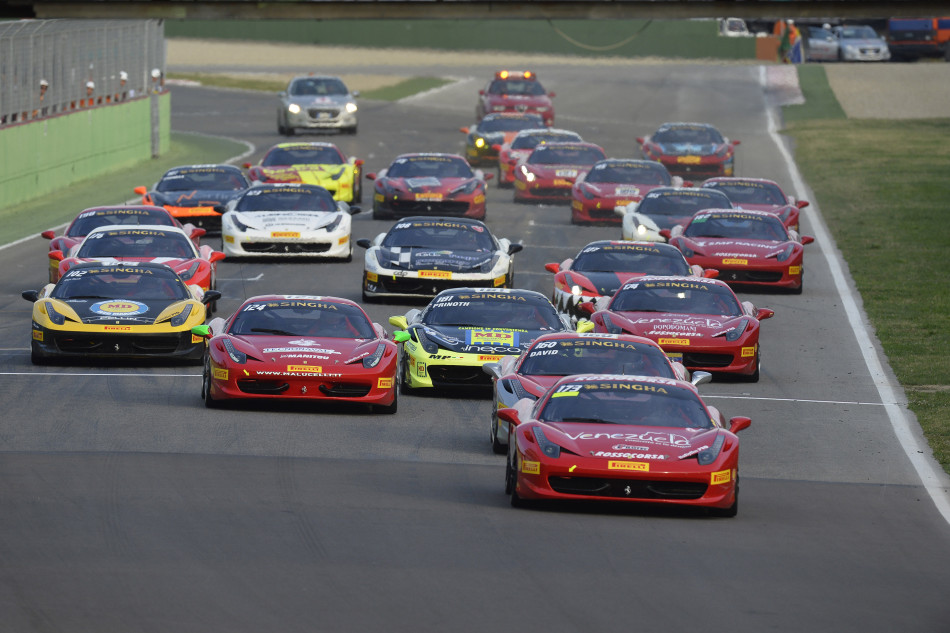 The drama began even before the start of the first Trofeo Pirelli race in as British Driver Alex Martin lost a wheel and was forced to limp back to the pits. With Ukrainian title contender Sergey Chukanov starting in Pole position and championship leader Daniel Mancinelli at the back of the grid, the race was always going to be a struggle for the young Italian.
Chukanov pulled away into a comfortable lead which he never relinquished, his title rival was not having such an easy time at the back of the grid. Mancinelli was trying to pass an equally determined Philipp Baron who in his turn was looking for a way past Dario Caso. As the trio traded paint there was more bad luck for Martin who lost a tire due to a cracked rim. The dark hand of fate was soon to touch Baron too, a cracked ECU terminating his race.
The bad luck didn't stop there, Caso suddenly slowed with a gear box problem leaving Mancinelli to close on Giacomo Stratta. With just over two minutes of the race remaining second place man Raffaele Giannoni slowed with a misfire and low fuel pressure costing him a podium finish and promoting Scuderia Praha boss Robert Pergl to second position and Stratta to third. Luck was clearly not on Mancinelli's side in this race with under two minutes of the race left he suffered a left rear puncture at the final corner which he did well to control. After a new wheel he finally finished fifth behind Renato Di Amato.
This dramatic race throws Chukanov into the lead of the championship with 146 points and Mancinelli on 132. The pair resume the battle tomorrow at 10:50 when Chukanov starts fourth and Mancinelli sixth.
With Championship leader Dirk Adamski recovering from major surgery, it was vital that David Gostner had a good race to keep his Coppa Shell title hopes alive. Fernando Baiz lead the field away but Eric Prinoth was a little too eager clipping the back of Giosuè Rizzuto who allowed Gostner to slip through to second place. Fons Scheltema was showing the full force of his sharks tooth liveried Ferrari Challenge car taking on Eric Cheung – he kept up this spirited pursuit until he ran wide, span and leaving debris on the track eventually retired to the pits.
Rizzuto and Gostner continued to battle over second place with the pair both pulling off excellent avoidance maneuvers to keep the cars on track. With nine minutes of the race left Gostner went off at the chicane allowing Rizzuto to take a hard fought second place.
Sossio Del Prete almost caused a premature end to the race when his car, that had been leaking fluids since the a front end accident, chose the start finish straight to catch fire on the penultimate lap. Thanks to the swift action of the marshals the race was able to run its full course and a delighted Baiz took the flag.
"I am so happy for this race, I love Imola," Baiz explained on the podium. "I have raced here three times so I feel so happy to win. Now I want to go back to Venezuela and show everyone my trophy and to show how great my country is."
After this evenings race Dirk Adamski still holds the lead in the championship with 153 points but Gostner closes in with 134. The Coppa Shell class will race again in Imola tomorrow at 14:10.