Button wins, Vettel is World Champion
Jenson Button emerged from the gloom to take a shining victory at Interlagos while behind him raged a battle royal for the F1 Drivers' World Championship.
In a dramatic, rain-affected Brazilian Grand Prix, Button took the lead from McLaren team-mate Lewis Hamilton on lap six after both made a clean start – but Button's route to victory was far from straightforward, though the trial-by-water of the leaders was not the main attraction. Further back in the field Sebastian Vettel emerged from calamity to win his third consecutive Formula One Drivers' World Championship.
Vettel finished sixth, more than sufficient to maintain his lead over Fernando Alonso in the title race. Alonso didn't give up but in the end could only finish second to Button – with a little help from Felipe Massa, who took third in the other Ferrari.
"I was crying in the car but my radio wasn't working, so I'm maybe happy for that! Tomorrow I can probably say more, but now I just don't have the right words."
Sebastian Vettel
Going into the race, Vettel's numerical advantage was 13 points. He also had a positional advantage, starting from fourth alongside team-mate Mark Webber, behind the front-row McLaren pair. Alonso, by contrast was starting from seventh. Those positions did not last as far as the first corner.
The start took place in light drizzle: not enough to call for intermediate tyres but sufficient to make Interlagos incredibly difficult. It didn't seem to hamper Alonso who surged forward at the start to challenge the McLarens. Vettel lost out initially and by Turn Four was back in the pack, where he was hit hard by Bruno Senna's Williams. Vettel was pitched into a spin and ended up facing the wrong way as the field went around him. He spun back and resumed his race dead last and with heavy damage to his left-hand sidepod. The slippery conditions worked in his favour, however. With cars lapping around seven seconds slower than would be expected on a fully dry long stint, the championship leader cut through the field and was up to sixth by lap eight, back in touch with Alonso who was running fourth.
To have any chance to taking his third title the Spaniard needed to finish on the podium. Having taken third at the start he was muscled out by Force India's Nico Hülkenberg, who seemed to have the car and the talent for the tricky conditions. As the weather worsened and everyone else dived for the pits and intermediates, he and Button elected to press on with the dry tyres. As a dry line began to appear their advantage stretched to over 40 seconds as they had their own private race at the front. On lap 18 Hülkenberg pounced, taking the lead.
Their advantage was to be cut dramatically, however. An accumulation of shattered carbon-fibre on the circuit saw the safety car deployed, though not before Nico Rosberg had picked up a puncture. The leaders took the opportunity to pit for fresh tyres but their advantage was gone. Once racing resumed on lap 30 the order was Hülkenberg, Button, Hamilton, Alonso, Vettel, Kobayashi, Vettel.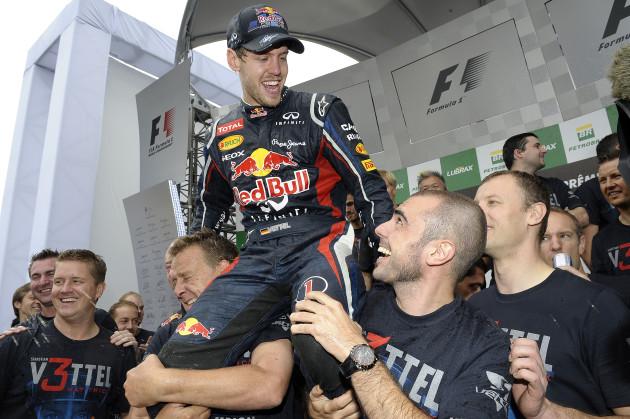 Button lost second place to Hamilton, and Vettel was passed by Kobayashi for sixth. Hülkenberg was able to pull out a small gap but was then remorselessly hunted down by Hamilton. The departing McLaren driver took the lead on lap 48 when Hülkenberg slid wide in conditions that were becoming slippery again as more rain fell.
The German did not lose touch and stayed on Hamilton's tail. He attempted to take the position back at the start of lap 55, but in between backmarkers he ran out of space, braked too late and slammed into the side of Hamilton. The 2008 Champion's final race for McLaren would end there. Hülkenberg was passed by Button but continued. He would, however, receive a drive-through penalty for causing the accident and emerged in fifth where he stayed until the end.
The crash was concurrent with a slew of pitstops, with the field going back onto Inters for the final stint as the rain became heavier. Once the stops shook out, the impact of Hamilton's exit and Hülkenberg's demotion changed the complexion of both the title fight and the Brazilian Grand Prix.
"I feel very proud of my team, very proud of the season we did."
Fernando Alonso
Button led but was now trailed by an early-stopping Felipe Massa. Alonso was third, followed by Webber, Hülkenberg, Michael Schumacher and Vettel. When Alonso was promoted to second through the acquiescence of Massa, Vettel's position was precarious: on the road he was now leading the championship by a single point.
That wasn't enough of a cushion for the Red Bull driver and he pushed on to pass Schumacher and take a more comfortable margin. As the rain increased the positions were static but the tension was palpable. It was the unlikely figure of Paul di Resta who broke it. Running ninth with two laps remaining, the Scot slid wide while climbing the hill and came to rest on the track at Arquibancadas. The race finished under the safety car.
Button was victorious with Alonso second and Massa third. Webber finished an eventful race in fourth, Hülkenberg was a disconsolate fifth, Vettel ecstatic in sixth. Schumacher finished his career with seventh, ahead of Toro Rosso's Jean-Eric Vergne and Kobayashi. Kimi Räikkönen took the final point of 2012 – he is the only driver to finish every race this year, and finishes third in the Drivers' Championship courtesy of scoring in every race but one.
"It's difficult to imagine what goes through my head now, I am so full of adrenalin," said a drained Vettel, now a three times World Champion. "I was crying in the car but my radio wasn't working, so I'm maybe happy for that! Tomorrow I can probably say more, but now I just don't have the right words."
"It was a great way to finish the year."
Jenson Button
A philosophical Alonso meanwhile admitted his hunt for a third title had not been lost on a wet Interlagos afternoon but in other incidents. "I feel very proud of my team, very proud of the season we did," he said on the podium. "Obviously we lost the championship now, but I don't think that we lost here in Brazil: we lost in some races where we were a little bit unlucky. But this is a sport, but when you do something with your heart, when you do something with 100 per cent, you have to be proud of your team, happy for them, and we will try next year."
Button was fulsome in his praise to the title challengers and his team, both on the podium and in the subsequent press conference – but he'd said the most pertinent thing over the radio on his victory lap. "It was a great way to finish the year." He was speaking to his pitwall, but the sentiment was shared by most here at Interlagos.