Breaking the barriers of safety
The FIA's AUTO magazine talks to Charlie Whiting and Jo Bauer about the history of FIA crash test development.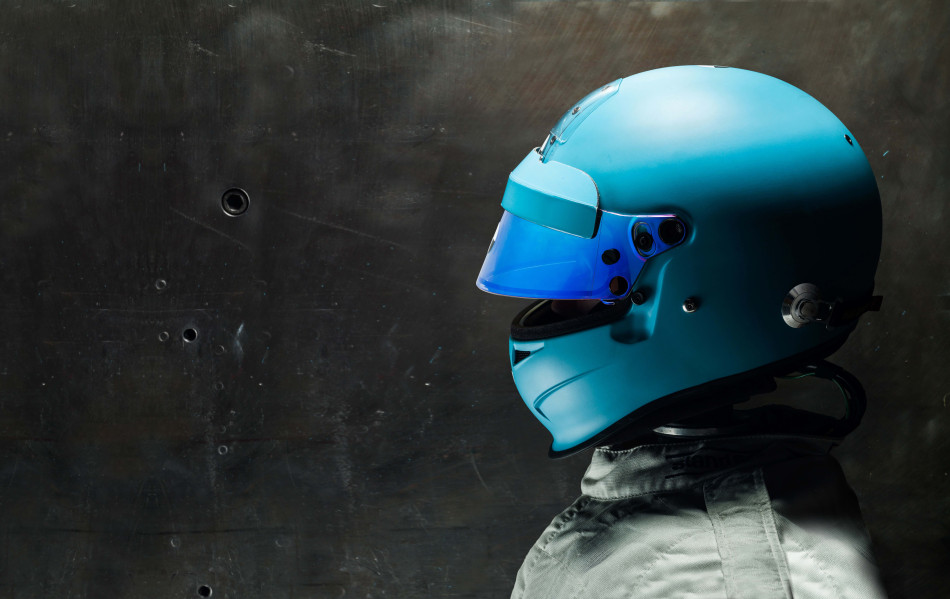 In the two decades since Formula One's approach to safety was dramatically overhauled in the wake of the 1994 death of Ayrton Senna, the FIA's crash tests for F1 cars have become more and more stringent, with regulations often changing as a direct result of on-track incidents.
"The first [crash test] was introduced in 1985, a pretty simple frontal impact test," says FIA race director Charlie Whiting. "In those days you just had to provide a nose and a little bit of the chassis and then around 1998 it progressed to using a complete chassis. And at the same time we introduced the first static load tests, what are colloquially called 'squeeze tests'. Then later on we brought in the roll-hoop tests and side and rear impact structure tests."
"Currently we have eight static tests on the chassis and three push-off tests on the impact structure: front, side and rear," explains Jo Bauer, the FIA's technical delegate at races and an observer at crash tests. "We also have two front impact tests, one side and one rear, and a steering column impact test. There are also side penetration tests, so the teams supply a test panel and the chassis must be built with this construction.
"The tests have become much tougher over the past 15 years," he adds. "After the rear impact tests the next step was the introduction of the side intrusion panel, which came about following a bad accident involving Mario Haberfeld in an F3000 race in Barcelona in 2000."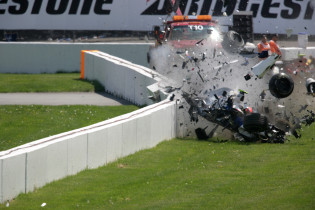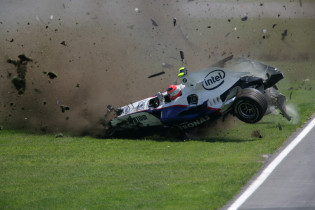 Whiting says that a later accident, at Austria's A1 Ring, was revealing. "At the Austrian Grand Prix in 2002, Takuma Sato was involved in a quite spectacular accident in which the rear impact structure of Nick Heidfeld's Sauber hit the side of Sato's Jordan," he recalls.
"As a result we did a lot of research into penetration resistance. So-called 'T-bone' accidents are a very real possibility, so you have to make sure that the side of the chassis is compatible with the thing that's likely to hit it. We did a lot of testing on that and came up with different tests to cover that and different chassis constructions to make sure they were compatible with that."
Further changes were made following other on-track incidents. Cockpit rim heights were raised and load tests applied after a 2007 accident in which David Coulthard's Red Bull became airborne and skittered across the front of Alex Wurz's cockpit in Melbourne, narrowly missing the Austrian.
In 2009 Timo Glock had a massive impact in qualifying for the Japanese Grand Prix. The crash resulted in the front wing being pushed back through the chassis and injuring the German's driver's leg badly enough for him to miss the final two races of the season.
"We introduced another floor deflection test after that – not just under the fuel tank but also the driver," says Bauer.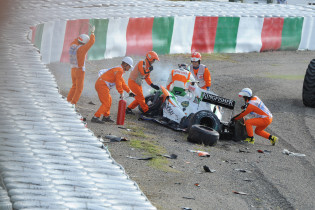 The FIA's crash tests are in a constant state of evolution, and research into new safety measures is on-going. The latest to be investigated are accidents in which cars are impacted at oblique angles beyond the 90 degrees the tests currently inflict.
"Our own research is conducted for us by the FIA Institute and currently they're looking at some oblique side impact scenarios," says Whiting. "The reference for that was Robert Kubica's huge accident in 2007 in Canada.
"In Montreal, Robert hit the wall at something approaching a 30-degree angle, and while there isn't much evidence that there was any great compromise, if we can make everything function that little bit better then it will be a step forward. Sometimes all it takes is being aware that a particular outcome is possible, which was the case there, and that provokes a response. That test will be introduced for 2014."
For both Whiting and Bauer, Kubica's explosive accident after losing control on the run down to the hairpin at Montreal's Circuit Gilles Villeneuve remains the benchmark for why the FIA's crash-testing continues to be a worthwhile endeavour.
"Kubica's crash really showed that it is absolutely worth going through this whole process, doing all this testing," says Bauer. "It was a massive accident and for sure I believe the changes to crash testing over the past two decades absolutely saved his life that day."
Whiting agrees and adds that while the tests grow tougher with each passing year it is the FIA's role to pursue driver safety rigorously.
"The developments we've seen over the last 15 years have without doubt prevented quite a lot of injury," Whiting insists. "Certainly when you look at the roll-hoop tests, in Robert Kubica's accident that element was subject to a huge impact and yet retained its integrity. Yes, the tests are quite stringent and I'm sure quite a lot of engineers at teams have sleepless nights. But the bottom line is that these tests are not done to frustrate them. If we didn't do them we'd undoubtedly see more injuries and more compromised racing cars.
"It is the job of Formula One teams to make their cars go as fast as possible, and it is our job to make sure that at the speeds they go the cars and the drivers are as safe as we can possibly make them."
Discover the AUTO magazine by clicking here.