AUTO #19 now available!
AUTO has a new look as of today, both in terms of its format and its design. Our aim was to make it bigger and easier to read.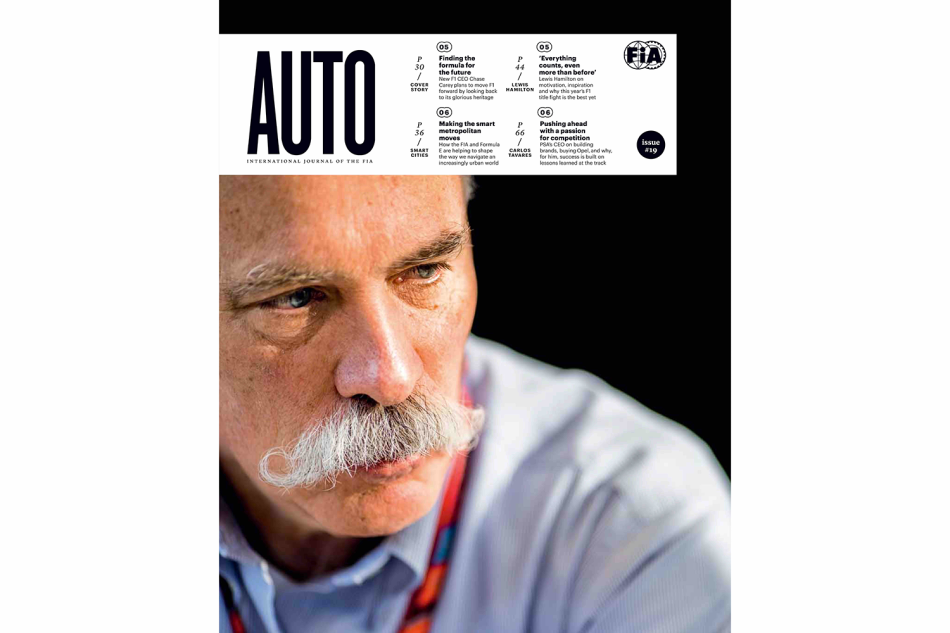 Click here to read AUTO #19 online!
Dear reader,
2017 is proving to be a year of great change in our world. Formula 1, the pinnacle of motor sport, is tackling a particularly important season, with a new group in charge as commercial rights holder and with new cars that, so far this season, have delivered some very exciting racing. AUTO features exclusive interviews with two people who reflect this change: Formula 1 President and CEO Chase Carey and the driver who more than any other has made his mark on the sport in recent years, Lewis Hamilton. 
Our series of exclusives with the key players in the automotive world continues in this issue, with an interview with the Chairman of the Managing Board of the PSA Group, recently involved in the important acquisition of the Opel marque. 2017 has seen the launch of the first advertising campaign aimed at improving road safety, produced by the FIA along with JCDecaux. Starting in this issue, you can see the photos of actual campaign billboards in some of the best known places in major cities around the world, as well as interviews with each one of our ambassadors: in this issue we feature the Olympic sprinter Yohan Blake. 
Formula E returned to the streets of Paris this year, just a few hundred metres from our headquarters. The event took place in the shadow of the monuments that make up Les Invalides and also marked the European debut of a new project that brings together sport and mobility, FIA Smart Cities, which you can learn all about in the pages of this magazine. With the launch of F2, the path outlined by the Federation to guide young drivers as they progress towards the top in motorsport, is now complete. To learn more about the various routes that exist, AUTO met some of the people that make it happen behind the scenes; managers, talent scouts and those who head up academies, more often than not these days, set up by Formula 1 teams. 
In the regular heritage section, we present two protagonists that have played a part in the history of sport on four wheels: four times world rally champion Tommi Makinen and the Renault Alpine A110. 
These and many other interesting features can be found in this issue. However, you will have no doubt already spotted a change to the magazine. As we had previously announced, AUTO has a new look as of today, both in terms of its format and its design. Our aim was to make it bigger and easier to read. I hope you like it and you are more than welcome to send in your ideas and suggestions!
Enjoy the read,
Jean Todt