Auto #18 now available!
2017 is a particularly important year for both pillars on which our Federation is based, namely motor sport and mobility.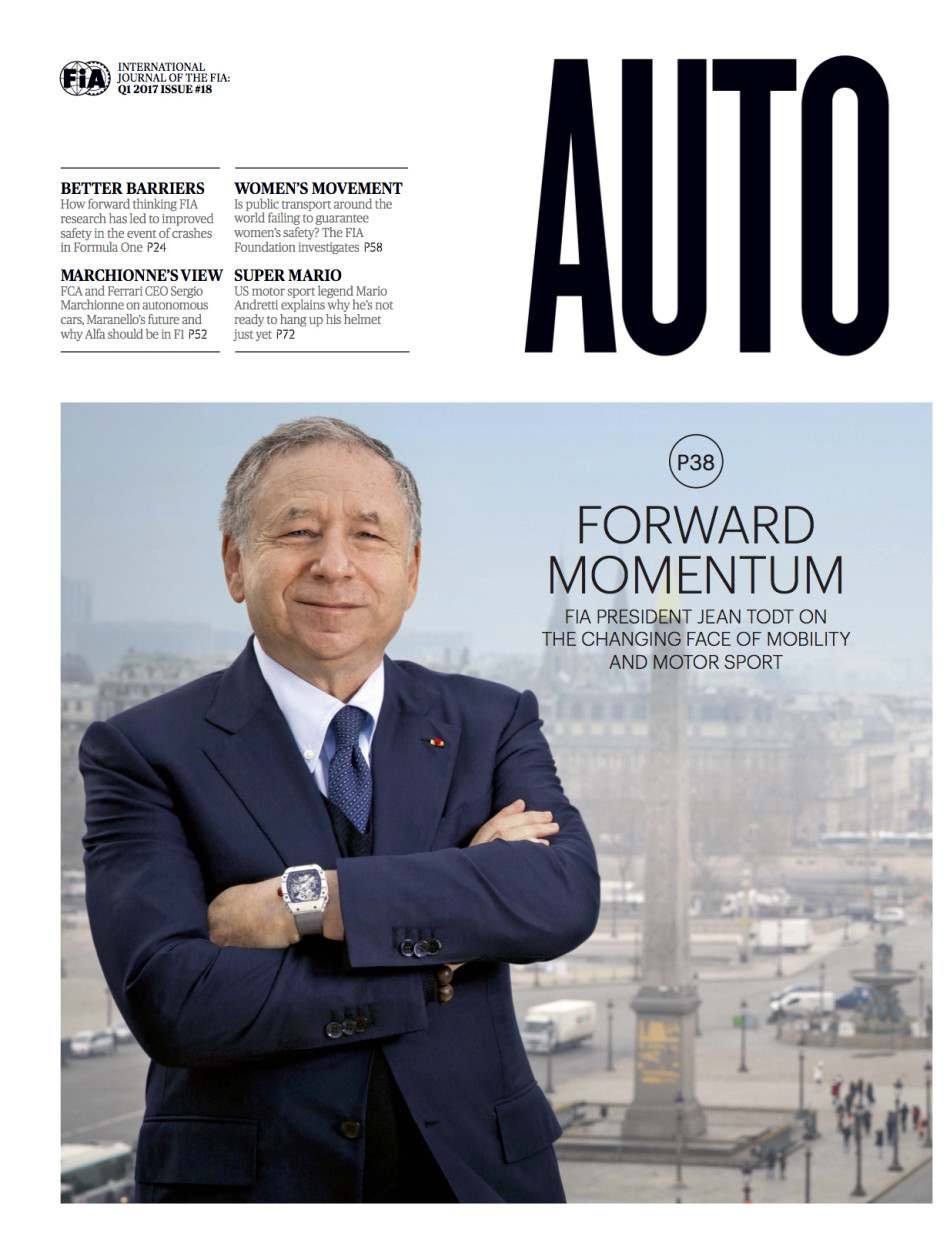 In the case of the former, among other things there are significant changes to the regulations in two of the most popular championships, Formula 1 and the World Rally Championship. As for the latter, on the 10th March, a major global advertising campaign is launched to promote road safety, created in conjunction with JCDecaux. AUTO looks at all these topics and many others in an exclusive interview with our President Jean Todt. On the subject of exclusive content, this issue sees the launch of a series of interviews with people who play a preeminent role in the automotive world or have strong ties to it: in this issue we talk with the CEO of FCA and President and CEO of Ferrari, Sergio Marchionne, as well as Prince Albert of Monaco.
Many other topics are tackled in this issue 18, starting with a report on how a Formula 1 team, in this case Force India, has prepared during what is now a rather short winter break, for the challenges thrown up by the new regulations introduced for this the top level of motorsport. We also look at the difficulties facing talented youngsters from South America as they strive to shine as their predecessors did not so long ago.
Looking to the future, we single out the ten most intriguing new developments from the recent CES in Las Vegas, an event which is becoming increasingly important for those who want to know what the future holds for all things four-wheeled. While it's fascinating to think about mobility in the near future, we must not forget present-day problems, such as those that affect half the population of the world, namely women, in situations where they have to use public transport.
In our usual retrospective feature, we met Mario Andretti, to date one of only two American drivers to win the Formula 1 World Championship. His surname has graced the motor sport record books for three generations now. In the year when the Ferrari marque turns 70, we have also taken a look at one of its race cars that made a little piece of history: the F1-2000, which Michael Schumacher drove to bring the Drivers' crown back to Maranello after an absence of 21 years.
These and other articles make AUTO an unmissable read and, as always, this edition includes the latest news, features, interviews and photography from motor sport and motoring across the world.
Each issue of AUTO is sent free-of-charge to selected high-level individuals in the motoring and motor sport industries.
Click here to read AUTO #18 online!
Enjoy the read!