From Auto #18: Moving with the times
As he enters his eighth year at the helm of the FIA, President Jean Todt reflects on his enduring passion for the automobile and looks ahead at the next decade for motor sport and for mobility; a decade that is likely to see great change.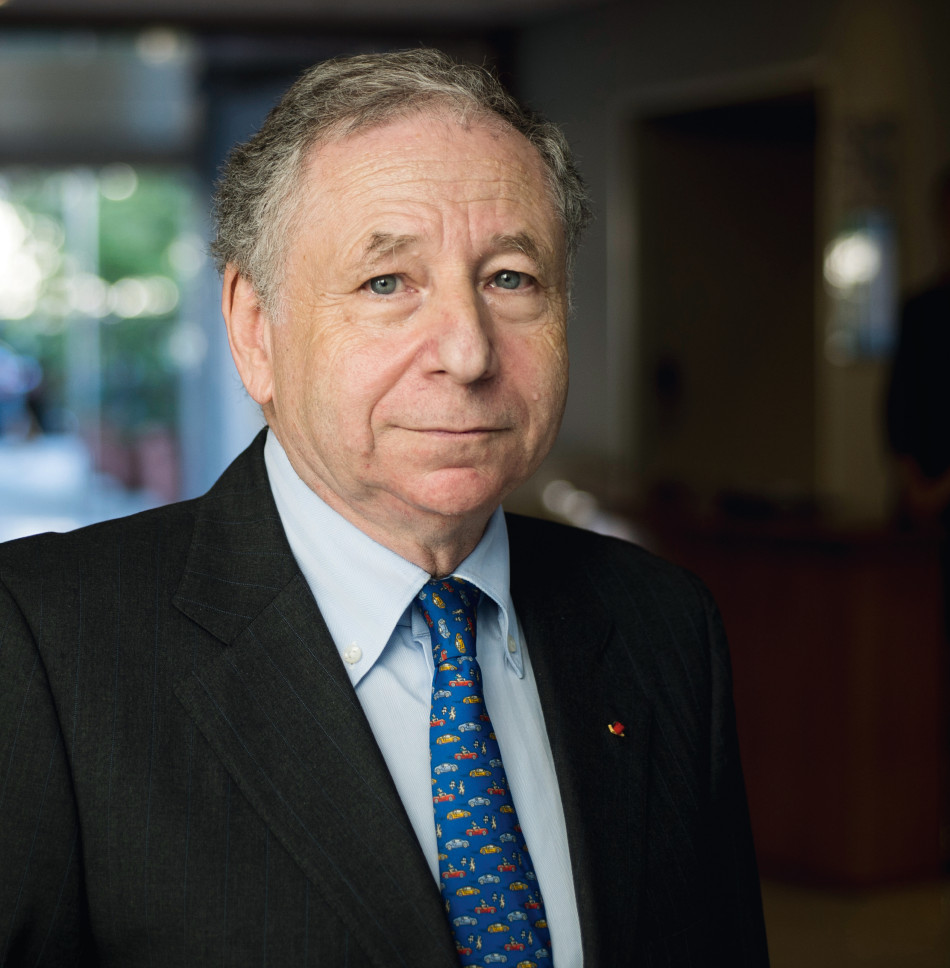 Click here to read the full Auto #18 magazine.
There are many dossiers passing across the desk of Jean Todt, each attracting commitment, energy and foresight across the two pillars of the Federation Internationale l'Automobile. In motor sport, there is a new commercial rights holder in Formula One after 40 years under the control of Bernie Ecclestone. There are radical new regulations for both F1 and the FIA World Rally Championship, aimed at improving the show in each. There's the near-complete mission to consolidate the single-seater pathway and growing grassroots motor sport around the world. In mobility, the crusade to reduce road deaths goes on and there are fresh challenges: assimilating new technologies such as autonomous cars and new cultures such as car sharing that look set to disrupt many an automotive business model.
The FIA President is keenly aware that the automotive landscape on road and track is changing rapidly, but feels that the FIA is taking the right steps to navigate the new pathways opening up.
A NEW ERA IN F1
He begins with the change of ownership of F1's commercial rights, confirmed in January. The sale involved Liberty Media coming in, with 20th Century Fox vice-chairman Chase Carey replacing Ecclestone as part of a three-man management team that also features Todt's former Ferrari colleague Ross Brawn as managing director on the sporting side.
"I think they made a good choice about the buyer," says Todt.
"It's professional, well structured, they have access and their people are leaders in new technologies, new communications. I think they made a good choice.
"Those people have decided on a new management team and all that has been done respecting the existing agreements. A lot of things will be dealt with by my successor and that's why I try to do my best to give a good heritage. I need to do the best out of it and sometimes I have to protect it, try to improve it and that's how it happens mainly in Formula One where there is such a long commercial agreement that has been signed and is in place.
"So it has changed. Now, the next step – the new owner of Formula One decides to create a team that is, in a way, a kind of more formal organisation. "
And what of the departure of Ecclestone, who has dominated the pinnacle of motor sport for almost 40 years?
"I hope Bernie can enjoy his life, he has so many things he can enjoy and I think he should be happy to see his baby – because you can say it is the baby he has developed, although it was run before him – in good hands." Ecclestone's departure from the day-to-day scene – though the 86-year-old has been offered an honorary role – means that there are very few of the big characters left from Todt's peer group in Formula One; Luca di Montezemolo, Ron Dennis, Max Mosley and others have all left their day-to-day roles in the sport. So what does it feel like to be last man standing?
"You still have people who are there; you have Niki Lauda, you have Jackie Stewart," he replies. "I am proud to have been able to compete for 50 years in motor racing in different categories, with some good achievements along the way. I would say that the most difficult period to assess is the most recent one, because when you are a competitor you are first, second, 10th, retired, good or bad.
"At the FIA it is very difficult to assess the job you do. It is much less rational, but that happens in a lot of activities. That's probably the good thing about racing, because you see the result. Here, you have fights or competitions, but they are judged in a different way." Ecclestone and di Montezemolo were two huge figures in Todt's career. So does it feel strange today that neither are still active in the sport?
"Remaining humble, I think in a way they were essential for me and I was essential for them," says Todt. "Mainly for diMontezemolo. I think he probably took the risk of hiring me but I do think he got something back. Life has to be a good balance.
"And the same with Bernie – he needed Ferrari, it is the biggest name in motor racing, so you need to have a strong Ferrari to create interest. And Bernie was nice enough to believe in me and I think I have demonstrated that I did not disappoint him."
STEERING A NEW COURSE
While Liberty is expected to make changes to the promotion of Formula One, a new direction has already been defined for the sport with a radical new set of regulations – approved at the start of last year – coming into force for the 2017 season. The regulations are aimed at developing more aggressive-looking, quicker cars in a bid to increase the sport's appeal.
A similar strategy has already been unveiled in the WRC, where new, more aggressive-looking machines took to the stages in the opening round at Monte Carlo in January. For Todt, whose career started as a rally co-driver in 1966, it's a pleasing development as he felt rally cars had lost some charisma.
"I want them to dream like they did when they saw the Group B cars," he told AUTO last year. Expanding on that theme, he adds: "We wanted rallying to create more fascination; over the years it has changed. You will not think now about going to East Africa in Kenya to do a rally on open roads – it cannot happen; can never happen again. That's why you see the evolution.
"So it means there has been a modification of the format and a modification of the cars. This 2017 car is a kind of compromise, a modern car, with modern racing, but still with more fascination. Saying that, we have to be very careful about introducing a car that will perform better, but not increase the risk. It's always about trying to find the right balance.
"It's unfortunate that Volkswagen decided to leave the championship, but Toyota have joined – successfully – you have Ford with a new car and investing more, giving a seat to the world champion [Sébastien Ogier], you have Hyundai who have been learning and progressing and Citroën returning."
Moving on to Formula One, the new cars have significantly increased downforce, wider tyres and are expected to be between three and five seconds a lap faster than the 2016 models.
This should increase interest too, although some insiders are concerned that the wider cars with higher downforce will find it hard to follow each other closely and to overtake at some venues.
"At the moment we only have expectations," says Todt. "Until we see a race we will not know. In fact, it will probably not be clear until after three or four races. Then we will be able to understand the situation better. What we know at the moment is that the cars will be more aggressive, more spectacular – at least to see on the track. Having wider cars and more downforce means they will go quicker in the corners. But does it mean it will be a better show? It remains to be seen.
"I think entertainment has always been a priority," he adds.
"What has changed is the way to entertain. But not only in sport, our lives are more or less the same… it has been a revolution.
Probably in motor sport we did not adapt enough the evolution to this revolution."
That begs the obvious question: why not?
"Simply, I think because the global leaders have not been used to that aspect or trained to do that yet. It takes some time; new commerce will facilitate that."
COMPLETING THE LADDER
"We have quite a nice range of categories of motor sports. I think, again something very important, in almost every category of motor sport we are on the way to finalising the process of the pyramid. The idea is to go from go-karts to Formula 4, Formula 3, Formula 2, then to Formula One. That is what we want to achieve.
"In endurance racing, you start from GT to LMP2, then LMP1. In rallying, in touring cars it's the same. We must develop that in order to have many people having access to motor sport at a regional [grassroots] level."
Mention of Formula 2 leads to the latest development in the ladder. According to Todt, by the time of this magazine's publication the Federation should have confirmed a deal with Liberty Media to rebrand GP2, which came as part its acquisition of F1's commercial rights. This has been a lengthy process, the expected resolution of which is a source of some satisfaction for the FIA President.
"Rationalising the pathway to Formula One has been a major goal of the FIA in my time here and the designation of a new F2 would achieve that goal," he says. "Obviously we are in an early phase of involvement in this championship but I think there is a lot of scope for development.
"F4 has been great success with 12 national championships taking place around the world. F3 has been reborn and is a very competitive environment for young drivers learning their craft, and now we will have F2 as the final step. I think all of them have enormous possibilities for the future to build grassroots involvement, gain new generations of fans for motor sport and to give real racing talents a clear path to their ultimate goal."
FOCUSING ON THE FUTURE
Looking ahead to the future for motor sport, there's no question that it contains a number of threats. Sustainability, autonomous vehicles and the potential banning of some road stages on rallies are but a few of them. There are opportunities too, however.
"I'm convinced that hydrogen will be a technology that will be used in the future," says Todt. "Maybe in five years the zero car in rallying will be a driverless car. I think motor sport is changing, will keep changing. But we must make sure that we keep the best ingredients together.
"Again, that is one of our responsibilities – to decide not what we will do next year, but what Formula One should be in 2021, in 2030 – what rallying should be, what endurance racing should be.
"The heart of the sport will still be there but it has to take into consideration the evolution of society," he continues. "When you see all of the emphasis that is put on climate change, on pollution, I feel we have the responsibility to participate. It is true a Formula
One race will create less pollution than one plane going from Paris to New York, but we must be an example. And to be an example we cannot allow ourselves to create unnecessary pollution because it's just the wrong image."
So does that rule out the idea, currently being proposed by some stakeholders, that after 2020 F1 should divert from its current path or following the path of the automotive industry and move towards an old-style V10 or V12 engine whose objective is pure entertainment, away from the hybrid turbo story that has had a mixed response since its introduction in 2014?
"It will not be accepted by society," says Todt. "Again, we have a responsibility to run an organisation monitored by global society. And global society will not accept that. Indeed, I'm sure if you said, 'let's go back to engines from 10 years ago', many manufacturers would not support such a move. I'm convinced a minimum of three out of four would leave. Also, we know that stability is essential – firstly, to have as much competition as possible, and then to protect the investment. You cannot invest in new technology every year, it is not financially sustainable, and we already complain about the cost of racing, the cost of Formula One – a cost that for me is absurd.
"It's something we need to fight. So far we have not managed to find the ideal solution and I'm happy to take part of the responsibility on behalf of the governing body. But saying that, it is not easy because you need to find common ground. For me, I always like to achieve some kind of solidarity when you take decisions."
The future shape of that process could also be changing too. Todt's second term as FIA President comes to an end this year and he has yet to decide if he will run for a third. Despite that he is insistent that for whoever helms the organisation, the mission to reduce costs in motor sport must remain an ongoing priority.
"I have begun to work with my team and our members to make my decision and this will allow me to announce that choice very quickly," he says. "Of course, with a democratic organisation I could have a competitor who beats me. But clearly it's a goal that should be addressed in motor sport, whoever is the leader, to try to bring costs down. A final thought on motor sport revolves around the threat from autonomous cars; in the future if people don't drive themselves any more, will there still be an appetite for racing? This topic was debated at the FIA Sport Conference in Turin last June and was again a key talking point when Todt appeared on a panel at the Consumer Electronics Show (CES) in Las Vegas in January.
"Clearly motor sport is a combination – a car and a driver. For me, I've always been interested to see who is driving the car," he says. "As an exercise it could be interesting, but where is the fascination if you have a race without a driver in the car? You can stay at home with a Scalextric, but if you go to see a show you want to see the driver.
"The element that creates the dream in motor sport is the leadership of the driver."
AUTONOMY ARRIVING
The topic of autonomous vehicles provides a bridge to move the discussion onto mobility. While in Las Vegas Todt went for a drive in an autonomous car and has a clear view of what it represents for the future of mobility, even if many people fail to appreciate that these are first world conversations and the conversation in developing countries is quite different.
"It's a revolution on the way," he says. "But the world is made of over 200 countries. You have countries where the average cars are between 30-60 years old. And if you take modern countries like the UK and France, the average age of cars is about nine years old.
"You know, 1.3 million people die on the roads every year, 50 million people are injured; 90 per cent of those figures are happening in developing countries, middle- and low-income countries, which host only 50 per cent of vehicles.
"So I do believe that in some developed countries it [autonomous cars] will come quite quickly. But the developing countries, to have access on that, you must know that in a lot of countries millions of road users have never seen a safety belt.
"It's so far away from different regions where people don't know safety belts, don't know what a helmet is, don't know road regulations, don't know proper infrastructure. It will take a long time before the global society has access to that."
One of the most striking aspects of Todt's visit to CES was the extent to which the major manufacturers were present, at what is essentially a consumer electronics event. All were showcasing their autonomous drive technology. This is partly a defensive move against the disruption they face from hi-tech software companies like Google and Apple moving into making cars. What is Todt's view on that development?
"It is a lot of adventure, a lot of combinations. But you have the same names as leaders – if you take the industry you have Toyota, VW, Renault-Nissan, Chrysler – they are still there," he says. "There are some newcomers, there are some who come with technology and as a group I think it is very interesting. But it started many years ago, maybe we speak about that because it is some new technological partners who are coming, but most of the cars are done in partnership. Look at what we made with Magneti Marelli, it was with Bosch, it was with Delphi, with tyre companies. Manufacturers have historically always had essential partners."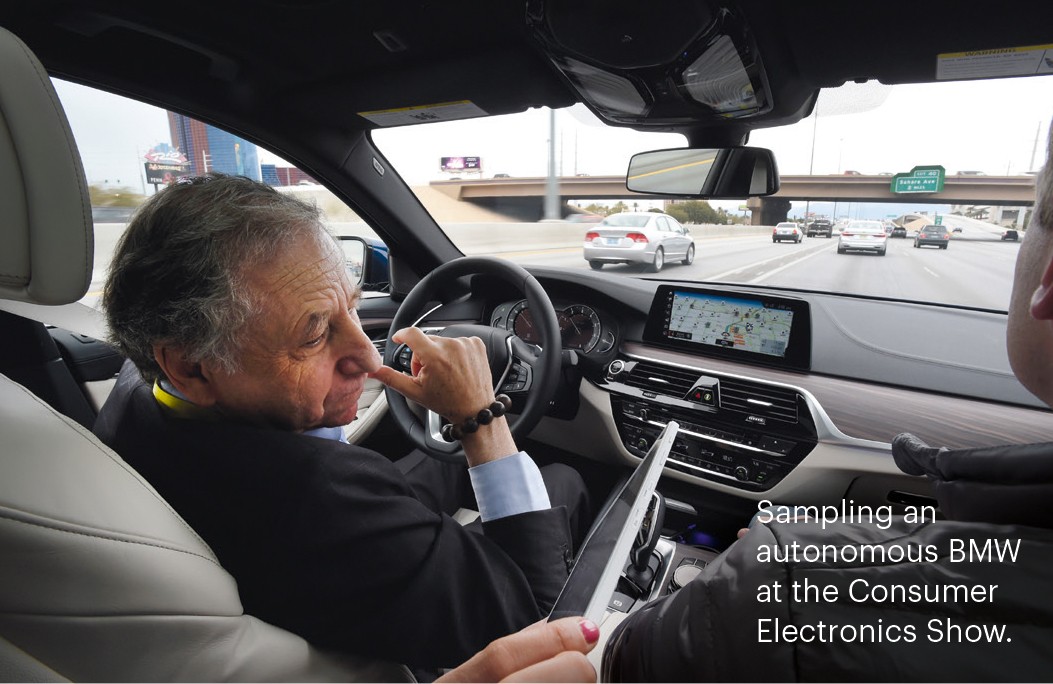 Another indicator of change in the developed countries is the move towards regulation against internal combustion engines, with diesel cars set to be banned in many cities in the near future. Todt is an enthusiast of classic cars so presumably he would be sad if internal combustion vehicles were one day regulated off the road, making classics obsolete?
"It has started unfortunately," he says. "But motoring began just over a century ago. It's fascinating when you see a car from 100 years ago and a car now, and if you have to guess what a car will be, not in 100 years, but in just 20 years – that is a very interesting debate indeed.
"Probably the automobile is one of the 20th century's great technologies that has developed the most. It is a heritage, it is an asset and I think the cream of that asset has to stay. Like with a beautiful painting, you have Leonardo da Vinci, but the painters that have not been good have been forgotten. The cream of motoring has to stay."
And what of the outlook with regards to the president's role as UN Secretary General Special Envoy for Road Safety?
"I am honoured to have been reappointed to this post by the new UN Secretary General António Guterres and I am looking forward to continuing the work begun almost two years ago. We have made good progress but there is still so much to do .
"I'm still passionate about what I do," he says. "My goal is different from what it was before, though. I have a passion for participating in – and I say it in a very humble way because the task is huge – the mission to reduce road traffic victims, and clearly my role as President of the FIA alongside my role in the UN is very helpful to deliver that better.
"It has given me new access, new partners. For example, we were talking on the phone about a campaign we are launching in March and the High Commissioner on Human Rights will be next to me and he will say 'road traffic safety is a human right'. Clearly it has allowed me to have access to some global leaders who are part of the team.
"It all goes back to what I have always enjoyed: building, running and leading winning teams. It was that way as a codriver, as a rally leader, in cross-country, sports cars, Formula One, the motoring industry, and now I'm a leader of a different kind of organisation.
"For example, I have founded with a group of friends a medical institute – ICM – with 650 people researching brain and spinal cord injuries. I'm the chairman of the Aung San Suu Kyi foundation. Different things, but always trying to put people together.
"You have something where you think you can make a difference, some other things you know you can't. So where I think I can make a difference is quite limited but I enjoy being involved in it.
"That's why I am fascinated with other people, trying to understand what they do that I don't understand and I don't know how to do. But there are a few things where I love being involved and I think I can give some contribution – and I'm passionate to give some contribution. "As a closing thought, when considering the future for both mobility and motor sport, Todt reflects that when he started his career in motor racing in 1966 he had no consideration of what motoring would be today, 50 years later.
"In a way, for me the pleasing thing is that I am still fresh with passion," he says. "My father was a doctor; he had no interest for cars. For him it was a way to go from one place to another, but it came naturally to me. I remember at 10 years old looking at cars, in fact I was more of an expert of the different levels of cars – a 3.4 Jaguar, a 3.8S and all that – than I am now.
"But still I remember when I was CEO of Ferrari, I was spending my days talking about cars, about new cars and I would take a plane and arrive in London or Paris and see a Ferrari Scaglietti and I was still turning my head to look at it, or an Aston Martin – and I still do. I'm still impressed with a nice car I see on the road or in the street.
"That's probably why I'm still here."