This page contains archived information and may not display perfectly
From Auto #18: Growing force
Having achieved its best team result in Formula One last year, Force India is striving for further improvement as the sport enters a new tech era.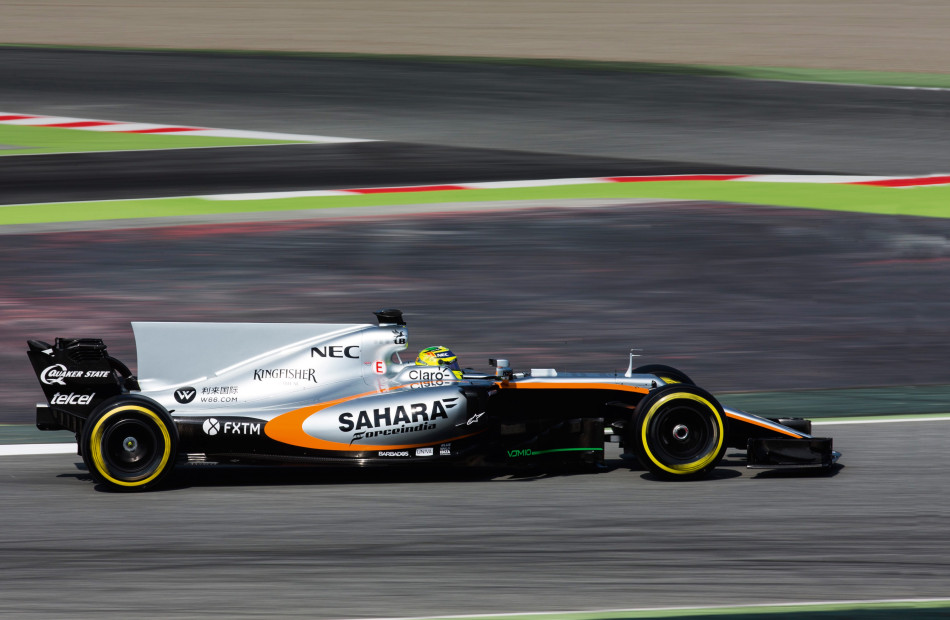 Click here to read the full Auto #18 magazine.
Silverstone Circuit is home to one of the two oldest events on the Formula One calendar, but on a cold, dull and damp winter's day, the venue for the British Grand Prix has little to recommend it.
However, there are some bright lights piercing the January gloom, coming from the units at the Industrial Park opposite the circuit's main entrance. They bear testament to the vital role the motor sport industry plays in the British economy. And, residing in its own grounds set apart from these modern facilities, like a stately home in a sea of affordable housing, sits the Force India factory.
Walk through the door into the lobby with its obligatory F1 'show car' and you are hit by a wave of energy. It's like the opening scene of a movie from the 1950s depicting life in a successful Manhattan office, with people scurrying every which way, the reception phones ringing urgently and staff dashing up and down stairs. If a building could have a spring in its step this one would and with some justification, as last year Force India secured its best ever result in its nine-year history, finishing fourth in the FIA Formula One Constructors' Championship after a thrilling season-long duel with the Williams team.
NEW-SEASON CHALLENGES
It was an exceptional performance from a team that cannot boast the mega-budgets of the trio of teams that finished ahead of it, nor indeed of some of the famous names it out-scored. With a workforce of under 400 people, compared to the 700 at Mercedes, champions for the past three years, Force India showed that the right approach and careful husbanding of its resources can deliver results. But no one can rest on their laurels in F1, so the question now is can they do it again or go even better in 2017? Adding to the usual uncertainty of the pre-season period is the fact that, on the eve of the new championship, the landscape looks rather different, with the technical regulations going through a change described by many insiders as the biggest the sport has seen in more than two decades. The racing will now feature bigger, noisier and faster cars that will be harder to drive and more di cult to set up to suit each of the 20 circuits on the calendar. This is a situation that usually favours the biggest teams, but Force India's Chief Operating Officer Otmar Szafnauer remains unfazed by the challenge that lies ahead. "For a team like ours, there is no external pressure," he says. "In this team we are all a bunch of racers who want to do well and we create our own pressure because of our wish to succeed. That's in all of our bellies anyway."
Szafnauer sees keeping that "bunch of racers" together as a key element in having another successful season. "If you have a good, deep understanding of what makes a racing car go quick, you should be able to apply it to the new regulations as well," he says. "The nuances and the parts that made previous cars quick don't apply at all, but it's what you've learned and how you apply your knowledge to the new problem that will help us make the 2017 car quick as well. That knowledge is something you only lose when people leave, so we've tried really, really hard to maintain a stable workforce here over the winter."
This view, that the key to success lies with the workforce rather than its weaponry, is echoed by Force India's Sporting Director, Andy Stevenson. "Having been in F1 for many years, I know it is far too easy to get carried away when you see some good results and the only way to improve on those results is to make sure you improve yourself," he says. "The staff is fired up after being exhausted towards the end of last season. They had put in a lot of e ort all year and then, for the final few rounds, when the battle between ourselves and Williams was so close, they had to dig deep again to secure fourth place. We are managing their expectations for 2017. Our team really wants to improve on what they have done, but we have to ensure we get the basics right first.
"What we've been looking at for this year is to make sure we have improved procedures and reliability. We also have to ensure that the boys in the pit crew are fitter and stronger, because one thing that is obvious from looking at the new cars is that everything is a bit bigger. This will make the pit-stops more di cult so we've been preparing since before the end of last year. We've estimated a 20 per cent increase in e ort because the wheels and tyres are bigger, and the front and rear jacks have to be bigger as the cars will be bigger and heavier to lift. We've worked hard to ensure we get to the first race in the best condition possible. The easier we can make the job for everyone trackside, the more we can focus on performance. We want to take the di cult side out of the job so that the cars we qualify and race are at the maximum as far as performance goes."
When it comes to their 2017 car, the VJM 10, Force India's Technical Director Andy Green admits the new technical regulations have created a lot more work for his designers. "But we don't start from zero with respect to the design, because although the car isn't a carry over physically, it is from a philosophy perspective and the philosophy we've been using for the last few years seems to be holding up well with the new regulations."
"The way we work hasn't really changed that much," adds Green. "We're looking at extracting performance at the same part of the car trajectory that we've always looked at to do that. We expected the development rate to accelerate, and it has. It really did take off last year and we had to revise our performance targets because we underestimated a little bit what we could expect, which is a good thing, but we won't really know how good or bad a job we've done until we start racing."
After three years of relative stability on the rules front, car development throughout the field had slowed somewhat, but the 2017 changes have sparked a new arms race so that, according to Green, a new car is more or less out of date before the racing has even started: "We recognised that we needed to be more reactive so we started expanding a while back." That expansion has involved bringing a lot more of the manufacturing process in- house, including building its own chassis for the first time. "The chassis is really the most complex bracket on the car!" jokes Green. "It's there to hold everything together, but it is quite a complex piece The process went really smoothly and we do have to ask ourselves why we didn't do this a long time ago because logistically it was a nightmare having the chassis manufactured out of the factory, some distance away, so that staying on top of the manufacturing process was a real headache. It's the best chassis that's ever come out of this factory, that's for sure."
On the driver front, Force India can continue to count on the excellent Sergio Pérez, but there's a new face on the other side of the garage. After an impressive maiden half-season with Manor Racing, Mercedes-Benz protégé Esteban Ocon steps in to replace Nico Hülkenberg, following the German's move to Renault. Ensuring that the switch to a new line-up is as seamless as possible is primarily the responsibility of Force India's Chief Race Engineer, Tom McCullough. "We try to build the right picture in the driver's head, so that when they drive the car, there are as few surprises as possible. That is a bigger challenge this year with the technical regulation change and because of the fact we now have a rookie."
Plenty of time in the team's new simulator is the pre-season order of the day. "We are simulating the race weekend, going through all the little details like which setting to engage at which point on an out-lap, during a timed lap or a race lap, running through as many scenarios as we can, explaining the reasons behind those," continues McCullough. "This builds a picture in the driver's head so that when he is in a stressful situation come qualifying or on race day, he doesn't have too many questions, he understands what he is doing and what he is trying to deliver."
WORKING TO ITS STRENGTHS
One aspect of car performance that cannot be effectively replicated in the simulator is tyre behaviour and, with a new range of Pirellis to choose from this year, McCullough expects Force India to benefit from its strengths in this area. "How to operate in terms of getting the best out of the tyres has been a strength of ours over the past few years and at the start of the season the teams that get on top of that quicker will definitely benefit. When you have a huge regulation change like this one, it's a big challenge. It's easy to be an iterative engineer, learning from what we did the previous weekend and so on, but the real test of our understanding and of our tools – software, simulator and modelling – will be our ability to react to the large changes that have been thrust upon us."
It's fashionable in F1 circles to trot out the mantra that a team focuses on itself without taking much interest in the opposition, but Green knows full well that Force India's new car can only be judged relative to the others on the grid. "We just want to do better than we did the year before," he says. "We want to get closer to the guys in front and we monitor our trajectory compared to those leaders. We're heading in the right direction and as long as we can maintain that trajectory we're happy, because ultimately we will catch them. If we can get closer to third this year that would be fantastic. It's going to be an interesting season and by the time we get to Barcelona (round five, the Spanish GP) we'll know roughly what the pecking order is. But it's a long season and the development on the car is huge, so we're likely to see some swapping of positions.
So can Force India do it again in 2017? Can it maintain its ranking as 'best of the rest' behind the three teams that have won every constructors' title since 2007? Or could it go one better and finish third to equal the 2009 achievement of the Jordan team whose name used to be above the door of the Silverstone factory? The final word goes to Szafnauer. "We haven't lost the ability to understand what makes a car go quick, so that's where the optimism comes from. You don't wake up one morning and bump your head hard and forget everything. But it's all relative. There are others, there's the might of Honda and McLaren for example, so we've got to look backwards as well as forwards and be careful that they don't overtake us."