Auto #17 now available!
One busy year of motor sport has only just ended and yet the next is already knocking on the door.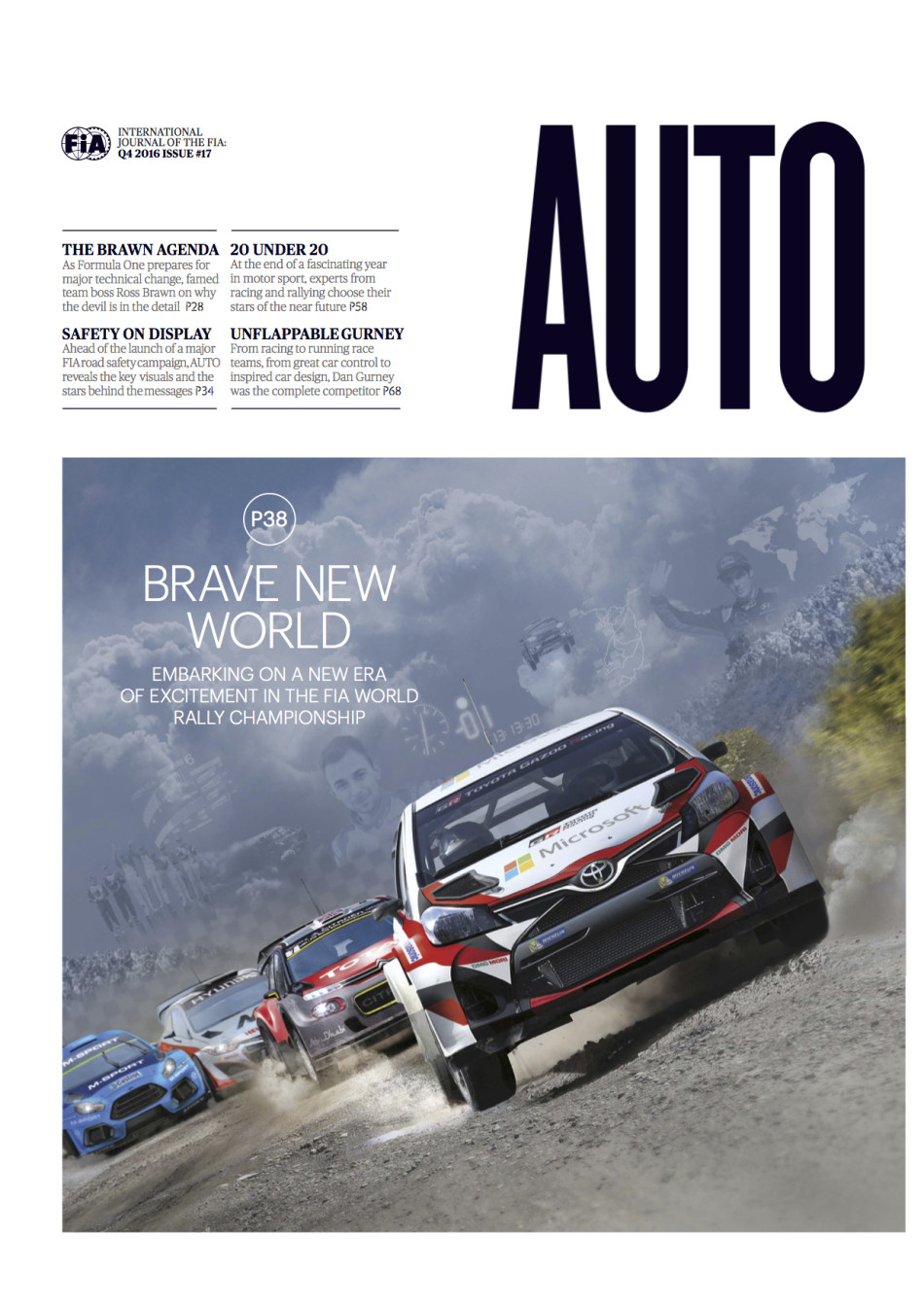 2017 marks the start of a new technical era for the World Rally Championship and Auto, the international journal of the FIA family, looks ahead to a season that seems set to provide the sort of show and excitement that rally fans have been dreaming of for years. Formula One will also feature significant changes to the way the cars look next year, and as always, the teams that make the best job of interpreting these new rules could have a significant advantage: AUTO has interviewed one of the masters of this art, Ross Brawn, who explains the secret of how to best interpret the regulation changes.
In the previous issue, we presented the first advertising campaign produced by the FIA to promote the Golden Rules for Safer Motoring. In this issue, we preview the visuals for the campaign, produced in conjunction with JCDecaux, which is due to be released in the first quarter of 2017. Efforts to improve road safety around the world are a priority for the Federation, especially in countries where resources for this battle are limited: in this edition, you can find the report produced by the FIA Foundation and other organisations, aimed at taking immediate and truly effective action to make children's journeys to and from school as safe as possible.
Who are the 20 most talented youngsters under the age of 20 currently competing in motor sport, who might be the stars of tomorrow? AUTO asked five journalists best placed to tell us, from various disciplines: in this edition you can read about their nominations.
The key to the large scale adoption of electric-powered vehicles is linked to the development of battery technology: AUTO guides you through the upcoming scenarios in this field which is currently developing fast.
2016 was the fiftieth birthday of one of the most beautiful and striking cars of all time, the Lamborghini Miura. We went to the company's home in Sant'Agata Bolognese to recall the origins of the project and to meet the man who, just a few months ago, took over the reins of the Bull-branded company, Stefano Domenicali.
These and other articles make AUTO an unmissable read and, as always, this edition includes the latest news, features, interviews and photography from motor sport and motoring across the world.
Each issue of AUTO is sent free-of-charge to selected high-level individuals in the motoring and motor sport industries.
Click here to read this issue online.