AUTO 10#: Bringing Racing to the people
As a sneak peak to AUTO #10, watch our exclusive video and read about how Formula E is bringing top-level racing to major cities worldwide. Find out how it sets up a street circuit in the centre of a city.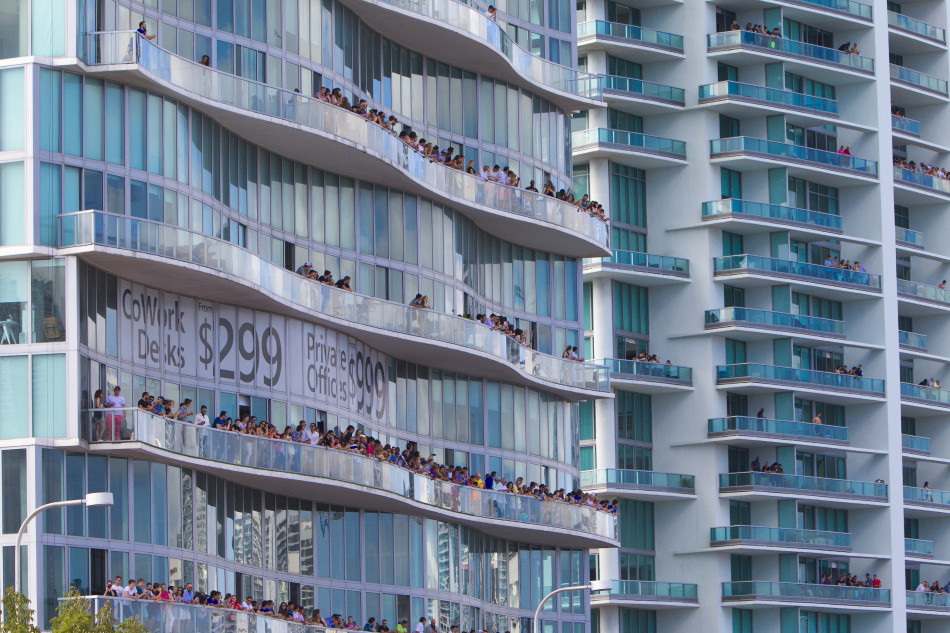 It's Thursday in Downtown Miami. The cars zip along the main road running down picturesque Biscayne Bay as commuters head to work and tourists flock to the many attractions along the harbour. It is here in less than 48 hours that Formula E will host a race.
The main parts of the track are yet to be built but Kevin Still, Formula E's Director of Operations, is not worried. At least, not yet.
He is responsible for all event planning, including circuit construction, technology infrastructure and broadcast operations. So far he has overseen successful events in Beijing, Putrajaya, Punta del Este and Buenos Aires. But this is his biggest challenge.
"We're basically shutting down a part of the city for two days," says Still.  "We're blocking roads here at about 10am on Friday morning, reopening them sometime around 5pm Sunday evening. And we're on one of the major roads running through South Miami, which is used by over 100,000 people each day. So this is a big deal for the city and the very future of this sport."
Of course, the planning for the event starts well in advance and involves a lot of buy-in from local government and authorities. To help with this Formula E brought in a local big hitter - Andretti Motorsports.
The man in charge of the project for Andretti is Chuck Martinez, General Manager of the event, who worked on the 2002 and 2003 Champ Car races that also took place in downtown Miami. But this race is a very different proposition as the area has built up hugely over the last 10 years.
"When a race was held here in '02 there were no museums, there were no performing arts centres, and there were not 40,000 residents within four blocks of the event," says Martinez. "All of these are new so you're dealing with various constituencies, stakeholders and permits."
It was important that the city authorities were 100 per cent behind the project.
"It was very good for us that this is a sustainable event and the city is embracing sustainability and technology," says Martinez. "I don't know that a traditional motor sport event would have been as warmly embraced."
To help further smooth the process, Martinez and his team met with all of the local businesses, residents and schools. "We have been as accommodating as possible in terms of minimising disruption. All the construction of the track happens late at night. We have even disabled the reverse beepers on the trucks so as not to interrupt people when they're sleeping."
Blocking traffic from a major highway has been the biggest hurdle for the organisers. "That really has been a challenge. We needed hundreds of permits." In all, 163 permits were needed across construction, electrical, roads and infrastructure.
Leaving it Late
Unlike other events, the Miami track build did not start until just a few weeks before the event.
"In other locations such as Beijing, where the track was in a park, you can actually construct in a much more relaxed manner," says Kevin Still. "Here we're building very quickly, closing the roads, finishing and getting out."
The FIA has been involved in the design of the track from the beginning. "There's a whole process of initial design work which goes to the FIA first," says Still "They'll approve the circuit then we'll go into detailed design then lot's of minor changes need to be made just to make the track safe to race on, culminating in that final racing license just before the race itself."
Usually for a Formula E race, the FIA would do the final inspection on Thursday or Friday but in Miami it is on Saturday morning because of the time constraints. Inspectors look at where barriers are located, the chicanes and run-off areas. The priority is to make sure the track is safe for the drivers.
At 8am on Saturday morning the stamp of approval is given but with some last minute work still ongoing the start of the event is delayed. By 1030am all of the cars are out on track and the event is back on schedule.
Crowded House
The crowds flocked to the race with grandstands virtually full and hospitality sold out days earlier. Lucky locals with a view of the track filled their balconies with friends to watch this unique event in their city.
"The last 24 hours have been incredibly challenging," says a relieved Martinez after the race. "We had to finish about 20-30 per cent of the track in about 20 hours. We had road cars running in Miami at around 10am yesterday morning and today at about 1030am we had race cars on the same road. So to do that in about 24 hours is a feat. Ultimately we lost one practice session but we ran the race on time and everything else went well."
For Kevin Still this is just one stop on a longer road. Next up is Long Beach, followed by Monaco and Berlin. Then there is the small matter of organising a race around Moscow's Red Square before heading to London for the final event.
"We have six events in four months and we've got parallel teams working on different races," says Still. "So there's a lot of planning going on already." 
This is a shortened version of a feature from the latest FIA AUTO magazine, which is distributed to senior figures in the motoring and motor sport industries. To apply to receive a copy, contact: auto@fia.com