Action for Environment: Building sustainable racing
As the world moves toward a more sustainable future, motor sport has a great story to tell, as yesterday's opening session in Geneva revealed.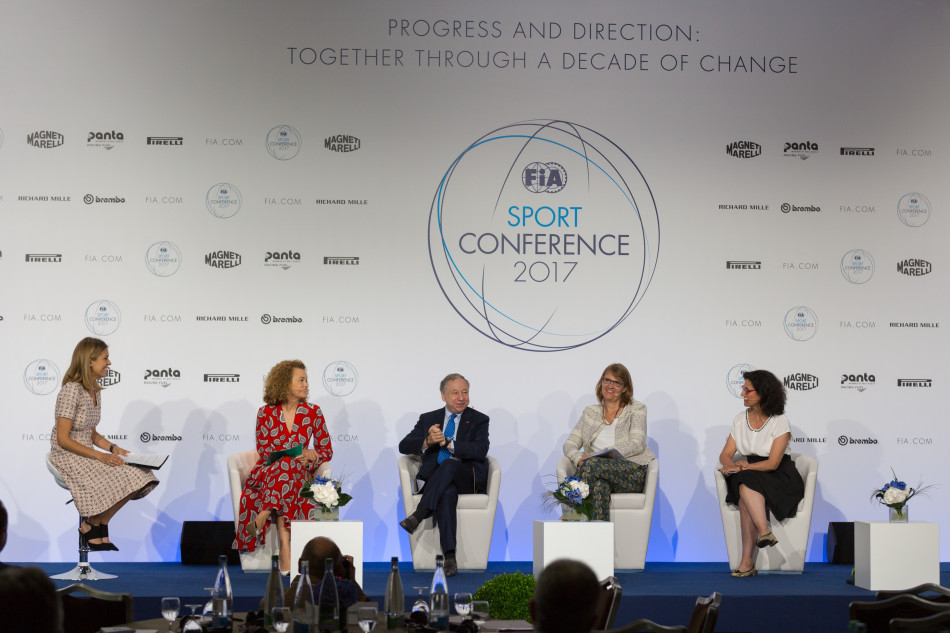 Opening yesterday morning's first session, FIA Environmental Delegate Garry Connelly launched a new initiative to give ASNs the tools they need to drive forward the Federation's Action for Environment campaign and grow sustainability in motor sport.
Outlining the key themes of the campaign, Connelly said: "There are two pillars in our environmental strategy. The first is to Measure and Improve – so to act responsibly and minimise our footprint. The second pillar is Innovate and Promote and this is where our sport has a great opportunity to be different."
He pointed out, however, that while FIA surveys of ASNs revealed a strong willingness to achieve sustainability,
there exists a knowledge gap in how to proceed.
"Ninety per cent of ASNs say they are willing to participate in the FIA Action for Environment campaign. However, almost 60% don't have a supply strategy, which is potentially the greatest environmental impact area. More than 90% said it's important to know what their environmental footprint is, but more than 90% don't know how to calculate it."
In a bid to assist ASNs with engagement on environmental issues, he then announced a new initiative, a presentation pack to be included in the ASN Toolkit, highlighting motor sport's achievements in the area of sustainability, such as the advancement of hybrid technologies in Formula One and the FIA World Endurance Championship and the development of the FIA Formula E Championship.
"We have great story to tell and we now have the tools available for you to do this," he said. "We have developed a presentation that will go with your ASN toolkit that will enable you to explain to governments, sponsors, your community and to your member clubs what the FIA and motor sport are doing in the area of the environment. It demonstrates your corporate social responsibility. It shows how we innovate and promote, it gives great examples of technology transfer that benefit all of society and how we measure and improve."
The presentation, which includes script cards, is being made available in English, French and Spanish.
The launch of the presentation pack was followed by a panel discussion on the pressing need for motor sport to become more sustainable, featuring Jean Todt, FIA President, Maria Luisa Silva, Development Director of the United Nations Development Programme (UNDP), Michelle Lemaître, Head of Sustainability of the International Olympic Committee (IOC), and Helena Molin Valdés, Head of Climate and Clean Air Coalition for the UN Environment Programme (UNEP).
Explaining the UNDP's role, Ms Silva said: "At UNDP we work at the field level and spearheads the promotion and implementation of the UN's Sustainable Development Goals, a global agenda to combat poverty and make the planet more liveable for us all.'
She continued by saying motor sport has the potential to play a major role in advancing awareness of the goals. "What we hope is that we can link with you so that you can use your strength in awareness raising and fund raising to contribute to achievement of the SDGs.
"You are role models for million around the globe and you understand very well what it means to try to attain a very difficult target. This is what we are doing with the SGDs – we are trying to reach environmental and social standards that seemed unattainable a few years ago."
Ms Lemaitre added: "Sporting has a very important role to play. You can do that in three ways: obviously through the vehicle itself but then through the event. This is not always visible but it's in how your event is run. Simple things such as where is the location. Can you get there by public transport? Has energy been reduced? Are there recycling facilities? Then of course there is the engagement part, which has been alluded to, where the sporting world uses its athletes to communicate as role models."
According to Ms Molin Valdés, Formula E is a prime example of motor sport's great ability to promote sustainability.
"Formula E races, with races in downtown areas, attract a lot of the non-converted," she said. "Giving an opportunity to see how the switch of technologies is managed; how the charging works, and also speaking to younger generations are definitely relevant. This [motor sport] community has a great role to play in innovation and making it affordable and, to be honest, in making it a little bit cool."
Closing the session President Todt said: "For the coming years there are two major priorities for our motoring organisations – road safety and the environment. The duty of every organisation is to work closely with UN agencies and governments, work as a team and demonstrate the influence of our organisation by taking leadership around the environment and road safety."