This page contains archived information and may not display perfectly
2015 Brazilian Grand Prix - Sunday Race Press Conference Transcript
Transcript of the Sunday Race Press Conference organised by the FIA for the 2015 Brazilian Grand Prix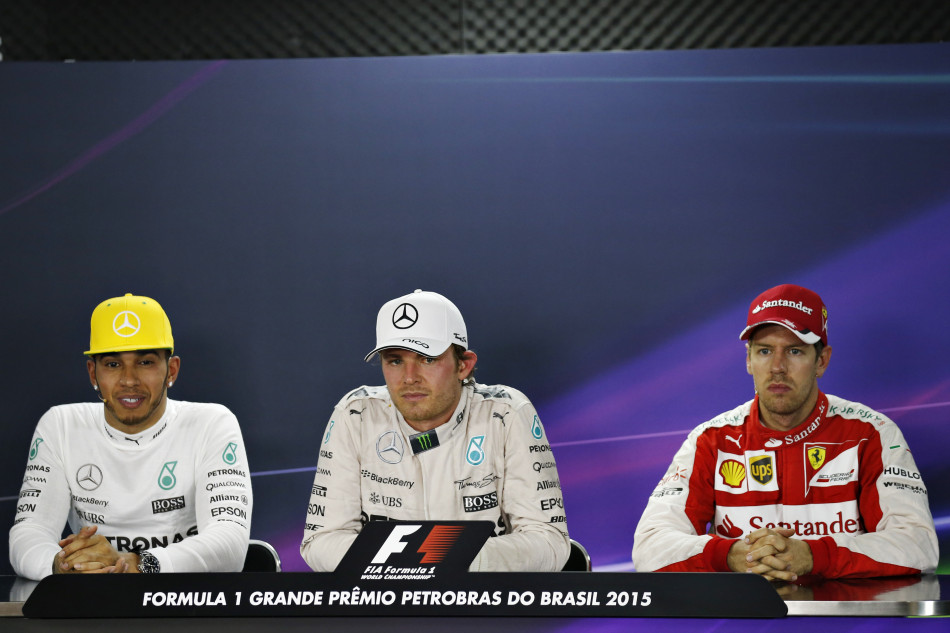 DRIVERS
1 – Nico ROSBERG (Mercedes)
2 – Lewis HAMILTON (Mercedes)
3 – Sebastian VETTEL (Ferrari)
PODIUM INTERVIEWS
(Conducted by Martin Brundle)
Nico, your 40th time on the podium, surely one of the sweetest? Another great drive, your second victory in a row.
Nico ROSBERG: Yeah, for sure, thank you very much. It was a great weekend for me here. Of course everything relative with what happened back in Paris. But still, very, very happy, it went perfectly. Lewis put on a good challenge but I was able to control it and never give him a chance, so I'm pleased with that.
There was a time, around lap 16 or 17, when you were really slow down into Turn One, when you braking early. What was the reason for that?
NR: I don't know!
Well, maybe Lewis was just mighty on the brakes then. It looked like you were pacing yourself, tyres, brakes, or were there any kind of issues you were carrying?
NR: No, no issues. It was just controlling the pace – never overdoing doing, not to risk doing a mistake and also to not risk having too much degradation. We saw Lewis dropping off a lot with degradation in the second stint and that confirmed that it was important to take care of the tyres.
We heard you on the radio saying 'don't talk to me anymore', the pressure was intense, Lewis was trying his hardest towards the end.
NR: It just depends. Sometimes I need the information but at that point I just wanted to focus on driving and get the job done.
You've got to do this earlier in the year, so you can have a fight in the world championship....
NR: Thank you very much for that piece of advice, I could figure that out for myself!
So how can you do that, how can you change that?
NR: Well, I'm pushing now and I was pushing in the beginning of the season. I don't have an exact explanation for why it's going so strongly now but I just want to keep it going.
Well, what a brilliant drive again today, congratulations. Lewis, fastest lap of the race but you didn't quite have enough pace to challenge your team-mate today.
Lewis HAMILTON: Hola Brazil! No, I had the pace, it's just you can't overtake around here.
You were on the radio complaining, [saying] "I just can't follow around this track" and then dropping back towards the end.
LH: Yeah, I mean obviously I was behind Nico and in traffic for some time and it just killed my tyres. It's a shame because it's such a great track but you just can't get close enough to race. I don't know if there were other people overtaking. Unless you have a huge advantage on the guy in front… Motorsport is about fine lines, you know, about tenths of a second, but you can't get close enough within a tenth of a second to be able to fight. It's a shame because it would be good if we did some overtaking here.
You were on the radio saying "give me a different strategy, let me get ahead somehow", but you can't do that within the team I guess. Is that frustrating?
LH: Well, I mean, I'm here to race and when you both have to do pretty much the same order it's kind of already set from the beginning, so for sure I'm like "if there are any other strategies, let's do it, let's take a risk, let's do whatever" and they're like "look after the tyres", and I'm like "No, I'm racing", you know and I think that's what people want to see, but unfortunately today, as I said, I couldn't get close enough to ne able to really put on a great, so it was relatively boring following in a tow.
This guy has got the legs on you at the moment. You've got to come back for Abu Dhabi somehow.
LH: Yeah, Nico has been driving fantastically well. He did a fantastic job in qualifying, especially in the last few races. The last race he drove fantastically well, today no mistakes, so he did good.
Sebastian, it seems that you've got the VIP invitation for the 13th time this year on the podium to the Mercedes-Benz party up here.
Sebastian VETTEL: Thank you but… I think it was a good race for us. I was hoping that at the start maybe we could do something, but it wasn't possible. The start was OK, but it wasn't any better than Lewis or Nico's. After that, I thought halfway through the first stint that maybe we could stay with them, but then they were starting to pull away. Overall, I think we have to admit that they were just a bit quicker. But overall, I would say we were probably closer here than in many, many races before in terms of race pace – only one, two, three tenths maybe at the time – and in the last stint we were even a bit quicker. Overall, it felt like a good race but yeah, for sure, it was not very exciting, we were a bit in no-mans land, we didn't have anybody to fight with but hopefully next race we can be again a bit closer.
You put the soft tyres on, trying to do something different but you just didn't have the speed.
SV: I didn't hear! They are so loud!
It's wonderful. Alright, we'll go back to Nico. Nico, you're on a roll. It's not through luck, it's through speed, but maybe you should go to the casino or play the lottery or something – everything is running for you at the moment.
NR: Well, I've been working hard also, because Lewis had the upper hand for a lot of the season and I needed to try to turn it round, so at the moment it's going really well, I'm pleased with that and next race now Abu Dhabi, I want to try to go for the win there again.
PRESS CONFERENCE
Congratulations Nico, another good reception from the crowd. Win number 13 for you, which confirms your second place in the Drivers' Championship 2015. Does it good to be in control, second consecutive win from pole?
NR: It feels great to win the races, for sure. Two in a row now, with pole positions as well. It's just going a lot better at the moment, which I'm happy about that. I don't have an exact explanation unfortunately, otherwise it would make it all a lot more simple. But of course I've been working at it a lot, because Lewis had the upper hand for the first part of the season and so, yeah, I'm pleased that it's turned around at the moment.
Thank you. Lewis, it seems that win number 44 for the driver of car number 44 will have to wait for another couple of weeks, possibly. Interesting talking point for you: I think second stint in particular you were looking to do something different, try to see if there was another strategy, it's not uncommon for you to do different things between the team, and you were told plan B wasn't really option, but then, when we got into the mid-30 laps there was a switch of strategy for everybody. I wonder if you could just talk us through how you felt about that, your thinking around the strategy and how it all evolved?
LH: I think the strategy was good. The team had anticipated that the tyres would go longer than they were, which I wasn't sure would be the case before the race, and it turns out it wasn't. No, it's just in the race you're just trying to see… I love this track, it's such a great circuit but unfortunately it's so difficult to overtake. You get to within a second and you just lose downforce and there's no way you can get any closer. And the DRS zone is kind of maybe not long enough, if that was to be the thing to make the difference, it's almost not long enough. So I was just trying to see if there was any other kind of strategy. I mean, I'm our there racing so I'm looking for any kind of options. Surely there are not only two options for pit stops.
So looking back on it, if you had done gone out and down two different things – split the strategy from the outset, one of you on two and one of you on three, see what happened at the end – it would have been more interesting?
LH: No, no. A three-stop was generally slower or it was supposed to be slower, but obviously at the end it turned out that the three stop was probably better as the tyres didn't last, so… I have no idea about that, but the team made a good choice.
Q: Sebastian, coming to you, you obviously, like them, made a switch it seems – but you went to the softs on lap 33. Talk us through the thinking and the discussion with the team that went into that.
SV: Well, obviously we were too far away to really put big pressure on Mercedes and safe from the cars behind so we thought to try something different, put the soft tyre which, in the end, was very good. I was very happy on the soft tyre, probably a little bit happier than on the medium. Unfortunately we hit a lot of traffic to make a benefit or to keep catching up – but I guess it was the same for them out in front – but the idea was simply try to do something different. Yeah. We knew that the soft doesn't go as far but probably a little bit quicker in the end. As I said, it lasted fairly well and I think it was a bit quicker so it was fair enough to try. Also, in the end I think we had good speed. We were in clean air, catching a little bit. Then again, it's difficult to say how much Nico was controlling with Lewis behind. Obviously when you're in the lead it's always a bit different and not necessary to push into the unknown. Over all I think it was a good day for us. Good race. We were closer than many, many races previously, so I think it's a good effort and shows our real standing right now.
QUESTIONS FROM THE FLOOR
Q: (Andrew Benson – BBC Sport) Lewis and Nico. We're all searching for explanations as to the turnaround in qualifying form. One of the things that someone's pointed out today is that this has happened since the tyre pressures were increased from Monza onwards – I know you were on pole in Monza Lewis – but since then it's been Nico all the way. Do you think that's one of the influencing factors potentially?
NR: No, I don't. I don't think so. I think I've just raised my game. That's it.
Lewis?
LH: Well, from Singapore onwards there's been a change to the car – but whether or not that's made a difference, I don't know really. We'll have to see. But it has changed since Singapore.
Q: (Dan Knutson – Honorary) A question for all three. This track might be worse, but it's not the only track where you can't follow a car closely. Is it time for a fundamental change in the technical rules – so that you can actually follow closely?
Lewis, maybe you start with that one.
LH: At the end of the day it doesn't really matter what we say because it can't happen. The big bosses make the decisions and whether or not they make the right ones for many years, who knows. Something's got to change y'know? Because some races you can follow which enables you to have some good racing, obviously places like Austin where there was the last decent race but otherwise there are some places it's just… I guess for fans it's probably not too exciting to watch. Of course, it's always nice when you're at the front, as we have been for some time now – but still, being able to race is what… and also down the back, the rest of the field is probably what fans want to see. That's probably a change that would be looked positively on.
Nico?
NR: Yes, we always need to keep improving the sport – but I don't know how the battles were further back. Up front I had the pace advantage over Lewis today so of course he's not going to come by me because in the end of the race I was six seconds in front. So it's normal he's not going to pass me in that case. Behind, I don't know how it's going but of course it's always difficult in F1 to pass – that's why DRS has come onboard and that's really made a lot of progress for us. So we've seen a lot of excitement because of that – but we need to keep working at it for sure, and keep thinking about it.
Sebastian, anything to add?
SV: I think on paper this is one of the easiest tracks to overtake. Sure, if you're behind you always want the DRS zone to be longer because artificially it helps you to get closer. Naturally if you are only a tenth or two quicker then it's very difficult to pass – whereas if you're a second quicker it becomes more easy. I think in general what we need to follow another car closer in medium speed, high speed, slow speed corners is more mechanical grip. So shift the percentage between aero – mechanical more towards more mechanical. How to do that? I think we need better tyres that allow us to go quicker. Drivers want to be quicker. So, I think the solution is very simple. Unfortunately the sport is very political with different interests from different people. Yeah. I think it's fair enough to give whoever tyre manufacturer, in this case Pirelli, the chance to improve their tyres – but we need to run. But since the responsible people, the teams, whoever, can't agree on something, it will be difficult to make progress. Unfortunately the people who literally are paying for that are sitting on the grandstands. So, we would love to go quicker. I think they would love us to go quicker and have more excitement but bottom line is, if you look ten years ago, 20 years ago, it wasn't like there was a lot more overtaking in the race. So it's also not a disaster what we see now.
Q: (Livio Oricchio – Globo Esporte) Sebastian, you have already said something about it at the beginning but you finished six seconds behind Lewis in a race without rain, without safety car. Can you extend your analysis, is Ferrari really approaching Mercedes, does it project something better for your team for next year?
SV: Yeah, I think overall it's true that we are closer compared to Australia. Obviously Malaysia was a bit different for us but I think in general if you look at the beginning of the season to now we are a lot closer. I don't know what happened to Lewis in the end, I think the real gap we have to look at is the one to Nico. I think they were dropping a bit of pace, I was catching up as well but we are a lot closer than previous races. I think already in Mexico – obviously my race didn't go too well - but I think the pace was strong so yes, I think we are closer, that's due to hard work. We've improved on the engine side, the motoristi in Maranello have done a miracle this year, that's due to the car. We have raised our game but yeah, for sure we want to be closer, a lot closer, ideally ahead next year. That's a massive step but that's the challenge and that's the target for next year. We know we set high targets but in the end we want to be favourites going in and not hoping for something to happen in front to benefit.
Q: (Daniel Johnson – The Telegraph) Lewis, particularly given that the Constructors' championship is done, the Drivers' championship is wrapped up, you're ahead of Ferrari in this race, would you like a bit more freedom to – as you said on the podium – to take a risk and do a strategy that's different because at the end of the day, if you fell  back, you haven't lost anything in championship terms? And to Nico as well: you must have been in a position where you were behind Lewis and had to follow the same strategy. Is that frustrating for you as well?
LH: I think we have to rely on the team. As I said before, of course I was looking for whatever other opportunities there may be because on the track it was not looking great and contrary to what Nico was saying, there was one point where I was all over him but I just couldn't get by, I just couldn't get close enough in that last second and I did have the fastest lap, so I obviously had the pace today. As I said, it would be great to sometimes be able to do something different, to do something rather than just... you know, you're lap 15, you're lap 16 and lap 42 or whatever it was. Our targets were lap 41, 42... to have some options. Hey, do you want to do this, do you want to do that and see how it plays out? Ultimately I think they do so many strategic simulations that they pick the best two and that's what we're stuck with.
NR: Yeah, of course it's been a discussion that we've had many times. The thing is you don't know in advance which strategy... In advance you can only go by what you think the computer tells you, which strategy is best and it wouldn't really be fair for the guy who is running second to go for the other strategy and then for it to turn out that it was massively the quicker strategy in hindsight, after the race, and as a result, he won the race just because of luck, of the other strategy being so much quicker, and that's the big problem in there and that's why it doesn't make sense in the battle when we're just battling us two, because it should be just me against Lewis and that's it and no luck involved from one strategy being a bit better than the other and that's the reason behind it.
Q: (Rodrigo Franca – VIP Magazine) Question for all you three: I would like to comment on the enthusiasm of the Brazilians for the Grand Prix and of course, we see a big party in the grandstands, even without a Brazilian driver, so I would like you to comment on that and if you feel a difference in this weekend?
SV: Well, I think it's a great place to come to to be honest. Every year it just seems to get better. At the beginning, maybe I was too young when I came here. I was a bit frightened by the size of the city, 20 million people, I was a bit scared. Where I come from there's 25,000 people and I already thought that was a big place. Yeah, so maybe I was a bit lost in the beginning but since you come back every year and you get to see different parts of the city, I think it's a great place and obviously as soon as we come here, we are treated like super-heroes. We can't really fly but obviously it's nice to see the passion for races, for the sport and as you said, there's a lot of flags around the track, Ferrari flags, German flags, English flags, for all of us to support. Obviously a place like this needs a local hero so it would be even better if a Brazilian was fighting for the podium but in principal I think it's one of the best races we've had. There was never any discussion about the sport struggling here because the grandstands were not packed or were not full, and even if it's not entirely full, people create an atmosphere and that's what makes the day special. They're having a good time and they just enjoy being here which, as we've seen in Mexico... maybe it's a Latin American thing. People are very enthusiastic. It obviously makes our day very very nice when people shout our names, when we are on the grid trying to focus but at the same time we hear people shouting our name and wishing us good luck. It's nice.
LH: It's been fantastic. Always coming to Brazil, there's obviously a lot of love in the hearts of the Brazilian fans for the sport and that's shown 100 percent every time we come, so a big thank you to the people who run this circuit for doing such a good job with the circuit in terms of looking after it. The tarmac has been great generally and the new paddock has been fantastic so it's bringing it up to standard and it continues to be a track that we can not miss. This is actually the first weekend that I've actually been aware of the old circuit so I would love to see an amendment to this track. It used to be one of the longest circuits on the calendar. Who knows whether that track has more opportunities for overtaking, but the one that we have now could definitely be better.
NR: It's just awesome, we're very thankful for this massive atmosphere that everybody's putting on here and in Latin America in general, the races now. It's fantastic. Some of the races elsewhere can learn from the emotions that everybody is bringing to the race track.