YOUR CAREER IN MOTOR SPORT 
The FIA Women in Motorsport has produced a brochure, 'Your Career in Motor Sport', specifically aimed at encouraging more girls to take up a career in motor sport field. In the past decade, the Commission has been involved in a wide variety of projects in every area of motor sport activity, developing programmes to advance female participation on and off the track, through initiatives to raise awareness of the huge diversity of industry roles available to women in racing, rally, teams, events and race support, media, medical support and partnerships.             
This booklet aims to inspire and encourage girls and young women to consider the opportunities both on and off the track, and to promote gender equality in motor sport to the general public. It describes the roles and careers of 22 great women who agreed to share their work experience in motor sport.         
English version of the brochure is available for download here.          
ENGINEER YOUR CAREER 
The FIA has produced a brochure, 'Engineer Your Career – A World of Opportunity in Motor Sport', specifically aimed at encouraging more girls to take up engineering as a career. The brochure explains the possible careers open to students of engineering, including in mechanical, aerospace, civil and electrical engineering, with most featuring skills that can be applied to a motor sport environment.
The brochure concludes by offering tips for future progress, specialist programmes devoted to advancing the involvement of young engineers in motor sport, sources of further advice and details of graduate schemes.
The brochure is available:
WOMEN OF WTCR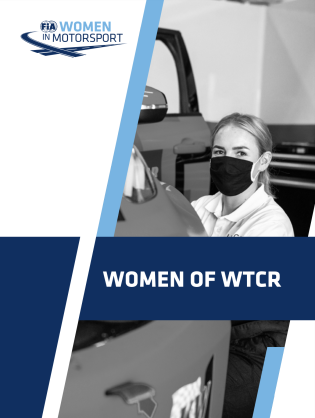 Women in Motorsport Commission's launched third and latest career brochure, which follows in the footsteps of 'Your career in motor sport' and 'Engineer your career'. 'Women in WTCR' focuses on the roles of women of all ages working in the FIA World Touring Car Cup, each of whom share an insight into their career path and their determination to forge a successful profession in the sport. Brought together with the help and support of the WTCR and its promoter, Eurosport Events, the booklet is a stimulating insight into the many and varied roles available in the series.
The booklet, which is launched today, can be downloaded here.
F1 IN SCHOOLS

F1 in Schools is a programme targeting 40 countries and 20 million students around the world.
The programme was launched in 1999 and since then has enjoyed a growth in popularity within the engineering student world. The contest sees teams of six students making a business plan, finding sponsors and designing with CAD and
CAM software, a miniature Formula One car.
An FIA Women in Motorsport award has been attributed to a winning team since 2015, with the final objective to offer internship opportunities amongst teams.