Rosberg on pole in Spa ahead of Hamilton and Vettel
Title leader takes seventh pole position of season as team-mate suffers Q3 brake problem.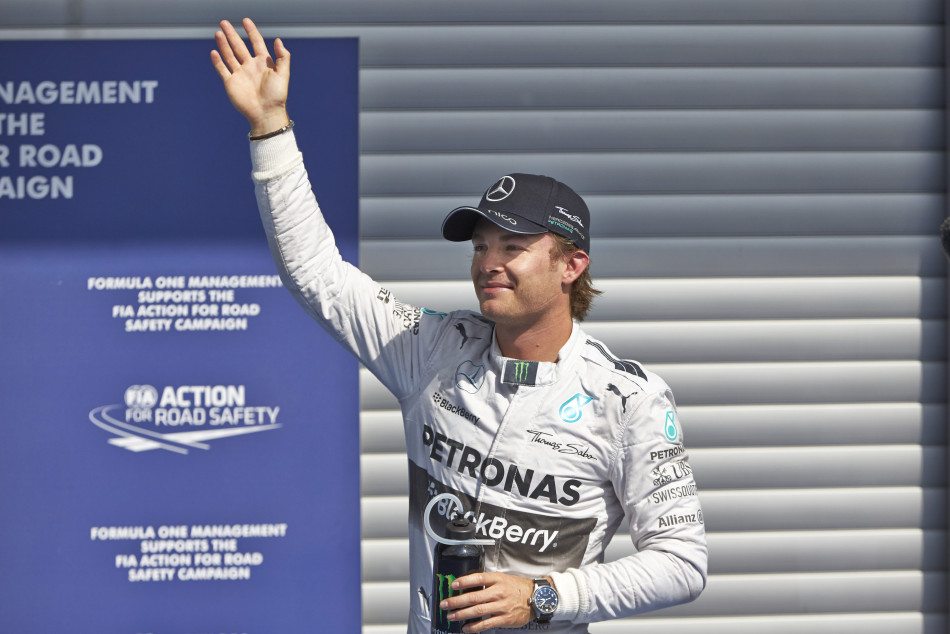 Nico Rosberg claimed his seventh pole position of the season ahead of Mercedes team-mate Lewis Hamilton, who claimed he had been set back by a brake issue in the final top 10 shoot-out at the end of the wet session. Red Bull Racing's Sebastian Vettel, meanwhile, took advantage of the difficult conditions to finish third ahead of Ferrari's Fernando Alonso.
"It's one of the most special tracks of the year, so to be in front here is great," said Rosberg, who finished just over two tenths clear of Hamilton. "It was not quite as difficult out there as on some other occasions, as the conditions were pretty much always intermediates, so that made it a bit easier today. But still, it's always difficult on this track in the wet, so I'm really happy."
Hamilton, meanwhile, said that a Q3 brake issue had forced him to adjust his braking points and had cost him time across the circuit.
"I had a glazed brake, so the car was pulling to the left or to the right and there was nothing I could do on the out laps to try to get rid of that, so I was struggling under the braking," he said. "I had to bring the braking point a little bit further back and I was losing massive amounts out of particularly turn one."
In the run-up to qualifying, torrential rain had fallen across the track but by the time the green light went on at the end of the pit lane to signal the start of Q1 it had largely abated. Conditions on track were difficult however, with low grip and little visibility.
The early pace was set by Hamilton, who logged a time of 2:09.492, to lead Red Bull Racing's Daniel Ricciardo by just under two tenths of a second. The conditions were clearly treacherous, however, and after a trip through a run-off area following radio traffic from his team, Hamilton told his pit wall not to speak to him during his flying laps. Elsewhere, Esteban Gutierrez was in trouble, the Sauber driver coming to a halt at Stavelot corner.
As the 18-minute session wore on a dry line was began to form and gradually the whole field switched to inters. With three minutes left in the session, Hamilton and Rosberg were in control at the top of the timesheet, but at the bottom the drivers in the drop zone were Andre Lotterer and Marcus Ericsson of Caterham, Marussia's Max Chilton, Sauber's Adrian Sutil and the non-running Gutierrez and Force India's Sergio Perez. Lotterer was also outside the 107% mark, his time of 2:19.870 well over three seconds adrift of the cut-off.
The Le Mans winner made it through with his final lap, however, posting a time of 2:13.787 to finish just under a second in front of team-mate Ericsson, who finished in 22nd position.
Perez too made it out of the drop zone, rising to P12. It was the opposite for team-mate -mate Nico Hulkenberg, however. The German dropped to 18th place and out of the session, complaining that his "brakes felt colder and colder" and that he had "lost all confidence" in his car.
Also eliminated from the session were Lotus' Pastor Maldonado who finished ahead of Hulkenberg, Marussia's Max Chilton, Gutierrez, Lotterer and Ericsson. Rosberg topped the segment ahead of Hamilton, Williams' Felipe Massa and Valtteri Bottas and fifth-placed Toro Rosso driver Jean-Eric Vergne.
Q2 saw the condition fluctuate throughout, with a mid-segment shower soaking the track once more. Vergne hadn't emerged in the early part of the session and when the rain came it looked like he had left his runs too late. He jumped from P16 to 12th on his first flying laps but as he keep running on intermediate tyres and kept improving, so too this those around him and positions in the lower reaches of the top 10 remained fluid throughout.
In the end, Vergne could not muscle his way into Q3 and finished 12th, just behind Toro Rosso team-mate Daniil Kvyat, who had risen to P8 but then dropped back to P11 as first Jenson Button and then Sebastian Vettel found sufficient improvement to slot into P10 and P7 respectively.
At the top end Hamilton finished in P1 ahead of Rosberg with Fernando Alonso third ahead of Bottas.
Q3 saw conditions improve throughout, with the session ending in bright sunshine. Once again it was Rosberg who set the pace, the title leader recording a lap of 2:05.698 as Hamilton complained about his brakes not feeling right. Mercedes issued instructions as to how the Briton could get temperature into his brakes but the tactic didn't work and Hamilton could find no way past his team-mate when the final runs took place.
Rosberg claimed pole with a time of 2:05.591, just over two tenths clear of Hamilton, who afterwards said he had suffered with a glazed brake.
Red Bull Racing profited in the conditions with Vettel third and Ricciardo fifth. Fernando Alonso split the Renault-powered pair. Williams, expected to be Mercedes main challenger here, finished sixth and ninth, with Bottas quicker than Massa. Kevin Magnussen qualified in P7 ahead of Kimi Raikkonen and Jenson Button was 10th

2014 Belgian Grand Prix – Qualifying Result
1 Nico Rosberg Mercedes 2:07.130 2:06.723 2:05.591 22
2 Lewis Hamilton Mercedes 2:07.280 2:06.609 2:05.819 22
3 Sebastian Vettel Red Bull Racing 2:10.105 2:08.868 2:07.717 24
4 Fernando Alonso Ferrari 2:10.197 2:08.450 2:07.786 21
5 Daniel Ricciardo Red Bull Racing 2:10.089 2:08.989 2:07.911 21
6 Valtteri Bottas Williams 2:09.250 2:08.451 2:08.049 23
7 Kevin Magnussen McLaren 2:11.081 2:08.901 2:08.679 22
8 Kimi Räikkönen Ferrari 2:09.885 2:08.646 2:08.780 21
9 Felipe Massa Williams 2:08.403 2:08.833 2:09.178 20
10 Jenson Button McLaren 2:10.529 2:09.272 2:09.776 22
11 Daniil Kvyat Toro Rosso 2:10.445 2:09.377 16
12 Jean-Eric Vergne Toro Rosso 2:09.811 2:09.805 13
13 Sergio Perez Force India 2:10.666 2:10.084 16
14 Adrian Sutil Sauber 2:11.051 2:10.238 17
15 Romain Grosjean Lotus 2:10.898 2:11.087 16
16 Jules Bianchi Marussia 2:11.051 2:12.470 14
17 Pastor Maldonado Lotus 2:11.261 9
18 Nico Hulkenberg Force India 2:11.267 8
19 Max Chilton Marussia 2:12.566 8
20 Esteban Gutierrez Sauber 2:13.414 4
21 Andre Lotterer Caterham 2:13.469 9
22 Marcus Ericsson Caterham 2:14.438 9