Vettel roars to pole position in India
Red Bull driver claims third consecutive pole at Buddh International Circuit as race strategy defines session.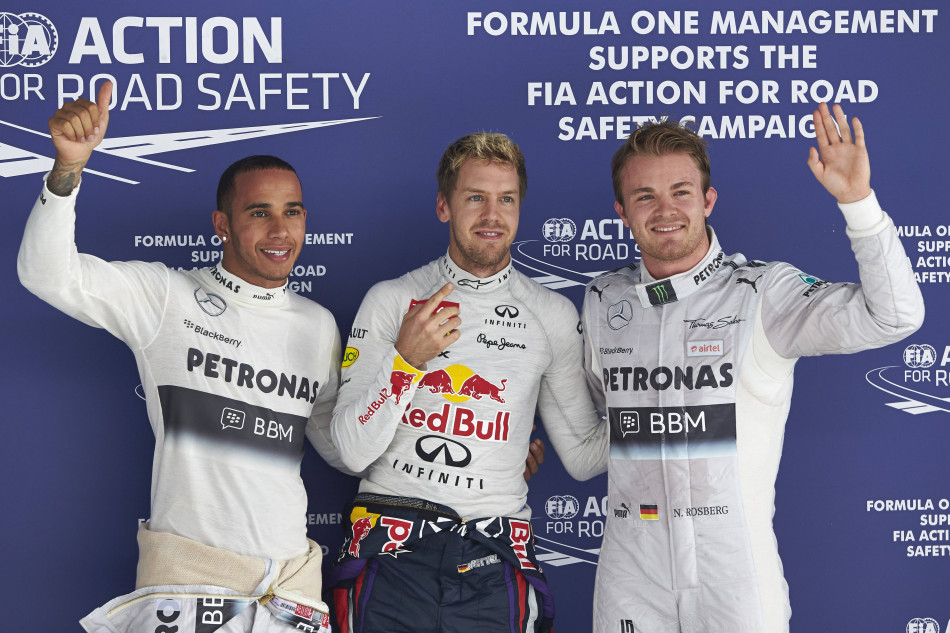 Sebastian Vettel claimed his third consecutive Indian Grand Prix pole position in emphatic style at the Buddh International Circuit, beating out Nico Rosberg by over seven tenths of a second, with Lewis Hamilton third.
In a Q3 segment shaped by race strategy, the top three qualified on the soft tyre, the quicker of the two compounds on offer. However, a number of top-10 runners opted to complete their runs on the medium tyre, including Vettel's team-mate Mark Webber, who settled for fourth place in the belief that a longer first stint in the race may well be advantageous tomorrow. The others starting on the medium are Ferrari's Fernando Alonso, who qualified eighth, and the McLaren drivers Sergio Perez and Jenson Button, who qualified ninth and tenth respectively.
At the sharp end of the action, however, Vettel was untouchable. In Q1, when Alonso put on the soft tyre and surged into P1 with a lap of 1:25.934, Vettel slotted into P2 with an identical time, to the thousandth of a second, on the slower medium compound. As the clock ran out on the session and Lotus' Romain Grosjean, who had gambled on a medium-shod opening segment, was eliminated, Vettel sailed into Q2 as the only man not to use the option tyre.
In Q2 he was equally unstoppable. Finally armed with the soft tyre, he blasted into P1 with his first flying lap, his time of 1:24.568 already seven tenths up on his 2012 pole position time. The lap was good enough to see him through to Q3 in P1, ahead of Alonso who was the only other driver in that segment to dip below the 1m25s mark.
In Q3, Vettel simply drove away from the pack. His first run yielded a time of 1:24.119 and though Rosberg and Hamilton explored the limits of their Mercedes, neither could get remotely close to the Red Bull driver's time.
Vettel attempted to lower his benchmark with a second run but a small error midway through the lap put paid to that. It mattered little, he had claimed his 43rd career pole and put himself in the ideal position to challenge for a third Indian GP win, which if achieved will also garner the German his fourth championship title on the trot.
"I'm trying not to think about it," said Vettel of his title chances. "But I think we've done pretty well in the past, focusing on every single step and I don't see a reason why we'd change things for tomorrow. We're in a good position. Tomorrow is a long race and with strategy it will be tricky to always do the right thing – but there are a lot of laps so I think we have a quick package and should be in good shape tomorrow."
Rosberg, meanwhile, admitted that he had taken his Mercedes to the limit in pursuit of Vettel's time.
"To be honest I'm completely on a knife's edge," he said. "Really pushing the limits this weekend, just trying to extract that little tenth more out of the car. Trying different things, new ways, new set-ups and until now it works. So I'm very pleased with that.
"Qualifying in second is better than I hoped for – because of Mark being on another strategy, so for the moment it's looking OK," he added. "The race is still going to be tough because it's very different circumstances here, with the option tyre really struggling at the beginning of the race tomorrow and then prime will be OK but also the balance of the car is very different. So, we'll see."
The result is a positive for Mercedes in the team's bid to overtake Ferrari in the race for second place in the Constructors' Championship, as Hamilton admitted.
"We really want to get a great result this weekend," he said. "Strategy is going to play a huge part but I was a little bit surprised to be where we are. But generally, bit by bit, adjusting the set-up and everything , we got a reasonable balance and hopefully tomorrow we can push together to try and stay ahead of the rest."
Behind the top three, Webber will be the first to start on the medium tyre, a choice he said puts him in a "good position to capitalise" in the race.
"We thought it was worth trying something a little bit different with the strategy today, so that's why we ran the primes in Q3," he said. "We thought we would probably be a bit further back than the second row to be honest, so it turned out to be a good session for us.
"It's not easy to manage the primes when you just get a look at them in Q3, but I think we did a good job and we didn't leave too much out there," he added. "We're in a good position to capitalise on a different approach tomorrow. The option tyre shouldn't last too long and we'll be on a different strategy. That said, I'll still have to use the softer tyre in the race at some point, so let's see."
The row behind the Australian will be occupied by soft-tyre starters Felipe Massa of Ferrari, who finished fifth, and Kimi Raikkonen, who will hoping to salvage something for Lotus after the team's medium-tyre Q1 gamble with team-mate Grosjean backfired.
Nico Hulkenberg will line up seventh on the grid, ahead of Alonso. Perez and Button will occupy row five.
Grosjean's elimination was the only major upset of Q1, in which the other fallers, from P18 back, were Pastor Maldonado, Jules Bianchi, Giedo van der Garde, Charles Pic and Max Chilton.
In Q2, Toro Rosso's Daniel Ricciardo missed out on a place in the final segment by less than a tenth of a second and had to settle for P11. He'll be joined on row six by Force India's Paul Di Resta. The Scot's team-mate Adrian Sutil finished 13th with the second Toro Rosso of Jean-Eric Vergne 14th. The final two spots in Q2 were taken by Williams' Valtteri Bottas and Sauber's Esteban Gutierrez.
2013 Indian Grand Prix – Qualifying Result
1 Sebastian Vettel Red Bull Racing 1:24.119
2 Nico Rosberg Mercedes 1:24.871
3 Lewis Hamilton Mercedes 1:24.941
4 Mark Webber Red Bull Racing 1:25.047
5 Felipe Massa Ferrari 1:25.201
6 Kimi Räikkönen Lotus 1:25.248
7 Nico Hulkenberg Sauber 1:25.334
8 Fernando Alonso Ferrari 1:25.826
9 Sergio Perez McLaren 1:26.153
10 Jenson Button McLaren 1:26.487
11 Daniel Ricciardo Toro Rosso 1:25.519
12 Paul di Resta Force India 1:25.711
13 Adrian Sutil Force India 1:25.740
14 Jean-Eric Vergne Toro Rosso 1:25.798
15 Valtteri Bottas Williams 1:26.134
16 Esteban Gutierrez Sauber 1:26.336
17 Romain Grosjean Lotus 1:26.577
18 Pastor Maldonado Williams 1:26.842
19 Jules Bianchi Marussia 1:26.970 
20 Giedo van der Garde Caterham 1:27.105 
21 Charles Pic Caterham 1:27.487 
22 Max Chilton Marussia 1:28.138