Rosberg quickest in Monaco FP3
Rosberg dominant again as red flags disrupt final practice in Monaco.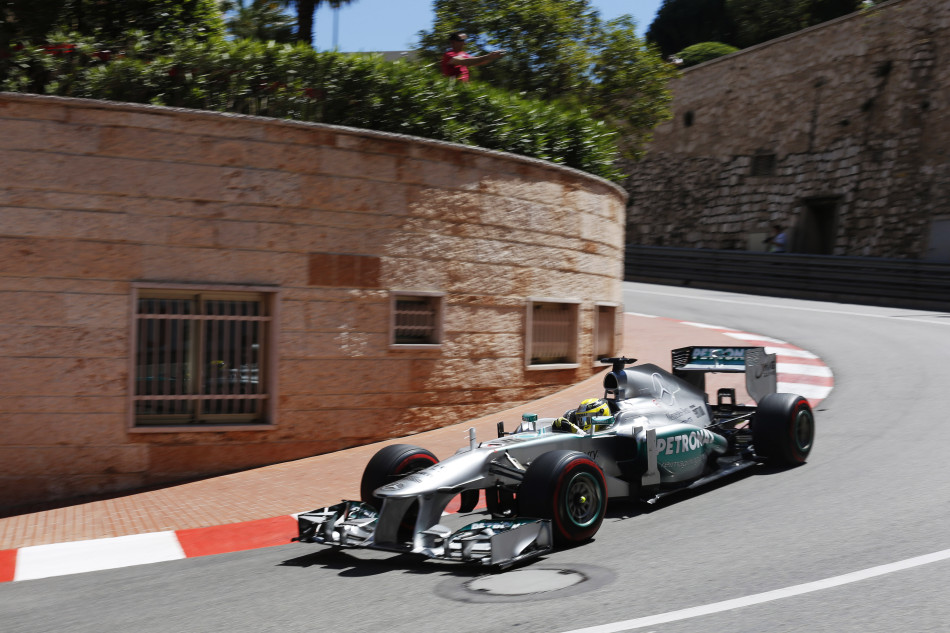 Mercedes' Nico Rosberg completed a clean-sweep of the practice sessions in Monaco with a lap six tenths of a second clear of nearest challenger Romain Grosjean in a session interrupted by two red flags.
Rosberg's time of 1:14.378, set on the supersoft tyre, was four-tenths quicker than his best of Thursday, underlining the impressive Mercedes pace that makes them firm favourites for a fourth consecutive pole position. The German driver set his time in the final 15 minutes of the hour, though everyone missed out on the opportunity to set final flying laps as Grosjean crashed heavily into the barrier at Ste Devote with two minutes left in the session.
The Lotus driver, however, had done enough to end the session in P2, leading four world champions as Sebastian Vettel took third for Red Bull Racing, Ferrari's Fernando Alonso was fourth, Lewis Hamilton fifth in the second Mercedes and Kimi Räikkönen sixth in the second Lotus.
Following them, Mark Webber was seventh in the second Red Bull, Paul di Resta eighth for Force India and Pastor Maldonado ninth for Williams. Nico Hülkenberg completed the top ten for Sauber.
Grosjean's crash was the third of the hour and the second that required the red flags. The first was a big accident for Felipe Massa at Ste Devote that destroyed his Ferrari. The car smashed into the wall before the corner with brakes locked, before ploughing into the barrier in the run-off area. Massa walked away but the wreckage and on-track debris took several minutes to clear.
The hiatus did not overly-interrupt proceedings. The red flag came out with 25 minutes remaining, when most runners were either back in the garage or completing their long run on the soft Pirelli tyre. When the session restarted at seven minutes later, the field was ready to go again, many doing a couple more laps on the harder compound before switching to the Supersoft tyre for the final 10 minutes.
Adrian Sutil was an early casualty, hitting the wall at Massanet and slithering to a halt. His car was cleared under waved yellows and the session proceeded until Grosjean slammed into the barriers with two minutes left on the clock.
It means a very busy lunchtime for the Ferrari, Force India and Lotus as they attempt to repair damage before qualifying – it should be a rather more comfortable two hours for Rosberg and Mercedes
2013 Monaco Grand Prix free practice 3 times
1 Nico Rosberg Mercedes 1:14.378
2 Romain Grosjean Lotus 1:15.039 +0.661
3 Sebastian Vettel Red Bull Racing 1:15.261 +0.883
4 Fernando Alonso Ferrari 1:15.286 +0.908
5 Lewis Hamilton Mercedes 1:15.311 +0.933
6 Kimi Räikkönen Lotus 1:15.380 +1.002
7 Mark Webber Red Bull Racing 1:15.550 +1.172
8 Paul di Resta Force India 1:15.594 +1.216
9 Pastor Maldonado Williams 1:15.861 +1.483
10 Nico Hülkenberg Sauber 1:15.926 +1.548
11 Sergio Pérez McLaren 1:15.958 +1.580
12 Jenson Button McLaren 1:15.976 +1.598
13 Jean-Eric Vergne Toro Rosso  1:15.976 +1.598
14 Daniel Ricciardo Toro Rosso 1:16.060 +1.682
15 Adrian Sutil Force India 1:16.068 +1.690
16 Felipe Massa Ferrari 1:16.105 +1.727
17 Esteban Gutiérrez Sauber 1:16.427 +2.049
18 Valtteri Bottas Williams 1:16.933 +2.555
19 Charles Pic Caterham 1:17.902 +3.524
20 Giedo van der Garde Caterham 1:18.102 +3.724
21 Jules Bianchi Marussia 1:18.706 +4.328
22 Max Chilton Marussia 1:19.228