Hamilton leads home another Mercedes 1-2
Rosberg second as Alonso claims first podium of the year for Ferrari.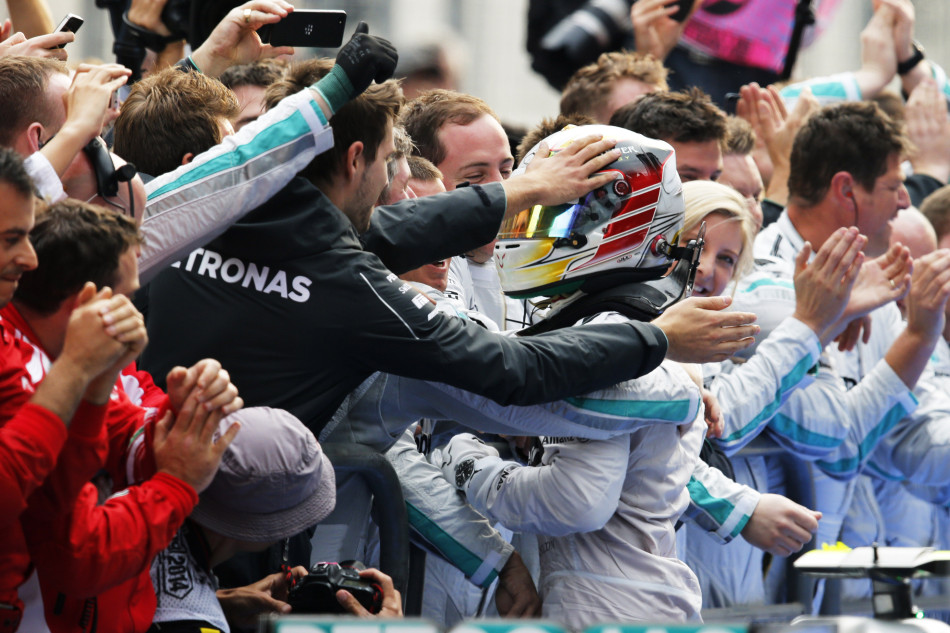 Lewis Hamilton took a dominant Chinese Grand Prix win to record his third straight win of the season, with team-mate Nico Rosberg finishing second to deliver a third one-two finish of the year for Mercedes. Fernando Alonso, meanwhile, grabbed Ferrari's first podium finish of 2014 with third place in front of new team principal Marco Mattiacci.
On Saturday, Hamilton had landed his 34th career pole position with a commanding performance and when the lights went out at the race start the Briton was equally strong, pulling away from the pack to hold his lead into turn one.
Behind him both Alonso in P5 and Williams' Felipe Massa in P6 made excellent starts but as they approached turn one the pair moved to occupy the same space and they collided, banging wheels heavily. Massa was the most disadvantaged, the Brazilian initially slipping to fifth and then later, in his first pit stop, having issues with a stuck rear left wheel. The long stop dropped him down the field and out of contention.
Rosberg, meanwhile, had made an uncharacteristically poor start from fourth. He came within range of the fast-starting Valtteri Bottas of Williams and again there was contact, the Finn being bounced violently sideways. Rosberg dropped to seventh and would spend the rest of the race muscling through the leading order to rescue a podium finish. The German was also hampered by a lack of onboard telemetry throughout.
Ahead, Sebastian Vettel had sneaked past team-mate Daniel Ricciardo to take second place, with Alonso also getting by the Australian to settle into third. Behind them were Massa, Rosberg, Force India's Nico Hulkenberg and Lotus' Romain Grosjean.
By the time first round of stops was triggered by Jenson Button on lap eight, Hamilton's lead was already approaching the 10-second mark and the race became a story of who would take the remaining podium positions. And during that first clutch of pit stop that battle began to hot up.
Alonso managed to get past Vettel during the tyre switch to steal second and Rosberg, on new tyres, comfortably outpaced Ricciardo as the Australian's tyres came to the end of their life to claim fourth place.
Hulkenberg, meanwhile, continued to plough a lonely furrow in sixth, over seven seconds adrift of the leading pack, with only Bottas, two seconds behind, for company. Kimi Raikonnen, still patently struggling with Ferrari's F14T was eighth, ahead of Romain Grosjean and Sergio Perez who was now in 10th place.
Rosberg was soon on the move again, passing Vettel for third. While being overtaken by the dominant Mercedes was probably just about palatable, the next bout of pressure he faced was harder to swallow. A handful of laps after the first stop Ricciardo had closed up a three-second deficit to the champion and he began to press for an overtaking opportunity.
The Red Bull pit wall got on the radio and urged Vettel to allow Ricciardo through and when the champion was told the Australian was on the same tyre compound as him the response was a terse "tough luck".
Ricciardo, however, wasn't taking no for an answer and pressed again. The pair battled for several corners and then cool heads seemed to prevail as Vettel eventually moved aside on lap 26 to allow the Australian through, the pit wall informing the German that he was on a different strategy to his team-mate.
Ahead, Hamilton was in complete control, comfortably preserving a 12-second gap back to second-placed Alonso. It was not so cut and dried for the Ferrari driver, however. Rosberg was closing in, lapping up to six tenths of a second quicker than the Spaniard. By lap 33 the gap had sunk to a second and Rosberg was being told to push hard to pass the Spaniard.
With the threat growing it was the cue for Alonso to make his second visit of the day to the pit lane to take on a final set of mediums tyres.
Behind him Vettel's frustrations were growing. Backmarker Kabui Kobayashi refused to give way to the German and the Caterham driver, equipped with new tyres, unlapped himself, a move that prompted Vettel into a bout of hand-waving and vexed radio communication. The solution was to pit the champion from fourth place and he too took on a final set of medium tyres.
Rosberg and Ricciardo followed, the second and third-placed drivers coming in for medium Pirellis on lap 37 and the following lap Hamilton, again the last of the front runners to stop made the same switch a lap later.
With everyone on the same strategy, it was now a race to the flag. Hamilton was comfortable in the lead, almost 13 seconds ahead of Alonso. Rosberg was now 3.4s behind the Spaniard but was setting race fastest laps and running over a second per lap quicker. Ricciardo was a further 5.8s back, with Vettel half a second in arrears to his team-mate.
Behind them the gaps were stable, with Hulkenberg still a lonely sixth, three seconds ahead of Bottas, with Raikkonen eighth. Perez and Toro Rosso's Daniil Kvyat filled the remaining top 10 spots.
Rosberg's rise to second was accomplished on lap 42, the Mercedes driver easing past Alonso under DRS on the start-finish straight.
And that was how the order remained until the flag. Mercedes' third 1-2 of the year further strengthens the team's hold on the lead of the Constructors' Championship. The German marque now has 154 points, ahead of Red Bull Racing who climb to second on 57 points. Force India drop to third with 54 points and Ferrari are now fourth with 52 points.
Rosberg's second place keeps him on top of the Drivers' Championship on 79 points, four points clear of Hamilton. Alonso climbs to third with 41 points, ahead of Hulkenberg on 36. Vettel's fifth place puts him fifth in the Drivers' table on 33 points.
2014 Chinese Grand Prix – Race Result
1 Lewis Hamilton Mercedes 56 Winner 25
2 Nico Rosberg Mercedes 56 +18.6 secs 18
3 Fernando Alonso Ferrari 56 +25.7 secs 15
4 Daniel Ricciardo Red Bull Racing 56 +26.9 secs 12
5 Sebastian Vettel Red Bull Racing 56 +51.0 secs 10
6 Nico Hulkenberg Force India 56 +57.5 secs 8
7 Valtteri Bottas Williams 56 +58.1 secs 6
8 Kimi Räikkönen Ferrari 56 +83.9 secs 4
9 Sergio Perez Force India 56 +86.4 secs 2
10 Daniil Kvyat Toro Rosso 55 +1 Lap 1
11 Jenson Button McLaren 55 +1 Lap
12 Jean-Eric Vergne Toro Rosso 55 +1 Lap
13 Kevin Magnussen McLaren 55 +1 Lap
14 Pastor Maldonado Lotus 55 +1 Lap
15 Felipe Massa Williams 55 +1 Lap
16 Esteban Gutierrez Sauber 55 +1 Lap
17 Kamui Kobayashi Caterham 55 +1 Lap
18 Jules Bianchi Marussia 55 +1 Lap
19 Max Chilton Marussia 54 +2 Laps
20 Marcus Ericsson Caterham 54 +2 Laps
Ret Romain Grosjean Lotus 28 Gearbox
Ret Adrian Sutil Sauber 5 Engine