Hamilton claims first pole of new F1 era
Mercedes driver takes 32nd career pole as Daniel Ricciardo thrills homes crowd with first front row qualifying position.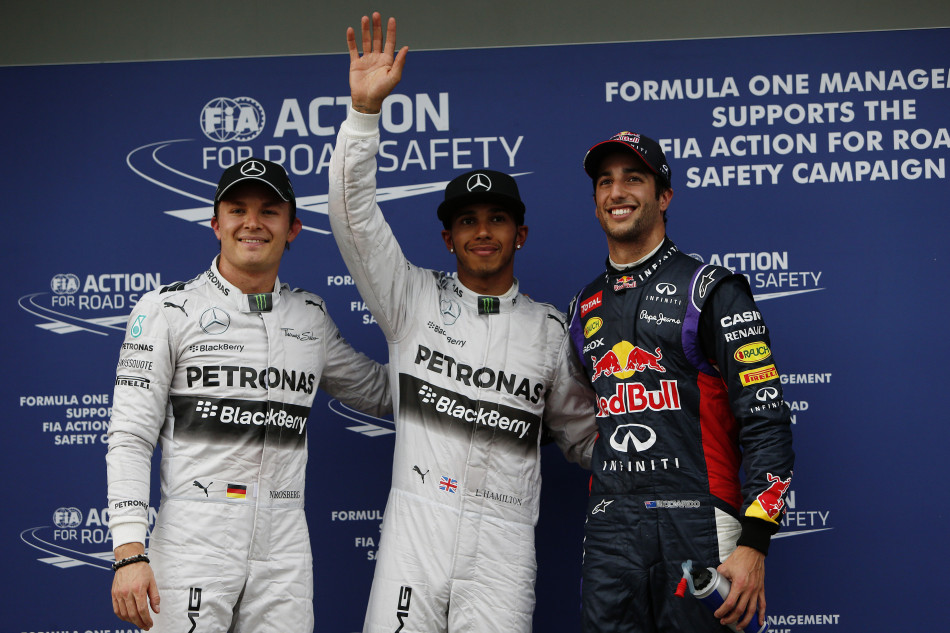 Mercedes' Lewis Hamilton claimed his 32nd career pole and his first of Formula One's new era in a rain-swept qualifying session at Melbourne's Albert Park. Daniel Ricciardo, meanwhile, delighted his home crowd by scoring his first front-row start, taking second place ahead of Nico Rosberg in the other Mercedes.
There was no such joy for Ricciardo's Red Bull Racing team-mate, however, as Sebastian Vettel failed to make it through to the top 10 shoot out, the defending champion slumping to 13th position.
Qualifying began in fine weather and the shortened Q1 session – now just 18 minutes long – largely ran as expected. Lotus, plagued by technical issues all weekend, saw Romain Grosjean and Pastor Maldonado eliminated from the session, with the Venezuelan driver not failing to register a time.  Also out were Caterham's Marcus Ericsson, Sauber's Esteban Gutierrez, who will also take a five-plave grid penalty due to a gearbox change, and the Marussias of Jules Bianchi and Max Chilton.
It was in the second session where the drama began. The rain shower that begin midway through Q1 continued into Q2. However, it lessened as the minutes ticked by and a dry line began to form and the final minutes of the session were something of a lottery depending on track position, grip level and on the state of the car being driven.
For Vettel, it was the latter element that caused his downfall. In the final practice session the champion had complained that the drivability of his RB10 was poor and that the car would not accelerate and a similar issue hampered his progress in qualifying.
"I think we have made a big step forward with the car, but of course I'm not happy that we didn't make it to Q3," said Vettel. "I think the car is quick, but we struggled this afternoon with drivability which, in these conditions, made it even worse. The car seems good and Daniel did a very good job to be on the front row, so congratulations to him. It's going to be a long race tomorrow and reliability will be the most important thing to make it to the flag, but I think there will be lots of opportunities for us."
Red Bull Racing Team Principal Christian Horner added that Vettel's car had suffered with a software problem, which led to it being down on power in the session.
Ahead, Kimi Raikkonen was also in trouble. The Finn was struggling with his F14T and dumped his car into the wall at Turn 4. A third former champion, Jenson Button, was also ruled out of the final segment.
Rain at the beginning of that final segment led to a tough decision on tyres for the remaining 10 competitors – whether to run with intermediate or full wet Pirelli tyres.
Both Mercedes drivers played it safe but Ricciardo went for the green-banded tyres and as the clock ticked down he jumped to the top of the timesheet. Hamilton though, was still on track and his final lap was good enough to push Ricciardo down to second.
The Australian was still delighted with his performance, however. "It was exciting," he said. "Definitely the weather added to the mix and the whole session went well. It's the first time we've all driven these cars on the limit in wet conditions. It was tricky but at the same time, of course, a lot of fun. It was nice to be always up there. The engineer was on the radio saying 'pace is good, P1, P2, P3' it was always in that battle for the pole position. So definitely a really nice qualifying session with the team."
Hamilton, meanwhile, was delighted with his first pole position of 2014 and the 32nd of his career, equaling Nigel Mansell's career total.
"These new cars are so much harder to drive in the wet and it was the first time for me driving in the wet," he said. "A serious challenge today, but for both me and Nico to be up here is a great showing for the team.
"To be in Formula One has always been my dream but to get to as many poles as [Mansell] is incredible."
2014 Australian Grand Prix – Qualiyfing Result
1 Lewis Hamilton Mercedes 1:44.231
2 Daniel Ricciardo Red Bull Racing 1:44.548
3 Nico Rosberg Mercedes 1:44.595
4 Kevin Magnussen McLaren 1:45.745
5 Fernando Alonso Ferrari 1:45.819
6 Jean-Eric Vergne Toro Rosso 1:45.864
7 Nico Hulkenberg Force India 1:46.030
8 Daniil Kvyat Toro Rosso 1:47.368
9 Felipe Massa Williams 1:48.079
10 Valtteri Bottas Williams 1:48.147
11 Jenson Button McLaren 1:44.437
12 Kimi Räikkönen Ferrari 1:44.494
13 Sebastian Vettel Red Bull Racing 1:44.668
14 Adrian Sutil Sauber 1:45.655
15 Kamui Kobayashi Caterham 1:45.867 
16 Sergio Perez Force India 1:47.293

17 Max Chilton Marussia 1:34.293
18 Jules Bianchi Marussia 1:34.794 
19 Esteban Gutierrez Sauber 1:35.117
20 Marcus Ericsson Caterham 1:35.157 
21 Romain Grosjean Lotus 1:36.993 
22 Pastor Maldonado Lotus No time