Di Resta quickest in first practice in Canada
Late flying lap puts Force India driver at the top of the timesheet in rain-hit session.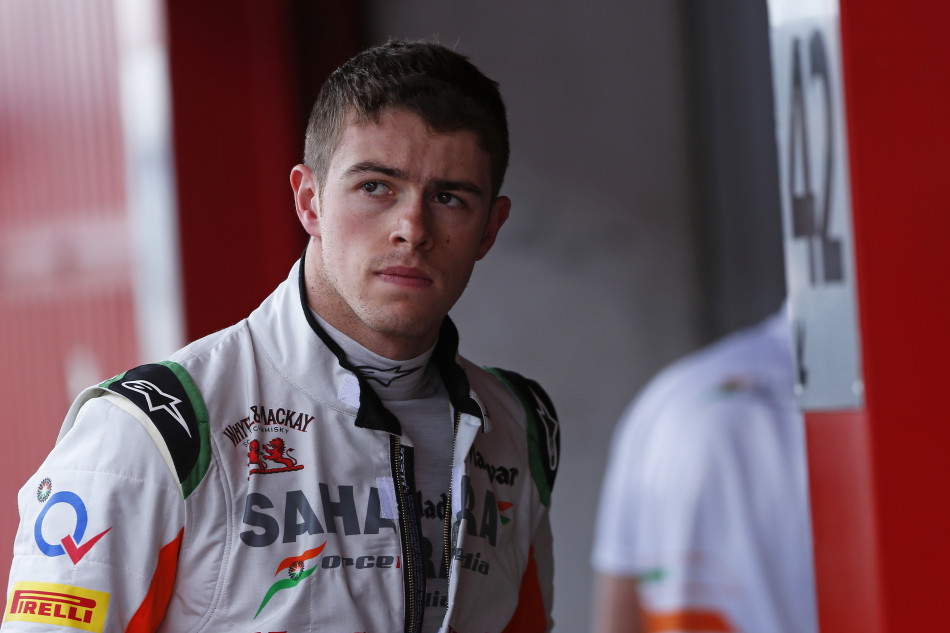 Force India's Paul di Resta popped at the top of the leaderboard in the last few seconds of a rain-affected FP1 at the Circuit Gilles-Villeneuve.
First practice at the Circuit Gilles-Villeneuve was dominated by the conditions, which saw rain fall steadily in the lead up to the session – but the rain held off during the session itself, and thus drivers went through the whole range of tyres as a dry line formed.
The early laps were on the full wet tyre, followed by the bulk of the session being run on the intermediates. Toro Rosso's Jean-Eric Vergne appeared on Pirelli's experimental slick tyre shortly after the hour mark but pronounced it too wet. Sebastian Vettel tried on the medium shortly afterwards on his Red Bull but struggled to match his time on the inters. Only in the last ten minutes did the majority of the field appear on dry tyres, by which point the track was sufficiently dry for them to be marginally quicker than the inters.
That triggered big changes to the leaderboard. Jenson Button went into P1 with a lap of 1:21.551, the first runner to do so on slicks but several runners went under that mark in the last minute of the session, with Di Resta, anonymous to that point, being the man at the top when the chequered flag signalled the end of proceedings.
Di Resta's time of 1:21.020 was six seconds away from a good, dry practice time of 2012, indicating how marginal the surface was. Several drivers had spins and minor excursions during that last ten minutes, with Williams' Pastor Maldonado hitting the wall and shattering his nosecone at Turn Four.
Earlier in the session Jules Bianchi had been the only casualty, taking to the escape road at that same chicane, struggling to turn his Marussia around and being asked to switch off his engine by his pit crew. The intermediate running had seen Nico Rosberg for Mercedes continuing his strong form with a series of fastest laps, though as the session went on Vettel overhauled him and would finish FP1 with the fastest time on the inters. 

Canadian Grand Prix first practice times
1 Paul di Resta Force India 1:21.020
2 Jenson Button McLaren 1:21.108 0.088
3 Romain Grosjean Lotus 1:21.258 0.238
4 Fernando Alonso Ferrari 1:21.308 0.288
5 Kimi Räikkönen Lotus 1:21.608 0.588
6 Daniel Ricciardo Toro Rosso 1:22.068 1.048
7 Nico Rosberg Mercedes 1:22.402 1.382
8 Sergio Pérez McLaren 1:22.587 1.567
9 Sebastian Vettel Red Bull Racing 1:23.047 2.027
10 Mark Webber Red Bull Racing 1:23.131 2.111
11 Felipe Massa Ferrari 1:23.341 2.321
12 Valtteri Bottas Williams 1:23.352 2.332
13 Jean-Eric Vergne Toro Rosso 1:23.386 2.366
14 Adrian Sutil Force India 1:23.417 2.397
15 Esteban Gutiérrez Sauber 1:23.957 2.937
16 Lewis Hamilton Mercedes 1:25.054 4.034
17 Nico Hülkenberg Sauber 1:25.354 4.334
18 Giedo van der Garde Caterham 1:25.753 4.733
19 Max Chilton Marussia 1:25.821 4.801
20 Alexander Rossi Caterham 1:27.143 6.123
21 Pastor Maldonado Williams 1:27.522 6.502
22 Jules Bianchi Marussia 1:29.306 8.286