06.10.13
2013 Rallye de France Alsace - Day 4
FIA News bulletin from day 4 of the 2013 Rallye de France.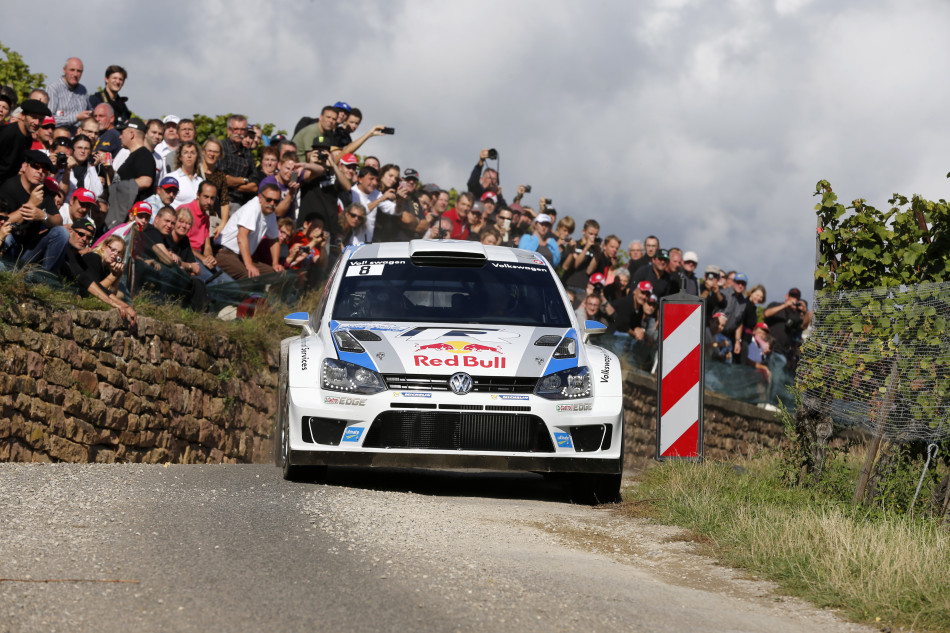 RALLYE DE FRANCE ALSACE
RALLY NEWS
The Volkswagen Motorsport crew of Sébastien Ogier and Julien Ingrassia rounded off a textbook weekend by adding the Rallye de France Alsace victory to their first FIA World Rally Championship title*. The French duo fought back from fifth on Friday to go into the final day of competition in a four-way battle for outright honours in the 11th round of the FIA World Rally Championship. Second overall was claimed by Citroën's Dani Sordo and Carlos del Barrio while Jari-Matti Latvala and Miikka Anttila took the final podium position. Surprisingly, out-going World Rally Champions and national heroes Sébastien Loeb and Daniel Elena retired this morning, the duo rolling out of the event in the first stage.
In the FIA World Rally Championship, Ogier claimed the title on Thursday's opening Super Special Power Stage, where additional Championship points are awarded to the fastest three drivers through this single stage. With Neuville not claiming the maximum bonus points in this stage, the title went to Ogier basically before he had even turned a wheel in the rally. The fight for second in the Championship continues between Thierry Neuville and Latvala and the rivals are split by 18 points with two rounds remaining. In the Manufacturers' Championship, top points for Volkswagen sees it edge closer towards the title.
Latvala led a battling foursome into the first stage this morning but Ogier's pace was sensational and a fastest time by more than eight seconds catapulted him into the lead. The Frenchman went on to win each of the first three stages to consolidate his advantage, enabling both he and Ingrassia to win by 12.2 seconds. An uncharacteristic error by Loeb saw him spin off the stage in treacherous conditions and roll down a bank, forcing him into retirement in his final event in the FIA World Rally Championship. Sordo maintained second with one stage win and Latvala rounded off the podium positions.
Behind the leading trio, Neuville was so close to a maiden WRC victory yesterday but ultimately claimed fourth ahead of Russian Evgeny Novikov. Mikko Hirvonen slipped off the road in the opening stage but finished sixth overall. Former Formula One driver Robert Kubica notched up his fourth WRC 2 Championship victory of the season and finished an impressive ninth overall ahead of FIA World Endurance Championship driver Roman Dumas. 
In addition to the WRC Drivers' crown, two other Championship titles were won this weekend in France*. Sweden's Pontus Tidemand clinched the FIA Junior WRC Championship after securing his third win in five rallies, and Sébastien Chardonnet's second position in the FIA WRC 3 Championship was enough to secure him the series win.
The 12th round of the FIA World Rally Championship takes the contenders to Salou, Spain (24-27 October) for the penultimate round run on both Tarmac and gravel.
* Subject to the official publication of the results by the FIA
Rallye de France Alsace – Final Unofficial Classification (subject to scrutineering)
1.   Sébastien Ogier/Julien Ingrassia

2.   Dani Sordo/Carlos del Barrio

3.   Jari-Matti Latvala/Miikka Anttila

4.   Thierry Neuville/Nicolas Gilsoul

5.   Evgeny Novikov/Ilka Minor

6.   Mikko Hirvonen/Jarmo Lehtinen

7.   Andreas Mikkelsen/Paul Nagle 

8.   Mads Østberg/Jonas Andersson

9.   Robert Kubica/Maciek Baran

10. Roman Dumas/Denis Giraudet

Volkswagen Polo R WRC

Citroën DS3 WRC

Volkswagen Polo R WRC

Ford Fiesta RS WRC

Ford Fiesta RS WRC

Citroën DS3 WRC

Volkswagen Polo R WRC

Ford Fiesta RS WRC

Citroën DS3 RRC

Ford Fiesta RS WRC

2hr 53min 07.6sec

2hr 53min 19.8sec

2hr 53min 27.1sec

2hr 54min 21.7sec

2hr 56min 18.5sec

2hr 56min 45.3sec

2hr 57min 11.8sec

2hr 57min 42.8sec

3hr 02min 39.0sec

3hr 05min 03.4sec
FIA World Rally Championship for Drivers (after 11 of 13 rounds)
Sébastien Ogier (FRA)

Thierry Neuville (BEL)

Jari-Matti Latvala (FIN)

Dani Sordo (ESP)

Mikko Hirvonen (FIN)

Mads Østberg (NOR)

Sébastien Loeb (FRA)

Evgeny Novikov (RUS)

Martin Prokop (CZE)

Andreas Mikkelsen (NOR)

Nasser Al-Attiyah (QAT)

Robert Kubica (POL)

Elfyn Evans (GBR)

Bryan Bouffier (FRA)

Juho Hänninen (FIN)

Chris Atkinson (AUS)

Ken Block (USA)

Jari Ketomaa (FIN)

Khalid Al Qassimi (ARE)

Hayden Paddon (NZL)

Sepp Weigand (DEU)

Per-Gunnar Andersson (SWE)

Henning Solberg (NOR)

Benito Guerra (MEX)

Nathan Quinn (AUS)

Olivier Burri (CHE)

Abdulaziz Al-Kuwari (QAT)

Yazeed Al Rajhi (SAU)

Esapekka Lappi (FIN)

Roman Dumas (FRA)

238 points

143 points

125 points

117 points

111 points

81 points

68 points

57 points

49 points

40 points

30 points

16 points

16 points

10 points

8 points

8 points

6 points

6 points

5 points

4 points

4 points

4 points

4 points

4 points

4 points

2 points

1 point

1 point

1 point

1 point

 
FIA World Rally Championship for Manufacturers (after 11 of 13 rounds)
Volkswagen Motorsport

Citroën Total Abu Dhabi World Rally Team

Qatar World Rally Team

Qatar M-Sport World Rally Team

Abu Dhabi Citroën Total World Rally Team

Jipocar Czech National Team

Lotos WRC Team

339 points

259 points

157 points

156 points

59 points

51 points

20 points