20 hour report: LMGTE thrills while Audi leads
As dawn rose over the Circuit des 24 Heures and the race moved into its final quarter, the action up and down the pit lane continued unabated.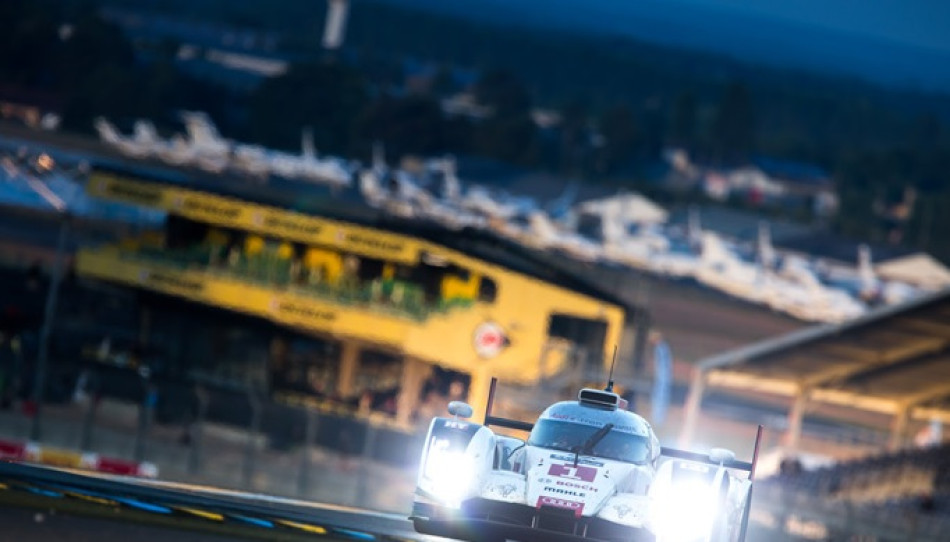 The No.1 Audi Sport Team Joest R18 e-tron quattro of Kristensen-di Grassi-Gené now has almost two laps in hand at the head of the field over the No.20 Porsche 919 Hybrid of Bernhard-Webber-Hartley. On a charge behind the Porsche is the No.2 of André Lotterer – anxious to try and reward Audi Sport with a 1-2 finish - who set the fastest lap of the race on lap 299 (3:22.881).  However, just 6 minutes after the clocked turned past 11h00, the No.1 Audi slowed on track and the crew is now waiting to see it Tom Kristensen can get it back to the pits.
The sole Rebellion Racing R-One remaining in the race is now in sixth place overall, one lap ahead of the LMP2 field.  Long-time leader of that category, the No.35 OAK Racing Ligier JS P2, lost the lead it had held for 10 hours when it came into the pits with an engine problem but the team has now returned to the action and is running second behind the No.46 Thiriet by TDS Racing Liger.  Further ELMS entrants are also in good positions for success, with the No.38 JOTA Sport Zytek currently in third place.
Under the morning sun there was a battle for the ages in the LMGTE Pro class – the protagonists being the No.51 AF Corse Ferrari 458 Italia of Gianmaria Bruni and Bruno Senna's No.97 Aston Martin Vantage V8.   The duo traded the class lead many times during the 19th hour, thrilling the crowds and TV viewers, before bad luck struck the Aston Martin and it was forced to make an unscheduled stop for attention to its power steering hose.  The Ferrari now has a two lap lead over the No.92 Porsche Team Manthey 911 RSR of Richard Lietz. 
There is still hope for Aston Martin in the LMGTE Am class, with the No.95 Vantage V8 of Heinemeier Hansson-Thiim-Poulsen maintaining its 3 lap advantage over the No.88 Proton Competition Porsche 911 RSR.  The No.61 AF Corse Ferrari remains third in class.