Marciello's clean sweep!
Fastest time in each of the free sessions, three pole positions and three victories, Raffaele Marciello had a dream weekend at the Nürburgring – as he hoped!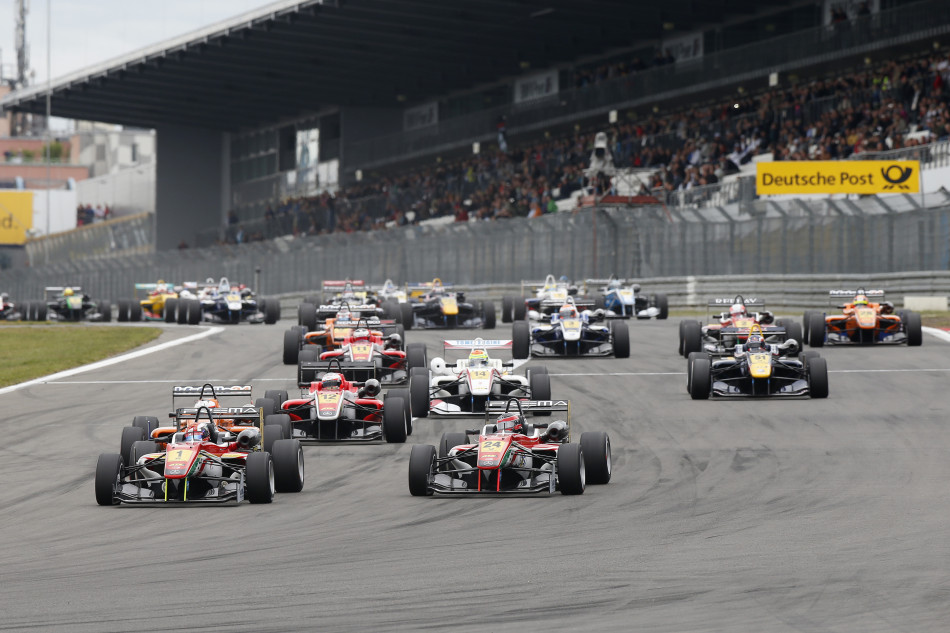 When he arrived at the German circuit Raffaele Marciello (Prema Powerteam) said he wanted three victories this weekend. He achieved his aim thanks to perfect starts and stunning drives in all three heats. 
The Italian used the same tactics in race 3 as those that had paid off in the first two heats, namely: to wear down his rivals and open up a gap as the race unfolded. He led from start to finish and scored his tenth win of the 2013 season from team-mate Lucas Auer (Prema Powerteam) and Luis Felipe Derani (Fortec Motorsports), who racked up his second top-3 finish of the weekend. 
Marciello's clean sweep is all the more vital as Felix Rosenqvist (kftzeiele24 Mücke Motorsport), who started in third place today, could do no better than fifth. The gap between the two drivers is now 72.5 points with nine races still to run this season. 
"It's been a dream weekend. There's not much more to add," laughed the leader of the FIA Formula 3 European Championship. "We needed this result. My car was really perfect here right from the start. Today, I had to fend off Lucas Auer in the early stages of the race, but I think his tyres went off and I was able to open up a gap. I really wanted to score the maximum number of points before Zandvoort on which Felix Rosenqvist is very quick. Now I have to control this lead. That's my main aim in the coming races."
After matching Marciello's pace in the opening laps, Auer decided to settle for second place for the second time this season. This result has given the young Austrian a place in the provisional top 3 with 8.5 points in hand over Alex Lynn (Prema Powerteam), who saw the flag in sixth place behind Harry Tincknell (Carlin) and Rosenqvist. 
"I started on new tyres and I pushed really hard early on in the race," explained Auer. "I tried to find an opening at the start but Raffaele closed the door in masterly fashion. It's not easy to pass here so I wasn't able to do anything when I was that little bit quicker than him. Then I made a small mistake and he pulled away. Nonetheless, I'm happy being back in the top three again after a tough weekend at the Norisring." 
Derani confirmed his return to form with another podium. "After my second place yesterday I was really delighted to finish in the top three. It proves that the work done by Fortec Motorsports is bearing fruit. The overall level of the championship is very high, and everybody arrives at each race with new evolutions so you must always be on your guard. Today, it was difficult as I had big boils on my right hand. It hurt but it's worth it!" 
In the teams' championship there is also a big gap between Prema Powerteam and kftzeile24 Mücke Motorsport as the Italian squad now has a lead of 205 points over its German rival. Carlin is third in front of Fortec Motorsports and Eurointernational. 
The FIA Formula 3 European Championship protagonists will join battle again on the Zandvoort circuit in The Netherlands at the end of September.