WRC 2012 - Wales Rally GB Preview
All the information about WRC 2012 Wales Rally GB: road, datas, previous results.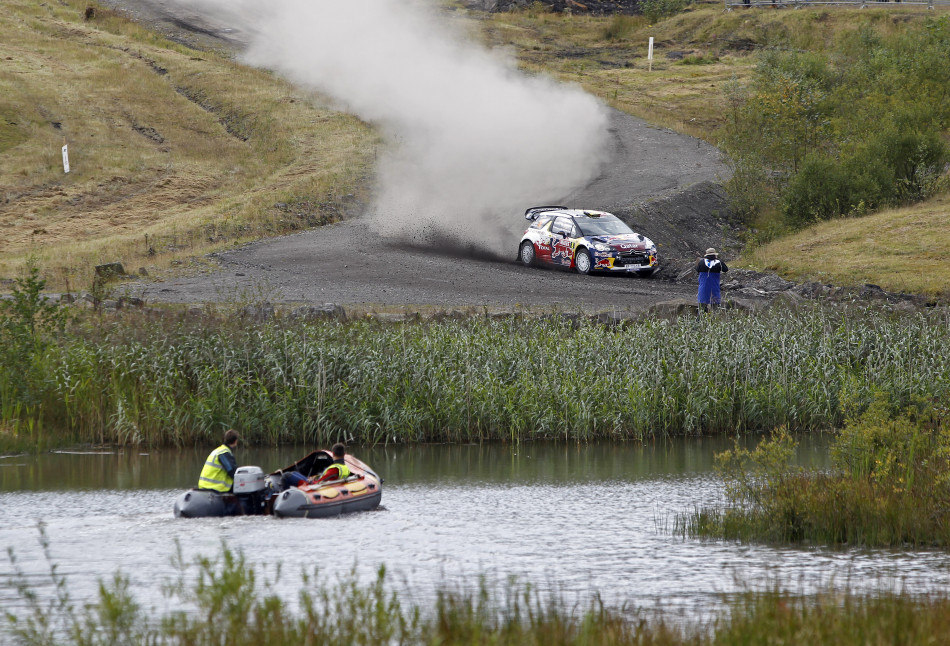 2012 WALES RALLY GB
Britain's round of the FIA World Rally Championship has moved from its traditional November date to earlier in the season, providing a very different challenge for the competitors. As summer begins to draw to a close, there is little threat of Rally GB's renowned fog, snow and ice, potentially leaving the crews to enjoy warmer and drier conditions on some of the most popular gravel stages in the sport.

The event celebrates its 80th anniversary this year and will start in the north Wales coastal resort of Llandudno on Thursday evening, where crews will also select their road positions for the opening day of competition. Friday is by far the longest day of the event with 146.46 competitive kilometres over six stages and just a single remote service in Newtown before returning to Cardiff that evening. Saturday takes the contenders to the Epynt military ranges for two identical loops of three stages before rounding the day off with the new Celtic Manor stage. Sunday is the shortest day of competition, but with a 15.33 kilometre Power Stage at Likes Land Rover at Walters Arena to conclude the event, there will be no cruise to the finish.

The 10th round of the series also plays host to the crews competing in the FIA Super 2000 World Rally Championship.

WALES RALLY GB – ROUTE GRAPHICS 
   


   
CHANGES TO THE ROUTE SINCE 2011 
   
Wales Rally GB once again returns to its traditional stages, all of which have been used many times since the event found its home in Wales. New this year, however, is the Celtic Manor Stage. This 3.04 kilometre sealed surface test weaves it way around the grounds of the luxurious Celtic Manor Resort, venue of the 2010 Ryder Cup.
This year, the service park also returns to Cardiff Bay, surrounding Rally Headquarters at the Wales Millennium Centre. There are all-new locations for both Media Accreditation and the Media Centre in Dance House, Pierhead Street, Cardiff, CF10 4PH. The entrance and location is confirmed on Page 5 of the WRGB online Media Guide, which is available in the Media Restricted Area of www.walesrallygb.com. There is no access from Rally HQ in the Wales Millennium Centre to Dance House.
   
RALLY DATA 
   

Total distance:
Stage distance:
Number of stages:
1,604.05 km  
324.92 km
19
  
WALES RALLY GB TIMETABLE AND MEDIA OPPORTUNITIES ORGANISED BY THE FIA 
   

Wednesday 12 September
Free Practice (P1 and P2), Walters Arena
Qualifying Stage (P1 and P2), Walters Arena
Shakedown (P3 and non-priority drivers), Walters Arena
  
Thursday 13 September
FIA Press Conference, Press Room, National Dance 
Company building, Cardiff
Autograph signing session, Venue Cymru,

Llandudno Promenade
Road Position Selection and Start Ceremony, Llandudno
  
Friday 14 September
First car arrives for regroup, remote service and

Media Zone (Newtown)
First car arrives for final service and Media Zone (Cardiff)
End of day Press Conference, Service Park (Cardiff)

Saturday 15 September
First car arrives for re-group, service and

Media Zone (Cardiff)
First car arrives for final service and Media Zone (Cardiff)
End of day Press Conference, Service Park (Cardiff)

Sunday 16 September
First car arrives for re-group, service and Media Zone (Cardiff)
First car arrives for final service and Media Zone (Cardiff)
Prize-giving and podium ceremony, Cardiff
FIA Press Conference, Press Room, National Dance 
Company building, Cardiff

  
11:30 hrs
14:00 hrs
14:45 - 16:30 hrs

10:30 hrs
 
17:30 - 18.00 hrs

 
19:00 hrs
 
  
11:43 hrs

 
19:10 hrs
During the 45' service
 
 
12:20 hrs

 
19:10 hrs
During the 45' service

10:24 hrs
15:13 hrs
15:36 hrs
16:15 hrs
 
FIA PRESS CONFERENCE ATTENDANCE 
 

Thursday 13 September
   
   
   
   
  

   
   
Sunday 16 September
   
  

Per-Gunnar Andersson, FIA Super 2000 World

Rally Championship
Alastair Fisher, FIA Super 2000 World Rally Championship
Yves Matton, Citroën Total World Rally Team
Petter Solberg, Ford World Rally Team
Matthew Wilson, M-Sport Ford World Rally Team
Mads Ostberg, Adapta World Rally Team
  
Winning FIA Super 2000 World Rally Championship crew
Top three crews in the overall classification
Representative of the winning entrant
  
ADDITIONAL MEDIA OPPORTUNITIES 
  
'Meet the Crews': On Friday and Saturday the top three drivers will attend a 'Meet the Crews' session for media and fans. This will take place in the service park on the 'WRC Stage' at the earliest opportunity during the end of day service. 
  
Autograph Signing Session: On Friday and Saturday selected crews will be available for a 15 minute autograph session. This will take place in the service park during the end of day service at the teams' service areas. 
   
STAGE CHART 
   
Shortly after the finish of the event on Sunday, a downloadable stage chart showing the progressive positions of the leading crews during the rally will be available. This is copyright free for editorial purposes and available at the following link: 
   
http://www.fia.com/en-GB/sport/championships/wrc/2012/gb/Pages/stage_chart.aspx